Printer-friendly version
I don't know who started this but I think it's funny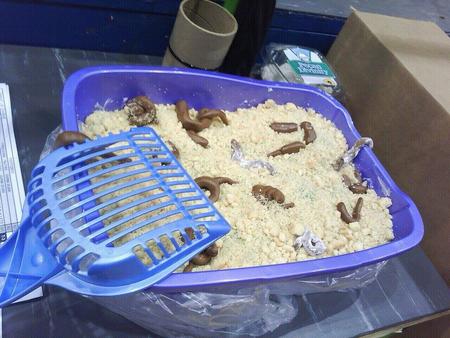 kitty litter cake
good for work parties or family get togethers
1 chocolate cake mix
1 tub of frosting your choice
1 12-oz pack of pecan sandies cookies
1 green colored sugar
6-8 Tootsie Rolls®
1 new (unused) litter box
1 new (unused) kitty litter pooper scooper
bake cake as directed on box
Invert 13 x 9 chocolate cake into a new (unused) litter box. The cake and litter box create the base for the kitty litter cake.
Frost cake. Place pecan sandies cookies in a large resealable plastic bag and pound cookies with a mallet or by hand until the cookies are broken into small pieces. Sprinkle the crumbled cookies on top of the chocolate cake.
Generously sprinkle cookie crumbs with green colored sugar or green sprinkles. The green color creates the look of chlorophyll in real kitty litter. 6-8 unwrapped Tootsie Rolls roll by hand to shape umm, you know....
Bury some Tootsie Rolls and place more on the surface of the cookie crumb mixture put some powdered sugar on some to achieve maximum gross-out.
place new (unused) kitty litter pooper scooper in the kitty litter cake. To serve on a table, place the kitty litter cake on top of newspaper adorned with a few sprinkles of cookies "kitty litter". Or,walk around your party offering guests a scoop of your kitty litter cake.