Printer-friendly version
Duty Calls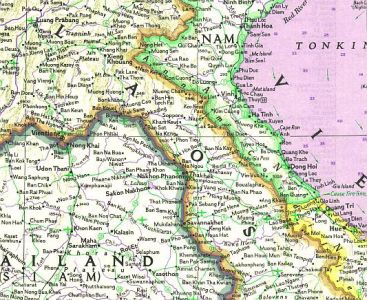 The map shown above is but a small portion of the 1965 map sold by Maps.com.
It is shown here solely for the purpose of providing some insight as to the borders
and locations of that time and remains copyright by them.
L. J. STEVENS, Vol. One
by
T D Aldoennetti
with contributing authors
Kate Hart & Denise Trask
All characters in this work have no existence outside the imagination of the author and have no relationship whatsoever to anyone or anything bearing the same name or names. The characters contained herein are not even distantly inspired by any specific individuals known or unknown to the author. All incidents described or alluded to within this work are pure invention. No affiliations, involvements or gender assignations due to the use of any images contained within this work are to be implied, intended or inferred.
Cover image copyright Maps.com and shown for clarification of area in which the story begins it's evolution.
DUTY CALLS, L.J. Stevens Vol. One Copyright © 2012 USA, Earth by R. A. Dumas.
All rights reserved.
The posting of this story chapter on the site known as BCTS (Big Closet - Top Shelf) in no way indicates this work is public domain and, in fact, this copyright contains an implicit license on the part of the author permitting this portion of the work to be maintained by BCTS for the reading enjoyment of those who frequent that site (BCTS) and such posting shall not be considered as authorization for any further posting or offering of this work at or upon any other location or site or in any other manner, print, electronic or otherwise.
Except for small excerpts of 200 words or less used in any review, the reproduction or utilization of this work in whole or in part in any form by any electronic, mechanical or other means now known or hereafter invented, designed, or conceived, or in any retrieval system for any purpose, is forbidden without written and specific license of the author or his/ her heirs or Estate.
Foreword:
Hello everyone,
Welcome to Volume One of the L. J. Stevens Trilogy.
In this story, I hope some of you will find surprise and possibly closure. While it is fiction, it is based, however loosely, upon fact and contains references which some of you will recognise and others of you will Google. Held within these pages there are also introductions of certain technological advances which remained a closely guarded secret for at least twenty years following their trials in Southeast Asia. The only present day references I have found which refer to them were those discovered on a current Russian/ Soviet web site which made mention of the designator and what little they were able to discern through their examination of an apparently captured device which had been damaged before being burned out by a charge which had been contained within it. Enough remained for them to make guesses as to its operating capability but not enough to duplicate it nor to be certain of much of anything. Their guesses were not that far off the mark, but not enough of the additional electronics remained for them to copy those few small additions which made the device different from the other communication equipment used by our personnel during that period of time. Although backward compatible with the preceding equipment of that day, the specific devices were a wild approach to a flying encryption which made detection of even it's use, difficult.
As to "the rest of the story"... For me, hindsight has been a wonderful thing allowing me to look for the predecessors of some of today's or that of the late 1900's technology and thus more successfully incorporate it into the story. This was fortuitous since I removed a lot, including the Internet, more on that later. As I did in Air Force Sweetheart, look for some latitude in the placement of that older technology, namely a couple of years early here and there. Yes, only a couple. 'Home' VTRs actually existed and were manufactured by AKAI at the time they were introduced in Air Force Sweetheart, but they were reel to reel, not cassette. Sony came out with a similar model very shortly afterward which was also reel to reel recorder/ player but which used half inch (approximately) magnetic oxide tape rather than the quarter inch metal tape used by the AKAI. The binding of oxide to tape was later changed to allow for helical scan but that didn't come for nearly a decade.
Anyway, back to Duty Calls; in the case of the material added through the efforts of Katherine, the story has been improved and the principle character's prehistory has been more thoroughly defined. She has allowed us to see into that character's mind far more than I would have thought to write or to present. It is entirely possible that some of you may therefore recognise the effect that 800 pound gorilla known as Vietnam held over so many during those years of lottery and the draft. I had the fortunate or perhaps unfortunate circumstance of entering into that conflict shortly prior to that draft. In fact, I was present prior to our 'active direct involvement'. It says that on my officer's paperwork here somewhere in the fine print, oh never mind, it isn't that important. I just remembered the fine print said I was never there, anyway. Sometimes it's difficult to remember that I'm not supposed to remember places I never was. Does that make any sense? Double think can be so difficult at times.
The strange and compelling insight, the light and sometimes heavy-hearted banter so necessary to maintain one's sanity while on a dangerous mission deep in the enemy's world was also a product of her fertile imagination although frightening familiar. That banter was prompted by research and talks with survivors who had gone to some of those places during some of those times. While Kate may not have actually lived any of it, I assure you I had, so I am here to tell you that her rendition was a little more accurate than I really wanted to encounter. As many of you know; getting our hero's to 'open up' and talk in any detail about their year or more of terror was/ is difficult. Barring the 'need to know' clause, many simply have tried to forget that time and place and our prodding many times has opened up old wounds which we hope will be at least partially healed through our presentations held within this story.
As more people learn of that ping pong effect of going from euphoria to pure terror and back they just might begin to understand the reluctance many of us have concerning any discussion of our roles in those battles and events. It wasn't glory, it wasn't heroics, nor was it entirely about duty. It was far more about being faithful to those who had become friends and who were also in harm's way. Simply staying alive and well, long enough that you could return home to hopefully forget much of what happened concerning the death and destruction seen all around oneself during that period of one's life held far greater attraction and also caused a stress which even when relieved, never completely goes away. One always continues to listen for the whispers and the small sounds which betray a life threatening event. Thus, our bodies react in strange ways sometimes before our minds can catch up to say it's really all right.
In general, the information held within this story is accurate. There are a few places where the technology shown in the story did, in fact, exist but only in experimental or exceptionally classified applications at the exact time it was introduced into the story. In the spirit of maintaining proper military and political classifications under the 'need to know' auspices, that technology has been altered slightly (author's license) as well as not specifically spelled out as to many of its capabilities other than to admit – hey, guess what? Something along those lines existed. Perhaps a few of you remaining out there might even recognise some of it. If so, I deny any and all involvement in anything that equipment may or may not have been purported to have been capable of accomplishing. I hear nothing... I see nothing... I know nothing! And so will you if you know what's good for you.
The map at the start of this story has been provided to allow those of you who were not yet a gleam in your parent's eyes to see that particular portion of the Sandbox known as South East Asia, in which Lyon and his pride ranged. The map includes a portion of North Eastern Thailand, the neck and lower portion of Laos, the Northern tip of South Vietnam, a portion of which was annexed by North Vietnam not too long after this story, and much of North Vietnam as well as the infamous Gulf of Tonkin which resonates within yet another incident which occurred during the same time period. Also somewhere around late 1967 there was another flap over in the area of Korea for a second time around so some of the conscripts who graduated basic training received orders taking them to South Korea for a short second go round over there. Korea isn't shown on the map but it is located to the North East a-ways from this sandbox. Found closer to Japan just across the Sea of Japan, thus the continued - abrasion - which occurs between those countries.
It is the hope of both Katherine and myself that those of you who enjoy accuracy and a hold to the precepts of past reality so vehemently and who enjoyed the story as it was previously partially presented, will still find it appealing. The players upon the scene were the same and as they say, only the names and places have been changed to protect the innocent, or in some cases, the guilty who are now hiding in witness protection. Now, now... don't quote me. I'm using author's license here.
Anyway, please note the subtle (and not so subtle) changes which help this story hold to its new time line before you delve deeply into the portions which have not previously been subject to the light of public scrutiny.
Enjoy,
T. D. Aldoennetti ;-)
Jacket:
Sometimes things can seem a little confusing. Life is like that in general... hectic, unbalanced, disassociated – Confusing. That's part of the reason I'm at a loss as where to begin this little treatise into... whatever I suppose it was that happened both to me and to my favorite hangers on who tended to coalesce around me.
For lack of another starting point I suppose we could begin with my name – at least it's my name now... or then... or... Well... actually, that's part of the confusion among a few other things.
. . . . . .
Let's try this again.
Hi, I'm Lynnette Joi Stevens, now Thompson. Yep, that's me, the L. J. of L. J. Stevens Security. So what does that have to do with anything? Well, nothing I suppose...
but then again...
Just about everything.
It, as well as myself, are – complicated – just ask my daughter.