Printer-friendly version
As Charley watched Mom mope around the house, just as she'd moped around the house since ... well, he just wanted to smack his older sister Ruthie silly!
They were so much in love, Ruthie'd written in the note she'd left, that they just couldn't wait. So before Mom had even started to think about wedding plans, they were gone, eloped! Mom had been devastated! She'd been so happy when Ruthie and Sam had announced their engagement; now she would get to be able to do with her daughter all the things she'd dreamed about since Ruthie was six and had dressed her Barbie in a wedding gown that they'd gone to the Barbie store and picked out together. All her plans had come crashing down, and, while she was happy for her obviously happy daughter, she couldn't get over her depression at not being a part of things.
That had been in September and it was now a brand new year. Charley loved his mother very much. but he couldn't think of anything he could do to help her ... till he say the Vaingirls ad on TV. Charley didn't have a transgendered bone in his body, and he had thought "RuPaul's Drag Race" was about cars! He'd never walked in his mother's high heels as a toddler, never tried on Ruthie's clothes or played with her makeup when a tween, never even been a caricature of a girl for Halloween, but when he saw the commercial, he knew what he could do.
And he did.
And Mom liked it.
And so did she.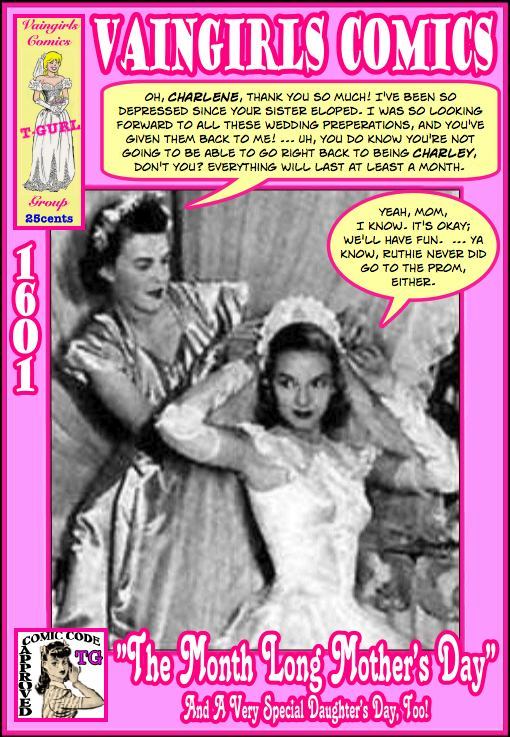 ---
If you liked this post, you can leave a comment and/or a kudo!
Click the
Good Story!
button above to leave the author a kudo:
And please, remember to comment, too! Thanks.
This story is 275 words long.