Printer-friendly version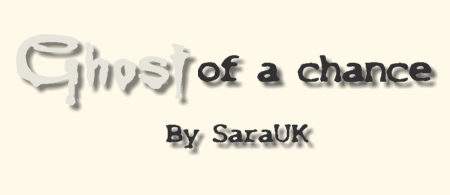 © July 2012
Part One of Ten
Synopsis:They say that when you die, you get to see everything that has and will happen to people in your life, but what would you do if you saw something that you couldn't go on to the afterlife knowing, would you try to make your way back and find some way to stop it? This is a story of how one soul dying helps another one to start living, and saving some other souls along the way.
Chapter one: Chloe
"Are you sure you have everything packed that you'll need for the two weeks?" Valarie asked her daughter for the tenth time that morning.
"Yes mum!" Chloe whined like any twelve year old would when their mother kept asking the same question over and over again.
Chloe was packing a suitcase so she could go and spend a couple of weeks with her father in America where he lived now with his new girlfriend. Chloe's parents still got on well together, they just found they wanted different things out of life and divorced. Valarie kept custody of Chloe, but her father came over to visit all the time, but he was taking her back to America for two weeks, so he could show her the place he lived now, and also let Chloe get to spend some time with the woman that was soon to become her father's new wife. Chloe had spent weekends with her father's wife to be, but this would be a whole two weeks for them to really bond and get to know each other.
"I know I worry too much baby, but I'm going to miss you." Valarie said as she threw her arms around Chloe and never wanted to let go, but had to when she heard the doorbell. "That will be your father." Valarie sighed as she released Chloe and made her way down stairs to answer the door.
"Hi Val, is she ready to go?" Kevin asked with a smile as he stepped into the house and gave Valarie a quick hug and a peck on the cheek. "I swear you get prettier every time I see you." Kevin added as he stepped back and gave her the once over with his eyes.
"Don't let Emily catch you talking to your ex-wife like that." Valarie giggled.
"She'd just agree with me, and you know it." Kevin smiled. "Are you sure you can't come with us? Emily would love to spend some time with you as well as Chloe." Kevin asked.
"I wish I could, but I've got a new book due out on Monday, so I'll be doing a book tour and signing them for my fans." Valarie said with a heavy sigh. "It's going to feel strange knowing my little baby is going to be so far away." Valarie added with a pain in her chest.
"I'll take really good care of her, and hopefully she's going to have such a good time that she'll want to stop with me for good." Kevin teased, but regretted it when he saw the worried look Valarie now had. He was just about to say something to try and calm her back down when a voice spoke from just behind them.
"Never going to happen daddy." Chloe said as she came into view with a big grin on her face. "I could never leave mummy for anymore than a couple of weeks." Chloe added as she wrapped her arms around her mother's waist and hugged her.
"I'm going to miss you so much honey." Valarie said as she hugged Chloe back. "I want a call off you at least once a day." Valarie warned.
"She'll be able to do more than that Val." Kevin said as he pulled a new phone out his pocket and handed it over to Chloe. "You can send video and photos from it, as well as making calls." Kevin added with a grin as Chloe took the phone off him and started playing around with it.
"Will it still work from America daddy?" Chloe asked looking excited with her new phone.
"Yes, I made sure they set all that up in the shop when I bought it for you." Kevin said looking a little smug with himself.
Chloe knew her mums mobile number, so it was soon ringing. Valarie added Chloe's new number to her list of important people and added a picture of her and Chloe to the number, so she'd have something to look at every time she got a call from her while she was away.
"Thank you for doing this Kevin." Valarie said referring to the new phone, so Chloe and she could keep in touch.
"You're welcome Val." Kevin smiled. "I'm sorry to rush you pumpkin, but we need to get going, or we'll miss the flight." Kevin said as he squeezed past the two girls and went up to Chloe's room to collect her suitcase for her.
Valarie tried to give Chloe enough hugs and kisses to last two weeks, but she was already missing her little girl as she stood and watched her get in the car that Kevin had hired when he arrived at the airport just that morning. He'd had to come over due to Valarie not wanting Chloe to fly on her own, not that the airline would let her anyway. She waved like mad to Chloe as she watched them drive off down the road. Valarie was doing all she could to not start crying and worry Chloe. Valarie had no sooner walked back into the house and closed the front door, than she received the first of many text messages on her phone from Chloe.
Missing you already mummy. Love you. The message said.
Valarie giggled as the tears ran down her cheeks. She just hoped that Chloe had a good time with her father, but not good enough that she'd want to stop with him at the end of the two weeks, but Valarie already knew in her heart that Chloe would never want to be away from her for more than that.
The text messages kept coming and then Valarie started getting photos as well. Chloe sent her one of the plane just before she sent a text saying she had to turn her phone off until she got across the pond. Valarie laughed at the term people used for the ocean that separated England from America. Valarie knew it was going to be some time before she got another message from Chloe, so she set to work doing some writing to help pass the time.
*****
Valarie had given up on trying to do any writing and was making herself a cup of coffee when there was a knock at the door, so she went to see who it was and smiled when she saw her sister Ashley stood there pouting at her.
"How bad are you missing her right now?" Ashley asked. Valarie just burst into tears as she held her arms open to give her sister a hug and cry on her shoulder. "That bad?" Ashley said as she let her sister sob.
"How am I going to cope for two weeks without her?" Valarie asked once she'd recovered enough to lead her sister into the kitchen, so she could make them both a cup of coffee.
Ashley soon took over and told Valarie to sit down. "You'll be better on Monday when you start the book tour. The two weeks will just fly by." Ashley said as she placed a steaming hot cup of coffee down in front of her sister before taking the empty seat next to her.
"I hope you're right sis, because I've already tried writing some new stuff, but I just can't stop thinking about Chloe being stuck on a plane somewhere over the Atlantic." Valarie sighed as she looked at her phone in some hope that Chloe had texted her again and she's just missed it.
"You expecting a call?" Ashley asked when she saw Valarie looking at her mobile phone again.
"No, not really." Valarie said as she put it back down again. "Kevin got Chloe a new phone so she can text and send images of her fun time with him over there, but she's on the plane right now, so she's had to turn it off." Valarie explained.
"I think you need a night out dancing." Ashley said making her mind up to treat her sister to a night out, so she could help take her mind off Chloe being away for the next two weeks.
"I'm not in the mood for going out sis." Valarie whined.
"I wasn't asking you baby sister, I was telling you." Ashley said as she pulled Valarie out her seat and dragged her upstairs to start getting ready. The two of them were the same size, so Ashley soon had a couple of outfits sorted, and Ashley pushed Valarie into her bathroom, while she went down the hallway to use Chloe's.
They were soon hitting the local clubs and having a good time, after Ashley managed to get a couple of drinks into Valarie to loosen her up. The two of them flirted with some guys, and they got a couple of drinks bought for them. The guys asked for the girls numbers at the end of the night, so they gave them a couple of fake ones, which saw the guys wander off looking happy.
Valarie was woken on the Sunday morning by her mobile ringing. She was soon wide awake when she saw it was Chloe calling her from America. "Chloe?" Valarie asked as she sat up in bed, and suddenly wished she hadn't as she let out a groan.
"Hi mummy! Are you okay?" Chloe asked with some worry in her voice when she heard how bad her mum sounded.
"I'll be fine sweetie. I got dragged out by your aunty last night and had a little too much to drink." Valarie groaned some more.
"I'm gone less than a day and you've already forgotten about me." Chloe said with a pout to her voice.
"No!" Valarie shouted, but regretted it almost right away with a stabbing pain in her head. "I was out drinking because I miss you honey." Valarie pleaded with her daughter.
"I miss you too mummy. Emily told me to say hi, and to say she's sorry you couldn't get over with me." Chloe said sounding happier now.
"I'm hoping that you send me enough photos that it feels like I am there with you."
"I plan to send you so much that you'll be calling and begging me to stop." Chloe giggled.
"Never going to happen sweetie. I'll be saving it all off onto my laptop so I can watch it over and over again." Valarie warned.
Valarie asked if Chloe had had a good flight, and she had. Chloe spent some time talking about her father's new house and how big it was. Chloe told her mum about some of the things her father had planned for her while she was with them for the two weeks. Valarie could tell that Chloe wasn't going to have time to get bored while she was there.
They spoke for nearly two hours and Valarie still felt sad when they finally had to end the call, but it wasn't long before Chloe was sending a video of her doing a walk around her father's new house, and Valarie had to admit that Chloe was right when she said how big it was.
*****
Valarie spent the rest of her Sunday packing a case ready for her week long book tour and talks she'd been signed up for doing as well. Ashley was going with her as a sort of personal assistant, but really it was just to be some company when Valarie wasn't playing nice with her fans.
The week did pass quickly, but Valarie was still missing Chloe being around to cheer her up, not that Chloe came on many of the book signing tours she did, but she was normally back at home with Ashley keeping an eye on her.
Chloe did keep her word and sent clip after clip of her and her dad going to the zoo and Disney land to name but a few places they visited in the first week.
By the end of the book tour, Valarie was ready to spend some time trying to sort out the new house she'd bought on the coast, so Chloe could attend a private school ran by an old friend of Valarie's. Valarie had bought the large house and had builders in there for the past month fixing the place up and fitting a modern kitchen and pool in the garden as a little surprise for when Chloe got back and they finally moved into the place.
Ashley had booked the two weeks off, so she could go and spend some time with her sister helping her get the place sorted ready for Valarie and Chloe moving in. Ashley worked at the publishing house that published Valarie's books, so Ashley could take longer off if needed and they wouldn't want to upset their star author.
*****
It was the Wednesday when Valarie's world fell apart. She'd got a video message from Chloe, saying that she was going to some ranch so Emily could teach her how to ride a horse. Valarie sat up till well past midnight waiting to hear how it went. But she never heard anything. Ashley finally talked her into calling it a night and Valarie went to bed, only to be woken a couple of hours later by her mobile ringing.
"Hello, Chloe?" Valarie asked still half asleep.
"Is this Mrs Valarie Ballard?" A male voice asked on the other end of the phone.
"Yes this is her speaking." Valarie asked with a worrying feeling starting to take over her.
"Mother to Chloe Ballard, and wife to Kevin Ballard?" The man asked.
"Yes, I just said I was Valarie Ballard." She snapped down the phone.
Valarie felt her whole world get turned upside down as the man on the phone informed her that her daughter and ex-husband had both been killed in a car crash on the freeway on their way to the ranch. Emily had also been killed as well. She found out later that a lorry had shed its load, crushing the car with Chloe and the others in it.
Ashley ran into Valarie's room when she heard her sister start screaming. Ashley had to grab the phone out of Valarie's hand and ask the person on the other end what had happened, she then felt like screaming as well, but knew she had to be the strong one to help her sister deal with her pain.
Even though it was big news to Valarie and Ashley, it never made the news in the UK, but the two of them had to travel out to the States and help sort out the funeral for the three of them. Emily didn't have any family, so Valarie decided to pay for a plot in a graveyard close to where Kevin's house was, so they could all be buried together. As much as she wanted to have Chloe buried in the UK, she thought it best to let her final resting place be with her father.
Valarie and Ashley returned to the UK, and Valarie tried to throw herself into her writing, but never told anyone what had happened, so people just thought that Chloe had decided to stop in America with her father. Valarie was lost without Chloe, and no matter how Ashley tried to help her sister get over her loss, nothing seemed to work.
Ashley was shocked when Valarie told her that she planned to move into the new house and was going to do some writing from there instead. "There are just too many things that remind me of Chloe here sis." Valarie had said.
"I'm worried about you being alone Val." Ashley had said looking worried.
"I'll be fine; I just need some time to get used to Chloe not being around." Valarie had argued.
In truth Valarie just couldn't accept the loss of her little girl. It still felt like Chloe was still around, but always just out of sight where Valarie couldn't see her.
*****
Chloe was excited about going horse riding for the first time with Emily, and she was making a video of the trip as she sat in the back of her father's SUV as it drove down the freeway. Chloe was asking Emily masses of questions about the place they were going just before there was a loud noise and then Chloe found herself floating towards a bright light as she started to see images of things she'd done through her life and then what looked like things that were yet to come. Chloe didn't like what she saw as she was shown a vision of her mother stood on the edge of a cliff just before she stepped off and fell to her death. Not wanting to see her mother do that, Chloe started fighting the pull towards the light as she made her way back into the darkness. She saw a young boy around her age that looked happy to be heading into the light, but she saw that he had a gold chain linking him to the real world still, she dove straight at him and sent them both crashing back into the darkness they had just come from.
Chapter two: James
James lay in the road feeling the life fading away from him as he looked over and saw a man pulling a sheet over a man's dead twisted body. The dead man's name was Mark Mann, he'd been chasing after James, planning to do what the lorry had just done for him, but James was happy to see that it took care of Mark as well.
"Hang in there kid, helps on the way." The lorry driver said as he knelt at the side of the child he'd just hit with his truck. "I didn't see him, he just ran out in front of me at the last minute." The man said as he sobbed.
James had been running away from Mark because he'd been trying to get him to do bad things with some people he owed money to. James had lived a happy life until his father died when he was just five, then it had been just him and his mum for the next four years until Mark Mann talked his way into his mum's life. James had always been a little on the soft gentle side and had told his mum many times that he wished he'd been a girl.
Nicole Cale his mother had loved her son so much that she let him dress as a girl, but only at home where no one else could see it. She still let him do it after she started dating Mark, but not why he was around. Mark was a man's man, and Nicole didn't trust what Mark might do to James if he found out about his softer side. Mark finally moved in and then Nicole became ill and passed away leaving James in the care of Mark.
James had been depressed as he watched Mark bring woman after woman home before he just stopped coming home with them at all. James would go days and not see him at all. That was until one day while James was dressed as a girl and cleaning the house. Mark burst into the room and just looked at James with a puzzled look on his face until he realised who it was.
"I always thought you were a little queer." Mark spat out as he dragged James into the middle of the room and looked him over with a thoughtful look on his face that left James feeling worried for his life.
"Let me go." James said trying to look braver than he felt.
"Don't you talk back to me like that you little shit!" Mark barked as he slapped James across the face sending him flying across the room.
Mark made James show him all the clothes that his mother had bought for him. James did as he was told, not wanting to get another slap across his face. Mark seemed pleased with what he saw and it was only a couple of days later that Mark brought an old man home with him, so James could serve him tea while dressed like a school girl. Mark kept James locked up now when he wasn't around, so James had no chance to escape and find help.
Things soon got worse as Mark brought more and more men home to meet his stepson that liked to dress like a girl. James had been forced to start sitting on the men's knees and then some of them started asking him to touch them in places James didn't want to touch. When a man undid the zipper on his pants, that was the final straw for James as he poured a steaming hot pot of tea over the man's exposed privates before running up to his room and locking the door trying to stop Mark from getting in long enough for James to slip out the window and make a run for it. It was a long drop to the ground and James was worried about hurting himself, but the thought of what Mark would do when he caught him made James take a chance, and he managed to slide down a drain pipe with only some grazing on his hands and knees.
James ran through the streets with the sound of Mark Mann screaming that he was going to kill him when he caught up to him. James could hear Mark's foot falls getting louder as he got closer and closer and Mark's voice got louder and louder. James had never been one of the quickest runners at school, and even the thought of being beaten to death by Mark couldn't help James to find that extra bit of strength.
Mark caught up to James just as he ran across a busy main road without bothering to look if anything was coming up or down the road. James knew he was dead either way. Mark pulled him to a stop in the middle of the road and that was when James saw the large lorry appear just behind Mark as he was about to punch him.
That's were we now find James dressed as a school girl lying in the middle of the road waiting for the end of his miserable life to come. He didn't feel any pain now, and he was looking forward to seeing his mum again. James closed his eyes and saw a bright light as he started to make his way towards it, but before he could get to it, he was slammed into by a girl before he felt pain again just before he woke to find himself in a hospital bed.
"What happened to me?" He croaked out as he looked at a woman and a man both in white coats as they looked at him.
"You're very lucky to be alive young man." The male said as he started shining a light in James's eyes. "Do you remember what happened to you?" He asked.
"Yes, but I don't want to talk about it." James said as he tried to remember what happened after the truck hit him. He remembered seeing someone cover up Mark's body though, which made him smile. "Is he dead?" James asked.
"Do you mean the man that was chasing you?" The female asked this time.
"Yes. Is he dead?" James asked looking hopeful.
"Yes, he died at the scene of the accident. Why was he chasing you?" The woman asked.
James just turned his head and winced as he felt the pain in all his bones. He had nothing he wanted to say to them, but he wanted to know why he was still here when he remembered making his way towards the light and his mother.
The police and other people came and asked him questions, but James just clammed up like a shell, not wanting to let other people know about the things Mark had him do with men he'd never seen before. James' silence said more than he realised, and added to the way he was dressed and the man they had found at James's house still in agony from having hot tea poured over his privates, they had a very good idea what had happened. Needless to say the man didn't get much help with his injury, and was soon spilling the beans about what Mark had been doing with James.
*****
James spent the next eight weeks in the hospital recovering from all the broken bones he'd got when the truck hit him. The doctors told him that he'd have been killed if the truck hadn't hit Mark first. James ended up telling the doctors what had happened and about all the men Mark had brought home, and how he'd threw hot tea all over the last man before running away. Even thought they already knew all this, they also knew it was good for James to talk about it.
They all tried to help James deal with what happened, but none of them could stop the nightmare he kept having night after night. James would be walking through a wooded area while hearing the sound of waves crashing against the rocks. He'd walk out into a clearing at the top of a cliff and see a young girl around the age of twelve, just a little older than him stood with her back to the edge of the cliff, but whenever He tried to save her, she fell and he'd wake up screaming. Just before he woke though, he'd always hear a girl's voice telling him to go save her.
None of the nurses even bothered going to check on James anymore, they just left him to calm down and then go back to sleep again.
James was now able to get up and move around using some crutches, so he sat up in bed panting heavily as he calmed down from seeing the girl fall off the cliff again. He just wished he knew what the nightmare meant, but he'd never seen the girl before, even though part of his mind said he should remember her from somewhere. Needing a glass of water James slipped out of bed and made his was over to the bathroom he had as part of the private room they had him in. Not because he was special, but to stop him waking other patients through the night. He could hear a couple of nurses talking just outside his room so he snuck over to hear what they had to say, just in case it was about him.
"Do they have any idea what's wrong with him yet?" One nurse asked the other.
"I got a quick look at some notes the last psychiatrist took, and it looks like he was being abused by his step dad for some time before he managed to run away. They're moving him up to the Psychiatric ward in a couple of days, so it sounds like they've all but given up hope of him ever being right again." The second nurse said with a sad tone to her voice.
"I'm not insane." James thought to himself worriedly all of a sudden, as he had seen what they do to people on them wards, and he wasn't insane, he just kept having the same nightmare about a girl trying to kill herself. Not feeling thirsty anymore, James went back to his bed and fell asleep worried about them moving him to a padded sell.
James managed to find sleep again, but he didn't have the nightmare this time, but the girl was in his dream still. She was leading him down the hallway and out of the hospital as she kept pointing at the clock on the wall like she was telling him the best time to make his escape.
"Who are you?" James asked in a pleading voice as the girl showed him the way he needed to go.
"Please save her." The girl replied just before she faded out and James was woken by a nurse coming into the room to check up on him.
James watched the clock and then he made his escape when the girl in his dream had said, and he managed to get out the hospital and even managed to find some clothes in one of the other rooms on his way out. They were girl's clothes, but that didn't bother him. James was just glad he wouldn't be spending the rest of his life in a padded room with a straight jack for clothing.
Life on the street turned out to be rougher that James first thought, and he had to run and hide from the other kids living rough more than once that first week. The fact he was still having the nightmare with the girl didn't help when he was trying to find sleep on the cold streets. The girl would show him things trying to help him out, it took him a little time to work that part out though, but he did realise that he only ever had the nightmare when he didn't do what the girl showed him, or it looked like he was going the wrong way. James started to wonder if maybe the doctors were right, and he was insane for following the orders of the girl in his head.
James had been living rough for just over three weeks when he saw a place that the girl in his dreams had shown him, so he went to look in the building and found some crates of food sat there, so she filled his pockets with as much as he could carry and smiled as he took a bite out of the apple he had in his hand.
"What the hell do you think you're doing?" A teenage sounding boy asked as he walked into the building through another door and saw James stood at the other end with an apple to his mouth. "Get her boys! She's stealing our stuff." The boy added as another four lads entered the room through the same doorway.
James was smart enough to know that they would kill him if they got hold of him, but he couldn't understand why the girl in his dreams led him to a place like that, but then he was beginning to think that he maybe was insane for following the advice of a girl that only ever showed up in his dreams. James pushed over a stack of boxes and made his escape while the boys tried to fight their way over the mess.
James was soon on the main road running for his life once again, but he got the feeling that someone was guiding him to a place of safety. It was like he knew where he was going as he ran down alleyways and managed to keep one step ahead of the boys chasing him. James ran around a corner and almost knocked a couple of men flying as they stepped off the back of a removal van.
"Slow down kid." One of the men said as they caught James before he fell over. "Anyone would think you had the devil on your tail." The man added with a chuckle.
"Sorry." James said as he looked past the two men and saw the five boys still running after him. He pulled free of the man's grip and ran off again.
The two men looked around and saw the five boys running towards them, and decided to give the young girl a helping hand by slowing the other boys up to give her time to get away. James was still wearing the girl's clothes, and given his small frame and long hair, he looked like a girl running away from a group of boys.
"Don't you think it's a little unfair five boys chasing after one girl?" The same man that James had just bumped into asked the one that looked to be the leader of the gang.
"What's it got to do with you?" The boy asked trying to look tough in front of the others.
"How about a lot if you want me to leave you with any teeth." The man said as he grabbed the boy by the neck and pushed him up against the side of the removal van with a loud bang.
"She's a thief, she stole our food." The boy said losing all his macho grace as he worried for his life and winning smile.
The man let him go thinking that he'd given the girl a good enough lead on the others now. He stood with his workmate watching as the five boys ran off down the road trying to find James's trail again.
James had ran around the back of the removal truck and saw a good place to hide inside the truck, so he climbed on to the back of the truck and then lifted the lid on a large wooden chest that was full of cuddly toys and had holes cut into the box so people could pick it up and move it. James used these same holes to make sure he could breathe before climbing inside and then closing the lid and looked out to see if he'd managed to lose his would be attackers.
It was only a couple of minutes, but felt like hours before he saw them run into view, but he was well hidden in the chest as he looked out the handle hole. James watched the lads run off down the road, but before he could get out the chest, a couple more removal men loaded another large chest into the truck, just before they climbed in and placed it on top of the one James was in, trapping him inside the chest, and the truck. He thought about calling out to let them know he was inside the chest, but then thought they might think him a thief as well, so he kept quiet and watched as more and more stuff was loaded onto the truck.
James started to fall asleep when he heard a woman's voice speaking to one of the men, and for some reason he felt a strange warm glow in his chest like he was happy to hear that voice for some reason, but he didn't know why.
"That's the last of it, so you can see about getting on the road, and I'll meet you at the house later this evening so we can get it all unloaded." The woman said as the man closed the back of the truck up and then James felt the engine being started.
James was just glad he wouldn't be stuck in the truck over night. The chest made for a nice warm place, and the cuddly toys stopped it from being a bumpy ride and James was soon being rocked to sleep by the movement of the truck as it travelled to its new location.
The back doors on the truck being opened woke James and left him trying to work out where he was for a couple of seconds until it all came back to him. He'd need to time this just right if he wanted to make his getaway without being seen.
It didn't go as planned though as two guys took the chest that was pinning the lid down on the one he was in, and then the other two guys of the four man team was ready to take the chest with him in right up to the room it was going to be stored in.
"I don't remember this chest being so heavy when we put it in the truck." One of the men said as they lifted it up and moved it off the truck and then carried it into the house.
"You're just getting tired old man; it's been a long day for you." The other guy teased him.
"I'll give you old man you young whippier snapper." The guy complaining about the weight said with a chuckle.
James was too scared to even breathe as the two guys carried the chest up to the bedroom it was destined for. He felt that same warm glow in his chest when he heard the same woman's voice thanking the men for all their hard work.
"You must let me make you all a cup of coffee before you get back on the road." James heard the woman say as she led the men back out the room and then she closed the door.
Not wanting to risk trying to sneak out the house while the removal men were still around, James decided to leave it a little longer before he tried to make his escape from the bedroom and then the house, so he cuddled up with a couple of the teddy bears and was soon falling asleep again.
*****
James wasn't sure how long he was asleep for, but he woke to the soft sound of a woman crying not far from where he was still buried in among all the cuddly toys. He moved a couple of the toys out the way so he could look out where he saw her sat on a bed that hadn't been made up, and the woman was holding a picture to her chest as she sobbed. James found himself wanting to cry as he felt such sorrow in his heart, but he held it all in, not wanting to let the woman know he was hiding out in her bedroom.
"I'm sorry Chloe, I'm so sorry, but I can't go on anymore without you." The woman sobbed as she put the picture down on the bed and then placed a folded piece of paper down on top of it before she left the room.
James heard the sound of footsteps on the stairs just before he heard the front door slam. Seeing his chance to get out the house while the woman was away, he opened the lid on the chest and climbed out. James was just about to leave the room when he saw the picture frame laying on the bed and decided to just take a quick look to see what the woman was crying about. James soon dropped the picture like it was burning his hand when he saw that the girl in the photo was the same girl that had been haunting his dreams for the past couple of months.
"Chloe? The girl's name is Chloe? But how did she get into my dreams?" James said to the photo on the bed. He did have a sudden flash of her bumping into him as he was floating though, but the memory was very fuzzy and hard for him to remember.
James looked at the piece of paper and suddenly felt the urge to pick it up and see what the woman was saying sorry for, but it felt like he was being forced to read it by someone else. James picked it up and opened it.
Dear Ashley
I know you will hate me when you read this, but I just can't carry on living in a world where Chloe is dead, so I am going to join her and hopefully find happiness in the afterlife.
Please know that I love you very much, and I will always be grateful for all the help you have been since I lost my little girl, but at the end of the day, I just can't find the energy to keep going.
With all my love.
Valarie.
James dropped the letter on the bed and ran over to the window to see if he could see where the woman had gone. Everything started to fall into place as he saw a wooded area with the sea just beyond it. He also saw the place from his nightmare where the girl kept falling off the cliff into the water below. "Save her." He heard the girl's voice in his head again, as he realised that the girl in his dreams wanted him to stop this woman from killing herself. James looked down and saw the woman just disappearing into the trees on her way to the cliff top.
"Please stop her." The voice screamed in his head making him drop to his knees in pain for a second.
James was soon back on his feet again and running from the room and down the stairs where he had to stop and work out where the front door was, so he could go after this woman he thought of as his mum for some strange reason that still didn't make any sense to him. He found the front door and ran out of it and then into the trees where he'd seen the woman go minutes before.
To Be Continued Next Tuesday
Story by SaraUK
Edited and Posted by SamanthaK
EDITORS NOTE: Please Comment and/or leave Kudos and let Sara know you like her work please, Any comments on spelling, grammar or the layout of the story please PM me "Samanthak" not Sara. Thank you
---
If you liked this post, you can leave a comment and/or a kudo!
Click the
Good Story!
button above to leave the author a kudo:
And please, remember to comment, too! Thanks.
This story is 7666 words long.