Printer-friendly version



Carla's Journey




by Roo





Part Two Chapter Three A new vet and a surprise



Editing by Bronwen
Previously
It was nine thirty when the phone rang. Mum answered it and said, "Yes she is available, may I ask who is calling?"
Mum said, "Sandy in the UK." and handed the phone to me. I said, "Hello Sandy, are you ringing about the position?"
She replied, "Am I talking to Carla Smith?"
"Yes this is she."
*****************************************************
"Well Carla my mother phoned me today and told me about you advertising over here for a vet and I have just located the ad in the Veterinary Bulletin, It's quite an impressive ad, have you had any replies to it?"
I replied, "Well yes Sandy, but as soon as they realise that it is hundreds of miles out in the bush they run a mile!!"
"Well Carla, I'm definitely interested in finding out more about what you are offering."
I replied, "Sandy if you're interested I can send you all the information about the practice. Ross my partner is wanting to retire so I am looking for a partner not an employee."
Sandy said, "Interested!! It is exactly what I am looking for Carla! I can be back in Australia within a month. All I have to do is put the house on the market and start packing."
"Sandy, your Mum said something about you having a problem with your child?"
She sounded a bit nervousness and said, "Well Carla I have a nine year old umm – dau - son and there seems to be some confusion about gender but I really wish my mother hadn't said anything."
I replied, "Sandy if your child has GID or is inter-sexed it is not something that will just disappear. I should know, I was born inter-sexed and I am now a mother of a set of twin girls eighteen months old, so if you need help you are coming to the right place. I decide a long time ago that I will never hide who I am, where I come from in location, or what my gender status is. I am a woman that had a medical problem at birth - that's it full stop."
The line went quiet and I said, "Sandy are you still there?"
She replied, "Carla it's just that I'm not used to people being so straight-forward about themselves. It sounds like we could become good friends as well as business partners."
I replied, "Don't you want to know more about the details of what I'm offering."
"Carla I realise that there is money involved but I have been left with a very sizable amount of cash and also this house so I can afford to buy into a business without too much trouble, and Mum and Dad will also back me. By the way thanks for saving Dad's stud ram, he is quite a valuable animal."
I replied, "Maybe I should double my account?"
There was laughter from both of us and we finished the call with her saying that she would be in touch in the next few days to work out what the deal would be with Ross's part of the business. I didn't think he would haggle about the price too much, he just wanted to put his feet up and retire.
The next couple of weeks went on as normal. I got to see Jenny quite a bit and gave her advice on baby management, if there is such a thing. Mum was in her element and hung around like a busy bee at her nest. (Hmmm, mixed metaphors?) Dad got more and more involved with looking after my little cherubs. They had him wrapped around their sticky little fingers. I seem to remember their mother doing the same thing! Jean seemed to be communicating with them as well and I am sure they could actually see her because even in their baby talk they seemed to be looking in one direction.
It gave me more time at the clinic but I was hoping to ease back once Sandy started to work with me. She also had a pilots licence, how lucky could I get?!"
It kept raining and it was getting to the stage where the weather would not allow any flying to take place apart from using the helicopter as a rescue back up if things got any worse. Well things did get worse because Cyclone Wanda bore down on the Queensland coast and caused a huge flood not only in Brisbane but also throughout the whole state. Queensland was waterlogged and so was Quilpie. The helicopter was used to rescue people from roof tops and drop food supplies to outlying stations that had no hope of getting out for weeks or even months. Even the army were called in to help. As for Brisbane it went under and fourteen people died including ten people who drowned in the suburbs of Yeronga, Newmarket , St Lucia, and the City of Ipswich upriver and to the west.
''Note'' this information can be Googled on ''Wikipedia 1974 Queensland floods '' Quilpie was also inundated see photo below.
In amongst all this happening Sandy arrived with a very distraught looking skinny boy in jeans and T shirt. He had quite long hair and I guessed he was like me when we first arrived in town all those years ago not knowing which way to turn. They turned up in a four wheel drive which took two days to negotiate the flooded roads and rivers, after they landed in Charleville. Our strip was under water. The kid looked lost and frightened. I guessed after living in England this place looked like a different planet. The boy's name was Jamie, and their surname was Jones. Sandy got out first and looked tired and had mud all over her. They got bogged a few times and literally had to dig themselves out, Jamie emerged from the other side of the land cruiser in the same condition as his mother.
I greeted them and said to get back in the Cruiser and follow me in my Jeep to my home. They got back in, mud and all and followed me home. When we arrived Dad was there to help unload the Cruiser. They would not be able to continue on to Sandra's parent's property and it would be weeks before anyone could get through by road, but as soon as her Dad had a dry spot of ground to land the chopper on we would fly mother and son out to the sheep station. Mum came out to welcome the two mud covered people with a twin on each arm. I don't know how she managed it because when I tried it they wriggled and squirmed and I had to put them down and make them walk.
Anyway the two newcomers were shown to the showers and told there were dressing gowns hanging in the bathrooms for them to put on till they could get at their clothes that Dad took to a spare bedroom.
Mum handed the twins over to me to bathe, feed, and put to bed. Ricky would read them a bedtime story and try to understand what they are saying to him. It was a funny thing to watch because Jean had a connection with them. She seemed to be able to get into Ricky's mind and translate what Donna and Little Jean were saying and then Ricky replied to them. The whole thing was like a kid's show on the telly and if we filmed it it would probably make a fortune.
Sandy and Jamie came in after their showers to watch the spectacle and started to laugh when Ricky started speaking what seemed a foreign language and the twins seemed to understand what he was telling them.
Sandy and Jamie phoned Sandy's parents to reassure them that they had arrived at Quilpie safely and would be staying with us until the weather improved. Then they were shown to their room and they disappeared to get dressed for the evening. When they emerged from the room and walked into the lounge where all but Mum was, (she was getting the dinner ready), Sandy was wearing a white summer dress and no shoes and her hair still mostly wet and tied into a loose pony tail. The big surprise was Jamie. No jeans and T-shirt now, but dressed in a summer dress almost the same as his mother, and also no shoes. His hair was dry, and I think Sandy used my hair dryer and and she had combed it into very feminine style with a barrette holding it in place. We all just stood there stunned by what we saw. It could have been me at the same age. ''She'' (I have to say 'she' because the boy that we all saw half an hour earlier was gone was replaced by this very pretty nine year old girl) was holding her mother's hand.
Mum who came out of the kitchen was the first to speak and said, "Oh my and who is this pretty little girl in a white dress and no shoes on?"
Sandy said, "Meet my daughter Jamie. She has the same name as the boy that was here when we arrived but the name is also a girls name. Jamie say hello to the people we are going to be living with till we can find a place of our own."
Jamie was the typical shy girl and almost whispered, "It's nice to meet you all."
Sandy then said, "I thought it best to not let anyone be under any delusions about Jamie. She is a girl with a medical condition called intersexed and hopefully it can be rectified without too much fuss. I wanted her to start her new life as the girl that she is and not what her birth certificate states."
I went and gave her a hug and said, "Welcome to Quilpie and our home Jamie and I love what your Mum has done with your hair."
Jamie started to relax and looked at me with her beautiful big brown eyes and it reminded me of myself all those years ago. Mum then announced that dinner was ready to be served and we all went into the dining room, I told everyone the take a seat and I gave Mum a hand to dish up the meal. While this was being done Rita and Peter also turned up so they could welcome the newcomers.
I had phoned Rita and explained about little Jamie being the same as me, so when she arrived she gave Jamie a hug and said, "Welcome to our family little girl, I love your dress."
Jamie shyly replied "Thank you."
Sandy just looked at Rita and said "Thank you." with a warm smile that said 'thanks for excepting my daughter for who she is.'
Once dinner was over and everything was cleared away everyone ventured into the lounge room and the conversation led to what was happening in Queensland and all the damage the floods were doing to roads and a lot of other infrastructure. It was going to cost millions to repair all the damage. While this was going on Ricky took Jamie in to see the twins which were by the way supposed to be asleep by now. I think Daddy might have woken them up on purpose so he could show them off to Jamie and also get to know Jamie a little bit more. The thing is that Jamie probably reminded him so much of when we first met so I could understand where he was coming from. Ricky will make a great uncle for Jamie. The twins took to Jamie straight away as if they had some connection with her. I had my suspicions that my spirit sister had something to do with that!
The night ended on a happy note and everyone either went home in Rita and Peter's case or retired to their bedrooms, Tomorrow was another day and hopefully the weather would clear and let things get back to some normality.
To be continued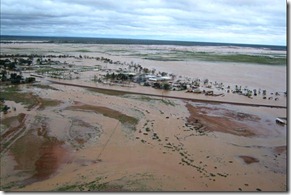 Quilpie floods 1974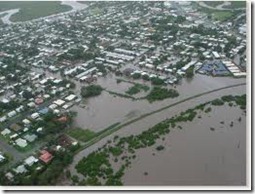 Brisbane floods 1974
Please leave a comment
---
If you liked this post, you can leave a comment and/or a kudo!
Click the
Good Story!
button above to leave the author a kudo:
And please, remember to comment, too! Thanks.
This story is 2062 words long.