Printer-friendly version
In the Wyld World, there are many religions, just as there is in this world. However, in the Wyld World, there is one thing that practically all religions have in common: They are the final word in terms of what is, and what isn't, acceptable.
Enter young Nate Redbone, Native American of the Navajo tribe. He has almost turned 20, and still hasn't gone Wyld. However, once Nate becomes Natalie, how will he be treated amongst his own people? And in return, can he accept them as well?
The Changing Woman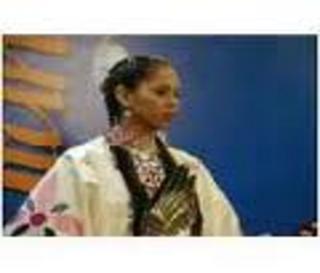 A Wyld Universe Story
by AoifeM
---
(In Haylie's PoV)
Where was I?
I woke up to the sound of silence as I pulled myself up on my two feet. I tried to stay up for a bit, but with the dizziness I was experiencing it was long before I was back down on all fours, shaking my head as the chilling winds blew through my torn and shredded shirt. For some reason, I couldn't remember how it got that way…
Suddenly I felt my hunger pangs as my stomach began to growl violently. It must've been hours since I had a fresh meal in my belly. I couldn't help but imagine eating a giant sirloin steak. God, that would be good.
There were no restaurants or stores in sight, all there was darkness. To be honest, I was surprised I've been out here for this long and hadn't wondered just how I even got to this place. What did I do last night?
I couldn't ponder much about it however, as my stomach began to act up even more, making it tough to think. I had to find something to eat, but where?
Suddenly I sensed something, not coming from my eyes, but instead from my nose. It was an interesting smell. It was so vivid, yet so weird how I could smell something and not find it anywhere around my vicinity. My stomach took control, and before I knew it I was following my nose to that exquisite smell.
I stumbled along, trying to balance myself, yet having a tough time doing even that. I found that being on my fours was best, at least until I get my strength back. I was surprisingly adept on all fours, eventually feeling less awkward and more natural as I walked along. I could hear my target from here, was it alive? That couldn't be, could it? But somehow I couldn't stop drooling, embarrassingly. It was obvious I really needed some food. I was so hungry I could eat a…
It all came together as I rustled my head through the bushes. The clicking and clattering, the odor I smelled; it came directly from this stray horse that was lost and confused. What was I thinking? It's not cooked, it's not even dead! How was I supposed to eat that!?
Yet my mind seemed to comfort me, telling me to relax and do what was natural to me. The aroma was arousing me, totally rendering my thought processes worthless. I licked my lips, just imagining the glorious taste as I sink my teeth into its flesh. I was going to feast on that animal.
I was snarling at the hopeless horse, my teeth shown as I stood on my fours, ready to strike. Unaware, I pounced on my prey and bit into its neck; the blood filled my mouth as my taste buds were sent into ecstasy. One last slash with my claw and my pray was gutted, dead.
With my muzzle into my meal, I immediately paused to tell the world of my new power. With the full moon riding high I raised my head and gave a glorious howl, resonating throughout the canyon.
I woke up to the feeling of scorching hot sun on my face. Opening my eyes I was greeted by the sight of vultures circling overhead. I could smell the odor of rotten meat suffocating my nostrils. It immediately sent me up onto my feet and looking down I saw a dead horse, badly mutilated right next to me. What's more I could see the blood, coming from me hands and down my chest. I ran my hands on my face and confirmed, my face was covered with it too. With no idea what happened, or what I had done, I broke down and let out a scream.
---
Water…water. The warmth of the area was overwhelming me. I've been out here all day, wandering, hoping to find some semblance of life. All I could see was dirt and cacti, with no roads in sight. How in the world did I get this far out of the way? Nothing made any sense anymore, and that began to scare me. I needed to find help, soon, before I die of thirst.
It was no use however, as I felt flat on my face. This was it…I was gonna die.
Natalie…
From out of nowhere I felt the moist tongue of some animal, licking my face. I thought it was a scavenger, and in sense I was right, as it was a coyote, staring right at me. It didn't seem to want to hurt me, however.
"Shoo…" I gasped, wanting it to leave me to my fate. But something was pushing that coyote to keep at it, to try and save my life. Upon looking at its face I realize, this wasn't some ordinary coyote. It was that coyote from earlier, before we got captured by Hatalii and his followers.
"W…what are you doing here?" I stuttered, using all my strength to sit up. Immediately I saw the coyote run ahead, as if he was trying to direct me to something. I didn't know what it was, but I was baking out here. I used my energy reserves so to speak and followed him, and sure enough he led me to a small stream flowing downward. I raced my ass to the river and with little tact I immediately dunked my face into the water, taking a few sips of water while washing the blood off my face. The cool water was a nice respite from the oven I currently resided in.
---
A few minutes passed and I found myself naked inside the stream, scrubbing hard to get the blood off of me. The coyote was on shore, chilling out. I couldn't help but feel a little uncomfortable being naked around him for some reason. I mean, he is a dog, I don't think he'd care a whole lot. Then, why did I? I gave him a cold glance from over my shoulder, making sure he wasn't seeing anything he shouldn't, and he responded by looking at me cock eyed, wondering what the hell he did. To be honest, I couldn't really figured out what he did wrong either.
Finally I got out of the stream and quickly got dressed. The most peculiar thing I saw on my clothes, besides the overall condition of it, was the amount of hair that was found inside of it. I thought it might've been the coyote's, snooping around where he wasn't supposed to, but I quickly dismissed such a thing. I couldn't smell his scent anywhere on it. How could I tell his scent again?
Now feeling a lot better, I began to contemplate where to next. I still hadn't any idea where I was, or how to get back home. Did I want to go back? I mean, the townspeople were so enthralled with Hatalii's preaching they fail to think with their own mind. That's what caused Natalie to go missing in the first place, and that's why I needed to find her.
Perhaps the hound would know. I called him over to me. He was surprisingly sharp for a wild animal. I called him and he walked over without hesitation. I stroked his shiny fur coat as he wagged in enjoyment. However, that was as much enjoyment he was going to get. Business was at hand.
"You know where Natalie is?" he barked in confirmation. "Natalie, yeah? I need to find her and see if she's ok. Can you take me to her?"
He didn't say anymore as he began to run ahead, guiding me to her location. I had no doubt now he did know where she was at. It became more and more apparent as we came closer and closer to his destination. It was sort of like I can notice vague remnants of her…like in the scent of the air. It almost smelled like me, and yet just a tinge different. Also I could smell something birdlike. Was that Shawna? It was odd how my smell was so in tune to my environment. No, what was odd was the fact I wasn't thinking much about it.
Eventually we came to a giant rock on the road. You would assume it was a dead end, but my nose was telling me otherwise. The coyote was seeing right through it too, barking at the boulder on the road. What I wasn't prepared for was the giant boulder to come to life, and have a giant 20 foot golem staring back at me.
"You…" it monotonously grumbled as he looked down on us like ants. "You…don't belong here…leave…"
I was scared, but I couldn't leave now, not when I was sure that Natalie was just beyond him.
"Natalie!" I shouted to him. "I'm looking for a girl named Natalie! She's my sister!"
He warned me once again, "Leave…"
"But I need to know if she's here!" I pleaded. "Please!"
He was having none of it, however. He stood there, and I knew if I did something stupid he was gonna flatten me into a pancake.
However, it seemed like the coyote was having other thoughts. Indeed the giant earthen creature looked imposing, apparently it wasn't coordinated enough to stop an agile canine. He immediately ran through its legs and through the path beyond. The shaking and stomping the golem did trying to stop him only caused additional ruckus, and sent my butt to the ground. Still he stood there, not bothering to chase after him. I only hope he can get to Natalie and have her sort all of this out.
Of course what I didn't see was the group of monster like Wyld coming to see what was going on. It seemed to be a centaur with a couple of her minions, and for what I could see, she was not thrilled at my presence.
Immediately her men seized me, restraining me.
"You were warned," the centaur woman replied. "Now you will reap the consequences!"
Suddenly I heard a shout out in the distance. "Wait!" She cried. It was Shawna, alongside Natalie and the Coyote. He found them!
"What is the meaning of this?" the Centaur asked as they made their way to stop my "arrest."
"Haylie!" I heard Natalie cry. She immediately gave me a big hug. If my hands weren't restrained I would have reciprocated.
"Please, Matron," Shawna pleaded to her. "She means no harm!"
"How many more people must you vouch for?" she asked. "How many more need to know of our village?"
"Not all humans or Diné are evil!" she claimed.
"And not all of them are good either!" She countered. "And I'm not going to waste my time determining the difference!"
"Please, Matron," Shawna begged. "Stop blaming these people for other people's crimes! They obviously are at odds with the Hatalii, so offer them support! No one else will!"
She shook her head. For being a rather stubborn individual, she seems to at least be giving Shawna's statements some thought. She glanced at me and turned to Shawna to make her decision. "They are gone by the morrow," she decreed. "If they give us trouble, I won't hesitate to banish you, Shawna. Don't make me regret this."
Her men finally let me go and I was finally free to truly embrace my sister. I don't know how she was able to escape, but at the very least I was glad. We were safe, at least for the night. I don't know what would happen the days to follow, but as long as we're together again, we should be alright.
For some reason, I began to feel hungry again. I guess it had been awhile since I've had a meal. I wonder what's smelling so good? It kind of smells divine…
---
If you liked this post, you can leave a comment and/or a kudo!
Click the
Good Story!
button above to leave the author a kudo:
And please, remember to comment, too! Thanks.
This story is 2149 words long.