Printer-friendly version
---
---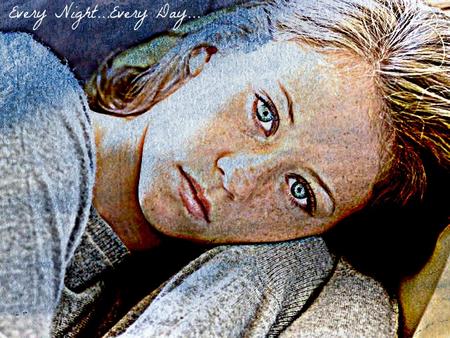 ---
---
Previously...
Alicia looked Olivia for the first time in a different light; even in holding her like she was still a little child, the past had been remade, and it was her little girl she held. Not only a little girl, but a girl that was destined to grow beyond the moment, and have the same heartaches over a boy that any other girl might have who longs for love…that first crush…and all the pain and foolish hope that first crush contains. The boy, Alicia imagined, would only be the first of several until Olivia found that one real, true love of her life. Little did she know how true that would come to be and how quickly that would come to pass.
She sighed and smiled even as the last of her present tears trickled down her cheek. It was only then that she felt confident that she would be able to help mend the heart that had been inevitably broken over a first fleeting crush, knowing with assurance that her daughter would finally come to know that she truly was her daughter.
"Precious, Olivia! My baby!"
---
A few Years Later, the Vincenzo home, Spencerport, New York...
Je le sens
je le sais
Quand t'as mal à l'autre bout de la terre
Quand tu pleures, pendant des heures
sur mon cœur
Je pourrais hurler
le jurer même si je ne vois rien d'où je suis
Je sens ton chagrin

Olivia felt foolish enough that she realized she was blushing even though she was alone; two-forty-one in the morning, the only light in the room was the dimmed display of her laptop as she stared at the image on the screen. The face was familiar if entirely brand new; resembling what she thought the boy would look like. At eighteen and ready to take on the world in the fall at college, she nevertheless was still stuck a bit in the past as she recalled the last moment she had seen him…
She looked up briefly before putting her arm around his neck as she laid her head on his chest; a place that only moments before had been a place of anger and bias and shame. She began to shake as the tears came once again; this time cleansing and healing; perhaps for both.
"Shhhh." He said and he leaned close and kissed her; not hard or long or so much romantic, but hard enough and long enough and just romantic enough to heal two people. She stood a tiptoe and added her other arm around his neck as she kissed back. It wasn't the defining kiss…'the' kiss for both of them would follow at other times and places. But it was defining, none the less, since it helped both of them realize in a way just who they were by how they saw themselves in each other's eyes. A girl who was afraid she wasn't a girl received strength and hope. And a boy who never really wanted to grow up to be a man became one from the confidence and gratitude of a girl who he realized had fallen into the category of 'what might have been.'
Why life had to be so painful, she had yet to discover; her abiding (mostly) faith told her to ask God the next time she saw him (or her) to get the lowdown. Either she'd discover it on her own, or not at all, since most questions of that persuasion seem to be answered way down the line or entirely too soon, so to speak. She sighed and closed the laptop; too many nights of visual speculation, as her mother would call it, and certainly not enough sleep. And being only seven weeks past her surgery, she needed all the rest she could get, since school was almost about to start.
"Still at it?"
She looked up to see her mother standing in the doorway; arms folded in boredom wrought from a painful routine for both the women of the household. She wasn't so much upset with Olivia as angry at herself for how Oliva was faring…transition-wise. The dreaded 't' word that held so much promise in brochures and handouts but fell way short of any expectations, however unrealistic.
And of course her daughter was doing well in a lot of aspects of her life. She had been attending U of R already for two years; the result of hard work and diligence had paid off in an early entry after her junior year in high school. Her grades were not spectacular, but still good enough to help build confidence in a girl who felt little confidence in herself in so many ways.
And there was that pesky crush she had held onto since her fifteenth summer. Nearly four years removed and that boy was still haunting her. It didn't help that each time she began a relationship it was plagued with stutter-steps and false starts; insecurity fueled by old fears and doubts and idiots without a clue who never looked past looking at her.
Her sweet sixteen party had been a bust; only a couple of girls from school and a nice girl like her from her support group. She had invited her best friend from before things began to change; Jeremy Davidson was Tony's best buddy growing up, but couldn't handle Tony becoming Olivia. He came to the party long enough to stand at the door and curse before storming off. By the time the reached eighteen, Jeremy did come 'round, as they say, but only in the boyfriend-cum-brother department.
Carlo, her brother, was about as supportive as anyone with fools for friends might be; never speaking harshly about her condition, but neither did he correct them when they teased. One day that changed forever when Carlo hit a maturity wall at sixteen and got into a fight. He would tell everyone later on that he got 'beat to shit,' which earned him no small amount of correction from Alicia and the undying admiration of his big sister. And somehow the strength he showed did a great deal to dissuade his former friends from picking on Olivia.
And so at eighteen, Olivia was both hopeful and nervous about what life might bring in the way of romance to a girl who felt shaky and ill-prepared and insecure. Her mother would tell her that regardless of what circumstances said to her, she had been preparing to be a woman from the time she was born. No one gets a guarantee that they'll succeed in any aspect of their lives, and in that fact her self-image grew slowly.
"Hell, I couldn't cook when I married your Dad, and my Mom and Dad owned a restaurant." Alicia assured her daughter that everyone comes up short in some things; still well meaning falling short herself in the comfort department. A voice; almost a rebuke, came from behind Alicia.
"Can I just add my two cents?" Carlo leaned around his mother while holding onto the door frame; almost peeking out from behind her. He didn't wait for permission.
"I don't want to sound too strange…" He paused as both women stared at him with near-identical grins.
"Okay, I don't want to sound stranger than usual. Listen O…you're just about as nice a girl as anyone I know…okay, so I don't know all that many girls." At fifteen plus years, he was hardly even coming into his own with the opposite sex, and the gender confusion in the household, so he though, added to his own doubts. But it was like a lightbulb went on in his head, and his epiphany helped him be what we all hope our brothers will be; albeit awkwardly. He put his hands on his hips like some skinny wannabe super-hero.
"Have no fear. Carlo is here!" All the while nodding as if to acknowledge a non-existent army of fans.
"Get to the point, Carlo." Olivia snapped. No one was in all that good a mood at nearly three AM. He laughed, softly and with as oddly comforting a look as either women could remember.
"I know you feel bad about yourself. I've heard you cry enough to know it isn't going to go away. But you're a great girl, and whoever is actually crazy enough to go out with you will have the best girlfriend he …or she ever had, okay? Whatever you think you had with this guy….jeez, O, it's been four years, and you've gotta move on. You're standing around waiting for someone because you can't believe anyone else can see past that fact that you were Tony instead of Olivia when you were growing up. I think you're a girl. Mom thinks you're a girl. You've gotta believe your friends think you're a girl, right?"
Olivia put her head down and was silent. Carlo walked over to her and sat down. Some guy in East Jabib might kiss you again IF you ever meet him and IF he's free and IF HE hasn't changed, but you have to know that he just can't be the only one, okay. God didn't bring you this far to point at you now that you had everything fixed just to say….'Hah…gotcha.' Right, Mom?"
"I know ….that's not the way she works." Alicia said, teasing Carlo. He and she would have debates from time to time about God, and they finally came to a mutual appreciation for each other's view regarding God as Mom or Pop. He nodded and turned to Olivia.
"Now, you have to believe I'm right if Mom and I are in agreement."
"You don't understand."
"You're right," he laughed softly…"I have absolutely no fucking idea what you're going through." His brief foray into profanity earned him a mock glower from Alicia. Olivia looked at him quizzically.
"I don't know what you're going through, but I know you, and I know you've just got to believe in yourself the way Mom and I do, okay? It's gonna be okay. Hell, before you know it, I'll be walkin' you down the aisle…." He looked at Olivia again and smiled.
"If you're expecting a hug, sorry, but you'll be sadly disappointed. He went to stand up, but he had forgotten somehow that even if he didn't hug her, she was entirely capable of hugging him, which she did along with a few …well, more than a few tears. Alicia sighed as she saw the two embrace, and for the first time since their father had left the three of them, she felt secure in the knowledge that everything would finally be okay.
Quand je me vois sans tes mains sans tes bras
Je ne peux plus respirer
Et j'entends si souvent le chant du vent
Qui vient pour me ramener
vers tes Landes
Sous ton ciel d'Irlande
Quitter ma vie sans préavis
Je le ferais si tu m'aimes
---
Ruth Miller Center, University of Rochester...Mid August…
"I'll catch you after my last class," Olivia waved to the girl who stopped in the middle of the hallway. A wave and a nod and the girl was gone. Olivia turned to enter the office when a tallish young man tapped her gently on the shoulder, giving her a start.
"Can you help me? I'm looking for the support center?" He smiled and looked back and forth in the hallway. She went to speak and he began to laugh.
"You don't remember me, do you?" He smiled and she noticed that his right eye seemed immobile. He had a scar that traversed his face from mid-cheek across his right eye to the top of his forehead. Likely an accident she thought. She shook her head. He looked vaguely familiar, but nothing like anyone she knew.
"It's me…Matt…you remember…that summer…" He waited as the wheels turned slowly in her head. Her face grew warm and then hot and a nice shade of pink darkened her cheeks.
"Oh MY GOD!" It was really all she could say. She looked around nervously, hoping that there was an open door through which she could run, but the hallway was busier than usual, and he barred the door of the office she needed to enter.
"I'm going to be starting tomorrow in the nursing program, of all things. Funny, huh." He ignored her embarrassment as if they'd been connected all along. He put his hand on her shoulder.
"I've thought a lot about you since that summer. Really." He smiled broadly and went to speak, but a girl stepped out of the office and stood next to him, grabbing his arm. She stood a bit tip toe and kissed his cheek.
"Hi Matt… I'm glad you could make it. I'm sorry, but I've got to run; my advisor texted me and she's only got a slot just before lunch. Love you." She nodded to Olivia with a kind if oblivious smile before scurrying down the hall. Matt's eyes followed her down the hall before he turned around to face Olivia. She went to speak, finally feeling safe enough to talk, but he put his hand softly on her arm.
"This works out. I stopped by because I can't hang around anyway; my doctor has an opening in about ten minutes on the other side of town. I've got to run, but it's been great seeing you. Maybe we can catch up sometime."
He pecked her on the cheek before running down the hall in the opposite direction toward the parking lot and was gone in moments. Olivia stood in the hallway, which by now had emptied for the most part. She looked up and down the hall, retracing where the girl had disappeared and then at the exit to the parking lot on the other end. She shook her head and sighed. Searching and hoping and praying for a dream unfulfilled for so long;
Olivia couldn't believe her fortune that she had been in just the right place to run into the all time (if only) love of her life. But her eyes looked back to where the girl had gone, and the implications hit her suddenly. She looked back once again to where Matt had disappeared and her eyes widened in sad recognition and she burst into tears.
Même si j'ai tort tout est plus fort
Que la raison, tout est plus fort
que ton nom
Que je redis et que j'écrissans arrêt
sur les écrans de ma vie
Et j'espère que chacune des aurores
Que je vois me mènera a ton corps
Je quitterai tout si tu m'aimes
Je sais que je n'me trompe pas
Que quelque part au loin là-bas
Tu penses encore à moi
Tu m'a gardé dans tes bras
Next: Dire (Tell!)
---
Je le sens
Tu penses encore à moi
Je le sais, tu m'as gardé tes bras
Dis-le moi
Que tu m'aimes...
*Translation:
Every night every day
I tell my heart to forget you and to move away
Not to break anymore
But, oh, no matter
What I say
You're so deep in my mind
There's no way to leave this love behind
It used to be
I believe i could go on and find someone to
Rest upon anyone, anyone
Soon I found
There was no other
There you are
Framed against the sky
You are my life and i pray for when
You will be mine
To love again
I see the rain in the sky
And I see your face
Through every tear that I cry
With every breath and every sound
I can hear another voice and swear that you're around
And every word is clear
'cause I know
The memory won't let go
Until you're mine
To love again
Who's to say what lives in the past
Who's to say that love won't last
Time's been standing still
Waiting so patiently until
Until that one day when
Si tu m'aime
To Love Again
Words and Music by
Lara Fabian and Rich Allison
as performed by Lara Fabian
http://www.youtube.com/watch?v=4CdutW_wQMM
---
If you liked this post, you can leave a comment and/or a kudo!
Click the
Good Story!
button above to leave the author a kudo:
And please, remember to comment, too! Thanks.
This story is 2771 words long.