Printer-friendly version
Bears Know Best

Part 28 of 28
by Tiffany Shar

Edited by Carla Ann

Thirteen year-old Taylor Landt's step-mother believes that he should be the next great football player for the high school he'll be attending in the fall. Having a dad who is an accomplished professional linebacker, and growing up surrounded by professional football coaches and players should all but guarantee his ability to dominate on the field. Unfortunately he hates playing football, and knows his height and build will never allow him to be successful at the sport. Faced with an obsessive step-mother who ignores his obvious talents in other areas but instead thinks he is a blight on his father's reputation, Taylor does the unthinkable and moves to Ohio to live with his mother who abandoned their family and left him with his father eight years ago.

Soon after his arrival, Taylor discovers there's more to his inability to follow in his fathers' footsteps than just his height. Will it be possible for him to make friends in a new town in the middle of nowhere outside the shadow of his dad's fame? Will Taylor be able to finally make peace with his mother who abandoned them all those years ago? And how long can he keep his secrets to himself?
---
Viewing Note:
This story should be viewed with the
Edwardian Script ITC
font installed on your Windows platform in the c:/Windows/Fonts directory. Microsoft Word installs this font automatically.
---
---
The Legal Stuff:
Bears Know Best © 2012 By Tiffany Shar
This is a work of fiction. Names, Characters, places, and incidents either are products of the author's imagination or are used fictitiously, and any resemblance to actual persons, living or dead, businesses, companies, events, or locales is entirely coincidental.
Copyright © 2012 By Tiffany Shar. All rights reserved. No part of this book may be reproduced, scanned, or distributed in any printed or electronic form without permission.


Preface


Like the first three books I posted here on BigCloset, I will be posting a full copy here on BigCloset. I will be posting it up in approximately 32 installments, but that may change if I feel like a posting needs more. The book has a total of 35 chapters and a short epilogue. The full version should be completely posted by September. For those that cannot wait however, I have an e-book version of the full book available from Lulu.com as of today. You may find it at My Store. My assumption is that the majority of my readers would be more interested in this edition of the book rather than a hardback or paperback. There are two types of eBooks available depending on how you wish to read it. One is the ePub format that you should be able to load on any e-reader (you may need an additional app, but I believe all will read it), and the other is a standard PDF formatted file. I believe the PDF is the best way to read it on a computer screen personally. If you enjoy this work perhaps you will consider supporting me by purchasing it ($8.95 for the eBook formatted files).
Thanks again, and I hope you enjoy reading Bears Know Best!
Chapter 35: Normal?

HONESTLY IF YOU ask me about the rest of the day I can't tell you much. I was emotionally a wreck of sobs for most of the day. Mom arrived at some point, along with Danielle and Alyssa's mom. Breanna's mom didn't want to bring Kaylie and couldn't find anyone to keep her on such short notice… I felt bad for her and her daughter. Thankfully other than my severe emotional trauma, Danielle's treated dehydration, and Dad blaming himself about everything, we were all mostly okay.
The one thing I really do remember was getting home to my Dad's house and carrying Julie around endlessly. A part of me was really worried about how screwed up I would be, but the other part of my brain realized that it was going to take time to heal. It was time that I needed to spend with my mom, dad, and friends. With my friends going home on Tuesday, I certainly didn't want to stay in Atlanta.
Dad was so torn up about all of it Sunday night, and trying to decide what to do, that the visitor that came by surprised him. It probably shouldn't have though. When Mr. Kantry heard about everything he had immediately had some security rented for our house, and did what he could to limit the press explosion. The problem was it was an explosion…
When he arrived, I was sitting downstairs cuddled up next to Mom on one side and Dad on the other. The girls and the two mom's were sitting on another couch, and I was surprised to see him walk in. "How are you doing Taylor?" He asked me with concern in his eyes and a large bouquet of flowers and an enormous teddy bear in his arms.
I saw him for the grandfatherly figure again and stood up to give him a hug, "Not great," I said before sitting back down to the safety of my mom and dad.
"I'm still in disbelief of what's going on in the news. What actually happened?" he asked us.
"I really don't want to tell it again," I told him sadly, "Can he tell you?" I said pointing to dad.
"Sure sweetheart," Mr. Kantry said. "Walk with me Jake?" He asked.
I hoped Dad wasn't getting fired over this while I sat there… They were gone for a good long while before I heard them come back down the hall.
"Jake I mean it, take a couple weeks off and go up to Ohio with them, if you're feeling up to it you can come down to Cincinnati for the next game, but I want you to take care of Taylor right now. You know that's where your heart will be anyway. The game can wait!"
He looked at me sternly, "If you don't want him disappearing to the game you tell him!"
I squirmed a bit under his gaze. "Yes, sir," I told him.
"So you're coming up to Conneaut?" I asked him.
"Might as well." He said, "I can't possibly have you out of my sight for too long," he sighed. "I can't believe I was so stupid… I should have gotten rid of her the moment you chose to move away!"
I could tell he was blaming himself, and I said something before Mom could. I noticed guilt on her face too. "Look Dad, this is not your fault!" I told him. Really the first thing I had said conversationally in hours. "You couldn't know that Rachel was a complete lunatic… she hid her plans well. I believed her too!" I told him. "So don't blame yourself!" I told him with tears in my eyes.
I knew it wouldn't be that easy, but he at least nodded. Mom slept in my bed that night with me… it was a large bed, plenty of room, but more importantly I started sobbing the second I was alone in the dark. The pathetic state of mind I was in was frightening, and I just wanted to get out of Atlanta. Somehow Monday I found myself a bit more rational. The attachment to Julie continued through the day and I even went ahead and carried her onto the news interview that we agreed to do.
As I told my story I explained Julie saved me, and I thought she deserved the limelight. I managed to come off of the news show sounding like a sophisticated fourteen-year-old girl, even after they asked about some confusion on my gender. It was a remote interview with one of the major network's morning shows, so I knew it would be all over Conneaut what a freak I was when I got back. I handled it as well as I could though, and I hoped they thought of me as a girl when it was done. I certainly was one.
We drove straight from the local news station studio to the airport where Mr. Kantry had us all flown back up to Cleveland in a private jet he leased. I really was grateful that he was willing to help out like that, and I was even gladder that I didn't have to fly in a plane of people staring at us. Dad was noticeable enough that he got asked questions often enough, but the four of us with him just was going to make things even more so. Of course carrying Julie non-stop through the private terminal, and then out the airport in Cleveland didn't really allow me to avoid much attention either.
Somehow the press had gotten wind we were landing in Cleveland, but a bunch of no-comments later we were on the road back to Conneaut. I was in the car with Mom driving when I realized we weren't going straight there. "Where are you taking me?" I was suddenly a little nervous that they'd decided I was crazy enough to need to be in a mental hospital or something.
"Just to go see Dr. Jacobson sweetie," she told me.
"Oh." I said. I guess that made sense.
It was as painful of a retelling of everything with her as with Agent Paulski, but I noticed that Dr. Jacobson cried too. She wouldn't tell me specifically but said, "it reminds me of something I went through when I was about your age."
I stared at her, sad to hear that she had gone through anything similar. "That sucks," I said.
"Yeah, it does," she agreed.
At the end of the appointment I was scheduled to see her again on Friday, and then once a week for a while. She was just as worried about the consequences of my condition becoming public as the trauma. By six o'clock we were home, and being in my bedroom at Mom's house seemed like the best place in the world. I felt safe there. I knew it before I left and when I was still in Atlanta.
Tuesday and Wednesday I just hung out at home with my Dad, or Mom, or friends, or whoever happened to be there then. I was never left alone, someone was always there for me. Mr. Brandt stopped by on Tuesday to check on me and bring me a card from the band. I teared up a lot as I looked at the signatures and felt like I had found a place in the world finally. I just hoped it hadn't been ruined with the details of my past coming out.
Thursday Mom and Dad wanted me to skip band practice again, but I refused, "I've missed three days… and I need to do something," I told them. "See, I'm ready, I can even put Julie down and go…"As long as I had a horn in my hands to hold instead I thought I would be fine.
I'd also finally gotten a new iPhone to replace mine that had become evidence for whatever reason in the trial against Rachel. They said they would get it back to me, but I couldn't really live without it. As we activated it, a slurry of text messages that had been built up in the system came through to me. Somehow everyone in band had my number, and even acquaintances, I couldn't call them friends, back in Atlanta were texting me to make sure I was okay. It had taken me most of Tuesday night to get through those!
So it was that I think Dad felt fear for me as he dropped me off at the high school after dinner Thursday night for the evening practice. I sat down and started warming up like I normally did, hoping to have a normal night. That wasn't to be though! Band members kept continually surrounding me with hugs, saying they were glad I was okay, and that they'd been so scared when they heard about what happened… Destiny's hug had probably felt more meaningful than anyone else's as she said, "I thought I lost my little sister."
Cameron came up awkwardly right after then. "Hi Taylor, I'm so glad you're okay," he told me.
"Thanks Cameron," I said.
"Look, I know you've been through a lot this last week… well last summer really, but I want you to know that if you feel up to a date sometime, and we can convince your dad, I'd love to go out with you."
A near death experience really does something to your brain, and caring about being grounded or what others thought right now wasn't high on my priority list. I closed the gap between us and hugged him, before tilting my head up to him, hoping he would get the message. He did, and I had my first kiss in front of most of the band. The cat-whistles were the only reason I blushed afterwards, I felt so happy to have him. Mr. Brandt also cleared his throat and called us into the office. He sort of chewed us out, but sort of didn't… I think he understood, but said it couldn't happen anymore at school. We both said, "Yes sir," and I began plotting for when it could happen!
It turned out that the band had been hoping the four of us would show up that night, and the practice became a welcome home party in a hurry. To his credit, Mr. Brandt didn't seem to mind at all, and he just seemed to be glad to have us back there. In fact, he dismissed us immediately and the four of us were surprised to find tables set up in the adjacent choir room with refreshments and a bunch of silly welcome home signs plastered on the walls of the room. Someone turned on the room's stereo and we all enjoyed a fun night of bonding with each other.
I knew at that point we were all a family there, and I didn't care how much Dad begged, I'd never be able to leave this place to go home to Atlanta again.
Friday with no practice I had two appointments to keep. The first was with Dr. Wenger to check out to see if I was healing fine or not.
"Good morning Taylor," she told me when she saw me. It seemed like everyone believed I was in need of hugs, because she came up to me and hugged me. "It's good to see you," she said.
"Thanks," I told her.
She asked me about health issues and had me step up onto a scale to check my weight, discovering I was down to fifty-eight pounds. "Taylor, you've had a pretty traumatic week, but if you don't start putting on some weight again we're going to have to do something about it."
I nodded. Mom was in the room with me and said, "Doctor, I watch her eat, she does eat…"
"I don't doubt that she's eating," she responded. "But she's not putting on weight. I want her to see Dr. Moore on that issue in a couple weeks. We may need to look at adding some shakes or something to her diet to help her."
I hated being talked about like I wasn't there, but kept my mouth shut. Mom looked worried about it and I knew I was going to be hounded about eating more. Other than the last four days though, I felt like I was stuffing my face at every meal, I didn't know what else to do.
Dr. Wenger checked everything out down below then and Mom stayed off to the side during my embarrassing examination. The stirrups were not something I liked at all, and her fingers didn't feel gentle enough as she probed down below. "Any pain?" She asked as she pressed down on a section.
I shook my head, "It just tickles and I can't say I like this," I told her.
She helped me down and said, "I understand. Normally you get to wait a little bit longer for these things, and then you don't have them all that often!" she said with a smile.
"How much more often for me?" I asked.
"I'd like to see you in six months," she told me, "for those issues. Dr. Moore needs to see you about the weight issue in a couple weeks I think." She added the order, "Eat more fat!"
"I didn't think doctors ever say that line," I said, while grinning embarrassingly.
"Not all that often," she admitted. "I am worried about that though, so please take care of yourself. I'm also clearing you to do all activities like riding a bike and such again."
I jumped up and down, "Thank you!" I said as I gave her a hug.
"You hit a sore spot," Mom told her.
"I see," she told us.
We left her office and I was a little bit on the giddy side to think that I was finally past the surgery from the summer. 'One hurdle down,' I thought to myself as we left the building and got lunch. Dad and Mom seemed to talk quite a bit more than they had before, and I had a day-dream that maybe we could be a family again. I knew it could never happen though.
After lunch we walked through the art museum together for two hours while we waited for my appointment with Dr. Jacobson. Thankfully, that one went quickly and relatively painlessly. She was glad to see I seemed to be doing better. The fact that Julie was sitting in the car and not in my lap probably helped her to realize I felt more myself. The feeling that I was just plain silly about being scared to be somewhere without the doll, was odd to the extreme. It seemed even more odd though when I came home to find several big boxes sitting in front of the door.
"What's this?" I asked my parents.
They both shrugged and said they didn't know. I noticed the return address said, 'American Girl,' on all three boxes.
"What in the world?" I wondered as Dad picked up the two biggest boxes and I picked up a smaller one. There was a packing note on the outside of the biggest box that I opened up.


To: Taylor Landt,

Your terrible ordeal this past week is something that I hope never happens to any other girl again. When the details came out that your doll Julie, was so instrumental in your survival we were all amazed. The rest of your life from the last few months is so amazing that I felt moved to do something. I understand that you're a little old for our dolls at this point in your life, your interview pointed that out, but it seems such a shame to me that Julie probably doesn't have any friends there at home with you. Please consider the contents of these boxes my gift to you for being such an amazing American Girl.

It was signed by the CEO, and I felt tears running down my face.

P.S.
We would like to talk to you and your parents, if you're willing, about a project.

Her number was listed below, and I found myself undeniably curious about both the contents of the boxes, and the 'project.'
It took us the better part of three hours to pull the thirteen dolls out of their packaging, and assemble the various other accessories they had sent with them. I found myself creating a scene on a shelf my Dad built for me at eye level that included the miniature baby grand piano, and other instruments like violins, violas, and a flute into a small doll orchestra. I loved all of the dolls, and couldn't help but appreciate the token gesture they'd made. We were going to wait to make the phone call until at least the next day to talk to them, but they called that evening and I discovered they were looking at using my story as the baseline for the next year's 'Girl of the Year' doll.
I was so embarrassed by the idea, yet really humbled that we agreed with a few terms. It would only be loosely based on my story, but I knew without a doubt others would figure out the connection. They were going to name the doll Taylor, just like me, and take my face, hairstyle, and style of clothes as the whole line's influence. I made them promise that they had to give me one, and give one to Kaylie, who I had seen a lot of over the last couple weeks leading up to school. Of course I was also being paid for my story rights as well by them.
By the time school started I felt like Kaylie had sort of adopted me as her sister. Breanna liked it when I was around because she didn't pester her all of the time, and I liked her being around so I could have that feeling of being an older sibling. I even had her come over to stay the night one night when she seemed upset about something. Mom enjoyed it just as much as me though.
Dad stuck around for a couple weeks to be close to me. He'd insisted on renting his own apartment so that he wouldn't impose on Mom anymore. Life quickly fell into a routine leading up to school of him flying down for pre-season games, and a few practices before flying back to Conneaut. He wouldn't be able to do it during the season, but he spent as much time with me as he could.
The day after Labor Day quickly rolled around, and it was time for me to go to school for the first time. "I'm nervous," I told Mom at the high school parking lot.
"Why in the world are you nervous?" She asked me with a smile.
"It's the first day of school in a new school and I don't know anyone…" I said aloud.
"You don't believe that, and you know you've got more friends now than you did back in Atlanta," she told me. "You'll be fine."
I smiled at her, gave her a hug and a kiss and left the door to walk into my new school as a normal teenage girl beginning her freshman year. How in the world did that happen?
Coda

THE MONTHS IN Conneaut passed by quickly and soon we were swimming in snow it seemed. My life sort of settled down in a way through the First of January when the new American Girl doll that was based off of me was introduced. She had several accessories available, including a 'Julie' doll, and a pretty rose gold colored French Horn. I ended up having a couple cameos in the movies they made to push the doll, and ended up with a bit of notoriety at school for it.
My horn playing was still my main focus as the year progressed. One day in class I heard my phone ring and groaned. It of course had to happen in the class with the strictest teacher. I swore she would have used some sort of medieval punishment to students if allowed, and cringed. "Whose phone is ringing?" She asked angrily.
I raised my hand, "I'm sorry Mrs. Trolly, I thought I turned the ringer off."
I reached into my purse and was surprised to see it was Mr. Fark calling. "Umm… this actually might be an emergency call, may I answer it in the hallway?"
I swore the room got dead silent as she glared at me and the rest of the students scrunched up in their desks hoping to avoid the shrapnel. "That's fine, but the phone gets turned off immediately afterwards Miss Landt," she told me. I slid the button on my phone to answer the call and stepped into the hallway.
"Hi Taylor, this is Mr. Fark,"
"How are you doing sir," I asked.
"Well, not so well today, I'm coming down with bronchitis bad I think. What are you doing tonight?"
"Umm… nothing, why?" I asked.
"Well, I need a sub for tonight's concert," he said.
I froze.
A sub…
Tonight's concert…
"With the orchestra?" I asked incredulously.
"We're doing Beethoven Fifth Symphony tonight, along with a couple of string only pieces. Would you be interested?"
"You're not joking with me?" I asked.
"Of course not," he said. "I usually rotate sub jobs around with my best conservatory students, and you're up tonight if you want it."
"Is there a rehearsal?" I asked, scared.
"No, but I know you know it and can play it. If you'd like to come an hour early I'll let you look over it and help you with any questions. What do you say?"
What could I say? "Umm… I'll be there."
I quickly texted Mom the information about the call and asked her to come check me out of school early. She didn't respond, but I figured I could call her before the next class if I needed to.
I walked back into the classroom and looked up at my friends and teacher staring at me. "Was it an emergency?"
"Sort of Mrs. Trolly," I said.
"What do you mean by sort of?"
"Well, the principal horn of the orchestra is my teacher, and he's ill and can't be there tonight at the concert, so he called me to sub for him." I said.
I watched her face not get it at all. "I'll have a detention slip for you after class."
I sat down politely and didn't say anything, before she looked up at me and said, "The Erie Orchestra?"
"No, Cleveland," I said and watched satisfactorily as her chin dropped simultaneously as the intercom beeped.
"We need Taylor Landt to the office please."
I walked out with a smile on my face, and she didn't even say anything about the detention slip. The band room was on the other side of the school so I stopped by there to retrieve my concert horn first before going to the office and being checked out by Mom. A trip to Cleveland was soon underway and we even got my makeup and hair done at the salon before going to Severance Hall.
The standing ovation at the end of the symphony was amazing as I stood there amongst the much older and taller musicians. I hoped this would eventually be my future as I smiled out at the audience. I was amused that Mom was holding a Taylor Doll with her French horn and a matching black dress to mine. I thought I saw a glint of light off of Dad's new championship ring, the last he said he would play for. I watched as she and Dad kissed, and thought about the little sister that was supposed to be arriving in six months. At least I hoped it would be a sister!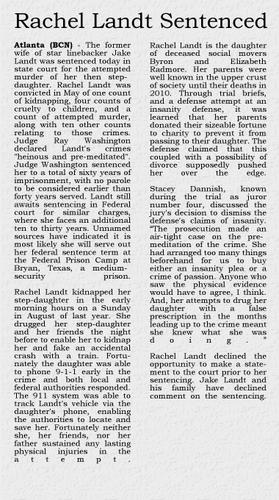 Well I hope you have enjoyed Taylor's tale. It does in fact end here, I don't see myself needing to continue Taylor's story. If you've enjoyed this, perhaps you'll consider following the links at the top of the page and purchase an e-book of the whole tale? Your support is greatly appreciated! My previous three novels, Standing Up to Life, Daring to Hope, and Dreaming of Cheers are also available in a variety of formats.

Thank you to all of you for following this tale from the beginning to end. It means a lot to me that people would follow something I've written through hundreds of thousands of words!
Tiffany Shar
---
If you liked this post, you can leave a comment and/or a kudo!
Click the
Good Story!
button above to leave the author a kudo:
And please, remember to comment, too! Thanks.
This story is 4799 words long.