Printer-friendly version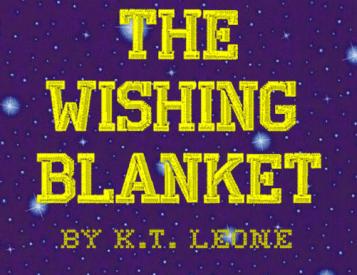 II
The One That You Love
Part 1
By K.T. Leone

Synopsis: This is a completely different Wishing Blanket then the one before, so please read. Keith Leonard is not having the best time of his life as he misses his Aunt who died less than a year before. With his aunt's birthday fast approaching, he looks for a way to celebrate the day and honor her memory.
---



PART ONE
Keith Leonard was a large man. Keith Leonard was, in fact, a very large man. Though he stood at just a shade under six foot tall, his bearing made it appear as if he were at least four inches taller. Keith had long, wild, brown hair that did whatever it pleased, no matter how many times it was combed or how much gel, hairspray, and any other concoction tried to time it. His best feature, if you were brave enough to ask him, was his eyes. Those eyes could melt a woman's heart with the bat of an eyelash and they could make brave men retreat with a steady glare. Some days those eyes were blue, other days they were green, and certain days they were gray. There seemed to be no rhyme or reason to why they changed color, just that they did. Oft times growing up, his younger sister (now estranged) would accuse him of having colored contact lenses.
Keith also had an extremely wide frame, shoulders so wide that he would make NFL linebackers giddy at the thought that they had a pair just like those. It was a good thing he had such wide shoulders though, because, for as long as he could remember, the thirty-seven year old man carried such a heavy weight upon them. While speaking about heavy weight, it is about time to mention the man's girth, which is what really made Keith stand out in a crowd. The man weighed five hundred pounds and it was a marvel that he could get out of bed. He carried it well, if that were at all possible. He didn't need help getting out of bed, he held a job delivering papers that required him to go up and down several flights of stairs each night, and, if the mood struck him, he could walk very long distances; albeit slowly.
In his younger years, Keith was a very accomplished amateur wrestler. He had won two national championships on the college level, was undefeated internationally in Greco-Roman wrestling, and had aspirations of making the 1996 Olympic team. He was extremely fit back then, as one may well imagine, and quite popular as well. Then his knee went out. That's right, Keith's knee went out, and it didn't even go out in a noble way. If his knee went out in competition, like a torn ACL or even a dislocation, the man would've been happy. Maybe not happy, but certainly proud. It would've been a good story to tell his kids, if he ever had any. Instead, Keith's knee went out like a coward. One day when he was about to do his regular weight lifting session, Keith took an Olympic size bar, they weigh 45 pounds, and went to do a squat so he could stretch out. On his very first squat, his knee popped, and a promising career and life were derailed. Upon further research, it was found that the athlete had a condition known as degenerative knee loss. There was nothing he could do to prevent catastrophe and Keith found out that it was just merely another episode in a life fret with disaster.
"Why even bother to fight it," Keith had told himself when he reviewed the calamity in his life. "No matter how much I try, no matter how hard I push, no matter how I fight, failure will find me in one way, shape, or form." With that, the man gave up on trying to live his dreams and just went with the flow of life, trying to tread water as best as possible. It wasn't the life he wanted, it wasn't the life he envisioned for himself, but like his mother always told him (whenever she was around, which was seldom) the higher you try to reach the greater the fall. And there was always a fall.
With the injury and the subsequent weight gain, Keith discovered that he saw his so-called friends less and less. More and more did he see people go out of their way to avoid him, and when they weren't avoiding him they were amazingly rude or callous. It didn't matter to Keith, who became bitter at life and the hand he was dealt. It wasn't just the knee injury, the knee was just the cherry on top of the proverbial sundae. It was the fact that his father left the family when he was six months old. And that his mom tried to give him up for adoption. That he was molested by a foster brother when he was just three years old. And the list went on and on. His life was so bad that if someone had listed out all the bad things that happened to him he would've laughed at the absurdity of it all. It also made him feel guilty, because he knew for all his self-pity, there were those who had it far worst. At least, Keith would think to himself, I had Aunt Roe.
Keith's Aunt Rosalie was the one constant in the man's life that brought him comfort. Though they weren't always physically together, sometimes separated by hundreds, even thousands, of miles, Keith knew that there was always at least one person on the Earth that loved him unconditionally. He never really knew how much that knowledge meant to him, until it was gone.
Rosalie had passed away almost a year prior and Keith was even more reclusive than ever. Though he was able to buy a home with the money he received as an inheritance, he still didn't feel like he had a place in the world. With his Aunt's passing also came the final break with his mother, who tried to steal the inheritance under her son's feet and then took off with anything of value from her sister's apartment. It didn't matter to Keith that his mother was greedy and a thief, she was that way her entire life, but when she had hired a lawyer in order to get money from him, he had enough. He severed ties with the woman unceremoniously. There wasn't a fight or an argument, they're weren't demands or accusations, he simply stopped communicating with her. She in turn, after figuring she wasn't getting any money from him, stopped talking to her son.
Completely alone in the world, except for two cats that both entertained and annoyed him at the same time, Keith soldiered on the best he could, but he certainly wasn't doing well. He had a job, but was struggling financially. He had two vehicles that took most of the money that he didn't have and he constantly worried that one day the vehicles would completely give away and he wouldn't have the means to make any income at all. The main thing that affected him however was the loneliness. The crushing loneliness that seemed to smother him as he spent his days in an empty house hoping that he could sleep the day away until it was time to go back to work. This was the life that he lived and it is here where our story begins. Though the background details may have bored you a little, they were needed to give insight to the place were Keith was in life.
It was August 17th, two days before it would've been Aunt Roe's birthday. It took years for Keith to realize what day his Aunt's Birthday was, always forgetting it or thinking it was on one day when it was, in fact, on another. But the first birthday after her passing, Keith knew it all too well and it caused him great grief and shame.
"All those birthdays in the past when I was a week early or a day late I couldn't get it right," Keith lamented to himself in a mirror. "And now that she's gone I get it right. It must have made her feel so bad that I couldn't even remember the one day correctly and now that she is gone I would give everything I have to be able to pick up the phone and wish her happy birthday."
The loneliness consumed him and a tear fell from his eye. Maybe he would buy a small cake and celebrate his aunt's birthday alone. Perhaps he would find a Catholic church and light a candle for her. Though he had given up the Catholic faith decades ago, Keith figured his aunt would appreciate the gesture. He would've liked the opportunity to visit her grave, but that was in South Carolina and he was stuck in Tampa, Florida. With his work requiring him to be there seven days a week with no chance of a day off, that trip was one he wouldn't be able to take. He just wished there was a way to honor his aunt on her day, one that would make him feel less alone. Keith decided that the best he could do was to lay in his bed and think about ways to make that day special as he tried to drift to sleep before he had to go to work that night.
–
Sleep is not something I can ever get enough of, Keith thought to himself as his alarm went of a half hour past midnight. He was slow to stir, he was pretty much slow to do anything. Naked, he rolled out of bed and after two attempts he stood up. He held onto the wall gingerly and cursed his aching legs, typical of how he got up most times. He rolled his neck to try to relieve some of the pressure and plodded his way to the alarm that sat on top of his dresser across the room. He had long ago learned that if he put the alarm anywhere near arms length that he might turn it off and just give up on the job that supported him.
The large man shuffled his feet on his way to the bathroom. He looked down and saw the crack in the tile. The floor was not quite level and with his immense girth, the tile couldn't take the extra weight and split down the side. It didn't go all the way through, but served as a reminder that he had far too many Big Macs and not enough laps around the neighborhood. He didn't walk around the neighborhood at all, his only exercise was the few apartments that he delivered at night that required him to walk up some stairs. Off to the corner sat a large digital scale, one of four in the man's possession, and though it could weigh a person up to 550 lbs, he figured 'why bother.'
Instead, Keith looked in the mirror. His hair was long and unruly as usual, most people who saw him thought it was because he was too cheap and lazy to get a haircut, but in reality he had often wondered how he would be as a woman and though he weren't going to win any beauty contest, the hair did aid in altering his appearance toward that reality. The long hair might have helped Keith realize what he would have looked like if he were, in fact, female except that his face was unshaven. He oft went days between shaves, waiting for those times when the hair on his face started getting to scratchy for his liking before he did anything. He didn't see the point in keeping up appearances for a job where his customers never saw him. The only thing he did do regularly was shower, and that was because people at the paper depot consistently complained about his body odor.
Since he wasn't dressed, he simply turned on the water, turned the knob to activate the shower and stepped in. He looked down upon himself as the water drenched his hair. All he could see were a pair of DD 'man-tits' and his exceedingly large belly. His feet and penis were mere myths for all that he was concerned. He knew his penis was under there somewhere. After all he did urinate frequently, but that was the only function that part of his anatomy currently occupied and he found that quite disappointing. For all his girth though, Keith was the king of five minute showers. He shampooed, soaped the parts of his body he could reach (using a few extra moments on the crevices that seemed to be the cause of the odor problem because they trapped sweat in the folds of skin) and rinsed.
He turned off the water and stepped onto a small bathroom rug. His large but frayed white towel was kept hanging over the tank of the toilet and was readily available. He patted himself dry and made his way to the kitchen. He had plenty of time before he had to leave for work at 1:20 in the morning. He decided to prepare one of the two standard meals he ate every night. This night would be a box of Turkey stuffing. It only took five minutes to cook and when it was done he put the finished 'meal' into a large empty margarine container. As was his nightly ritual, he ate in front of his large 3d-hdtv television, wasting a few minutes watching reruns on the History Channel.
As soon as he was finished eating, Keith placed the empty container in the sink. Though it would've only taken a moment for him to wash it, there was no real need for cleanliness when one lives alone and had no hopes of receiving a guest. He then made his way to the little alcove that held his washer and dryer. He opened up the dryer and pulled out a clean pair of shorts, a sleeveless t-shirt and a pair of socks. He had long since given up on the idea of wearing underwear. Wal-Mart didn't carry his size and the 4x pair of briefs that he did own cut into his legs uncomfortably. It was a most common outfit. Though he did own pairs of jeans and sweatpants, he opted for shorts and a t-shirt day in and day out. It was one of the constants of the universe.
With 1:20 AM coming upon him fast, Keith turned off the air conditioner, fan, and TV, grabbed the keys to his van and made his way out the door. He had an alarm system that he never activated and a deadbolt that he never locked. He didn't care if he got robbed, he didn't care about anything. It might've bothered him not to long ago, but he didn't even care that he didn't care.
Though Keith wasn't in love with his job, he did it amazingly well. He arrived at the newspaper depot shortly after it opened up, around 1:40 in the morning. He always wanted to get to work after it opened so people would already be inside and he didn't have to wait in line with everyone else. Even though he had showered and put on fresh clothing, there was always a chance that someone would complain about an unpleasant odor coming from him and he couldn't risk losing the job to such idiocy. The other reason he preferred not to wait inline with people was that he genuinely didn't like socializing. If he didn't have friends, then he wouldn't have to worry about losing them. He had been hurt far too often and though he didn't want to be alone in the world, it somehow felt safer.
The man made his way into the building, grabbed the mail that told him how many papers he needed that night, how many new customers started and how many existing customers stopped their subscriptions for various reasons. Keith had a descent sized route that made him drive about 80 miles every night, but it didn't pay nearly enough. Still, it covered most of the necessities in life and, if he was frivolous, he could eek out a meager existence. He pretty much stayed at his station, keeping to himself and reading the paper from the day before. At 2:00 AM the truck came that delivered the bundles of that day's papers to the depot. Because his route was actually in a different county from the rest of the depot, Keith was able to get his bundles separate from everyone else, letting him avoid the lines of carriers that had to get the bulk of the bundles. He retreated back to his station, bagged his papers as quickly as possible, working up a good sweat in the non-air conditioned center and made his way back to the parking lot. He put the bagged papers into his van, that thankfully was running that night, and made his way to his route.
The one thing that Keith liked about his job was that once he was out of the center he was back on his own. There would be no people to deal with, traffic at three in the morning was practically nonexistent, and it would be almost another 24 hours before he would even have to be around people again. It wasn't the life that he envisioned, but it was the life that he had. It wasn't that bad, he had his route to deliver, he had the radio tuned to the light, easy favorites of WDUV, and he had his thoughts. This was as good as life was going to get, Keith thought to himself with a grimace.
As he delivered his route, knowing that it was August 18th, the man's thoughts went natural to his recently departed Aunt who had died this past September. He thought about his life with her. How many times he had the chance to tell the woman who chose to raise him how much he loved her but didn't. He thought about how life had conspired to keep them apart, especially during the last few years of her life. He thought about how tomorrow would be her birthday and how much he wanted to be able to call her up and tell her one last time how much she had meant to him. A tear came to his eye as he was throwing papers out the window of his car and listening to Desperado on the radio.
Desperado was one of his Aunt's favorite songs. It wasn't that bad of a tune, and even as a child, Keith had enjoyed it well. But what was once enjoyable, was now a dagger as the tears freely flowed from the large man's eyes. If he cried any harder, he would have to pull over and compose himself, but he soldiered on and soon enough, the song was over. A commercial that Keith found increasingly infuriating began to play and that allowed the man enough time to get his emotions in check. The night would consist of many ups and downs as he completed his rounds, but after two hours Keith was done with his route and driving back home after he made a brief stop at McDonald's to get breakfast.
Keith rarely did anything of importance when he got home from work. It wasn't as if the job really tired him either physically or mentally, but the emotional strain about thinking of his aunt and her upcoming birthday made him more lethargic than usual. He simply wasted a few minutes watching Sports Center and then decided to turn in. He did a lot of sleeping, today was no different.
With the early afternoon sun peeking through the window, Keith woke up around one o'clock in the afternoon. Almost seven hours of sleep was plenty for him and he knew he would still wind up taking a nap before work. There were several things that he could do to whittle away time; he could watch television, play poker online, check to see how much spam he had in his email or clean.
Cleaning was out of the question. He didn't like that his house was a mess, but didn't see what cleaning would accomplish when no one came buy to visit. It wasn't as if trash was piled up anywhere, but a good mopping wouldn't have hurt the house any.
Instead of doing any of the activities at his disposal, Keith just slumped on his couch and sat in silence. "Tomorrow is Aunt Roe's birthday," he said out loud to no one in particular. "I really need to do something to honor her."
Though he normally stayed home during the days. Keith decided to get dressed, wearing the same pair of shorts and sleeveless t-shirt that he wore to work. He didn't know exactly where he was going or what he was going to do, but he wanted something available to celebrate his Aunt's birthday the following day. Maybe later on he would search online for some of the songs that his aunt use to listen to, but for now he just wanted to be away from the house.
Keith's first idea was to buy a small cake to celebrate the birthday. "That is what you do when you have a birthday, you get cake," he told himself. He drove to a nearby shopping center that had a supermarket and figured at least a cake would be appropriate and would probably make him feel a little better as well.
"Just a small cake," Keith told himself. "Something for one person, I don't need to gorge myself."
After taking some time, the large man finally found a parking spot that was a fair way away from the supermarket. He was beginning to have doubts about going out during the day. There would be a lot of people in the store and that was one of the things he tried to avoid most. He didn't want to be around people, he always felt judged.
Taking a deep breath, he opened the van door and got out. There was a thrift store in front of him with large windows that he could peak into. He decided that instead of cutting across the parking lot to buy the cake he would head directly to the thrift store and see if he spotted anything interesting.
The heat was hell and he could feel the sweat building up in the folds of his fat. It was definitely a bad idea to go out during the day, especially with the temperature being so high, but since he was already out he figured he might as well accomplish something with his time.
As soon as Keith reached the sidewalk in front of the thrift store, he realized how hot and miserable he really was. He was breathing heavier than normal and felt a little dizzy as well. Instead of risk the long trek to the supermarket, Keith decided to duck into the thrift store and enjoy some of the air-conditioning. The blast of cool air that hit him when he opened the door told the man he finally made a correct choice that day.
The thrift store was quite large, looking like it combined three or four stores into one. It also had some sort of layout that made things easier to find; housewares were in one section, clothing in another, furniture in yet another. Though he had no plans on buying anything, he knew he couldn't just loiter by the door without someone making an issue of things. Instead, he slowly made his way down an aisle, pretending to look at things while really paying no attention at all. He just wanted to cool off until he felt able to get to the supermarket and the cake he now was dead set on getting.
The man then found himself, as he often did with stores that offered such an area, in the women department. He just looked at the dresses and skirts that were offered where ever he went, imagining what he would look like if he was a girl. His taste weren't that wild, but some of the dresses were quite nice. He figured life might not have turned out so horribly if he had a pair of breast and nothing dangling between his legs. With the store having more people in it than he was comfortable, Keith didn't linger long looking at the female garments. He didn't want to give anyone the impression that he was a pervert, but sometimes he felt he was one. It just didn't seem natural that a guy would wonder what he looked like in a cocktail dress and he was almost sure others could read his thoughts if he stood there long enough.
Somehow, Keith found himself in the section of the store that sold comforters. With it being at least 98 degrees outside, the thought of comforters in Florida seemed absurd. He felt like he could still use another 5 minutes to cool off, so to waste time he thumbed through the available selection.
Among all the solid comforters, amid all the striped and floral bed spreads, there was something that was completely unique. The first thing that drew Keith's eye to it was that it was purple. For as long as he could remember, purple was the man's favorite color. Though purple wasn't truly an odd color for a comforter, the pattern of stars made it stand out. Keith figured the comforter must have been designed for a kids room, but it was a full size blanket. He ran his hand through it, it felt silky and cool to the touch.
"I wouldn't have minded this when I was a kid," Keith said to himself, keeping his voice low so he wouldn't be overheard.
Though he never owned a blanket such as this one growing up, it made him feel sort of nostalgic in a good way. It made him think of better times, when he was younger and life was so full of promise. A time when his aunt was alive and he didn't feel so alone and abandoned. A time when he actually cared about life and at the same time felt cared for.
Keith could feel himself getting emotional, but didn't want to break down and cry in an open place. He checked the tag at the corner of the comforter.
"Seventy-five cents," Keith read out loud. "Hell, for seventy-five cents, why the hell not."
The man took the comforter from the rack and made his way to the cashier. It felt odd paying for something so inexpensive with a debit card, but he rarely carried cash with him. The cashier placed the blanket into a large beige plastic bag and handed it, along with the receipt, back to Keith.
Knowing that he had stayed as long as he could in the air-conditioning, Keith made his way to the exit. As soon as he opened the door, the heat hit him and hit him hard. He knew he wasn't going to carry the blanket with him throughout the supermarket, so he slowly plodded his way back to his van. He put the bag on the passenger side seat and made his way to the driver side. He started the vehicle and made an attempt to find a parking spot closer to the supermarket because he didn't feel like walking all the way to the store and then all the way back just for a small cake.
Keith circled the parking lot three times and though he couldn't explain it logically, it seemed like even more and more people were coming in then leaving. Figuring the store was going to be too busy to bear, he decided he would just go back home and wait until the morning to buy a cake at a 24 hour Wal-mart.
Luckily traffic was light and he hit all the greens on the way home, so the trip wasn't that bad. He took the blanket from the bag and made his way inside his house. The trip might've taken him all of an hour, but it was a longer excursion than he wanted to make mid-day.
With his aunt still weighing heavy on his mind and feeling a bit like a failure because he didn't accomplish what he wanted to, Keith sat on the couch, it was a leather sectional that wasn't all that comfortable but he didn't have anything in his bedroom in which to occupy his time. He still had the blanket in his hand and was surprised at how cool the material felt. He pulled off his clothes and tossed them into a pile in the corner of the room. He would deal with them later. Instead, he lay his naked body on the couch and covered himself with the blanket. The full sized comforter was just big enough to cover his large frame. Though it was thick and looked heavy, the blanket actually cooled the man as he settled in on the couch. With the blanket reminding him more and more of his youth, Keith began to feel more and more alone in the world.
Feeling depressed and not wanting to get lost in a television show, Keith turned on one of the music stations that his cable service provided. He would lose himself to the music and to thoughts of happier times when he was with his Aunt and felt loved. With those thoughts he fell into a melancholy mood and hoped the hours would pass by quickly.
The 80s pop music didn't lighten Keith's mood any as he hoped it would. Maybe if they were playing more upbeat songs like 'We Built This City' by Starship there would be a chance of a smile creeping across the sad man's face. But the music was slow, not exactly somber but not lively either. Instead of taking his mind off of the weight of his worries, the songs made Keith think even more about his departed aunt.
He lay his head down on a small brown and tan pillow that went well with the chocolate colored couch and tried his best not to cry. With nothing coming across the television screen but the title and artist of the current song and a few trivial facts about things, Keith closed his eyes.
"Why did you have to die," he said out loud. "Why did you have to leave me so alone?"
A light piano introduction began to play over the speakers, a song that Keith knew well but hadn't heard for quite some time.
"Now the night has gone, now the night has gone away," the song began.
Keith began to sing along with the song as tears filled his eyes. "Doesn't seem that long, we've hardly had too words to say."
The tears came on more strongly and the large man sobbed and was unable to even mouth the words.
"Hold me in your arms for just another day," a male vocalist continued.
Keith pulled the blanket over his head. If the house would've collapsed at that moment and crush him to death he might have preferred that over the pain he was feeling. The tears wouldn't quit coming and in a world full of people he felt as if he were a galaxy away from any of them.
"Here I am, the one that you love," Keith was able to whisper along as the song began to wind down. "Asking for another day."
As the song ended, Keith poked the remote control to the television out from under the blanket and turned the TV off. He couldn't bear another song such as that one and feared he would fall into a depression that would make it impossible to work that night.
Still he wept bitterly. The only thing that kept running through his mind was how empty his life felt with his aunt no long a part of it. The refrain of the no longer playing song ran through his mind as well as he remembered all the times he had with his Aunt; whether they were good or bad, those moments were theirs and they stuck through them together.
"I wish I could have another day with my Aunt," Keith spoke out loud as he sobbed. "Here I am," he choked on his words, "asking for another day. Just one more day, just one more perfect day, just me and Aunt Roe."
The large man felt foolish making such a request and voicing it out loud, even if there were no one around to here him. He wasn't one to believe in magic or fate and his faith in God was ever strained under the stress of his loneliness.
An exhaustion swept over him, a tiredness like he hadn't felt in a very long time even with the odd hours that his job required. It was only three o'clock in the afternoon and he didn't need to fear oversleeping and risk missing work
"My aunt, my beautiful aunt," Keith sobbed as he rolled over on the couch and buried his head into the pillows. "I miss you so much."
The tiredness consumed him and as he cried, the large man fell asleep on the couch, hoping so much that he never woke up ever again.
---
Author's note: I had the idea for this story in my head for quite sometime but finally got around to putting it on paper (so to speak). Originally I wanted this to be a standalone story in one part and post it on my Aunt's birthday. Unfortunately, the story has gotten away from me length wise and it is at almost 14,000 words and there is still a lot to go. I will probably post it in 5 parts, if things go the way my mind says it should. It may be as few as 3 but I'm doubting that. There are a lot of emotions in here and it is bittersweet, just like the original The Wishing Blanket I posted 10 years ago.
---



Please Comment, Please Kudo, Please make sure you savor the precious few moments you have with the ones you love.
---
If you liked this post, you can leave a comment and/or a kudo!
Click the
Good Story!
button above to leave the author a kudo:
And please, remember to comment, too! Thanks.
This story is 5753 words long.