Printer-friendly version



Carla's Journey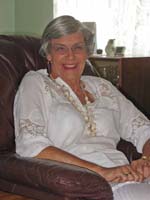 by Roo
Part Three - Chapter Two
Sandy meets Aunty Jean
Editing by Bronwen


Saturday 8/2/74
The surgery is not open on weekends but we are on call 24/7. People are very good and it has to be an emergency before anyone calls me or Sandy out. It is much easier now to be in a partnership and the work load is easier to cope with. Chrissie is also getting tired if she doesn't get a break through the day so we have put on a girl named Amy Brigly who is eighteen and keen to learn the ropes. Chrissie is six months into her pregnancy and Alan is not happy to have her working to full-term and says the baby must come first.
I agree with Alan and will make her stop work as soon as Amy can cope on her own with the reception job. She is a smart girl and it will only take another two weeks for her to do the job on her own. Sandy decided it was time to move into her own home, not that there is not enough room at Mum and Dad's house but she wants to be able to have her parents stay when they come to town and spend time with their granddaughter Jamie.
It was only seven o'clock and the two little monsters had already climbed out of their cots and were wanting to jump on our bed. Ricky loves playing with them, but Donna and Jean can be very boisterous and I soon got out of bed to make breakfast and leave them to their Daddy. They are starting to put sentences together and I think Big Jean is in the background pushing them along.
I was in the kitchen getting breakfast for my lot when Sandy came in and said, "Jamie said she can hear your twin speaking to the twins, and has also communicated with her. She is not making it up is she?"
I replied, "No I'm afraid she is not making it up Sandy, I think Jean does it because of the twins and can see how close Jamie has become to the girls".
"Can she actually see her, Jean I mean?"
"Well most of us can. I certainly can but then she lives within me because I told her at her grave site many years ago that she would live her life through me. She has been with me ever since and she will be till I pass over to the other side to join her."
"How will it affect Jamie?"
"Jean will protect Jamie the same as she does with the twins and me," I said, "Hold my hand and close your eyes and listen in your mind."
I said, "Jean, please put Sandy at ease and say hello."
Sandy grabbed my hand tightly as Jean said, 'Sandy, I will look after Jamie as she goes through life just like I do for Carla and the twins.'
I felt Sandy grip my hand even tighter and then Jean went quiet.
I said, "Thanks sis."
Sandy said, "Bloody hell Carla, it's for real isn't it?"
I replied, "You have to get used to it, she is half of me."
After that Sandy gave me a hand to prepare breakfast for all of us, even Mum and Dad. It was eight o'clock when everyone came to the kitchen and all were dressed for the day and it was going to be a hot one, so Sandy said, "Alright everyone, grab some plates and things and we will have breakfast out on the verandah in the cool."
The twins were clinging to my legs and there is no way I could carry anything while they were doing that so Ricky grabbed both with one under each arm squealing like little piggies.
Breakfast was cereal followed by bacon and eggs. We all like to have a decent breakfast and the twins are no different. Jamie seems to be the one to sit with the two little ones but I think Big Jean is there to help keep them under control.
After breakfast Jamie followed me into the kitchen and whispered "Aunty Carla, could I talk to you about Jean, you know Big Jean?"
"Yes of course darling what is worrying you?"
Just as I said that Sandy walked in and said, "Jamie sweetheart, I know about you communicating with Carla's twin and it's ok"
I then said, "Listen, the others can clean up in here and we'll go into my bedroom and close the door. I will let Ricky know what we are doing."
Mum came in next to help and overheard us talking and said, "Listen, you three ladies go and talk with Jean. I will organise the clean up so we can go out later."
I replied "Thanks Mum." and grabbed Jamie by the hand while Sandy followed us to my bedroom. I closed the door so we wouldn't be disturbed.
I said, "Sandy, you lay on the bed with Jamie and hold her hand and I will lay beside Jamie and hold her other hand."
They did as I asked and I lay down next to Jamie and and put her hand in mine and said, "Now I want you both to close your eyes and listen to me communicating with Jean and we will see if she has enough energy to let you see her in your mind, but you will have to keep your eyes closed or I won't be able to keep the connection." I explained, "You will feel a vibration at first so just keep concentrating and this will work".
I myself don't have to close my eyes any more because Jean and I are so in tune with each other that we can communicate at will.
I said, 'Jean I would like you to show yourself to Sandy and Jamie and put them at ease with you.'

Jean replied, 'Alright sis, but they can open their eyes and I will let them see me.'

I kept quiet so she could communicate with Jamie and Sandy and just made sure to keep holding their hands or Jean would lose the connection. Once they became familiar with doing this it got easier for Jean to connect. Jean spoke with a voice that sounds just like mine so it was just as well that she let Jamie and Sandy see her or they would think it was me doing the talking.
She said very softly 'Hello Jamie and Sandra, if you open your eyes I am sitting on the end of the bed. Don't be afraid, but keep hold of Carla's hand.' Jean still wears that beautiful blue gown. She looks just like me, after all we are identical twins.
Jamie said, "Aunty Jean your are beautiful just like Aunty Carla. I hear you talking with Donna and Jean all the time. Can they see you too?"

'Yes Jamie, and I will be with them for their whole lives'
Sandy joined in the conversation and eventually Jean ran out of energy and said goodbye and faded.
Sandy said, "Can Jean talk with anyone?"
"No, only people that are close to me."
Jamie said "I love the tingly feeling at the start. Will we always have to hold your hand to talk with her?"
"No, once the connection gets stronger there will be no need."
Jamie was most impressed with the blue shimmery gown that Jean wears and so was Sandy, We then got off the bed and joined the others on the verandah.
Sandy said, "Are you coming down to have a look at the house that's for sale down the road?"
I replied, "I wouldn't miss it for the world. Is that the one next to Tony's place?"
"That's the one Aunty Carla, it has a pool too," said an excited Jamie.
Mum and Dad volunteered to look after the twins while I, Sandy, Jamie and Ricky walked down the road to where the old rambling house stood. It had been renovated and restored to its former glory and was a classic example of an eighteenth century Queenslander homestead. It had a big yard with a swimming pool and large shed at the back and was exactly what Sandy was looking for, and it was within walking distance of our house. Of It's a wonder she didn't fall in.
I said, "Be careful Jamie, we don't want to have to fish you out."
she replied, "Aunty Carla, I'm a good swimmer aren't I Mummy?"
"Yes darling," answered Sandy with a smile on her face. She looked at me and said "Well what do you think? About the house I mean"
"Well let's see what the inside looks like shall we?" Having bought and sold quite a bit of real estate I always like to have a look to see what sort of a job the renovations were like.
Ricky was more interested in the large shed which was set up to work on cars, so we left him out there and Sandy put the key in the front door to reveal a perfectly restored interior with quite a bit of furniture left inside for any one that bought the house. Jamie walked around the large verandah and was looking through the double French doors of one of the bedrooms and discovered it had bed and dressing table in it and came running in through the front door squealing "Mummy!! Mummy!! I have just seen my new bedroom." and rushed past us to have a look.
I said, "It looks like Jamie thinks you should buy this house Sandy"
"Too late Carla, I signed the papers yesterday"
"Well good for you. How come all the furniture is still here?"
"That was part of my bargaining, I'm good at real estate too!"
"Come on Sandy, we had better go and have a look at what Jamie is up to."
"I had better tell her that I have bought this place," replied Sandy.
When we got to the room Jamie was twirling herself in front of a full length mirror and didn't even notice us standing at the door. Sandy said, "Jamie how would you like to sleep in that bed tonight?"
Jamie didn't say anything but rushed over into Sandy's arms and they both had tears in their eyes as Jamie said, "Mummy, I miss Daddy and wish he were here"
"Me too darling, me too."
Just then Ricky walked in and said "I just saw Tony and he said, 'Isabella wants us to go over to their house for morning tea so she can spoil little Jamie.'"
I said, "Ok but don't you want to have a look inside here first?"
He replied, "Carla honey, Iwas the one who took Sandy here the other day."
I replied, "How come I am always the last to know these things?"
"Just lucky I guess" he said.
It was hard to drag Jamie away from the bedroom once she realised it was hers, so Ricky said, "Jamie honey, you will have the rest of your life to spend here. Come on, Uncle Tony is waiting to spoil you and your Mum."
As we walked over to Tony's place, Jean was saying something to me that brought shivers down my spine. She said, 'You need to take Jamie to see a specialist and soon Carla! Talk with Sandy and make her aware of how important it is.'
I said in my mind so no one knew what was going on although Ricky was probably tuned in as well, 'Jean, how urgent is it?'
She replied, 'Get her to Brisbane as soon as you can. You don't want her to go through the same dramas that you did do you?'

'No, that is not going to happen.' I replied. Ricky looked at me in a knowing fashion and nodded.
We were walking into Tony's yard and he was waiting for us on the verandah, "Come on you lot, scones are hot and the tea is made."
Just then Bella came out pushing a tea trolley onto the verandah, Both Tony and Bella have taken to Jamie and wanted their hugs from her before we all sat down at the table set up in the cool of the verandah. Jamie was so excited and positively bubbled over. I asked Sandy to come for a walk in the garden with me so we could discuss Jamie and what has to happen in the next week. We sat ourselves down on a bench next to the pool and I said, "Sandy I need to talk about Jamie while she is occupied elsewhere."
Sandy raised her eyebrows and said "It is time isn't it?"
We discussed what had to be done, and sorted out what to do about the surgery while we were in Brisbane. Ross was still able to come in and with Chrissie's help would manage.
Sandy then asked, "Carla, it is Jean that is telling you what to do isn't it?"
"Yes, and she is always there when she is needed, especially where Jamie is concerned, so just relax and we will get Jamie down to Brisbane to see Rose. You will like Rose, she is getting old but she is the one that sorted me out and will do the same for our little Jamie.".
It was time to go back home and sort out some things so Sandy and Jamie could start spending some time in their new home at least until Ricky could organise Billy and Alan to give him a hand to move all of Sandy's and Jamie's things in the next few days.
Jamie was very quiet and Sandy asked, "Jamie what is wrong? You were talking nineteen to the dozen a minute ago?"
"Mummy I heard what Aunty Jean was saying to Carla in my mind. What is so urgent? Is there something wrong with me?"
I interjected and said, "Jamie, you know you are like me, and it is time for us to take you to Brisbane to let a doctor there have a look at you. Don't worry, everything will be fine. Mummy and myself will be with you all the time and the twins will also be coming with us so Rose the doctor can meet them."
The rest of the day was spent packing up enough things so Sandy and Jamie could spend their first night in their home.
To be continued
Next time: Getting organised and going to Brisbane with Jamie, Sandy, myself and the two little ones. It will be stressful
---
If you liked this post, you can leave a comment and/or a kudo!
Click the
Good Story!
button above to leave the author a kudo:
And please, remember to comment, too! Thanks.
This story is 2472 words long.