The Bad Little School-boy: The Original Cartoon Series - Part 1
Author, Rating and Tags:
Submitted by Sissy Demi on Sat, 2008/04/05 - 9:57pm
Printer-friendly version


The Original BLSB Cartoon Series by Sissy Demi
Click Read More to view Part 1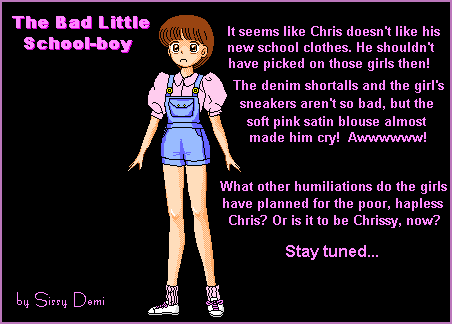 I am reposting my original series of BLSB (Bad Little School-boy) cartoons I began creating back in the early 1990's. This is not the Illustrated Story, but the original, one-shot, one-panel cartoons which were an unofficial pre-cursor to the actual written tale which may be coming soon.
Each image is presented in its original style and artwork. Only the file naming and image type have changed.
---
If you liked this post, you can leave a comment and/or a kudo!
Click the
Good Story!
button above to leave the author a kudo:
And please, remember to comment, too! Thanks.
This story is 98 words long.