Yesterday morning, when I woke up, I saw a blinking alert on my screen. Drea Dimaggio had sent me a YM message. Normally, when she sends me a text, it is a pleasant thing, as it is always great keeping up wih her.
For various reasons, this back-and-forth between us has become less frequent, but we do keep up with each other with messages at least once every week, or at least every other week.
Anyway, she texted yesterday morning, but it wasn't a what I expected.
Beth Williams had passed away Wednesday...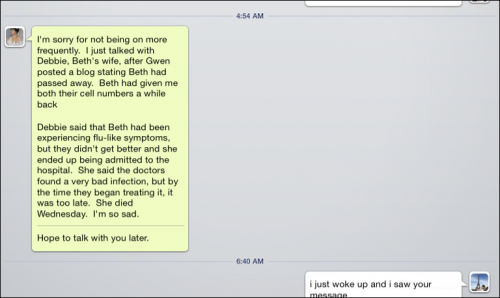 I have known Beth since about late 2009. And our relationship, though completely virtual, was quite real to me. Through BigCloset PMs, emails, chats in chatrooms and Yahoo Messenger chats (yeah, yeah, I know, but I've been using Yahoo since I was ten, and YM is great for a long-time user such as me. And it was with YM that our virtual friendship was cemented).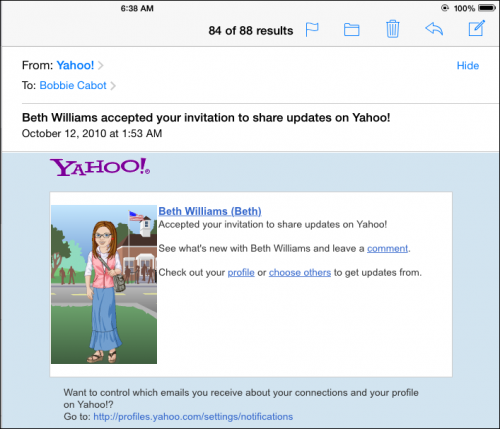 Five years worth of that really did amount to a relationship, even if all our emotions, expressions and feelings were communicated via emoticons alone, or smileys.
I've gone through a lot of ups and downs and good stuff and bad stuff with Beth, as well as she with me. And believe me, it was a LOT of ups and downs lol.
I had listened to all of her life stories, opinions, feelings and details of her unusual life, and she listened to mine. Guess there were very few secrets between us anymore, although we were both protective of some details, too, for the sake of internet privacy and security. She never did tell me her real name, and I only heard it after she passed away.
I got to know her a little bit, albeit only through the portions of her life that she wanted to talk about. So I eventually learned about her kids (all boys), her spouse, the few relatives and friends she would talk about, her interests and likes, and things that she did that interested her.
And over time, I learned about her million-and-one jobs, hobbies, and past work.
She would always say something in her life that had a direct bearing on our chats' topic-of-the-moment: When I talked about old things, she said she was some kind of post-doctoral archeologist-to-be, and had done digs in the far east. When I talked about funneling my stuff through my local service provider and my proxy server back home, she told me about her progamming days. When I talked about my personal troubles back then (which I had put in my old blog here) and my worries at work, she talked about her being some kind of security person for the federal government, the CIA and the FBI. When I talked about my obsession on things chocolate and other kinds of favorite foods and dishes, she told me of her apprenticeship under a famous chef whose name she never did disclose. When we talked about the just-finished amputation of her foot as she picked at the sutures, she told me of being a medic in the army as well as an infantryman. When I talked about fashion and makeup, she told me that she was some kind of stage makeup person.
But she talked most about her being a pastor and a counselor. It was one of her big things, and she tried to use her counseling skills to help others. But I gathered through our talks that her being ordained and certified was still in the works. So I insisted that she always temper advice with the thought that, for serious cases, they should be referred to professionals.
But she was always pleasant, always positive about others, always had good words to say. As someone who always needed emotional support, I appreciated her for that, and many times that her chats got me through the day.
I do have a bit of a confession, and if Beth, wherever she is now, reads this, will forgive me. Over the years, I became somewhat of a confessor to her, I think, like a catholic priest is, or a therapist or psychiatrist, always Beth telling me something and her asking my advice about it. I felt honored that she would ask, and I tried to give the best advice I could, but always told her that it was ultimately her decision about what she should be doing. That might have been a mistake, actually, as she had never taken my advice. Well... she did take one piece of advice - that it was her decision to make up her own mind. lol
It came to the point that she would always ask my opinion about what was going on in her life, and what I thought about it, and what she should do. We have had many words about this, but I will not go into any of that here as it's not the right time or venue, but we did talk a lot about this and many other things. And it was a sore spot for me that she never did take any of my advice yet kept on asking for it. I feel guilty, and very sad that all my advice was for naught.
Her life was quite tortured, and I really did not blame her for adlibbing some of its details. I am sure it gave her some distraction for a humdrum, sedentary life probably brought on by her diabetes, which she denied she had.
But she did want to escape her troubles, always making up a plan to move somewhere or to get a divorce, or to buy a house, and so many things. None of them ever happened, of course. It became a big topic of discussion between us. She also insisted on wanting to transition despite my advice to either wait for her family situation to become clearer or for her health to stabilize first. But Beth is one individiual who knows what she wants. Par for the course. Like I said, she never did take my advice.
Recently, she had another plan in place, that she would be happening in April. But, sadly, she had passed away. Gwen and Drea were two individuals who definitely knew about it, but I am sure others know about it, too.
It hasn't hit me fully yet, but I will definitely miss her. Though our chats had become more and more filled with her troubles in recent times, I still remember in the beginning when we would have pleasant talks about everything and nothing at all. When it was about movies and TV, and clothes and common friends, about work-life and fun-life. She would listen to my boring stories of life and work, and I would listen with fascination at her non-boring ones. It was fun outlined in smileys and emoticons.
All of us meet all sorts of people in our lifetime. I am glad I met Beth, and am now pleased to be able to call him by his real name, as well. I sincerely hope that the feeling was mutual. I think so, but it was hard to decipher Bob's feelings toward the end.
But I am most of all pleased to call him my friend. And wherever he is, I hope he remembers me.
Good voyage to you, dear friend, and may all that you ever wanted come true in your new life, and may it be full of smileys.
Goodbye.
Click Like, Love or Thank to appropriately show your appreciation for this post: