Ah....Mr. Peabody??? It's your new assistant Andrea?

---
As some of you already know, like the Time Traveler in H.G. Wells The Time Machine, I have been transported into the past on a fairly regular basis. Not fantasy, but remembering terrible things about my past that were repressed, thankfully, for the past 50 years. Finally, after nearly a year, some of the memories seem to be recalling good things, like the first time I remember wanting to be a girl. I remember that my mother at times would dress me in my sisters clothes. I recall looking at women's clothes in the Montgomery Ward and Sears Catalogs. And I know that my gender identity was formed well before what happened to me and my sister. All wonderful but still fairly vague memories.
But now, with the assistance my dear friend and sister Terry, I have been able to go back 45 years, making connection with my true self. Andrea may never have had an opportunity to see the light of day when she was 14, but today, with the assistance of my artist sister, I now have the extreme pleasure of introducing you to me, Andrea Lena DiMaggio, circa 1965.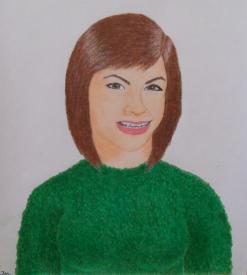 She did a wonderful job...I just love my eyes!
Thank you from the bottom of my heart, Terry!!!

Click Like, Love or Thank to appropriately show your appreciation for this post: