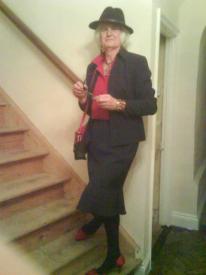 Well I got curious after Steph (Cyclist) mentioned the Gogiati test in one of her replies so I googled it and took the test.
I scored -50 That is Androgyne 3 and that is eeerily close to my mind set at the moment.
It recommends that I don't go for anything radical and indeed I never had any intentions of doing so. I am happy with my little boy bits and never felt the need to go 'whole hog' for SRS.
However the notes go on to advise that I continue in my transgendered mould that is, dividing my life up between homme and femme periods. Suggesting that I should explore the feminine side further. This again is uncannily close to my life-style at present for I am taking hormones and growing boobs. 4mg Progynova and Spirolactone daily for two years under medical supervision.
Just how accurate can it be!!! I am certainly 'coming out' more but the site still advises caution in my lifestyle. That however, I think reflects the somewhat more transphobic situation that prevails over the pond.
So far I have never received any abuse or threats whilst out en-femme though a couple of kids have asked me about wearing my 'Alice Band' in my hair to keep it out of my eyes when I'm going about my property repairs whilst en-homme.
The kids were 10 and 11 and they couldn't seem to reconcile my quilted workmen's jacket, jeans and boots with my long white hair held up with an alice band.
Click Like, Love or Thank to appropriately show your appreciation for this post: