Originally posted February 13, 2000 on Original BigCloset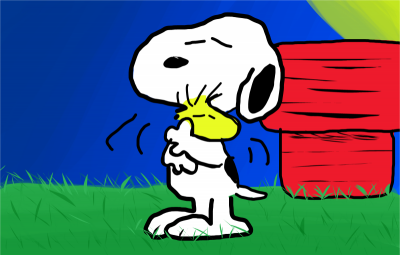 "Sparky Is My Hero"
by Joyce E. Melton

February 13, 2000
And while I'm at it, thank you, Charles Schulz.

There'll always be a Snoopy-shaped hole in my heart

Left by the Shakespeare of Sequential Art.

As long as any of us still have a pulse,

We'll never forget you. We'll always love you.

Remembered forever, always together,

Charlie Brown, Linus and Lucy, Woodstock, Peppermint Patty

And the rest of the Peanuts gang.  

I'm typing with tears in my eyes,

The morning paper will never be the same.

I'm just starting to realize

What you meant to us all.

Day after day for nearly fifty years,

Wisdom and whimsy, all of it gently

Told in playlets a child could understand.  

Genius isn't the measure of a man

But only an accounting of what he's done.

Steadfast, upright, ornery, and true,

Charles Schulz shared himself with us,

His dreams, his cruel wishes, his fears.

He was Lucy, holding the ball,

And he was Charlie Brown lying there stunned

When she did what you knew she was going to do.  

He was Snoopy watching his doghouse smoulder

And lamenting the loss of his Van Gogh.

He was Sally, fearful on the first day of school,

Wondering if she's going to miss the bus.

He was Linus, patient in the pumpkin patch.

He was Shroeder, intent on what he did best.

He was Peppermint Patty, getting a D-minus on the test.  

He was the child in all of us, afraid to play the fool,

Hoping we'll do better when we get older,

Knowing we've still got a long way to go.

He was Everyman, every day.

He taught us that it isn't about the games you've won,

It's about standing in the rain, wanting to play.

Did Snoopy ever pretend that he'd shot the Red Baron down?

It's not about glory, it's about crossing No Man's Land

To find your mud-covered brother

And share a few root beers in town.  

Linus never gave up his blanket, Lucy never learned to catch.

Pigpen took one bath, it was all he could stand,

And it took one panel for it to be undone.

After half a century of inflation, Lucy finally raised her price,

But for the cost of a newspaper, the doctor was in.

Mr. Sack had all the answers and everyone was his friend,

And when the sun came up it had a silly grin.

I guess all of us thought it could never end.  

Nothing so wonderfully original should ever happen twice

But if I could have a wish, I wish that I might touch

Half as many people, half as often and half as much

As the man who thought up all those Li'l Folks

And made all those little jokes,

My hero, "Sparky," Charles M. Schulz.

---

Charles M. Schulz, 26 Nov 1922-12 Feb 2000.

---

Copyright 2000 by Joyce E. Melton.

All rights reserved.
Click Like, Love or Thank to appropriately show your appreciation for this post: