I screwed up and a bill that wasn't supposed to be paid until the end of the month when we get money from Amazon hit today and we are overdrafted. Any amount we can get today will help keep me from having to pay the overdraft out of my credit cards.
Thanks, even if you can't give. Hugs.
Note that while you can still send us a gift through the subscription page, the subscription software has been turned off for the moment while we continue testing the upgrade. We should have it ready in a week or so but while you can send us money right now, the recurring billing doo-hickey does not work.
Anyone who would like to send us a gift, the addresses and links are in the right hand column and below. And thanks.
One-Time Gift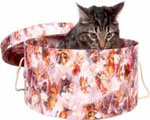 Checks can be made out & sent to:
Janglewood LLC
602 Higgins Ave
Suite 1 #283
Brielle, NJ 08730
USA
Hugs and thanks,
Erin, Piper, Cat, Amy, Cuddles, Liam, Kayleigh and the rest of the gang
Click Like or Love to appropriately show your appreciation for this post: