---

Warner Bras and Willa Disney Present

Merry Maladies Too!

---

 
---
Bugs Bunny in
Hollywood Halloween
featuring Lola Bunny
Lola:
Oh Bugs, would you mind coming here for a moment?
Bugs:
Sure...Anyting for you, babe!
Lola:
Anything? You know Petunia Pig invited us over to her place for a costume party.
Bugs:
Aw...Ya know how I hate those affaihhhs, honey? Do I have to?
Lola:
Oh, Please, Bugs...It would mean the world to me, okay?
Bugs:
Okay, if you insist....
Lola:
Well, you have to close your eyes, okay?
Bugs:
Close my eyes? Okay...Anyting for youse, babe!
*Boing!*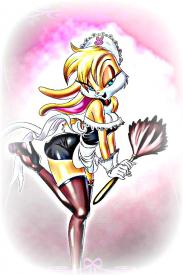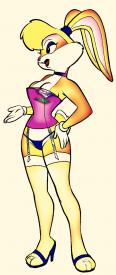 Lola:
Okay, Sweetie...open your eyes!
Bugs:
Oh....Lola....oh...oh...my body...ooooohhhhh....
Lola:
Oh....ooohhhhh.....Bugs....
Bugs:
Hey...what's that between your legs?
Lola:
Well, let's just say that you'll finally get to find out 'what's up, doc?'

---
Jasmine and Aladdin in
A Whole New World
Jasmine:
Oh, Aladdin...you're not dressed for the wedding...you need to get ready.
Aladdin:
Gee, Jasmine, I'm moving as fast as I can...
Jasmine:
You should have been ready an hour ago!
Aladdin:
Well, why don't you ask Genie to help out, you know...wish?
Jasmine:
You're quite sure you want me to handle this?
Aladdin:
I trust you implicitly...go ahead!
Jasmine:
As you wish, sweetheart!
*Boing*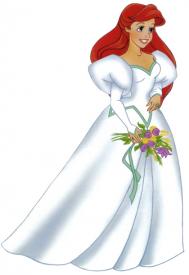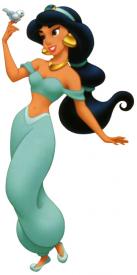 Aladdin:
Jasmine, what have you done? Change me back.
Jasmine:
Sorry, but no, honey...I'm out of wishes! And besides...
Aladdin:
What? Why????
Jasmine:
You said wish, but you didn't whose!
A whole new world, a funny magical point of view
Aladdin I must confess
you look great in that dress
Now I've got a whole new girl with you!

---
And of course...
OOOOh Hellllooo.....
Donald:
Tell them we'll be back on Sunday!
Mickey:
Ah...Gee, Minnie...we'll be back on Sunday...could you let Daisy know for Donald? Yeah... yeah...We're in the hotel now...what...oh yeah...the convention...well... It's just us.... Goofy couldn't make it...maybe next year...what's the name? Ahh.....Gee.... Minnie.... ahhh...Southern....Southern...Donallllllldddddddd ....help me out here!!!!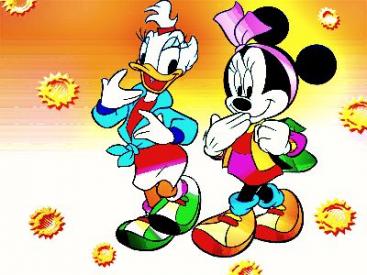 Ahah ahah....oooooo
---

And finally...
I tot I taw a purty tat!!!!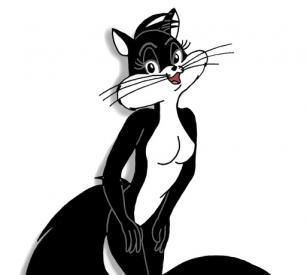 Thufferin' thuccotath!
Pretty thweeeeet, huh?!!!!
---
A Warner/Disney Production; Produced by Jennifer Brock and Directed by Bobbie Cabot. Distributed by Alison Mary Downunder Films. Copyright 1978
---
If you liked this post, you can leave a comment and/or a kudos!
Click the
Thumbs Up!
button below to leave the author a kudos:
And please, remember to comment, too! Thanks.
This story is 381 words long.