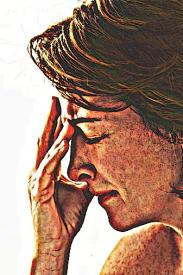 Heaven on My Mind
by Beth Williams
Intro:
My mind is clearer now
As I come to the end, all pretence has been stripped of me
If you take away, what once was thought whole
There is none for the world left to see...
Jesus!!
One:
Oh, Lord you know I believe in You
I know that You're the Son of God
And what the Bible says is true!
But all the things I've done
Have been swept away
I'm naked and I'm hurting Lord and I don't know what to pray...
Two:
Listen, Jesus I don't like what I see
All that I'd ask is that you'd listen to me
Please remember, I've tried to be your MAN for oh so long
But everything I do today
Gets twisted round in some strange way...
And it hurts me so to think I'm wrong
Three:
I remember when all of this began
No cloud of doubt then I knew I was Your man
Please believe me my love and adoration hasn't died
But now my heart is torn and tired
I still confess you are Messiah.
But Pretending to be a man is oh so wrong.
Bridge:
Oh Lord you know this battered one
Was always different so alone
Not at all man inside
It was all a lie!
Preaching teaching touching loving souls
Watching while Your Will unfolds
Speaking bold and loving You
It was so good.
Four:
I've tried for years and now I've almost died
I'm a woman not a man deep inside.
I've been the mommy but now my babies they won't talk to me...
I have loved and now I've lost
My heart can't cover the cost
Oh Lord what's to become of me?
Five:
Listen, Jesus do you care for me still?
Speak to me Lord, and I will do Your Will!
But my life's a joke; I'm falling to pieces before my eyes
I'm your follower but I'm blind
Always a woman deep inside
My life was beautiful but now it's sour...
Yes it's all gone sour
Oh it's all so sour...
Listen, Jesus it's all gone sour.
---
Lyrics:
Heaven On My Mind
Based on:
Heaven on their Minds
from the Musical
Jesus Christ Superstar
by Timothy Rice and Andrew Lloyd Weber, 1972
http://www.youtube.com/watch?v=zB8wNjmHwRc
---
If you liked this post, you can leave a comment and/or a kudos!
Click the
Thumbs Up!
button below to leave the author a kudos:
And please, remember to comment, too! Thanks.
This story is 387 words long.