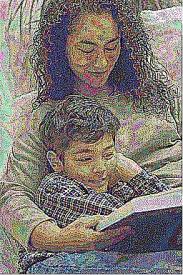 Feliz Lagrimas
by Andrea Lena DiMaggio
for Zoe!
---
Sometime in the future...Parsippany, New Jersey...the Rayburn-Gonzalez home...
"Buena noche, mi Niá±o" She kissed his forehead and went to get off the bed. The little boy reached over and grabbed her hand.
"One more, Mama, please?"
"Come on, Jeremy...three already...you trying to stay up until Mommy Lisa gets home from work?"
"No...."
"Jeremy?"
"Yes...but I wanna hear another story....pleeeeeeese?"
"Okay, bebé, but just one more! What about Rosie Runs Away? or maybe Pinkerton?"
"No, mama...you know...Un Oso de un Cuento...?"
"We read that last night, chico...maybe One Fish Two Fish? Or El Gato en el Sombrero?"
"No...Oso, Mama...Oso!!"
"Okay...just this once!"
She laughed softly as she picked up the book and began, "Un Oso de un Cuento de Zoe Taylor....." before pausing.
"Jeremy...why do you want me to read this one so much? You like Muppets and Horton and Los ará¡ndanos de Sally. Why Oso?
"When you or Mommy Lisa read it to me....you cry happy tears."
Zoe looked at her son and smiled as he said,
"See...like that, Mama...feliz lagrimas...like Mommy Lisa says, si?"
"Si, Mi niá±o...si." Zoe wiped her face with her sleeve and began.
"Un Oso de un Cuento de Zoe Taylor..... 'Quien se encontraba en la puerta?' La voz lá­rica de alta cima de la escalera apiladas....."




Muchas gracias a Zoe de su don de feliz lá¡grimas!
(Many thanks to Zoe for her gift of happy tears!)
---
If you liked this post, you can leave a comment and/or a kudos!
Click the
Thumbs Up!
button below to leave the author a kudos:
And please, remember to comment, too! Thanks.
This story is 263 words long.