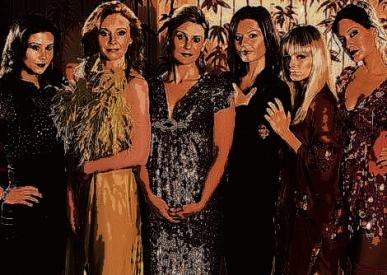 The Best Little Whore House
Hello, We're the Commentare family. Our house is a welcoming house; we trade in comments, si? We give you what you want and all we ask in return is that you notice us and say something, si?
That's Gina on the left; she handles all the fantasy readers. She loves to hear her name called out while the rustle of capes or the smell of potions or the whisper of angels' wings is in the air.
Next to her is Cecilia; she wants to please the real life seekers. Please: not for the faint of heart. Bring tissues.
I, Margo, run the establishment. I handle sweet and sentimental...cute...nice, si? Also bring tissues and don't forget your diaries!
Nita is to my left. She loves adventure and mystery. If you are scared of loud noises or car chases, she's not for you!
Next to her is Giselle; the baby of the family. She is happy to bring to you Romance! More tissues and maybe a box of chocolates?
On the end is Christiana; she loves History and the girls who made sacrifices before us so that we would be free, si?
Maria, our middle sister, is responsible for Forced Femme and other such niceties...he...did I say he...she is tied up at the moment.
Yes, as you may have guessed, we, Gina, Cecilia, Margo, Nita, Giselle, Christiana, and Maria are
The Commentare Whores!
Don't forget to fill out the Survey upon departure, per favore?
---
If you liked this post, you can leave a comment and/or a kudos!
Click the
Thumbs Up!
button below to leave the author a kudos:
And please, remember to comment, too! Thanks.
This story is 256 words long.