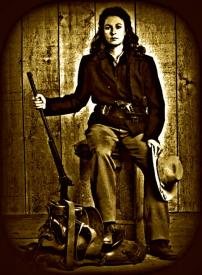 Seven Brides
for
Seven Sisters!
---
A One-Act Musical Comedy based on Seven Brides for Seven Brothers
---
(Sabine, Idaho, the 1880's. A buckskin clad woman steps down from the buckboard, She turns and looks up and down the street, if you could call the single strip of flat dirt running down the center of town a street. The owner of the store comes out to greet her)

Miss Molly:
(Stands in doorway)
Hey, Manda…here for provisions? Ain't seen neither you nor your sisters anywhere or anyhow since late last October….Harvest time if'n I recall?"
Amanda Remington:
Nope, Miss Molly…I'm fixin' to get me a bride!"
Miss Molly:
Tain't no women even two hunert miles from here, Manda. Slim pickins', an I be spoken fer!"
(Molly points to the man asleep in the rocker on the wooden walk way.)
Amanda:
Di'nt say I was lookin' fer a girl, Molly." She turns and watches as a slight looking young man walks down the walkway and politely steps into the street rather than bump into her. He peers over his glasses and raises his cap at her. She smiles as the man walked past before breaking into song…
Bless my beautiful bride,
Bless my beautiful bride.
Bless my beautiful bride
Whoever you may be.
Ain't acquainted yet
But I'm a willin' to bet
Yer just the gal for me.
Bless my beautiful bride
Yer lookin' mighty fine.
We never met
Much to my regret
But yer just as good as mine!
Oh, I'd swap my horse 'n' I'd swap my gun.
To have just one chance to have some fun.
It might even put you on the run.
When all is said and done!
Bless my beautiful bride
Prepare to bow to me.
And take the oath
that unites us both 'cause,
Yer the gal for me
Pretty and trim but kinda slim.
Beautiful eyes and just my size
You'll beg to be the bride for me.
Bless my beautiful bride
Whoever she may be.
Bless your beautiful hide
Whoever you may be.
We ain't met yet but I'm a willin' to bet
You're just the gal for me!

Young Man:
Excuse me, Miss. You're awfully forward for a woman."
Amanda:
You don't know the half of it.
(Amanda smiles before throwing the blanket she was carrying over the unsuspecting young man. In a moment she ties the bottom with some cord and throws him into the buckboard. She walks back into the mercantile and noticed a bright yellow gingham dress on a mannequin standing in the corner.

Amanda:
Now that's the way we do it in Jersey! Hey, Molly…how much fer the dress?"
Molly:
Two dollars…n' fifty cents.
Amanda:
Two bucks and order me six more the same size…
Molly:
Manda…in all the years I known yuh, you never once has worn a dress. Whatcha gonna go startin' up now? None of yer sisters, neither!
Amanda:
D'nt say 'twas fer me, Molly, now did I?"
Molly:
Cain't say you did, now that you put it to me. Whatcha need seven dresses fer?
(Molly eyes her up and down. Amanda shakes her head before looking back at the wagon.)
Amanda:
Seven Brides fer Seven Sisters, Molly.
(Molly nods as Amanda settled up with the bill for the provisions. She walks out of the store and hops up into the front of the buckboard…singing quietly to herself.)
Amanda:
Bless my beautiful bride…cain't wait for you to see…Just what's in store goin' through my door since you're the girl for me.
(She looks back at the wriggling form wrapped up in the blanket.)
Young Man:
Mmmmhhhphh……
Amanda:
Now you don't go fret none, Missy….I'll be…gentle… Hmm hmm hmm hmm hmm hmmmm.
(She hums softly as the buckboard drives off stage.)
Amanda:
Amanda, Beth, Calpurnia, Dita, Esther, Francine, n' Ginnie. Yep….
(Loudly as buckboard disappears in wings.)
CURTAIN!
---
based on
Bless Your Beautiful Hide
Music by
Saul Chaplin and Gene De Paul
Words by Johnny Mercer
from the musical play,
Seven Brides for Seven Brothers
http://www.youtube.com/watch?v=KEOhZAsz3sk&playnext=1&list=P...
---
If you liked this post, you can leave a comment and/or a kudos!
Click the
Thumbs Up!
button below to leave the author a kudos:
And please, remember to comment, too! Thanks.
This story is 709 words long.