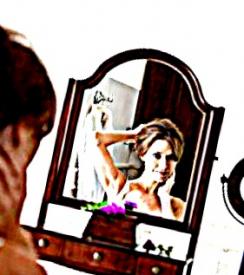 Authentic
---
---
Ramapo, New Jersey....sometime in the recent past...

"You looked lovely tonight, dear." She called from the hallway as she hung our coats.
"Thank you, sweetie." I said as I sat down at the vanity in our bedroom.
I looked at the image in the mirror. She came in behind me and gave me a kiss on the cheek.
"Penny for your thoughts," She said as she pulled away slightly, pausing to smell my hair.
"Try a dollar…maybe two." I said, bowing my head.
"Don't let that get you, honey. You know Phyllis can be abrupt." I looked back at her reflection; she didn't seem any more convinced than I was.
"And you were the prettiest woman there." She smiled.
"The only one without a wallet full of photos," I said, forgetting her completely.
"Lynn….just why did you marry me? You knew even before we wed that this," I said, pointing to my body.
"This was whom I was meant to be."
"Yes, I did, and I told you that it didn't make a difference. You know we can adopt soon; I've just about got my dissertation ready, and even if things don't get much better, you know we can do this."
"But what about…" My voice faded as the questions of family and even friends inserted themselves once again into the conversation.
"Dad understands. And he said to both of us that if the next generation of Stephanos comes via a piece of paper and a hug, it's fine with him. Mommy always said she didn't care as long as BOTH of us were happy.
"Do you ever wonder?" I put my head down again.
"Yes." Her answer surprised me; I expected some placating before I finally did my relenting dance, but she smiled at my surprise.
"I'm human…so are you. What if something didn't take place or did take place when you were in the womb. What if we'd never met? What if you never transitioned? What if…."
"Do you love me?" I hated myself for that, but it was the only thing to hold onto.
"Yes. Do you?"
"Of course; I've loved you since before we ever met…when I was Cary instead of Cara.
"No, honey…do you love you? Can you learn to treasure yourself just as much as I treasure you?" She shook her head and leaned around me and kissed me as sweetly as ever, nearly drinking my tears.
"I want to be real for you. I'm so sorry."
"Are you a vapor or a mist? I couldn't do this to a ghost, you know?" She began nibbling on my ear. I wanted to cry and I did, but I giggled from the tickling sensation as she licked my neck, the coarseness of her tongue moving me to more laughs and more sobs.
"You are more real than anything else in my life," she said as she kissed away more tears while anointing my face with hers.
"Nothing could be more real, and for that I am happy." She kissed me on the lips, her intent to heal found in the firm and steady pressure, as if she could impart courage and honor with her passion. It did. I was swept away by her ardor and her love as once again, my wife gave me hope. We might never bear a child, but my heart would always bear the witness of her love.
Sometime in the future...

Jason, our baby, is sixteen and is all-county Epee at Ramapo High. Nita is seventeen and has begun accelerated classes so that she will enter the nursing program at Montclair State as a sophomore after graduation. And our first child, Jimmy, turns twenty-three next month. He's looking forward to begin his coaching career for Para-athletes after winning silver in the shot put in Barcelona last year.
---
---
The Way You Look Tonight
from the Motion Picture,
Swing Time
words and music by
Dorothy Fields and Jerome Kern
as performed by Catherine Brozena
http://www.youtube.com/watch?v=GECvAfgQAiI
---
If you liked this post, you can leave a comment and/or a kudos!
Click the
Thumbs Up!
button below to leave the author a kudos:
And please, remember to comment, too! Thanks.
This story is 697 words long.