Father's Sweet Repose
by Andrea Lena DiMaggio
---
"Esme?" The girl said softly.
"Yes, Mirabel?"
"Do you think father will be upset?"
"Upset, not at all. I think he'd rather be pleased with how well we play."
"No, not our playing? You know it's not fair for mother to make us play like this!"
"Our strings? I rather love our playing!" Esme replied."
"No, silly, not our strings! Our playing like this!" Mirabel used her eyes to point down at her dress."
"Oh….not fair at all. Nice now that we have company, don't you think?" Esme laughed.
"I suppose it's not what I think that matters, but what he thinks?" Mirabel laughed in return as she gazed at their sleeping father.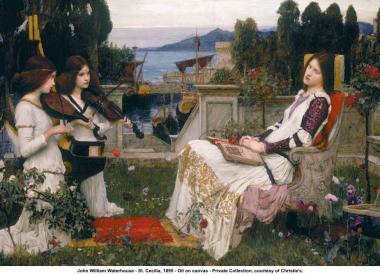 ---
St. Cecelia
by John William Waterhouse
---
If you liked this post, you can leave a comment and/or a kudos!
Click the
Thumbs Up!
button below to leave the author a kudos:
And please, remember to comment, too! Thanks.
This story is 131 words long.