---
---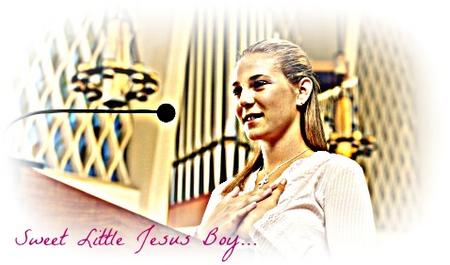 by Andrea Lena DiMaggio
Sweet little Jesus boy they made you be born in a manger
Sweet little holy child
We didn't know who you were
---
---
Open Arms Fellowship, Paterson, New Jersey…three Saturdays before Christmas…
"I'm sorry, but that's final." The woman snapped at the girl. She hadn't meant to be mean, but nothing short of changing her mind would feel kind. The girl put her head down; chastised for an offense that was not offensive but for the sad ignorance of the woman who sat across from her. And the really sad thing is that if you were to ask anyone, including the girl, they'd say that the woman was very kind indeed; perhaps apart from the decision she had just made.
"You're certainly welcome to attend, but I really wouldn't recommend it." And she never meant to be dismissive, but there it was. The girl got up to leave her office and the woman smiled at her warmly, as if what had just transpired never took place.
Sweet little Jesus boy they made you be born in a manger
Sweet little holy child
We didn't know who you were
We didn't know who you were

---
At home...
Didn't know you'd come to save us
To take our sins away
Our eyes were blind we could not see
We didn't know who you were
We didn't know who you were

"I told you!" Her sister called from the kitchen as she walked in the front door. She paced slowly past the kitchen island and paused; frowning sadly before running down the hallway to her room, crying. A moment later she heard a knock at her doorway.
"I'm so sorry. I didn't mean to be so…practical. It must hurt so bad." She looked up to see her sister's face; a half-smile adorned an otherwise sad countenance.
"It….she was so nice about it." The girl shrugged her shoulders as if the emotion of the moment a few hours before would somehow make everything feel better. And of course, since she was so nice about telling the girl she wasn't allowed to participate in the church Christmas concert, it must be the right thing to do. Painfully ironic that the girl who deeply loved the savior for whom the concert was dedicated would be excluded from the love they wished to portray.
"It's not fair!" No amount of agreeing would change how her sister felt, but she needed to say something for her own sake; a way of demonstrating she understood and disagreed completely with how the girl had been treated. And sadly, she was correct in her assessment. The girl nodded slightly before throwing herself into her pillow, weeping inconsolable tears.
---
You have
Told us how
We are trying
Master you have
Shown us how
Even when you
Were dying

"What do you mean you can't sing in the pageant?" The woman was kindly sympathetic enough to have missed Dana's intent.
"I can…I just won't. I'm just not gonna sing, okay?" She tried to keep her emotions in check and did a marginally successful job with only the slightest bit of anger peeking out from behind a forced smile.
"Why, Dana? It's Christmas, after all, and you're our star!" Another irony that she would use the word when the real Star was being ignored and few if any of the church leadership were following it to its intended destination.
"As long as Davey can't sing, I can't either." This time she was right in her use of words as well; she couldn't bring herself to sing of love and redemption when her best friend was being rejected and tossed aside.
"You know we can't allow him to be a part of the concert, Dana. Not while he's acting and behaving in such an un-Christian manner." A hard edge accompanied her words. The woman remained kind in most regards, but her beliefs were reflected in her words. The road to hell might be paved with good intentions, as some say, but the road to heaven wasn't as narrow as many perceived.
"I don't care. He's out? I don't want to sing."
"It says to bring a sacrifice of praise before the Lord, Dana. We honor the Lord when we praise him even when we don't feel like it." She smiled again.
"It doesn't say where we praise, does it? Davey is the best person for the solo, and you know it. I don't think Jesus cares about what clothes he wears, and maybe what he's gonna become." Dana said it with a pleading tone, as if she could convince the woman of the wrongness of her decision.
"That's just it, Dana. He is the best singer for the solo; not the person he's pretending to be." The more the woman spoke the less convincing she was, even to herself.
"It's not pretending if Davey's a girl, is it? And if I'm a good singer, Davey's a great one. And even more…" She paused and tears began to well in her eyes.
"If you and I love God, then Davey practically adores Him all the time. I can't sing if Davey can't. I won't, but it's more like I can't sing for a bunch of people who would rather listen to nice songs about Jesus than act like Him. I'm sorry…" She put her head down and began to weep; the realization that no matter what the woman decided from then on, it wasn't about who sang what or where, but about to Whom they sang and the love that was lost on the sibling she treasured more than any other human being besides the woman before her.
"I'm sorry Mommy, but I can't."
---
In the end, the boy never did get to sing praises to the King of Kings; neither at the church they all attended nor anywhere else, for that matter. But some days, when you pass the Abruzzo household you might hear the sounds of laughter and singing and joyful noise as Marie Abruzzo, of late the former Minister of Music at Open Arms Fellowship, lifts her voice in song with her two daughters, Dana and Davey.
You have told us how we are trying
Master you have shown us how even when you were dying
Just seem like we can't do right, look how we treated you
But please sir, forgive us Lord
We didn't know it was you
We didn't know it was you (X3)

---
Sweet Little Jesus Boy
Words and music by
Robert Mac Gimsey
As performed by
Rebecca St. James
http://www.youtube.com/watch?v=gWMSYizZ6hE
---
If you liked this post, you can leave a comment and/or a kudos!
Click the
Thumbs Up!
button below to leave the author a kudos:
And please, remember to comment, too! Thanks.
This story is 1151 words long.