---
---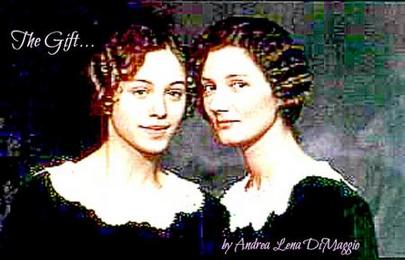 ---
---
Found herein are letters between the Bedford Cousins
regarding the Christmas of 1821...
---
---
2 December, 1821
My Sweet Angelique
I'm sending you this missive in lieu of our much anticipated get together Monday next. It is disappointing, but cannot be helped, owing to circumstances beyond control of either you or me. As you most certainly may recall from our last conversation, things at home have been a bit challenging of late. What with Charlotte's upcoming nuptials and all, it would already have seemed very hectic but for the additional drama that continues to play out within the Bedford home.
While Charlotte's engagement draws rapidly to a happy conclusion with Mr. Shepherd, things have become all too distracting for mother and father; what with the Yule season in joyous if confusing coincidence with the wedding. If that weren't enough, as you well know, at barely thirteen years of age, the youngest of the Bedford children has provided mother with an odd source of pride while simultaneously giving father an immense sense of confusion and a headache as well. Only as recently as this past Tuesday it was actually a fearful consideration that the union between Charlotte and Richard might be postponed; we cannot nor should we seek to postpone Christmas!
Dana Bedford is as conciliatory and eager to please as any sibling any girl would hope for, but the idea of the request put upon mother and father is not only entirely overwhelming but would seem to be almost tragic. Dana had never once given any indication of longing for such a Yule-tide beneficence as hugely impossible as this most recent one; and of course, mother and father would move heaven and earth for each of us, and not in any way with a desire other than to see their children prosper and grow. We all know the meaning of the need for hard work and perseverance and would never consider asking for anything beyond Father's ability nor to our own detriment.
Pray that we all only wished for what we need and deserve in life; if one could actually deserve anything but respect and good hope? Dana is only seeking what needs be; Christmas or any other season. And mother and father would only seek to provide as much for the baby of the family; though at fourteen Dana could hardly be considered a child. No, dearest Angelique. As cousins we all know that the Bedford line is founded solely and most charitably on the rock of love and care and consideration for what the Creator would have us do. If that is what amounts to deserving, then so be it.
As you quite well know, father is a man of many talents and giftings. It is upon these that the merest and yet most immense of presents mother and father and Charlotte and Louise and I wish to bestow upon the littlest of the Bedford brood. Yet we seek the assistance of you and Aunt Rachel and Uncle Edward to complete the preparations for the undertaking of what may prove to be the most joyous of Christmas Days.
Father is superb at his craft; no one from here to London has a finer reputation in the profession, though I daresay many would be surprised to know of his many other expressions. Between him and your father, the Bedford brothers hold a reputation in good standing as men of character in the field, and we hold all confidence that between them, Dana might enjoy that hoped-for present to end all presents. Please share this letter with your parents, though I daresay father may already have hastened to contact his brother in anticipation of completing this most needful of tasks.
Give Aubrey a hug for me. I'm happy to hear of his courtship with Miss Marsdale and hope that an announcement from him shall be forthcoming with perhaps a continuance of the Bedford line? Tell Aunt Rachel I shall be most happy to help her with the dress for Charlotte's wedding day. Give Uncle Edward a kiss for me with my eternal gratitude.
With as much love as one heart can hold for another,
I remain your adoring Cousin Adele.
* * *
8 December, 1821
Dearest and adorable Adele
My note, while short and sweet, remains as urgent as needs be. You already know that father has agreed to join in the Yule Conspiracy. As you may well recall, both he and your father share a kinship with a second-cousin once removed; Mrs. Margaret MacDonald who resides in Ulster after being widowed these past ten years. She had only one child; a daughter named Clare who was as sweet and innocent as the day is long; as much a Bedford as our two families, but with a father who drank himself to an early grave. No one apart from our clan knows much of the MacDonald side other but what they have heard that mother and daughter yet reside in Ulster. We have a willing conspirator for the Christmas surprise.
Father is hopeful if a wee bit daunted for the task at hand, but he is glad to be a part of a most precious gift and honored to be called upon to work his magic; albeit in ways the Royal College of Surgeons might never have anticipated. I look forward to a good report once father and Uncle Harry complete their part in our grand Yule celebration. My regret only is that we shan't see things realized until after Charlotte's wedding, even with all due haste applied on our part; father and Uncle Harry have only so many miracles between them of which to perform. It was lovely to meet for tea, if however brief a time this past Wednesday. Until I see you again, I anticipate things will have their way and we shall be both proud and elated on Christmas Morn.
I remain your loving and most grateful Cousin Angelique
* * *
17 December, 1821
My dearest Angelique
It is with both heaviness of heart and soul that I must deliver such news as I can barely speak, tho you likely will have heard from your parents regarding same. On this Thursday past, whilst visiting the home of our distant Cousin Margaret in Ulster, my dearest baby brother Dana died tragically after falling through thin ice at a pond on the MacDonald property. The family remains strong and filled with gratitude over the precious life with which God in his mercy bestowed upon us if only for a little while.
Mr. Shepherd most graciously agreed to a postponement of the wedding until such time as the family is able to recover from this most tragic loss. As such, Charlotte and Richard will be wed on the second Saturday in April. I look forward to meeting with you between then and now to embrace and mourn and remember with sadness but also with great joy how much we both loved Dana.
With hope, I remain your loving Cousin Adele
* * *
28 December, 1821
My precious Cousin Adele
I am so grateful to have known our dear sweet Dana. Christmas will never be the same again, but I am hopeful that he is in a place of great comfort. I am confident that the special gift father and Uncle Harry were able to bestow was received with much joy and will have greatly blessed him and given him much hope. I will miss him greatly, but as you and I well know, God works in great and mysterious ways; his wonders to perform. May you and yours be blessed this coming new year.
Ever hopeful for the future,
I remain your loving Cousin Angelique
* * *
19 April, 1822
My most adorable Angelique
What fun it was after such a long and sad winter to see you at Charlotte's wedding. Our two families still, of course, mourn the loss of our beloved Dana, but now live with hope renewed at the arrival of Spring. Mr. and Mrs. Shepherd have delightfully relocated in London as Richard has gained a position as the newest of solicitors in a prestigious firm; a bit of a change for dear Charlotte though I scarcely believe you'll find a complaint uttered even once by her.
Father has been a stalwart support to mother and Louise and I in the midst of our loss, but he continues to work hard; successful all these past several months that he's taken on hire a new helper in the shop. Our cousin Clare, only recently arrived from Ulster, has expressed an interest in apothecary and whilst some might find it odd and even troublesome, father has delighted in telling more than one busy-body in town that Clare is just as good as any man in any task or assignment and that he's happy for the company she provides. She's eager to please and most grateful for the opportunity. I dare say she's about as happy a girl as I've ever had the pleasure to know, save for you, my dear cousin. And she's a wonderful addition to the family as well.
With as much love as a heart may hold,
I remain your most conspiratorial Cousin Adele
* * *
I wish everyone a most joyous Christmas
and a new year filled with hope and every good blessing!

---
If you liked this post, you can leave a comment and/or a kudos!
Click the
Thumbs Up!
button below to leave the author a kudos:
And please, remember to comment, too! Thanks.
This story is 1554 words long.