---
---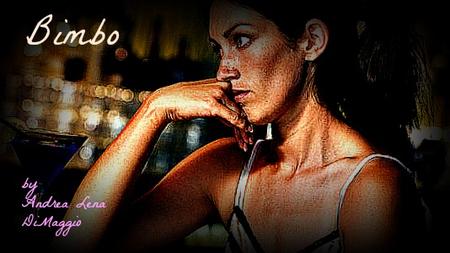 ---
---
Northside Tavern, Atlanta, Georgia, late December….
Josh walked past the girl sitting and leaning against the bar and smirked. Even if he wasn't engaged, she didn't appeal to him. She looked cheap; not down and out cheap, but that apathetic place where nicer clothes and a makeover would have made all the difference had she actually cared. He glanced at his watch and smiled. Plenty of time to meet his fiancé at ten and still schmooze at the bar. He would play it cool and nonchalant; it didn't really matter since he wasn't starting something anyway.
"Excuse me? Do you have the time?" The girl spoke tentatively; like a come-on in practice. He noticed she had a watch adorning her right wrist. He shook his head and smiled; not warm and friendly, but the kind of smile that says, 'there you go, go away.'
"Six-twenty." He didn't notice that her watch was broken. But then he didn't really care.
"Thanks," she nodded before putting her head down slightly. That would have been enough except he had to go ahead with his assumptions. He was a flirt and nothing else, as if being mean-spirited would be an adequate compensation for not cheating. He nodded again with a teasing smile.
"I don't have to be anywhere until ten…." He grinned and she shook her head as her face glowed red even in the poorly lit tavern.
"I'm sorry. I'm with my sister." The look on her face showed a needless embarrassing shame; as if she was the one who was being forward.
"Yeah, okay…sure…." Josh pursed his lips and nodded slightly. His tone might as well have said, "YEAH, SURE…." The girl lowered her head slightly.
"Excuse me….I …" She turned and walked away quickly toward the ladies room in the hallway on the other end of the bar. He watched her go, paying close attention to her figure as her hips seemed intentionally provocative. A second later, an older woman, elegantly dressed, spoke to him.
"Excuse me, Josh, do you have the time?" He nodded and looked at his watch, failing to notice the dim glow growing brighter around the woman's face. She smiled and nodded.
"Yes, I do believe you do." At her words, things seemed to fade and sounds and shapes and colors and touch and smell all melded into a sensory miasma until he found himself looking in a mirror. The image that stared back at him looked vaguely familiar and the image over his shoulder looked very familiar.
"You about done? We have to get over to the clinic…." The girl over his shoulder spoke; the same girl he only a few minutes ago dismissed with a grin. She smiled at other image in the mirror. It was only then that he realized the image was a girl of about the same age; very close in size and height but for the harder features. The girl was a near-twin, but fraternal instead of identical. The idea seemed ironic for some reason that he couldn't identify.
"I know," he found himself saying. His voice seemed different; almost feminine, but not in good way, he thought.
"Jackie said that we can get flu shots if we get there by seven…something about a special open house?" He nodded and smiled weakly without understanding why before speaking again.
"Just let me make some repairs." He looked down at his left hand and discovered he was holding a lipstick; dark red. Even as the question of why he held a lipstick came to mind, he found himself applying it…to his lips.
"Okay. I don't know why you keep seeing that jerk. You know he's only using you," the girl said. She stepped closer and put her hand on his shoulder and peered at him in the mirror.
"We don't have to …. You're better than this, honey." She shook her head slightly; tears welled in her eyes.
"I…I know, Jessie…." Josh spoke in the odd, nearly feminine tones again. He looked at the reflection and saw that he had begun to cry.
"You know that Mommy is so sorry, right? That she didn't know?" The girl spoke gently; a soothing invitation of sorts. Josh nodded; curls bouncing around, revealing pretty onyx drop earrings. The feeling of the hair swishing past his ear gave him a start; almost electric.
"It's about six-thirty…." The girl said. Josh looked down, searching for his wrist watch. There was a bracelet on his left hand, which redirected his attention to his right wrist. Along with a small silver-like Casio watch he noticed dark lines that went up his wrist and underneath the sleeve of the ecru blouse he was wearing. The girl's eyes followed his gaze and she spoke.
"We're past that, sweetie, right? We're safe now and he can never, ever hurt us again." At the word, 'he,' Josh winced and felt a chill run up his back. He bit his lip and his nostrils flared as his eyes once again filled with tears.
"Tiff…? It's okay…." The girl stepped even closer and hugged him from behind. He felt the tears fall off her face onto and through the thin fabric of his blouse. She kissed him on the cheek and began to sob.
"We're okay…." She stammered between sobs. He turned and pulled her close and hugged her, mixing his sobs with hers.
"I'm sorry…I don't want to make you cry," the girl whispered haltingly. He found himself nodding; still weeping even as things began to fade once again.. …

"Thanks for your time, Josh," he heard the elegant looking woman say; her hand touching his arm softly. She stared into his eyes, and something spoke wordlessly. He nodded without thought as he felt himself pivoting at the urge of the woman's hand. Standing at the other end of the bar were two women; nearly identical.
"It's all about perspective, don't you agree?" The older woman asked as she squeezed his wrist; sending a shock of numbness mixed with pain up his arm. He looked at his arm and then back at the two women standing closer. One was only a bit taller than the other, even though they looked to be nearly alike in every way except that the taller girl's neck was adorned with a thin black kerchief. She wore matching black earrings and her face seemed to be striking as opposed to how pretty her sister looked. Stronger if still similar features; both girls seemed a bit cheap; the dark eyeliner and poorly applied eye-shadow that speaks not of status so much as haste and economy. He shook his head, but not in usual dismissal, but in an odd alignment with the two young women who actually now appeared out of place in the dark shadows of the tavern. The two walked around him, but the older woman stepped forward, barring their path to the exit.
"It will be alright, dear child," she said, kissing the taller girl. Turning to the other girl, she gripped the girl's hands with hers."
"You're a blessing to her and she to you. It's going to be okay." With that, she stepped closer and repeated her hug, kissing the girl on both cheeks.
"Be well!"
With that the girls nodded politely if in a bit of confusion. Josh watched the two walk out of the tavern; his eyes following their every move. But instead of lust or judgment, he felt something he never really understood…. compassion. In a moment, both girls had walked through the door into the cool of the evening. He turned, feeling somehow that he needed to thank the older woman, but when he looked, she was nowhere to be found....
---
If you liked this post, you can leave a comment and/or a kudos!
Click the
Thumbs Up!
button below to leave the author a kudos:
And please, remember to comment, too! Thanks.
This story is 1322 words long.