---
---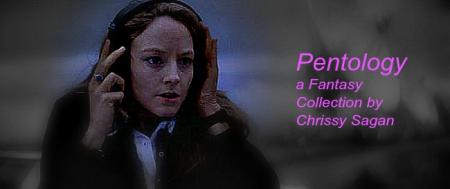 ---
---
with editorial assistance by Andromeda DiMaggio
---
---
Available now – Chrissy Sagan's Pentology – a semi-autobiographical five-book Fantasy Collection in a beautiful boxed set. Ms Sagan's whimsical teetering stroll through the universe on three inch heels goes from paranoiac speculation to taffeta-draped dreams. The set includes: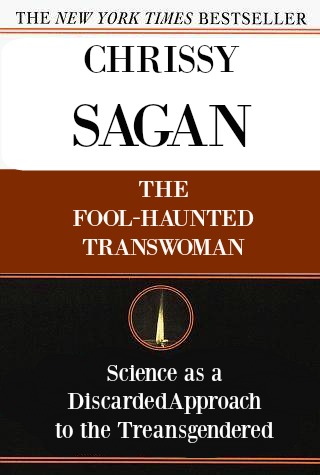 The Fool-Haunted Transwoman:Science as a Discarded Approach to the Transgendered. In this volume, Astrophysicist/Beautician Chrissy is highly vexed by her brother Dale; a closeted transgender hospital chaplain in King's College who deflects by focusing on Chrissy's choice of lavatory. It all works out in the end as Dale finally realizes who she is, and goes to nursing school; at last acknowledging she'd rather be a Sister Sister who is Chrissy's there-all-along-sister
---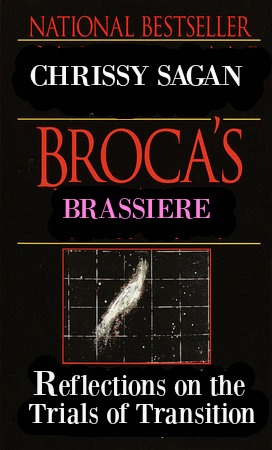 Broca's Brassiere: Reflections on the Trials of Transition, In Broca's Brassiere, Chrissy learns what it means to channel her inner Neil Simon as she and her girlfriend Eloise move in together on Deep Space 34B, only to find out that neither of them likes 'panties drying on the rod.'
---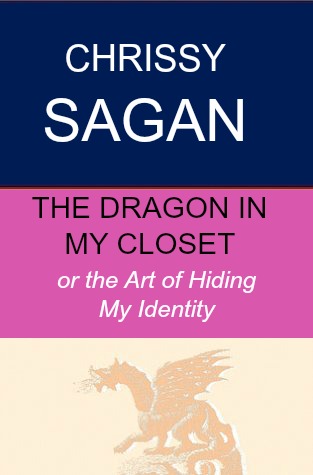 The Dragon in my Closet: or The Art of Hiding My Identity. Chrissy discovers that juggling personae can be difficult, which in turn may lead to coming out sooner than she's planned. She still wears male mufti on Moon Base Alpha, but being two years into HRT she looks a lot like Barbara.Bain.
---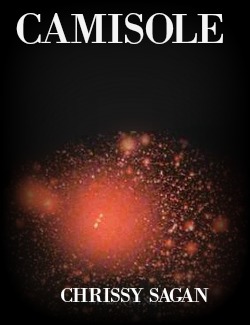 Camisole. Chrissy struggles with the concept of her own place in the cosmos and how dramatically it is affected by power lingerie.
---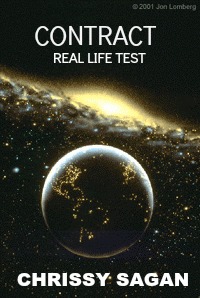 And Ms Sagan's Magnum Opus, Contract. Contract is her most personal work. Although fiction, it still accurately reflects the hardships of a woman astronaut simultaneously dealing with preparing for an upcoming ISS Shuttle flight, hormonal changes, frustration with the NHS over the waiting list for GRS, picking out China patterns for their registry at Selfridges. and that finding matching wedding gowns can prove to be a daunting task.
---
Christiana May (Chrissy) Sagan (/ˈseɪɡən/; April 1, 1982) the Scottish second cousin twice-removed of Carl Sagan, is an transgender astronomer, cosmetologist, astrophysicist, astrobiologist, author, science popularizer, and science communicator in astronomy and other natural sciences. She is best known for her work as a science popularizer and communicator. Her best known scientific contribution is research on extraterrestrial life, including experimental demonstration that there actually are Cat Women on the Moon.
Pentology from Amethyst Astronomy Books, Ltd., 2016, is available at all Barnes and Noble, Blackwells. Foyles, and Collins stores, as well as Amazon and Lavender Press Online.
---
If you liked this post, you can leave a comment and/or a kudos!
Click the
Thumbs Up!
button below to leave the author a kudos:
And please, remember to comment, too! Thanks.
This story is 414 words long.