An Ode to 'Bike', the first 10 years

I'd rather be Riding my bicycle
My bicycle made for two
With bells and rings and things on
But a trusty read that always delivers
What it says on the tin
Through thick and thin
Wet and Dry
Another episode comes along
And then two or three more just like busses
But it always delivers
What it says on the tin
Angharad you are a trooper
Sooper dooper
And that is a fact
But the tales go on
And it always delivers
What it says on the tin
For nigh on ten years we have come to expect
An almost daily dose of dormouse
Those fine little critters
That you have given us so much insight
When you deliver
What it says on the tin
So Angharad we salute you for what you do
With Bike and everything else including small furry mammals
You are like a dummy to a child
Always there when it is needed
Delivering as we have come to expect
What it says on the tin
So please carry on
Providing joy and entertainment to many sometimes troubled souls
You are a hero
For delivering
What it says on the tin
Samantha Michelle Davies
I read this to Angharad at a luncheon today to honour her work with 'Bike', all 4 Million Plus words of it.
Here is the motley crew who were at the event.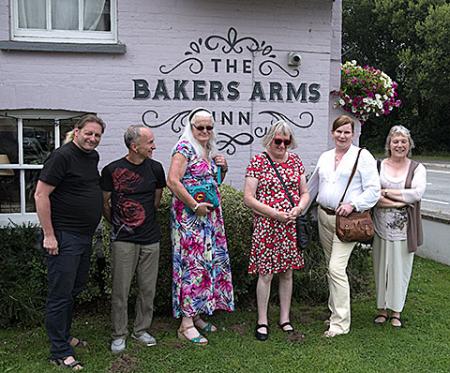 ---
If you liked this post, you can leave a comment and/or a kudos!
Click the
Thumbs Up!
button below to leave the author a kudos:
And please, remember to comment, too! Thanks.
This story is 237 words long.