The Training Bra Times
Written by and for Boys Who Want to Wear Training Bras
*** Reviews and Advice ***
*************************************************
YOU WRITE – WE ANSWER
Dear Training Bra Times
Ever since my sister got a training bra last month, I have so wanted one too. I asked my mom, but she got very mad at me, and told me that I wasn't normal. All I got was a smelly yucky jockstrap to wear. I hate it! I am guessing I'll just have to buy one on my own, but I am so confused by all the styles. I measured my size and I'm about 30 inches, but I really haven't started to develop yet like my sister. I guess I'm also a little afraid to buy one at the local department store. Help please!
Mark – Peoria, Illinois
Dear Mark,
Relax you are not alone. A lot of us boys want to start wearing a training bra like our sisters do. You are 100% normal, no matter what your mother says. Sorry to hear that they are making you wear one of those ugly jockstrap things. But at the The Training Bra Times we can help you fix all that!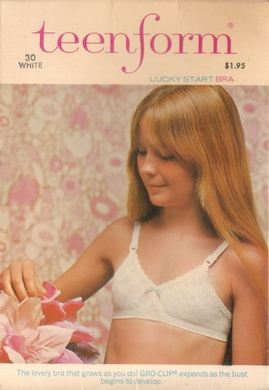 Its great that you know what size you wear. Since you haven't started to develop yet, I recommend that you go with one of Teenform's gro-cup styles like the Lucky Start. (HINT: You can click on the box image to see the detail.) The Lucky Start comes in just your cup size, (yes you DO have a real cup size like a girl), AAA. The gro-cup will expand as you begin to develop and will look super cute. Plus, since its not padded, it won't won't show, and only you will know that you too are wearing a training bra just like the girls at school.
Don't worry about anyone saying anything in any of the stores. As long as you have two dollars your money is a good as anyone's. You may wish to save up and buy two if you intend to wear your training bra everyday, which is actually recommended by all of us here at The Training Bra Times. None of the boys on staff here ever go a single day without wearing their training bras.
Most important, although you might be tempted, do not even think about shop-lifting your training bra. The dangers and risks of getting caught are far greater than dealing with some crabby old sales lady.
So, go ahead, buy a training bra, and wear it with pride! And remember, wearing a training bra is the most fun thing a boy can do. -- Robby, editor, The Training Bra Times
BE SURE TO SEND IN YOUR QUESTIONS AS YOU REVIEW THIS ISSUE!
*************************************************
A WORD FROM ONE OF OUR SPONSORS
Hey boys! You'll want to keep this big sale at your local Crescent Department Store in mind! Click on the ad to see the detail!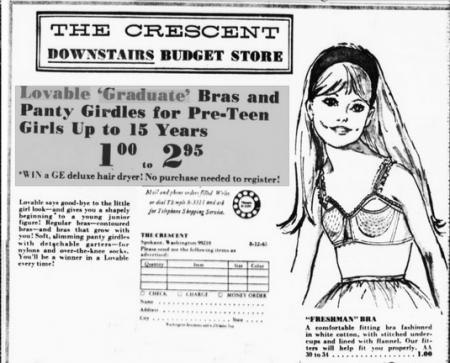 Lovable helps you say good-bye to the ugly boy look – and gives you a shapely beginning to a young junior figure like a girl. Regular bras – contour bras – and bras that grow with you. Be sure to mention The Training Bra Times if you order by mail and your bra will be shipped to you in an envelope marked Acme Baseball Card Company.
*************************************************
TRAINING BRA REVIEWS by ANDY
| | |
| --- | --- |
| This go around, I'm going to review the Teen-Hi Contour Bra by Naturflex. Hey boys, if you want to be a bit daring or have maybe developed a bit, The Teen-Hi Contour Bra is great bra for everyday wear to school or when just hanging around. It has pre-shaped cups that help mold what you have into a nice rounded shape and will even help you defy nature a bit if you are straddling between being a AAA cup and AA cup. Its a little stiff so you may want to wash it in the bathroom sink before you wear it the first time, to soften it up. | |
NEXT TIME: THE 'YOUNG ADONNA HER FIRST BRA' FROM J C PENNEY
*************************************************
THIS ISSUE SPONSORED BY TEENCHARM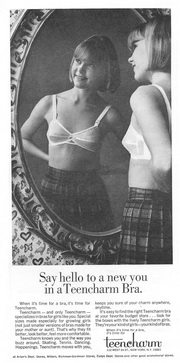 Calling all Boys This Can Be YOU!: Say hello to a new you in a Teencharm Bra. When its time for a bra, its time for Teencharm. (click on the ad to imagine this new you)
Teencharm – and only Teencharm – specializes in bras for boys like you. Special sizes made for growing boys (not just smaller versions of bras made for your mother or aunt). That's why they fit better, look better, and feel more comfortable.
Teencharm knows you and the way you buzz around. Skating. Tennis. Dancing. Happenings. Teencharm moves with you, keeps you sure of your charm anywhere, anytime.
Its really easy to find the right Teencharm bra at your favorite budget store ... Just look for the boxes with the lively Teencharm girls. They're your kind of girls – and your kind of bras.
*************************************************
NEXT TIME: Completing the look with panties!
Till Next Time!
---
If you liked this post, you can leave a comment and/or a kudos!
Click the
Thumbs Up!
button below to leave the author a kudos:
And please, remember to comment, too! Thanks.
This story is 978 words long.