The Training Bra Times
Written by and for Boys Who Want to Wear Training Bras
*** Reviews and Advice ***
*************************************************
YOU WRITE – WE ANSWER
This time we deal with two different situations – one up and one down
Dear Training Bra Times
I have been wearing a training bra for about 2 months now and I really love it. But last week, my mother found my training bras and it was not nice. I had 3 different ones, and wore one almost every day even to school She made me cry and punished me and threatened to tell my dad. He would never understand. I just like wearing a training bra. She called me all kinds of names and told me I was worthless. Then she made me burn all my training bras in the charcoal grill in the backyard. That really made me cry. Now I don't know what to do. I don't want to live anymore if I can't wear a training bra. Please help me cause I feel like I'm gonna die. I don't want to go to school anymore and I just want to stay in my room and cry. I'm just a normal boy who likes to ride my bike and play wiffle ball and stay out of trouble. I'm even in the boy scouts and was a cub scout before that.
Henry – Kansas City, Kansas
Dear Training Bra Times
I guess I am lucky. My mom bought me a training bra. It was part of a joke I guess where we saw that comedian Flip Wilson on TV and dressed up as girl name Geraldine. I thought he was really funny and my mom asked me if I'd like to dress up as a girl sometime. I said yes and next think I know, I had a drawer with two training bras and bunch of panties! Well, I can tell you, wearing a training bra is the best! I really think its cool. Next week she says I can go get a dress to wear at home. But, I'm afraid what will happen if the kids at school find out I like to wear a training bra. I've been wearing training bra to school for two weeks now, just like the girls do. So, how can I protect myself from bullying.
Larry – Milwaukee, Wisconsin
Dear Henry and Larry,
First off to Henry. I am so sorry that your mother has hurt you and made you cry. Your fellow training bra wearers are here to help you. The important thing is to stay strong and never let anyone break you down. You are a good person. You are not a weirdo. It is a sad fact that that some people just simply don't understand and refuse to see us as normal boys who run and jump and play and just so happen to wear training bras.
Now to Larry. I am so happy that your mother has understood and has bought you your own training bras. It goes to show that there are people in this world who understand. Nonetheless, your position is as precarious as Henry's. You will have to be very careful to ensure that those who refuse to understand don't find out about you.
While Larry can look fondly into his underwear drawer and see his training bras, as well as his panties, all folded neatly, Henry has the opposite problem. My advise to Henry is that you may have cut back on how many training bras you own and when you wear your training bra. At the Training Bra Times we realize that this is sad advice. You will have to be a bit like a spy when hiding your training bras. Good hiding places are inside your record player speakers or under a loose floor board in your bedroom. We really hate having to tell you to be deceptive, but we realize that you have to do what you have to do to combat those who would hurt you for just being you.
| | |
| --- | --- |
| For Larry, and this applies to Henry too, since bullying can occur anywhere, it is probably best to not flaunt the fact that you wear a training bra. Ask any boy who has every experienced the joy of his first bra, and he will tell you that you that there is this incredible urge to share that joy with the whole world. Because not everyone will understand, you may need to limit your training bra wearing to simple non-padded styles or gro-cup styles such as the Teenform Littlest Angel. They won't show under your shirt or t-shirt and only you will know that you wearing a bra. | |
Finally, the message for both of you from all of us at The Training Bra Times is that you are special because both of you are boys who like to wear training bras, and no one can take that away from you. Wear your training bra with pride knowing that someday, someone will accept you just the way you are. And to Henry, stay strong because life is precious, and training bras are worth living for. -- Robby, editor, The Training Bra Times
BE SURE TO SEND IN YOUR QUESTIONS AS YOU REVIEW THIS ISSUE!
*************************************************
A WORD FROM ONE OF OUR SPONSORS
Hey boys! Looking to get your first bra! Then stop into your local Sears store. Click on the ad to see the detail!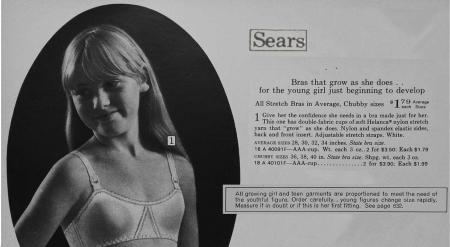 Bras that grow as he does – for the young boy just beginning to develop!
Boys, you'll get the confidence you need in a bra made just for you. This one has double-fabric cups of soft Helanca stretch nylon that grow as you do. Mention The Training Bra Times if you order by mail and your bra will be shipped to you in an envelope marked Acme Baseball Card Company.
All growing boy and teen bras are proportioned to meet the needs of his growing figure. Order carefully ... your figure may change rapidly. Boys, be sure to measure carefully if in doubt or if this is your first bra.
*************************************************
TRAINING BRA REVIEWS by ANDY
The 'Young Adonna Her First Bra' From J C Penney
This bra is great first bra for any boy who wants to wear a training bra. Our newest staff member, Stephan, wore this training bra everyday for a whole week, and here is his review.

Stephan: Thanks Andy. The Young Adonna Her First Bra is J C Penney in house version of Teenform's Pretty Please. It is one of the cutest little training bras I have ever worn. From the moment I first put it on, I knew that this would become one of my favorites. It features gro-cups that will expand as I develop, which is a feature that I really love. The cute little bow between the cups is just super sweet, too. The gro-cups are super comfortable and really do seem to be doing what a training bra is supposed to do, train, as I feel like I've actually grown a bit to fill them! The nice thing about the gro-cups is that actually support and move with me when I'm out playing and feel great.

I have to tell you that when I first looked at myself in the mirror when I put it on, I couldn't believe how adorable I looked and how right it all seemed that I was wearing it as a training bra.

Any boy who wears this training bra will feel extra special. If you get this training bra as your first bra, I can guarantee you will cherish it and the moment for the rest of our life. Be sure to visit your local J C Penney's to get your Young Adonna Her First Bra today, and you can make it HIS first bra!

Yours in training bras! -- Stephan
FASHION EXTRA – PANTIES
| | |
| --- | --- |
| Several boys have written to me and asked about wearing panties. All I can say, that panties are a perfect match to wearing a bra. The just make it your underwear wardrobe complete. Some boys like to start out with these day of the week briefs made from 100% cotton. They come in a wide selection of pretty pastels with a little embroidered applique on them with a flower and the day name. At $2.99 for 7 pairs of panties, you can't go wrong. (click on the picture for detail) | |
So, boys, what are you waiting for – try wearing panties today!
NEXT TIME: THE PADDED 'DEBUTEEN' FROM TEENFORM
*************************************************
THIS ISSUE SPONSORED BY PETER PAN Heaventeen BRAS
| | |
| --- | --- |
| Peter Pan Heaventeen bras make the of YOUth. Shining stars from Peter Pan, world-famous-creator of heavenly bodies. Right out of this world for dreamy comfort .. the prettiest styling, gentlest shaping and most angelic fit this side of heaven! Perfect for all boys who want to wear a bra in 30 - 36 A, 30 – 2 AA. (click on the ad) | |
*************************************************
NEXT TIME: Using the girls restroom
Till Next Time!
---
If you liked this post, you can leave a comment and/or a kudos!
Click the
Thumbs Up!
button below to leave the author a kudos:
And please, remember to comment, too! Thanks.
This story is 1674 words long.