The Training Bra Times
Written by and for Boys Who Want to Wear Training Bras
*** Reviews and Advice ***
*************************************************
YOU WRITE – WE ANSWER
Dear Training Bra Times
Last week I found one of my sister's training bras in the laundry. My curiosity was sparked and before I knew what was happening I found myself trying it on. I could tell from the moment I hooked it in the back that I was hooked. And when I looked in the mirror on the back of the bathroom door and saw myself wearing it I could tell it was just so right in every way. I looked so good wearing a training bra that I couldn't believe it. But here's my problem. I feel a bit guilty about it. Even though I feel guilty, I still want keep wearing a training bra. What can you advise me to do with these feelings.
Patrick – Portland, Oregon
Dear Patrick,
Stop feeling guilty. You are doing nothing wrong. Many many boys just like you are wearing a training bra right this very minute as you read this. And to be honest, many boys started wearing training bras in exactly the way you did..
Now here's thing. You need to have your own training bras. Don't go stealing your sister's or borrow her's. This can only lead to trouble in the long run. Eventually she will find out and it might not be nice.
The benefits of having your own training bras immense. For one thing you will have bras that will fit you perfectly. Plus you will have styles that will be your own personal styles and not what someone else has bought. But the biggest thing is that you will be so proud of actually owning your own bras! These training bras will be your's and your's alone, not your sister's. They will be extra special, too, because they belong to a boy.
We'd like to recommend that you try one of the 2 new styles at Sears. They have some great AAA cup size styles that are sure to please and the two we show in this edition are perfect for a boy like you as you grow. One is a style with lovely stretch cups that will expand with you. This bra is sure to become any boys favorite for day to day wear. The second is a new innovation in a training bra that has darts in it that you can snip to make the bra band bigger as you grow. For an in depth look at it, we had new junior staffer, Jimmy, try it for our review section. With great bras like this there is no reason that you have to wear your sister's training bras because Sears has styles made just for you!
(click on the picture for detail)
All he boys here at The Training Bra Times welcome you to the wonderful world of the training bra! -- Robby, editor, The Training Bra Times
BE SURE TO SEND IN YOUR QUESTIONS AS YOU REVIEW THIS ISSUE!
*************************************************
A WORD FROM ONE OF OUR READERS
Will trade – Tom Seaver NY Mets 1967 rookie baseball card for ultra-rare Miss Exquisite Form First Impressions

I am desperate. I had one of these and used to wear it everyday, and then my mom fond it and threw it away. Now I want to get a new one but can't find one anywhere and I desperate. I'm all nervous and upset inside without it. I can't sleep at night and I'm crying all the time. Help dry my tears, please. I'll trade my Tom Seaver NY Mets 1967 rookie baseball card for a replacement in 32 AAA. Write to Keith S. in care of The Training Bra Times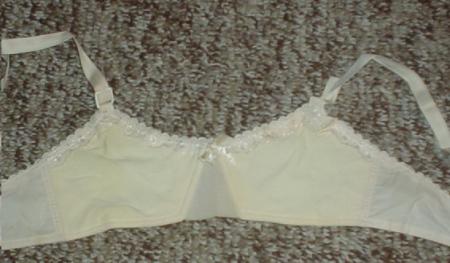 Good Luck Keith. To see the Keith's lost training bra, click on this image
*************************************************
TRAINING BRA REVIEWS by ANDY
For this edition, we welcome new junior staffer, Jimmy. Jimmy has just started to develop and is a AAA cup and he is going to try the new 'snip-to-fit' training bra from Sears.
JIMMY: Since Stephan has moved on from being a AAA cup, I get to fun task of reviewing the AAA cup bras that get sent to us. Plus, I hope that I'll be able to get some fan mail from girls just like Stephan did!
ANDY: You never can tell Jimmy! Hope you do too!
JIMMY: Well, anyway, I bought the Sears 'Snip-to-fit' bra last week and was amazed at how nice it fit just out of the package. Its part of a line of training bras that you will agree are designed for young boys just like us who are just beginning to develop, bras that will grow as we do. Its made of white cotton and the cups are stretchy so that as I (I hope I hope!) move from a AA cup to AA cup I can still wear it.

But, hey guys, here's the coolest thing. As I grow, and move up a cup size or get bigger around, all I have to do is just snip some of the stitches, called darts, on the band, and the bra is suddenly bigger. Way neat-o! Combine that with the little elastic front insert and I have a bra that will last me quite a while.

I wore this training bra to school and it gave me a smooth flattering look under my shirt. I do think that one of the girls noticed though cause she gave me knowing smile as she adjusted one of her bra strap. I adjusted my bra strap in return, and she winked at me, so I wonder ....

>

ANDY: Hmm – Jimmy, how did it feel to wear it.
JIMMY: It felt great when I was out riding my bike. It didn't bind or itch at all. This is a great little training bra and I highly recommend it. Its only $1.29, but if you buy 3, you'll save 22% and they'll be only a little more than $3. Enough left over from 4 buck to get a pair of panties! At that price there is no reason any boy can't get his own training bra!
ANDY: Thanks Jimmy. And good luck with finding a girl to be your training bra buddy
NEXT TIME: 'LA POUFETTE' WITH MATCHING SLIP. PANTIES, AND PANTYGIRDLE
*************************************************
THIS ISSUE SPONSERED BY NATURFLEX
A boy's first bra is a very special thing. It says goodbye to ucky boyhood and welcomes him to the exciting new world of femininity. He'll want to make sure its soft, feminine, lovely. We recommend 'Teen-Hi' first bra by Naturflex, made specially for his developing figure and no others. It shapes him, gently, so naturally – makes him proud to be a training bra wearer!
*************************************************
SPECIAL NOTE: HEY FELLAS! DRUGS AREN'T COOL! THE BEST WAY TO GET HIGH IS TO WEAR A TRAINING BRA!
*************************************************
NEXT TIME: THE GIFT OF GYNECOMASTIA
Till Next Time!
---
If you liked this post, you can leave a comment and/or a kudos!
Click the
Thumbs Up!
button below to leave the author a kudos:
And please, remember to comment, too! Thanks.
This story is 1156 words long.