The Training Bra Times
Written by and for Boys Who Want to Wear Training Bras
*** Reviews and Advice ***
*************************************************
YOU WRITE – WE ANSWER
Dear Training Bra Times
I just found out that this really cute boy at school wears a training bra just like I do. I actually went by his house and spied on him and saw him in his room wearing just his training bra and panties. Plus I've seen him adjust his bra straps. I think he is an A cup like me. How can I let him know that I like him? I want to buy him a very special present to let him know that I think he's cool.
Linda – Baltimore, Maryland
Dear Training Bra Times
There is a really cute boy at school who I have a crush on. I think he would look really pretty wearing a training bra. He's a bit shy though. Is there anyway I can capture this really groovy boy's heart and get him into a training bra like me? I just started wearing a training bra so, we'd be beginners.
Alexa – Wilmington, Delaware
Dear Alexa and Linda,
You girls are the answer to the prayers of every boy who wears a training bra! You are just what we are looking for. Someone to share our training bra dreams with.
So, Linda, yours is easy. What I would do is I would smile at him and maybe give him a wink as you adjust one of your bra straps. If you can get close enough to him maybe run your hand along his back right along one of the straps of his training bra. That should be enough (oh my!) to give him shivers. Then give him a big smile and a wink.
Alexa, you might want to have your crush come over to your house to study. To set the stage maybe leave one of your training bras out where he can see it. Lead the conversation into boys and girls clothes and say something like that you are so happy that you can wear a skirt to school because it is been warm. Ask him what he thinks about that and if he wishes he could wear a skirt too. Tell him you think it would be cool. If he says yes, have him try one of yours on just for fun. Then tell him he might want to wear a training bra too to complete the look. That's when the magic can start.
| | |
| --- | --- |
| | All that said, we wanted to tell you about a really swell training bra that you might want to get as your first bra. It from our favorite company, Teenform, and its called the Preview. Because the Preview features Teenform's gro-cups and comes in sizes from 28 to 36, it will grow with you as you blossom from AAA cup to AA cup. The broadcloth sides and back help prevent any riding up and chafing under your arms. Plus, the straps are adjustable making it a bra that will adapt to your changing figure. Oh, and you'll just love the little flower accent sewn between your bra's cups. Attention mom, you'll love the fact that your son's new bra will be machine washable. Buy him several so that he'll still have one to wear as his other bras are drying in the warm sun on the clothes line outside! |
So, the guys here at the Training Bra Times all got together to see if we could brainstorm the best and nicest presents you could get for each the boys you want to capture. Linda, since your sweetie is already wearing a training bra, we thought he might like to have a Teenform Pretender. (you can click on the box to see it bigger) This pretty little bra will look so cute on him. Since you both are A cup sizes we thought he might like to get a bra with regular cups instead of grow cups to match you. You will love how great you both look in then (you ARE going to buy a matching one for yourself, aren't you?). The cups have lovely embroidery on them and a little flower between them. You and your new boyfriend will feel an extra special closeness knowing that you are both wearing the same training bra.
| | |
| --- | --- |
| For Alexa, since you are both starting out as bra wearers, we thought that you might like to get these pretty beginner bras we saw in the Wards catalog. They come in AAA cup that will fit both you perfectly. They have a lovely stretch lace cup and lace along the top the band and the bra cups. Be prepared to have to help him put it on. They are so charming that we just know that he'll be captivated by it, but what boy wouldn't be, and will be dying to try it on. Plus he'll love the little bow between the cups. I bet you can't wait to see both you wearing one. Since they are budget priced at 2 for $2.98 and come two in a package you get one for each of you and that will have you getting your relationship with this very fortunate boy off on the right foot! | |
We wish you all lots of love and fun training bra times! -- Robby, editor, The Training Bra Times
BE SURE TO SEND IN YOUR QUESTIONS AS YOU REVIEW THIS ISSUE!
*************************************************
A WORD FROM ONE OF SPONSORS
Hey boys! Thinking about wearing a training bra when you start back to school in September? Then look for Wards big Back to School Lay-a-way event!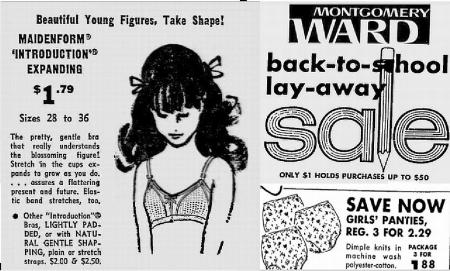 Your beautiful young figure can take shape. Maidenform Introduction Expanding. The pretty, gentle bra that really understands a boy's blossoming figure. Stretch in the cups expand to grow as a training bra wearing boy does...assures a flattering present and future. $1.79 in sizes 28 to 36
AND DON'T FORGET: 3 for $1.88
Next September, guys, you too can go back to school in a training bra!
*************************************************
TRAINING BRA REVIEWS by ANDY
Our junior staffers Jimmy and Stephan returned from the mall after hunting for a new beginner bra for Jimmy to wear. Here is the way it went.
STEPHAN: Well, it was hard work, but after going through all the pretties, Jimmy finally found the perfect beginner bra to start his summer.

JIMMY: It was tough Stephan, but I settled on the Berlie Debut. I couldn't help but imagine seeing me as the girl on the box since my hair is bit like hers.

STEPHAN: Yes, it is Jimmy, but how did it fit?

JIMMY: Like a dream! It was soft and cool and was a AAA cup that fit me just right with no binding or pinching. The cups actually seemed to have some uplift in them that really made everything look great. I wore it to school and nuder a shirt and was comfy all day. Some of the girls looked at me and gave me a knowing wink, I think. I hope!

It has some pretty lace along the top that make it really look really neat-o and I just loved the little bow between my bra cups.

STEPAHN: Did you wear it to bed?

JIMMY: Yes, and I can recommend it as a good bedtime bra, because it actually seemed like it did some magic overnight as far as enhancing my look as I slept. I sure had wonderful dreams of a world of training bras.

STEPHAN: So, how do you rate it.

JIMMY: A big 10 out of 10. Its $2.98 but well worth it as the bra any boy would be proud to debut in. Plus its a great bra to wear under you ucky boy's clothes as it looks great with blue jeans.
*************************************************
THIS ISSUE SPONSERED BY LOVABLE


Calling all Boys This Can Be YOU!: Lovable intrudes the Little Ringlet, a boys first real 'Young Lady' bra – and its available in AAA cup! (click on the ad to imagine wit you wearing it)
Here's the Junior edition of the bra you'll be wearing in the future. And it knows just what to do with a bra wearing boy's growing young curves. Stitched cups go 'round and 'round to give jus the right contour. AAA, AA, and A cups .. in your size $1.50
For gentle control slip into out 'Sweetheart' panty girdle. It stretches to fit sizes 24 to 30. In a rainbow of fashion colors. $2
Hey guys! You gotta try them both!
*************************************************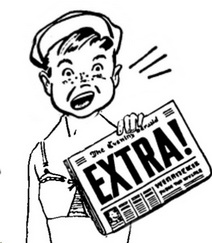 Dear Andy, Robby, Stephan , and Jimmy
We are 4 girls who go to your school and know who you are. We girls think you boyys are just soooooo cute and lovable. We want be your girlfriends. Meet us outside the girl restroom near the band practice room when school lets out and we'll all go to Stacy's house to play dress up. Stacy wants to see Andy in one of her dresses and do his nails and makeup and then go training bra shopping with him, Jenny wants to see Jimmy in her two piece swim suit and go sit out at the pool, Katie wants to dress Jimmy up in her girl scout uniform and take him to her meeting, and me, Suzy, I want to dress Robby up in all my training bras and panties cause I've never heard him say what training bra he wears! So c'mon guys – we know you will look super cute. Meet us after school, and be sure to be wearing you cutest training bras!
Kisses
Stacy, Jenny, Katie and Suzy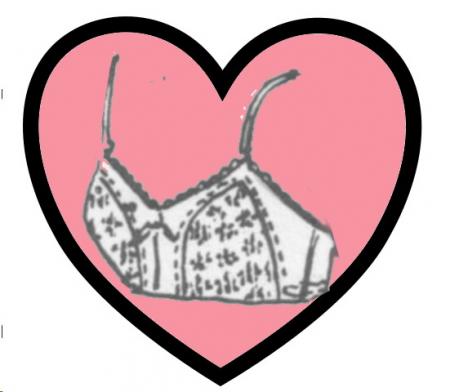 Hi Girls
SWOON! See you then
Andy, Robby, Stephan, and Jimmy
*************************************************
NOTE FROM ROBBY: This is the last issue of The Training Bra Times, because, I think we'll be busy. Sorry guys – this is us now with our new girlfriends.. and, yes, we are glad we are training bra wearing boys (click it see it bigger)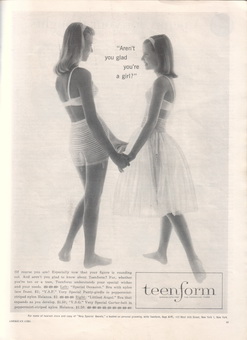 ---
If you liked this post, you can leave a comment and/or a kudos!
Click the
Thumbs Up!
button below to leave the author a kudos:
And please, remember to comment, too! Thanks.
This story is 1637 words long.