Portrait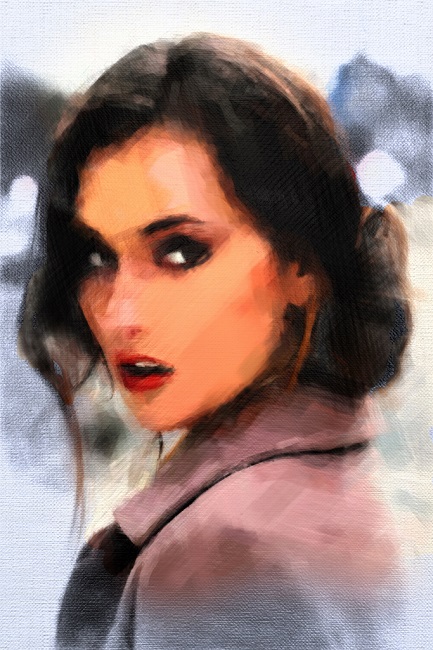 by Leslie Moore

Chapter Two
Two days after I extricated him from a fight at Uncle Sally's Bar, Matt was standing in my doorway.
He had showered and dressed nicely. He had a grin on his face and a small package in his hand. The robin's egg blue (Pantone 1837) gift wrap paper and the silver ribbon (Pantone 1077) was a dead giveaway to its origins.
I was sitting at my drafting board working on a presentation for a potential client. I'm a graphic artist, a one-woman company.
This was my first chance to examine who I'd rescued. He was six feet tall, attractive face, and with a well-developed body. His hair was a bit shaggy.
He stepped forward and carefully set the Tiffany' package on my drafting board. "Hi, Caroline. Remember me from the other night? I'm Matt." He grinned.
He had a perfect smile that would melt any girl's heart. And those dimples sealed the deal. I couldn't help but smile back.
I'm old-fashioned. I can use my computer but I find comfort in pens and inks. I was making a storyboard for my presentation. I was sitting there coloring and listening to music. It's a tough life.
I went back to school to learn to use the serious computer drawing tools. I've mastered enough to get by but envy the kids today who can handle technology so skillfully.
I hope to hire a talented young art school graduate next. Then I could take on more work, expand my business, and make more money. Now, I'm limited to what I produce.
Mathew stood there looking over my office.
My storefront is twenty feet deep and fifteen feet wide. I work right up front and have comfy couches and chairs in a living room setting behind my workspace. My studio looks like a living room. Behind my conference area is a spacious kitchen and a powder room. Out back I have a nice garden and patio. Upstairs I have a sitting room, a bedroom, and a bath.
Most people are put off by my right-brained style. They assume graphic design means a minimalist cutting edge lifestyle. Everyone thinks all graphic designers are in love with Bauhaus and Charlie Eames. They expect to see chrome, glass, and black granite. People expect me to look like a Euro-trash hipster with piercings, tats, and an asymmetrical hairstyle. That's not me but it's a great way to cut to the chase. You either like me and my style or you don't.
Mathew touched the two Bougainvillea trellising up the walls in my storefront window. He glanced at the gold leaf lettering (Kozuka Gothic Pro) advertising my business. 8th Avenue Graphic Designs. He walked over to my grandmother's pine corner cupboard filled with jars and clay pots of my art supplies.
My storage units were painted Shaker reproductions. My music came from an authentic 1971 mid-century modern RCA stereo console. He smiled when he saw the dog bed and looked at me curiously.
I didn't have to look in the doorway to the kitchen. I knew my fur face stood there in the shadows watching him. Mabel was waiting for my signal.
I turned and said, 'bene'. She came forward to sniff. An Italian Spinone is like a German Wirehair Pointer only much more fun. Matt reached down and rubbed her head. She looked up at me and I nodded.
Mathew laughed when she leaned into him encouraging his scratching. He was smart enough not to stop. He looked up. "What's her name?"
"Mabel."
He dropped to his knees and used both hands to rub her face. He started to coo and say her name. She shook her rump and wagged her tail. No one can resist a Spinone face. My brown and white baby is gorgeous.
But, I've heard her growl and seen her ready to attack, too. She's a whole different dog when the hair raises on her back and she shows her teeth. She has a great throaty growl and a nice deep bark. I knew if someone strange walked in off the street, it would only take one word from me, 'merda', to prove her bite was worse than her bark.
He was still scratching Mabel when he said, "I came by to thank you for the good night's sleep. I figured you saved me from a night in the drunk tank and having to make bail the next morning. I appreciate your assistance."
I sat there watching him scratch Mabel and shrugged. "I like helping people."
"Well, I feel like I owe you. I wanted to take you to lunch."
"You are too kind. A gift and lunch?"
"Yes. I wanted to show you something."
I stared and waited to hear what he was going to say.
There was that smile again. "It's a surprise. I have a car outside."
I thought about it. And then an idea came to mind. It was my turn to smile. "Only if we can take Mabel."
He thought for a minute and grinned. Those dimples showed up again. "Of course. Is she going to be our chaperone?"
I stood up and started to clean off my desk. Mabel was at my side the whole time. A minute later, I grabbed my pocketbook then picked up her collar and leash. "Ready." I smiled.
There was a huge limo out front complete with a driver. He graciously opened the door for Mabel and me. He smiled warmly as the three of us climbed in. I learned later it was a Maybach.
Mathew was grinning. "It's mothers. She never uses it and she'd die to know we were taking Mabel to lunch."
We crossed over the river and into Manhattan. We pulled up in front of Tavern on the Green. The three of us had lunch outside under an umbrella at a table for two. They brought a pan of water for the dog and I had a crab cake and a glass of white wine.
After Matt signed the check, we walked two blocks up Central Park West to a gallery on 67th Street. Inside, a beautiful woman greeted us.
"Oh, Mr. Statler, it's good to see you. We've sold another piece." She had an English accent. She was model beautiful and dressed like she was going straight to a cocktail party in her little black dress and three-inch stilettos.
"Which one?" Matt looked excited.
"The Loeb Boathouse. The big one." She was all eyes for Matt.
Matt smiled. "Lisa, this is my new friend Caroline and this is Mabel."
Lisa smiled at me. "I love Spinones."
Matt took my hand and led me back to a painting. It was a very large landscape of Central Park. The card had a red sticker on it. "This one just sold."
I looked carefully and saw the artist was Mathew Statler. I turned and looked at Matt. He nodded. Then I looked around the gallery. All the paintings were his.
He whispered in my ear. "You saw me at my worst. I wanted to show you the better side of me."
We spent an hour walking around the gallery studying his portraits and landscapes. He had a gift. His work was amazing. Most of the paintings had red stickers on them.
"How long did it take you to paint all of these?"
Matt thought for a minute. "I do one show a year here. So this is pretty much the last twelve months of my life."
I smiled.
---
If you liked this post, you can leave a comment and/or a kudos!
Click the
Thumbs Up!
button below to leave the author a kudos:
And please, remember to comment, too! Thanks.
This story is 1275 words long.