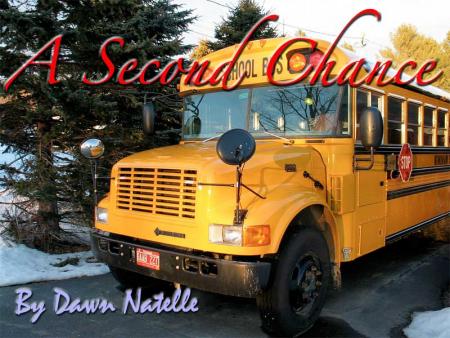 A Second Chance
By Dawn Natelle
No excuses for why this took so long. Enjoy: Dawn
WEDNESDAY, June 8, 2016
Today was a PD day at school, but while all her classmates slept in, Rachael had to get up at her regular time. John, Paul and Pastor McNaughton were coming by at 8:30 to pick her up. John and Paul had decided to get married on Saturday, June 18, and Paul really wanted his estranged mother and sister to come. They had disowned him five years ago when he came out of the closet, and when his father died soon after, the pair blamed Paul.
They lived in St. Mary's, a town slightly smaller than Ingersoll, about a half hour to the north. They arrived a bit after 9 and Rachael went to the door. A woman in her mid 20s asked, and grimaced when Rachael said she was a friend of Paul. She did invite her in, and called her mother to the dated, but tidy front room.
"What did you want to tell us about Paul," Jennifer, his sister asked. "Did he get AIDS?"
"Jennifer," Mrs. Lenin said with a gasp of horror. "That is cruel."
"No," Rachael said. "He is getting married a week Saturday, and would like both of you to come."
"To a girl?" Mrs. Lenin said hopefully.
"No. To his boyfriend John," Rachael said. This was not going well, she thought.
"They are both sinners," Mrs. Lenin insisted. "Our pastor says so."
"Well, I have brought their pastor," Rachael said. "He used to think that way, but changed his mind. I should let him tell you the story."
Jennifer snorted. "Probably pastor of some rinky-dink New Age church with a mail order diploma."
"Pastor McNaughton has been a pastor in the Presbyterian Church of Canada for over 50 years. His credentials, and his experience, are real. If you two are really Christians, you would listen to him," Rachael said.
"Okay, where is this minister?" Mrs. Lenin said.
"Out in the car. I will wave him in," Rachael went to the door waving once, and holding out one finger. Three fingers would have meant all three should come in, while two would mean Paul and the pastor. John and Paul sat in the car, realizing that things were not going well.
Pastor McNaughton was brought into the house, and he sat on the sofa and explained his near-death experience.
"So you went to heaven," Mrs. Lenin said, clearly impressed by the story.
"To the gates of heaven," the pastor clarified. "And I was told that the Bible is only a guidebook to be followed, with different books giving rules to be followed at different times. They told me that gay people were creations of the Lord, and should be loved as all other creations of His are."
"Listen to the man, Pipken," the pastor said, but in a different voice: a voice that both mother and daughter recognized. Pipken was the pet name that Mr. Lenin used to refer to his wife.
"Jason? Is that you? How …?"
"The pastor is a good man, and he allows me to use his earthly form from time to time," the voice said. "What he says is true. When I first came here I had to repent my sins."
"You were no sinner, Jason," Mrs. Lenin said. "You were a good man."
"A man who shunned his son," the voice said. "Kicked him out of the house … out of the family, just for being the man whom the Lord created. That was a sin, and I still repent it, although in His wisdom He has accepted me into heaven."
"So I … we should accept Paul?"
"What is in your heart?" the voice said.
"I … I want my son back," Mrs. Lenin said, bursting into tears. Her daughter and Rachael embraced her, and both were soon crying too.
"He is in the car outside, with John," Rachael said.
"John? That man? I can forgive my son, but I will never forgive the one who led him into that lifestyle."
"You must," the voice said. "John didn't lead Paul anywhere. They are both men that the Lord created. If you want Paul's love, you must give John your love unconditionally."
"Yes. I must," the woman sighed. She wiped her eyes as she told Rachael and Jennifer to go let the others in.
Rachael waved a three from the door, and a smiling Paul and John left the car and came to the house. When they got into the living room, Lena and her husband were chatting. Paul recognized the voice.
"Dad?" he asked.
"Yes son. I can't speak much longer. The pastor needs to take control again. I just want to tell you that I approve, and I will be at your wedding, whether or not your mother or sister attend. The man you love is good, and you will do well with him. And as your family grows, he will show it."
Then Pastor McNaughton shook himself, and spoke in his normal voice: "It happened again, didn't it?"
Rachael nodded, yes, and much was accomplished.
They spent an hour and a half visiting, and over that time Jennifer and her mother got to know John, and found they liked the jolly man. At one point in the discussion, John noticed that there was a photo that was clearly of Jason sitting on an end table.
"Your husband?" John asked Lena. "He looks like an interesting man. I wish I could have known him."
"Yes. He was a good man, in spite of his faults. Our faults," she said.
"Those are long forgotten. I wonder if I might borrow this photo for a while. I would like to paint a portrait of the man, if I could. For a Christmas gift," he glanced at Paul.
"He would love that," Lena said, looking at her son who was chatting with the pastor at the moment. "Take it. I think we have a negative for the picture, and can have another made."
The entire family posed for a new photo, with John included with the other three. Rachael took it on her cell, and immediately emailed a copy to Jennifer. They agreed to meet in just over a week, when the Pastor was planning to wed the couple on a Saturday.
John wrote out a check for $2000 and handed in to Jennifer: "I know that money is tight for college students, so this should help with the cost of dresses and the like. It will be a casual wedding, and many of our friends from Toronto will be wearing jeans and the like. But I would like my new family to look nice, so treat yourselves."
Jennifer was amazed at the generosity of the man, and decided at that moment that this was her new brother-in-law, no matter what the pastor of her church says.
There were kisses and hugs all around before they left, with the Lenin's promising to visit the gallery and the church in Ingersoll soon. A half hour later, the four were at the church where Rachael and the pastor got out. They wanted to see how preparations for the church dinner that night were coming.
They were only downstairs for a few minutes. The basement was set up with tables and wonderful smells were coming from the kitchen, where the chef was prepping the church dinner later in the night.
Pastor Helen came across to them. "Thank goodness you are back. Mrs. Winchester, who lives in the big house next to the church, has complained about the parking situation on Sunday. Apparently her lane was blocked in, and she had difficulty getting out to her ride to her church. We promised to come over and work it out for her."
"I'll be right there," Pastor McNaughton said. "We should bring Gary along."
"And Rachael too, if you don't mind," suggested Pastor Helen. "She has a way with older people."
"That's for sure, the elder pastor said. She certainly did a good job for us this morning."
Rachael ran and found Gary in the shed, and the four of them went to neighbors house. Along the way Rachael stopped in the kitchen and packed a small bag with some of the goodies that had been donated by the bakery.
Mrs. Winchester took some time answering the door, and when she finally opened it, Rachael could see why. The lady was nearly as old as Grandpa, and had definite mobility problems. She used a walker to get around.
"Hello, madam," Pastor McNaughton said formerly. "We are from the church next door, and we understand our large crowd last week caused you some problems. We want to make sure you are not inconvenienced again."
"Oh do come in," the frail old lady said. "It is so lovely of you to come and see me. I usually only get out on Sundays for church. I am Baptist, you know, and one of my former students drives me in every week."
Pastor McNaughton introduced himself, and then: "Pastor Helen McFarland, our junior pastor, Gary Sovey, our properties manager, and Rachael Barron, one of our youth members."
"Oh dear, I suppose you would all like a cup of tea?" the lady said. "I so seldom get visitors at my age."
"Let me come in and help," Rachael volunteered, and followed the woman into her kitchen, and pretty much made the tea herself, with the woman only pointing out where things are. She took out the goodies from the bakery and spread them on a platter, and popped some Cloud rolls into the microwave for a quick warm up. During the 10 minutes she spent in the kitchen, she became friends with the old lady, who apparently remembered Grandpa from her youth. She was in grade four when he went overseas, and told stories that Rachael would later be able to recount to him. As they walked back to the parlor, with Rachael carrying the platter, she got an idea.
"Do you have plans for this Sunday?" she asked. "I usually make a roast on Sunday and I'd love it if you could come. Grandpa will enjoy talking with you about the old days. I can have Dad pick you up at 7, and we will have you home well before 10."
"Oh my, dear," she said. "I haven't been out in every so long. I don't know Mr. Verdun all that well, but yes, I would love chatting with him. You are so kind."
Rachael poured, and urged Mrs. Winchester to try a Cloud roll. "Why these are delicious, dear," she said. "Where do you get these?"
"My father runs a bakery on London Road," Rachael said. "We just started making these. And all the other goodies here."
From that point the meeting went well. Gary explained that he would have a member of the Hobo Army at the house all day Sunday to prevent people from parking in her lane. The woman was thrilled at the accommodation being made for her. She even promised to have the woman who took her shopping once a month to stop at the bakery, especially when Rachael raved about Dasilva's store, and the coming meat market.
Gary took a long shot: "Have you ever considered moving to a nursing home, madam? Then you would need to worry about shopping trips, and there is probably a bus service to your church."
"I don't think so, young man," she said. "You see, I have my roses here. I haven't been able to tend them for the past few years, but they are like my children, and I couldn't just leave them."
"I saw some roses as we walked in. Next to the porch," Gary said. Rachael had noticed them too. There were a few nice blooms, but the bushes hadn't been pruned back in years. They must have been spectacular when they were tended.
"One of my men is pretty good at gardening," Gary said. "I could have him come over and prune them back for you, if you want."
"Oh no." The woman seemed offended by the thought. "Someone else doing my roses? I couldn't do that."
"Well, that is your decision," Gary said. "But if you change your mind, just ask for Kevin Ripley."
"Young Kevin?" Mrs. Winchester said. "He was a student of mine in Grade 8. And later he joined the Horticultural Society when I was still active in it. I taught him everything I know about roses. He certainly can prune them if he wishes."
"One last thing," Rachael said as she got to the door to leave. "We are having a church supper tonight. Some of the people who are coming are homeless, but the congregation is also invited. And even though you are not a member of our church, we would love to have you. After all, you are closer to the church than anyone else."
"Oh my. Two dinner invitations in one week," the lady giggled. "I would love to come. I can probably walk there, if someone comes to help."
"I will come myself," Rachael said. "What is a good time for you? We are serving from 5 p.m. until 10, or as long as the food lasts."
"Oh my, 5 is a bit early for me. Six or Six thirty would suit me, if it is no trouble."
"I will come by at six," Rachael said. "If you are not quite ready, that is fine. In fact, I might be able to help you. I know Grandpa has a terrible time with buttons."
The four walked back to the church, and Gary saw Kevin Ripley working on the church landscaping. He spoke a few words, and then Kevin headed over to the big house with pruning shears.
It was still just a bit after 2, so Rachael was surprised to see her mother in the kitchen, making sandwiches.
"How did you get away from the bakery so early," Rachael asked in amazement.
"Wednesday's are our slowest day," Maria said. "Carol will stay until close, and Geoff and Mike will be here shortly thereafter. I suggested she have her husband come by and they can have dinner here."
"And the baby," Rachael let out a squeal. "That will make it fun."
The plan was for all of the homeless to get a sandwich or two to take home, as well as their hot meal. The chef had large roasts in two of the ovens, and two more in fridges. It was going to be a simple country meal with sliced roast beef, donated by Ruby, potatoes and carrots donated by the Dasilvas, and bread, rolls, and desserts donated by The Bread Baron. There were also pies: Pastor Helen had started her cooking group, with several of the older ladies teaching the younger ones how to make pies.
There were 21 homeless men at the door when it opened at 4:30. Gary told them that they could come in early if they would pray at the painting before the meal. The Hobo Army had a large collection of water bottles out, knowing that the alcoholics in the group would be thirsty when the liquor was released from their systems. Gary explained that anyone who prayed first, was allowed seconds, as well as the packaged sandwiches to take home. Even the most irreligious in the group decided that it was worth five minutes praying.
But most of them spent 20 or 30 minutes at the painting, and all came out as changed men. Members of the Army were there to explain things, and most wanted to join. They were told to stick around at the end of their meal.
The first men came down right at five, and went through the cafeteria type line. They were amazed to find that the people serving, including Maria, were polite and friendly, which was not always the case in soup kitchens. What was really amazing was the portions. There was no limit to the carrots and potatoes, and up to three thick slices of beef. It turned out that only 1 in 10 needed to go back for seconds, although most had two or three desserts.
At five to six Rachael slipped out, and went next door. The first thing she noticed was that the rose garden had been pruned, and looked wonderful.
Mrs. Winchester was not ready, and Rachael slipped in the door when she heard the lady call for her to come. She was upstairs, in her room, struggling with a dress.
"I can't quite reach the snaps," she said tearfully. "I used to be able to manage this myself, but I am just getting so feeble. Maybe I should go to a home."
"I hear the one down near the river is quite nice. I spoke to Kevin, and he said that he could transplant your roses if you wanted. You really can't see them from the house where they are. If they could be transplanted locally, you could probably get them transplanted to a home where you could enjoy them. Kevin says he intends to look after them wherever they are."
"He is such a sweet boy," the lady said. "We had such a nice long chat. He gobbled down some of your sweets, I am afraid."
It was 6:30 when they got to the dinner, partly due to the slow walk in the walker, but also because Mrs. Winchester had spent nearly 15 minutes admiring her roses.
They walked up the ramp to the lobby, and Rachael helped her stop and pray at the painting. Then they walked down the back stairs, where the walker would not slow down others. Rachael was surprised to see the hall nearly full. Mrs. Winchester took her walker through the line, telling the servers what to put on the plate that Rachael carried. After they got a slice of lemon pie that Pastor Helen said she made, they headed back to the tables, and found Kevin Ripley just finishing his meal. Rachael sat Mrs. Winchester there, and gathered Kevin's plate and silver to take back to the crew of the Hobo Army who were washing dishes. She then took another slice of Pastor Helen's pie to Kevin, who enjoyed a second dessert as he chatted with the lady about her roses.
Rachael then left, looking for Carol and her baby. She didn't see her, but saw Gary sitting at a table chatting with Ali Weller, the single mother whose children had made babysitting on Sunday so much fun for Rachael. Little Annette squealed in joy when she saw Rachael approach, and baby Dory held her little hands out to the girl, wanting to be picked up. Rachael didn't need to be asked twice, and immediately picked up the girl. There was a half full bottle in the car seat that the baby was in, and Rachael immediately got the girl sucking on it.
"This is such a wonderful meal," Ali said. "I was just telling Gary here that we don't eat this well at home, even on Sunday's. This is the best meal we've had in a long time."
"Well, we don't know if it will always be so plush," Rachael said. "There were a lot of donations this first week. But we can guarantee that you and the children will be looked after."
"And not just on Wednesday's," Gary vowed. "This young lad is Luke, and I was just telling him about the bike that I fixed up for Bobby. I'm pretty sure that there is one in the shed that would be the perfect size for him."
Young Luke's eyes widened, but then his face darkened. "But I don't know how to ride a bike," he said sadly.
"Well, you are in luck," Gary said. "Because this bike comes with lessons."
Luke pretty much flew off his chair to embrace Gary. "Thank you so much. I know Mamma can't afford one, so I never asked for a bike. I kept hoping Santa would bring me one, and now you say I can have one. I love you, Mr. Gary."
"Well, hugs like that are why I love doing things for people," Gary said. "Now if you are done with your dinner, take your plate, and your sister's, to the dishwashers over there."
"That is Bobby, over there," Rachael pointed. "Head over there and tell him that Rachael said you guys can go for a little walk outside. Not too long, your Mamma will want to head home soon."
"Can we have a story?" little Annette asked.
"Will you turn the pages for me?" Rachael asked back. "I'm going to keep getting cuddles from Dory, so long as your mom lets me."
"Enjoy her," Ali said. "I get her enough during the day. And it is so nice having an adult conversation for a change." She looked at Gary, and Rachael thought she saw a special spark of interest in her eye. She decided to leave the two alone for a while, and took the girls to the nursery to find a book.
Twenty minutes later there were a dozen toddlers and small children surrounding Rachael as she read from the five books that Annette had picked. When she finished the last one, those who had joined in late clamored to hear the first one again, and it was nearly an hour that Rachael spent reading with the kids. Finally she had to let them go, since Mrs. Winchester might be tiring.
As she approached Gary and Ali, Rachael thought that there was now a spark in Gary's eye. Ali, on the other hand, looked like she was in love, staring raptly at the rugged man. When Rachael returned the sleeping baby to her car seat, and told them it had been over an hour, they looked startled that they had been talking for so long. Bobby and Luke showed up, and Gary announced that he would drive them all home in the Pastor's car: there not being enough room in the truck.
Rachael went over to Mrs. Winchester, and found her chatting away with another woman nearly her age. She did agree that it was time to go home, and Rachael patiently waited for her to get ready and walk to the back stairs. She chatted non-stop, clearly thrilled with her evening out.
"Kevin gave me a nice long chat, and then introduced me to Ella Scott. She lives in the home by the river you were telling me about. Did you know that the church sent a bus to pick up anyone who wanted to come? Some were from the church, but Ella just saw it as a night out. She told me all about the things at the home. It sounds like a lovely place. There used to be a garden there, but they had to stop it when they cut back to one gardener from two."
"I bet if you moved there, Kevin would organize some of the men to do the gardening work to make a resident's garden. And if you plant some fruits and vegetables, that would save the home's kitchen from having to buy as much. They would be saving money, and you would be getting fresh food."
"Oh my," she said. "I was just thinking about the fresh tomatoes from my own garden. They were so good. I really need to look into that place. Do you think that you would come along? I'd like that other young man … Gary? … also, but it helps to have a woman come to see what is needed. Would you?"
"I would love to," Rachael said. "Now, would you like for me to come in? You are going to need help with that dress, aren't you?
Rachael went in and not only helped with the dress, but also helped her into her pajamas, and brewed her an evening cup of tea. Mrs. Winchester wanted Rachael to stay with her, but realized that the girl had to get back to the dinner.
Rachael went back, and found the place was still busy. Many of the parishioners had come to the dinner. It was "Pay What You Can," and while most of the homeless had paid little or nothing, the parishioners were putting tens and twenties into the collection box. When Maria, Geoff, and Rachael finally sat down to eat, they found out why. The beef was perfect, and had been covered in a layer of spices that took it out of the country-style mode and into the gourmet restaurant level. The carrots were especially tasty, and were glazed in a sauce that made them almost like candy. The mashed potatoes would have been average, but the beef gravy (Maria said the Chef insisted it be called sauce, and not gravy) was so smooth and flavorful that it also was gourmet class.
Geoff put $30 into the collection for the three meals, even though the Hobo Army man standing by said that workers didn't need to pay.
The last meal was served at 9:45 and it was nearly 11 before everything was cleared up. All the workers agreed with Pastor Ruth that the night had gone well and everyone wanted to do it again the next week. The collection had brought in over $600, enough to buy meat and supplies for the next week.
Gary, who had spent more than a bit of time at the Weller house when he drove them home, was amazed that he now had another 100 members in the Hobo Army. Most of them would have to go back to their hostels for the night, but those who had been living hard on the streets were invited to the shed. That was good, since Gary had found a lot of small tasks that needed to be done at the Weller house, and had promised to have a crew over the next morning to get started on repairs.
At home Geoff drove his mother home. Next week, he planned to make up two take out meals from the dinner and bring it to them. They had enjoyed their chat, along with a chicken takeout dinner.
After all were in bed, Rachael prayed.
Dear Lord
What a busy day. Did you know I would be so busy, and arrange for it to be a PD day at school? I was so glad that Paul reconciled with his mother and sister. Family are so important to life. They were a bit cold toward John at first, but his cheerful nature won them over.
Thank you for letting me get to know Mrs. Winchester. She is a dear. I think if she does move into that home, I will have to go visit her regularly.
And thank you for making the dinner such a success. That Chef is incredible. I don't think it will be long before he is working in a classy restaurant, now that he has licked his drug problem. And now there are so many more members in the Hobo Army. I hope Gary can find things to keep them all busy.
And Gary and Ali? Is it love? I hope so. Gary is so good with kids. Bobby loves him, and I think Luke does too. He deserves her, and she deserves him, and a better life for herself and her kids.
Thank you for making this little part of the world a better place.
Amen
---
If you liked this post, you can leave a comment and/or a kudos!
Click the
Thumbs Up!
button below to leave the author a kudos:
And please, remember to comment, too! Thanks.
This story is 4608 words long.