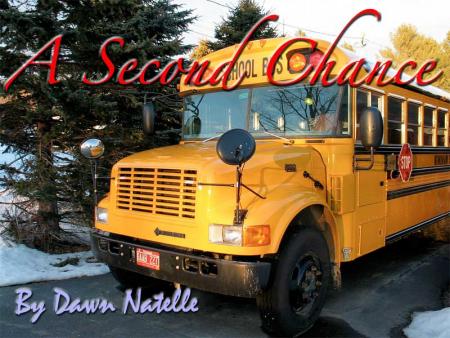 A Second Chance
By Dawn Natelle
I think this is the longest gap in my chapters, equaling when I was in hospital. No excuse this time. I will try to get the last three chapters out quicker: Dawn
THURSDAY, June 23, 2016
Acting Inspector Steve Winslow was at his desk before 8, working through a thick stack of paperwork dropped there by the chief when he left last night. Steve started with the shift schedule for the coming week, which he knew the chief especially disliked doing.
As Steve slotted officers into shifts, he thought about the union meeting last night, his last. He had been the president of the local, but his move into management meant that this had to end. Velma and all the other officers were present, except for the two on patrol, and the meeting was patched into their radio, so they could participate. The first item on the agenda was election of the new president, and Steve first suggested the older members, Jeb Kyle and Harry Rockland.
As expected Jeb immediately turned down the job, which involved a lot of unpaid work. Harry, who was still upset that Steve got the Inspector job instead of him, mulled it over, wondering if the extra work would be worth the chance of being able to use the union to make things rough for Steve. In the end, he also turned down the opportunity.
That was when Steve noted that Velma was willing to take on the role. The men on the force immediately jumped on the opportunity to make a woman do the extra work, and within minutes they had moved, seconded, and voted her in. Steve was not upset. Velma would do a good job.
He passed over the gavel, and the men expected him to leave, but Velma then announced that the Acting Inspector had a proposal to make.
Steve then went through the plan he that had been approved by the chief: having auxiliaries in the car on night shifts instead of a second officer. The men were not overly concerned. The main objection to solo shifts of years ago was the safety issue of having a driver alone in a cruiser at night. They saw no objection to using auxiliaries, so long as it meant there was someone else in the car with them.
Velma impressed the men by noting that this could allow the town to save money by having fewer officers, with lower-paid auxiliaries working. This job security issue was not something the others considered until she mentioned it.
"I would recommend that you approve the use of auxiliaries on a two-year trial," Steve said. "There is one immediate vacancy on the force, due to John retiring. We also have two more potential vacancies in the next few years. If the city does not fill those promptly, then the union can retract their approval of this plan."
"At least one of those future vacancies can be classed as definite," Jeb said. "I am out of here the day my early retirement becomes possible."
"The chief and I are also planning to approach town council to add a rookie officer next September," Steve said. "I know of at least one local student in the Fanshawe Police Foundations course, and I would like to see her apply for the job. It is important we have more than one female officer on the force. I suggest that your recommendation make approval of an additional officer a requirement."
Velma had written out a motion that covered all those bases, and this was quickly moved, seconded and passed.
Steve stayed around for the remaining article on the agenda: John's retirement party on Friday. Jeb immediately proposed that Velma look after this, since she tended to organize all the station social events.
"I don't think that will be possible this time," Steve noted. "Velma will be getting married that morning. And I am also busy during that morning. You will need to choose amongst yourselves. And not just one man, a committee of three at least. Velma can give you some tips, but you guys will need to do the work."
"I think three men will be enough to do the work of one woman," Velma quipped, and then listened as the men argued their way in and out of the job. Eventually the three newest members of the force got the task.
"You might want to pull in some of the auxiliaries to help. It will be volunteer work for them, but they will probably be eager to help," Steve suggested.
"I'll ask Sarah Jane if she wants to help out," Harry said of his daughter taking the Plice Foundations course at Fanshawe. "She is on summer break now, and any exposure to the inside of a police station is good in her program."
"Have her stop in and see me," Steve said, "we could get her into the auxiliaries, and give her some paid shifts this summer when you lot all take vacations. We might even be able to work out one shift a week after school starts, on the weekends, if she wants."
"I think she will," Harry said, suddenly glad that Steve had gotten the Inspector job instead of him. If he had been trying to get his own daughter on the force, it would have been a case of nepotism. But Steve doing it left him in the clear, and solved the fear he and his wife had of Sarah Jane having to head west, or up north, to start her career as an officer.
---- -- ---
Steve finished the schedule, placed in on top of the inbox, and then gathered the whole package up and dumped it on the desk of the chief, who had recently come in and was casually reading his mail.
"I did the schedule. The union has approved the use of auxiliaries, so I slotted them in for next week. As for the rest of this, you can work through it. I am off to Woodstock to interview those two men we pulled out of the grow-op. I interviewed the boys yesterday, and want to have a go at those two now. You can work through this stack," he said.
"Gee thanks. Just when I thought I was going to be able to take it easy, you go and get into police work, and leave me with the paperwork," the chief muttered, realizing that he was not able to just slough all the work off on his assistant.
---- - -- -------
It was a bittersweet time during lunch at school. This would be the last day that the cafeteria was open for lunch. On Friday school closed at 12:05. In Ontario the provincial government only paid grants to the school boards based on days in which the school was open for at least three hours. On Friday afternoon the teachers would be planning and setting up for the graduation ceremonies on Monday morning, which would also officially end at 12:05. There was also a graduation in the afternoon for the primary school students, allowing parents with children in both levels, like the Barrons, to attend both.
As the gang ate their last lunch together, they talked about their plans for summer vacation. In middle school, they were too young to get real jobs, although Rachael, Tony, and Mikki planned to work for their parents. Larissa also was going to help her mother in her French language reading program at the library. Carly was going away to camp, the same one her mother had gone to as a girl, although this would be her last year there, unless she came back as a staff member the next year.
Robert was working on the farms. He was assisting his brother JJ at the new farm, as well as helping out on the family farm. Being out of school just meant he would spend more hours on farm work.
Neal had been signed up for an art camp by his parents, and was looking forward to it. Leon had his grass cutting business to look after: he was up to 20 clients so far, and the grass would need cutting every week to 10 days in July, although in August it would drop back to twice a month. He hoped to earn enough money to buy a snow blower, so he could have a winter business.
Janice gained major kudos by noting that she would spend the entire summer in the family cottage on Lake Huron, and guaranteed that she would come back with the best tan of any of the kids going into high school.
That got the talk to what would happen when they all got back together in the fall. A letter had been handed out that morning that outlined the courses and requirements for the new school. In Grade 9 there were few options. You could choose between Auto Mechanics, Woodworking, or Home Economics. A surprising number of girls indicated a preference for Woodworking, while Rachael said she wanted to do Auto Mechanics, so she would know how a car works.
The only other option was in Phys. Ed. You could try out for a team, and get exempted from the classes. If you didn't make the team, you had to participate in a house league in the sport involved. For the girls the options were Basketball in the fall and Gymnastics in the winter. For the boys it was Football in the fall (with soccer as the house league option) and Basketball in the winter. Several of the girls were going to try out for basketball, since they had so much fun in the last weeks of the term with Rachael's coaching. She pretty much had to agree to try out, since she no longer needed to tend Bobby so closely now that he was moving up into middle school. He also had a grandma and grandpa to turn to if he needed an adult.
----- - ---- -- ----
Steve got to the Woodstock Court House and jail at about 10 p.m., and found an OPP Investigator was already there. Apparently Sgt. Colin MacRoland had interviewed the remaining pair from the grow-op the prior day.
"I thought this would be handled by our department," Steve told the sergeant. "The event took place inside Ingersoll."
"True, but our SWAT team was there," the sergeant said, "So the powers that be decided we would assist you in investigating. The little fag stenographer and I spent five hours yesterday asking questions, and didn't get diddly squat from them. They are sealed up tighter than a drum. I'll pass on your session this morning, but we will want you to let the fag take notes."
Steve looked over at the "fag stenographer" and noted that he was thin and well groomed, but not overly flamboyant looking. Steve went to the clerk at the jail reception and asked that the men be brought to an interview cell, and that their lawyer be notified that he would be questioning them.
"They don't have a lawyer," the clerk said. "They refused one."
This confused Steve. The charges were serious, and could result in significant jail time, and a lawyer should have been appointed for them. The fact that they were questioned without one present could make any evidence inadmissible in court.
Five minutes later Steve entered the interview room with a tray holding four cups of courthouse coffee in Styrofoam cups. He handed one to each of the prisoners, and one to the steno, who smiled in appreciation.
"You're the guy who pulled those boys out," one of the prisoners said, recognizing Steve." We need to thank you. If those kids had baked like I thought they would, we'd be facing murder charges. Thanks."
"You're welcome," Steve said. "But I have to ask you why you have refused lawyers? These are serious charges, and you really need expert advice on how to deal with them. We really should have someone here for you now."
"No damn lawyers," the other prisoner spat out. "They are all shysters, taking your money, then leaving you to spin in the wind. I hate them all. We're going to be found guilty anyway. Why bother?"
"I'd really feel better if you had representation," Steve said. "There will be no cost to you. I know a gal in Ingersoll and she is fair and honest. She is a friend, but she will do her best to make sure you are treated fairly. Her job is not to get you off, and as you noted you probably aren't going to walk from this one. But she will make sure you don't have to serve more than necessary. Sometimes just asking can get a few years lopped off your time, if the right person asks for you."
"Well, if you think it would be best, and we don't have to pay," the first prisoner said hesitantly. His partner just sniffed his agreement. Steve stepped out and made a call to Janet Renault and got her to drop the real estate closings she was working on to drive to Woodstock.
"Janet will be here is about a half hour," Steve said. "Let's just chat till she gets here. Then she will probably want to talk with the two of you for an hour or so."
"Can I ask that we do some formal stage-setting first," the steno said. "I would like to get names and titles of everyone here. The sergeant yesterday sort of skipped over that."
"I am Steven John Winslow, Acting Inspector of the Ingersoll Police Department."
"Butch Jones," the second accused said.
"Butch? Is that your legal name," the steno asked.
The man reddened. "No. It is Elroy George Jones," he said curtly.
"Frederick Wilson Campbell," the other accused said.
"Is that Frederick with a k," the steno asked. He then read into the tape recorder: "The accused nodded yes. I am Tony Ralph Trigland, court stenographer of Woodstock Court House. You may proceed, Inspector."
"Well, I don't really want to get into any deep interrogation until the lawyer arrives," Steve said. "Let's just chat."
"Yeah, tell us about what you did at the house," Campbell asked. "You were like Superman, rushing into that burning house, and then dragging the kids out. We heard a gunshot. What was that all about?"
Steve explained how he had gone into the upstairs kitchen and found the boys chained up, and shot the chain free, bringing the unconscious boy down, and eventually dragging the other boy out as well.
"Hey, don't blame us for the kid being banged up. That was all Marco. He was a real sicko, and seemed to get off beating the kids," Fred said. "It was his idea to keep them chained up all the time. I set up the lab – I used to be a high school chemistry teacher – before those bastards hooked me on oxycodone. I set realistic quotas to keep the boys working, but Marco kept upping the quotas so he could beat them."
The four sat in the interview room chatting for nearly an hour until Janet came and took her new clients to another room. Tony started packing up his equipment and looked up at Steve. "Are you gay?" the steno asked.
"No," Steve said, surprised at the question. "Recently married, in fact." He held up his ring finger.
"I saw that, but thought it might just be a decoy. It's just that you treated me with respect, so I thought …"
"Sorry, no. But is there any reason why I shouldn't treat you with respect? You seem to be doing an excellent job at your work. That merits respect."
"All the good ones are taken, or straight," Tony muttered. "But a lot of police seem to be biased against homosexuals. And you also are excellent at your job. You got more out of those guys in under an hour than Mr. Wonderful did in five hours yesterday. I'm actually going to have some notes to type up tonight."
They left the room, and found Sgt. MacRoland chatting up the clerk of the court house. He left her, and came over to them. "Not much out of it, eh?" he said. "And now a damned bitch lawyer shows up. That'll make things worse."
"First of all, that lawyer is a personal friend of mine, and I object to how you are describing her. As well as how you described Mr. Trigland earlier. I found him competent and proficient, and not worthy of your denigratory remarks. And it was I who called in Ms. Renault. Any evidence obtained without a lawyer present could be disallowed in court, and could weaken the case."
"But they refused a lawyer," the sergeant protested.
"Never the less, an appeal judge could dump the case because they didn't get their rights protected. That is if the trial judge didn't halt the case in the first place."
"Yeah, but it is a lot harder interrogating, when a lawyer is always interrupting and getting in the way."
"Well, nobody said this job was easy," Steve said. "We do it because we care, and if it means doing it right, instead of easy, so be it."
The men met with Janet for nearly two hours. Part way along Steve went to a local deli, and ate lunch, and then had three more lunches packed up to-go. He took them to the jail and had the clerk take them into Janet and her clients. Steve would have taken them himself, but didn't want to be seen as interfering with their interview.
The result was that Janet continued to talk to the men as the three ate, and by 1:30 they were ready for another session with the police. This time the sergeant joined in, and the six of them in the room made it a bit crowded.
The sergeant asked several questions during the session, and was greeted with silence in every instance. But the men were glad to answer Steve's questions, although occasionally Janet objected to a question, forcing Steve to ask it in a different, less threatening way. He also managed to ask the same questions that the sergeant had been stonewalled on, in different words and with a different tone, and got answers, causing the sergeant to realize that perhaps it was he who was the problem, not the accused.
They spoke for three hours in the session, and then broke, with the men going to a short session with Janet before being returned to the cells.
"You're pretty good at that," the sergeant told Steve as Tony again packed up his equipment. "Been doing it a long time, I guess?"
"Actually I just was appointed acting inspector earlier this week. I did investigate a brothel case a few weeks before, but I'm pretty new to the game."
"How the hell did you get them to open up like that?" the sergeant said. "You'ld ask the same question I asked five minutes earlier, and they spilled for you. Me, I get nothing."
"I think the important thing was that I treated them with respect," Steve said. "They are people just like us. Yeah, they did some bad things, and they are going to have to pay for those things. But it is not our job to determine what they pay. That is for a judge. If we do our job right, then justice will be served. And it is a judge who decides that."
"Hurrumph," the sergeant said. "Stick around kid. A few years of this and your dewy eyed innocence will evaporate like it has for the rest of us."
Steve drove back to Ingersoll thinking about the OPP sergeant and his bleak outlook. He decided that he would never get so jaded. He had a wonderful wife and a wonderful life. He loved his work, and still considered it as helping people – To Serve and Protect, to use the motto of too many police forces, and too few police officers.
---- - ---------
That night Rachael kneeled at the side of her bed, as usual.
Dear Lord
Term is almost over. I can hardly remember my old life. This one is so much better. I hope the summer will be as rewarding as the spring has. Thank you for all you do, Lord.
Amen
---
If you liked this post, you can leave a comment and/or a kudos!
Click the
Thumbs Up!
button below to leave the author a kudos:
And please, remember to comment, too! Thanks.
This story is 3431 words long.