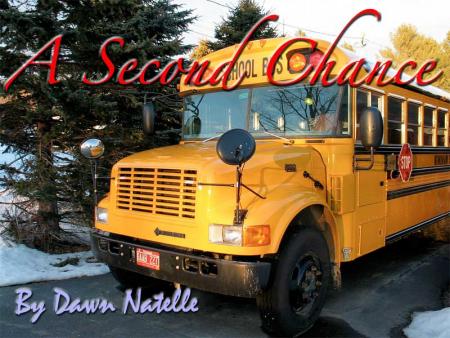 A Second Chance
By Dawn Natelle
The last chapter (but see the note at the end): Dawn
MONDAY, JUNE 27, 2016
Both Rachael and Bobby were fairly giddy when they got up for breakfast. It was the last day of school, and only a half-day for Rachael. Bobby would have his simpler graduation ceremony at 1 p.m. and then an early exit from school. Rachael's ceremony was more elaborate, and would run from 10 'til noon. Both Geoff and Maria had gone to work even though Monday was normally their day off. They owed some hours to the other staff that had covered for them on Saturday when they had been at the races.
Bobby was up early, so Rachael decided that it was time for him to learn a bit about cooking. She decided to make French toast, and had him do most of the work under her direction. They used four eggs, and a bit of cream to make a mixture for five pieces of love bread. With so many out of the house on the weekend, it was starting to get stale, something normally unheard of in the Barron household.
Grandpa was up, and he would only have a single slice, or one and a half. Bobby needed two, and Rachael would have the rest. The young boy was quite proud of his cooking, although not enough to eat the one slice that he had burned slightly on one side when he wasn't paying attention. He took two good slices, with maple syrup. Rachael and grandpa each got a good slice, and a half of the charred one, although Racahel scrapped off most of the carbonized bits.
Bobby needed a solid wash-up after eating the meal he had made "all by himself" and once Rachael approved, he put on his Sunday best. It was his graduation day, after all.
Rachael also dressed neatly in a tartan skirt and a white blouse that tended to minimize her growing bust-line. Her hair was still shorter than Bobby's and she combed it quickly, as well as doing his.
At school there were no classes. The kids gathered in the cafeteria for an hour to chat, and then paraded into the gym, which was set up like an assembly, with the Grade 8s at the front in alphabetical order, and the other grades in class years behind. There were chairs on the stage, for all the teachers of the Grade 8s, plus the principal and vice-principal, who was also a Grade 6 teacher. At the back, parents of the Grade 8s were seated, and to Rachael's delight she saw four familiar faces. Both Maria and Geoff were there as expected, and as a surprise Bobby and Grandpa were present to see Rachael graduate.
After all the students were in and settled, the staff walked out onto the stage wearing their caps and gowns. The students in middle school did not wear caps and gowns, but the faculty had all graduated from university, and proudly wore theirs, adding some gravitas to the event.
The ceremony started with O Canada, and then the principal called forth teachers for class awards. Rachael was surprised when Larissa won the French award, since she hadn't been in class the full year. Robert won the science award: he already had decided to be a veterinarian, and worked hard on that subject. Mikki was amazed to get the award for best History student, no doubt due to her film. The math and English awards went to students who were not among Rachael's close friends. But then Ms. Smith got up and announced that Rachael Barron was the recipient of the Phys. Ed. award.
Next the diplomas were awarded, with students streaming across the stage, shaking hands with the principal and vice, as well as all the teachers. Mikki's father was present taking a photo of each student as he or she got the diploma. As Rachael passed Mrs. Cathcart, the elderly teacher whispered: "It was a pleasure to have you in my class, Rachael. You nearly won top English student as well, but Sandy had a full year of good work, and yours was pretty much done in two months."
After the diplomas were awarded, special awards were given out. The Valedictorian gave a somewhat trite speech, and then the Top Girl and Top Boy awards were announced. When Carly was called up as Top Girl, there was a scream from the back. "My Mom," Carly said as she passed in front of Rachael. As she walked up to the stage to get her plaque, the Grade 7s started chanting "Give Peas a Chance" and the younger students picked up on it.
Finally, Ms. DeBoer got up. "Normally we would close the ceremony now. But this year the faculty decided to institute a new award. We had a student this term that turned herself around from an unmotivated slacker into one of the best students in the class. Our first Most Improved Student is Rachael Barron."
There were cheers from most of the school as Rachael went up to the stage. She had made close friends with many of the Grade 8s, and some of the Grade 7s, and the younger grades respected her for always having a smile and friendly word for them as well.
Her award was a bouquet of roses. Rachael accepted them, thanking Ms. DeBoer, and suddenly had an idea. She asked the principal if she could speak. The microphone was adjusted for her shorter height, and then she cleared her throat.
"Class of 2016. It's been a good year, hasn't it? Once I got my act together I started to learn that our teachers are not the enemy. They want nothing more than to see us succeed. And we have a great group of teachers up here on stage, and the ones from the younger years are just as good, although I have to admit that I didn't make their jobs easier when I was in those years."
"But the Grade 7s of this year are not going to get the same great team of teachers that we had. I understand that Ms. Smith is moving up to high school, so you will get her in two years. But Mrs. Cathcart is retiring. She has taught at Ainsborough School for many years. In fact, I bet she was an experienced teacher when most of our parents were here. I would like to re-gift these roses to her, in thanks for everything she has done for the students this year, and for all those years before."
Rachael walked across the stage and placed the bouquet on the lap of the elderly English teacher, who had tears of joy running down her face. She struggled to her feet and hugged the girl. "This is why I recommended you for Most Improved," Mrs. Cathcart sobbed. "You are the sweetest, best student I have had in all my years."
With that Rachael skipped down off the stage, and Mrs. DeBoer took over again.
"Nothing I can do or say will ever top that, so I declare graduation over," she said, and directed the students to leave for their summer holidays. That didn't need saying twice, and it was difficult for the teachers on the floor to keep the students moving out orderly. Finally it was the Grade 8s chance, and most of them just went back to greet their families, and the teachers came down from the stage to mingle as well.
Mikki's father had a photo area set up, and Rachael managed to get photos with all her teachers as a group, as well as single pictures of her with each teacher. Other students followed over and did the same, to the point where Mikki would later report it as the most lucrative event her father had ever done.
After the pictures, Maria hugged her daughter. "That was beautiful, Rachael: giving your prize to that teacher. She will remember that for the rest of her life. And I will remember it for the rest of my life. My beautiful daughter, doing the most beautiful thing imaginable. I love you."
"I am proud of you too, sweetheart," Geoff said. "But we need to get Bobby over to the primary school now, or he won't graduate and will have to take Grade 4 over again."
"No way," Bobby shouted, and started pulling his mother and sister to the door. They hurried on, while Geoff and Grandpa followed at a slower pace.
They made it the short way to the other school in only a few minutes, and Bobby was sent along to his teacher while Rachael sat in the back with her parents and Grandpa, admiring her middle school diploma and PE award. "We'll have to get some frames for those, and for the one Bobby will get," Geoff said.
But in the end Bobby won two awards. As well as his diploma he received the award as Most Improved Reader. When he got back to his family, he showed the award to Rachael. "This should have your name on it too," the boy said. "It was you helping me to get better at reading that did it. You showed me that reading was fun."
"No Bobby," his sister said. "You are the one who worked hard to get better. It is your award."
That evening Rachael kneeled down as usual:
Dear Lord
It has been a wonderful two months. My life now is more full than it ever was before. I can only thank you for that. You showed me how helping others can be rewarding. Thank you for giving me the idea to pass the roses on to Mrs. Cathcart. She was so touched. Now it is summer time. What should I do next?"
Update from Dawn
Yes this is the end of the second book. But it will not be our last visit to Ingersoll. There are still stories that I need to cover. I just won't be visiting Rachael every day of her life. And for those who liked the little prayers at the end, I don't plan to have one after most, or any of the future chapters.
Things we still need to cover are:
Bobby goes to hockey camp.
Lullana comes from Zambia as an exchange student
The girls go to Cannes to show their video
Rachael gets stabbed (we hinted at this in the teasers a few months ago)
The first day(s) of high school
The Hobo Army takes over a failing dairy farm
And any others that come to mind as we go along.
Then there will be a new series that I have rolling around in my mind. Stay tuned.
---
If you liked this post, you can leave a comment and/or a kudos!
Click the
Thumbs Up!
button below to leave the author a kudos:
And please, remember to comment, too! Thanks.
This story is 1802 words long.