---
---
Tecs in Heels -
Women Detectives in Film and Television
---
---
by Andrea Lena DiMaggio
---
---
New this fall to Television and Motion Pictures - Popular Series re-imagined and retooled to the delight of mystery fans everywhere.... well most places? Lots of places? Anyway, here a but a few favourites....
---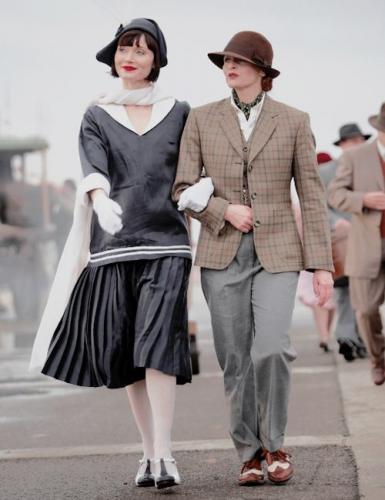 The Miss Fisher Fashion Mysteries
New to ABC-TV this fall. Phryne Fisher partners with transwoman/paramour Dr. Elizabeth "Mac" Macmillan as they investigate murders committed at high-end boutiques throughout Melbourne.

---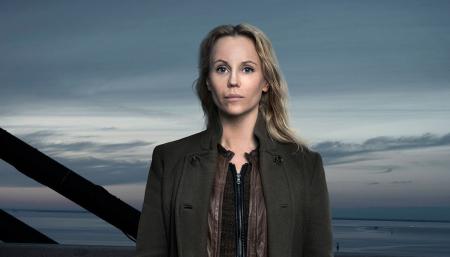 Trottar/Fortov (The Sidewalk)
Sanka Noren is a Malmo Detective who drinks altogether too much coffee and doesn't play well with peers. She makes a friend in Copenhagen transwoman cop, Heidi Magnusson. Together they solve crimes in Sweden and Denmark.

---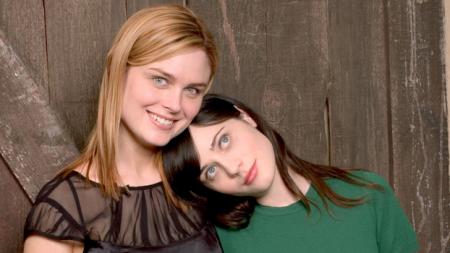 Tunes
In a reboot of another popular series, Temperance Brennan has relocated to New Orleans, where she is the head of the Forensic Musicology Department at the Basin Street Institute. She teams with her Savant-like transgender cousin Margaret as they investigate the murder of New Orleans Bass Players.

---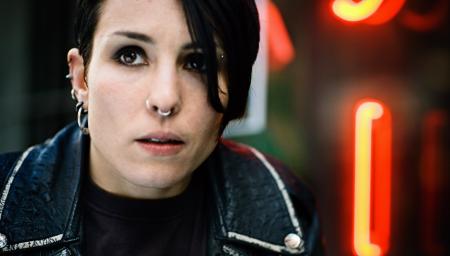 Tjejen med kanintatueringen
(The Girl with the Bunny Tattoo)

Lisbeth Salamander is a brilliant Goth girl/IT Hack who combats online corporate greed and criminal enterprises throughout Scandinavia. She finds safety and an occasional backrub from her Eurasian transwoman girlfriend Mimi, a Manager in the New Products department at Ericsson.

---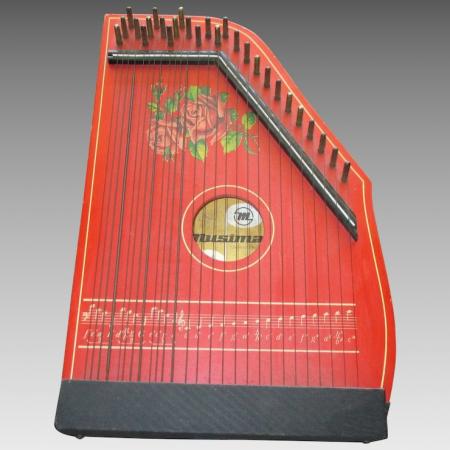 Z is for Zither
In this new-to-television series, murders involving crimes committed with musical instruments are investigated by Kinsey Mulholland, a private detecitive out of Santa Hanna-Barbera. California. She is ably assisted by her octagenarian transwoman neighbor Alison, as well as her cat Agatha.

---
and finally...
Smillas følelse af snekegler
(Smilla's Sense of Snow Cones)
Smilla Husqvarna works as a research chemist for the Refreshment/Beverage Division of the 7-11 Corporation in Copenhagen. She investigates the large scale substitution of substandard Slurpee Vodka syrup in 7-11 stores across Denmark. She solves the case while romancing her downstairs transgender neighbor, Den kvinde, hvis navn Smilla glemte. (The woman whose name Smilla forgot)

---
And as an added bonus, here's a nice tune....
https://www.youtube.com/watch?v=Hz8jmUt0bt0
Hollow Talk
Echoes start as a cross in you
Trembling noises that come too soon
Spatial movement which seems to you
Resonating your mask or feud
Hollow talking and hollow girl
Force it up from the root of pain
Never said it was good, never said it was near
Shadow rises and you are here
And then you cut
You cut it out
And everything
Goes back to the beginning
Silence seizes a cluttered room
Light is shed not a breath too soon
Darkness rises in all you do
Standing and drawn across the room
Spatial movements are butterflies
Shadows scatter without a fire
There's never been bad, there has always been truth
Muted whisper of the things she'll move
And then you cut
You cut it out
And everything
Goes back to the beginning
Never said it was good, never said it was new
Muted whisper of the things you feel
TunnusteluDUO
Vocals: Marika Torkko
Piano: Jaakko Elenius
Songwriters: Anders Rhedin / David Hughes / Fridolin Nordsoe / Jannis Noya Makrigiannis
---
If you liked this post, you can leave a comment and/or a kudos!
Click the
Thumbs Up!
button below to leave the author a kudos:
And please, remember to comment, too! Thanks.
This story is 517 words long.