Presents
S-Idol - Episode 7 (Elimination and the Beach)
---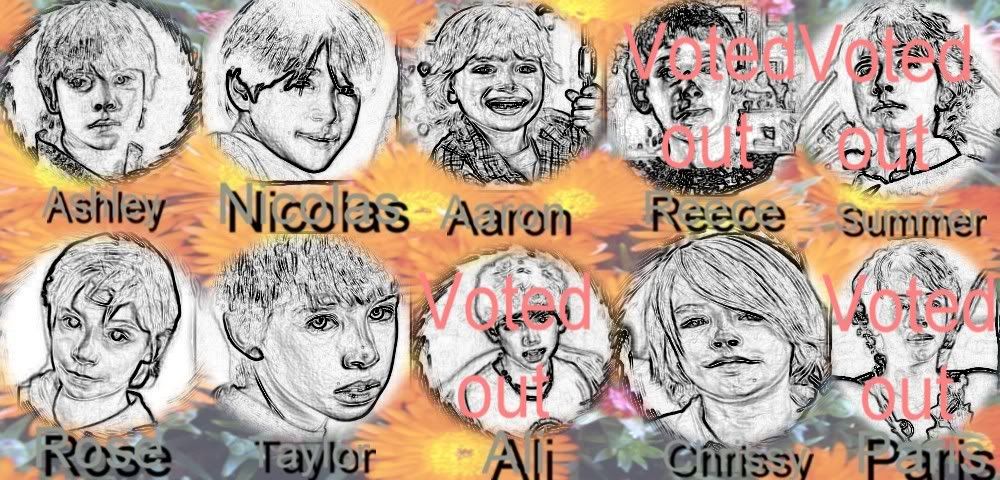 Dauphin: Welcome to S-Idol. Another elimination. We started with 10 boys, tonight only 4 will remain. Lets start by deciding who will stay and who will go.  

Ashley

Aunt speaks: I was happy with Ashley last week. He didn't like several things and even when he accepted some, he have his bad face. He didn't want that boy to kiss him, so he pushed the boy and said no. I think Ashley is learning how to say no, and that is good. 

Question to Ashley: Things are getting more humiliating in S-Idol. Do you still want to win?
Ashley: Dressing up as a baby is embarrassing, especially when the others laugh and tease. But I made it this far, so I want to win S-Idol. Otherwise it would have been a waste of time. 
 

l
Nicolas

 

 
Father: One thing I noticed last week is that Nicolas is now very happy. I do not think that he has ever been as happy as he is now. I said that I lost a boy and gained a daughter. I am so proud of Nicolas that he is finding himself. It is hard not to have a normal child as society thinks is normal, but love means that I will help Nicolas find himself and I want him to be happy 

Question to Nicolas: Do you think you are a role model for others? 
Nicolas: I think that many people feels like they are trapped in the wrong body. I am and I have learnt not to hide in my body but show who I am. If this means that I am a role model, I hope that others will not be afraid to show who they are.  

6% have voted that he should leave Sissy Idol
Chrissy

Mother: Last week, Chrissy seemed to be very happy. He had found a girl that he liked and this could be because he is bi. Sometimes I think that he is very confused inside. It seems like he wants to find someone that will love him and he tries to hard to be accepted.  

Question to Chrissy: That girl you met last week.. how can you really like her when you say you  are gay
Chrissy: She looked like a boy. Maybe I m not gay. I m too young to decide if I am or not. Last week someone accepted me for who I am and i was happy. I don't know if it was love, we have only met each other once.  
Taylor

Father: Things seem to be easier for Taylor. Every week goes means that he is less afraid and accepts what is happening. 


Question to Taylor: All these things that are happening in S-Idol. Would you do them alone. Now there are other boys that are doing the same. 
Taylor: That would be like before I came here. I do not think that I would do them if I was alone. I do not think I will do them after  

 

13% have voted that he should leave Sissy Idol
Rose

 

Aunt: Seeing him go through the park with a little leash on was funny. The strange thing is that he really is enjoying this. I thought that he would break down and cry. But people really like his personality. 

Question to Rose: You started S-Idol by nearly being kicked out, and now you are the favourite. Why is this?
Rose: S-Idol is about being a sissy. I have a sissy name and I love being a sissy. I do not know if I am one, But I am so happy. Maybe they think its because I'm not with my aunt that I am happy. But I am happy that I am trying things that my mother did 

0% have voted that he should leave Sissy Idol
Aaron

 

 

 

 

Sister: Aaron was given a second chance. This is great. Even if he I thrown out today, then he tried something that he always dreamt about. He was a baby for one week 

Question to Ashley: Did you enjoy being a baby

Aaron: Yes. It was so fun. I had a great time. This was  the best days in my life. Even If I am kicked out  then it would be OK. I would have tried it. That makes me happy

l
Advertisments
to get information on Dauphin updates, send your e-mail address to me (Click here) or fill out the e-mail list on the left hand side.

To write your comments on your favourite boy, what you hope the boys will experience, your advice to them or how you think you are performing, write them here. You do not have to register to be write

Participate in Dauphins interactive story here. 

Elimination
| | | |
| --- | --- | --- |
| | | |
| | | |
| 38% voted him out | 19% voted him out | 25% voted him out |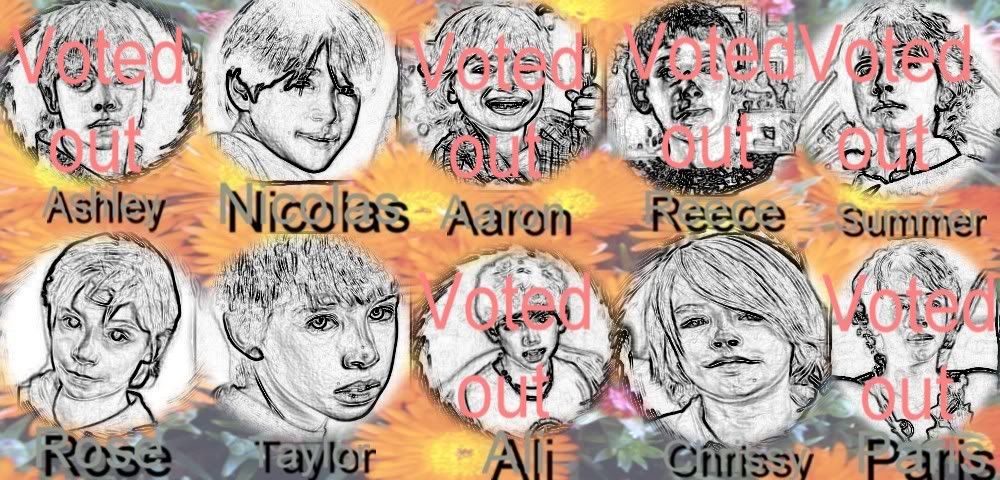 Standing outside S-House:

Dauphin:  
Welcome to S-Idol. We started with 10 boys. Last week Ashley and Aaron was voted out. We now have 4 boys left in S-idol. Its getting harder every week-
The Boys are now sissy Babies. Last week they have got used to the idea. But now they have to get used to the idea that they will be in public. 
This week, you are allowed to ask the boys questions. There is a link under each boys picture where you can do this. Remember to vote who you want to leave S-Idol
To write your comments on your favourite boy, what you hope the boys will experience, your advice to them or how you think you are performing, write them here. You do not have to register to be write
Its time to hear about the boys own experiences right here in the Pink box, where each boy tells what they experienced and how they felt
At the end you will be able to vote who should go home. 
Welcome to S- Idol
Rose

 

 

Today we took a break from being babies. We were going to the beach and this was great. Because it is so hot. At least we didn't have to go as a baby. That would be fun. but wearing diapers when you are a baby is a bit too warm

I picked out this one piece swimming suit. You can see it at the left. I liked it because it was blue and it had these lovely stars. It looked like a night sky.

When we got to the beach, I rushed to the water. It was so lovely and warm that it was great fun. Others looked at us a bit strange, as if we never seen a beach before. But I was never at a beach in girls clothes. I was now a sissy and it was great fun. 
After we swam Taylor and I went for a walk. We said that we hoped we were the last two in S-Idol and it was getting harder and harder to stay in S-idol. Then we left the beach and went up to the dunes. We told each other how much we loved each other and how cute we were and then we started kissing. We must have been kissing for a long time with our eyes closed, because when we looked up, this old woman was yelling at us that two small ladies shouldn't be kissing like that and we should wait to we get boyfriends

Then Taylor did something rude, he pulled aside his swimming suit and told the old woman that we were boyfriend. I thought it was funny and a bit sad, because the old woman got very pale and looked like she was going to have a heart attack. 
Then we went back to the others and built a huge princess castle. We talked about who will live there. It was a great day at the beach. I hope we do it again. 
Chrissy

 

 

Last time I was nearly kicked out once again. I always come in second last. Every time I stand up there I feel afraid that now I will be kicked out. But I will do my best to stay and learn something

Today we were going to the beach. You can see what I wore on the left. I thought it looked cute and I liked the pink colour and the flowers. I would miss being a baby, but I would really look stupid if I was at the beach just  in a diaper. 

When we came to the beach we all jumped in the water. This was great fun. We started splashing water at each other. I was looking at the 3 other boys. I was amazed. They really did look like girls. I was staring at them and then Rose jumped on me and tried to drown me. He is a bit small, so he really didn't do it. 

Taylor and Rose went off somewhere and I sat in the middle of the beach and started drawing hearts in the sand. Some other girls came and sat with me. They started talking about boys and boyfriends. I told them that I had no boyfriend yet. 

Then something happened. Without knowing the sand below me was getting wet. I was peeing without knowing it. It must be the two weeks dressed as a baby that is making me loose control. I felt that my bottoms getting wet, I seen the other girls looking puzzled at me and then they simply started laughing, saying that I wet myself. Of Course I knew this and I was used to people teasing me when I wet. I just smiled weakly and said that I felt like a little baby.  They just laughed and told me how cool I was. 

Later I built a castle with the other boys. It was like we forgot that we were in a competition and one of us would leave again this week
Taylor

Someone asked me if I wanted to win or how far I wanted to go. I want to be in the top 3. S-Idol has taught me a lot. I mean every day I am dressed like a girl or I am dressed like a baby. I do not mind. If people do not like this, then they can stuff it. Before I started S-Idol, I would have died of shame. Now I have learnt it doesn't matter who you are on the outside. It matters who you are on the inside. 

Today I wore a bikini. It had a cute little kitten on it and I loved it. I will tell the truth, I also wanted to look good for Rose. You all know that he is now my boyfriend. Yes, I am happy that he was not kicked out. But they say he is the favourite to win. Anyhow I liked the Bikini and it only took me a few minutes to put it on.

At the Beach we jumped in the water. It was wet. I usually love going in the water but something had changed . I looked at the water and was worried that it was dirty. I didn't want to get dirty or get my bikini dirty. Wow, I was really now a sissy. I was worried about how I looked, even in water. What if it messed my hair?

After, Rose and I went to some dunes and started snogging each other until this woman caught us. I am sure that Rose told you all about that. I got mad at her because she gave us a speech about not kissing until we get boyfriends. I showed her that we were boyfriends and she must have thought we were freaks wearing girls clothes and then kissing each other. I feel bad that I showed her. What is she died on the spot. She was just trying to be nice to us. 

At the end, we built a princess castle. 
Nicolas

We are only 4 left. The house seems very empty now. I remember when we were 10 that entered the house, and now we are one week away from the top 3. I hope that I make it to the top 3 and even top 2. Its so fun in the house right now. 

I was awake first. You all know that we sleep in the cribs now. So I just stared at the roof and sucking my pacifier until the nanny came. She told us that we were not going to be babies and that we were going to go to the beach, but we needed to pick a swimming costume. 

This was a hard choice. I could just pick a one piece, or I could try to look sexy and pick a bikini or I could try to pick one that I really liked. I decided that I would pick one that I really liked. One that I would feel pretty in. I picked one that made me look like a ballerina at the beach. I loved it and that was the important part

When we came, we all splashed in the water. This was great fun until I found something strange in the water. It was a jelly fish. I started screaming. Ewwwww, it was so disgusting that I was freaked out. I Thought it would eat me. Ok, I really didn't think that but it was disgusting

After I lied down on the beach. This boy came up to me and said that I looked beautiful. I started blushing saying thanks and all that. I really didn't like him. He was a bit too pushy and he was a bit ugly. I think he noticed this because he started getting mad at me. He said that he could see what was between my legs. Then he started calling me a sissy and all the bad words I can think of. I just stood up and walked away saying, "I may look like a boy, but I am a girl" 

I didn't care what he thought. 
Voting Finished 
Thats the 4 remaining contestants in S-Idol. Now You have an important mission. You have to vote who will be sent home next week in S-Idol. Note that the vote is not who you want to stay, but who you think should go home.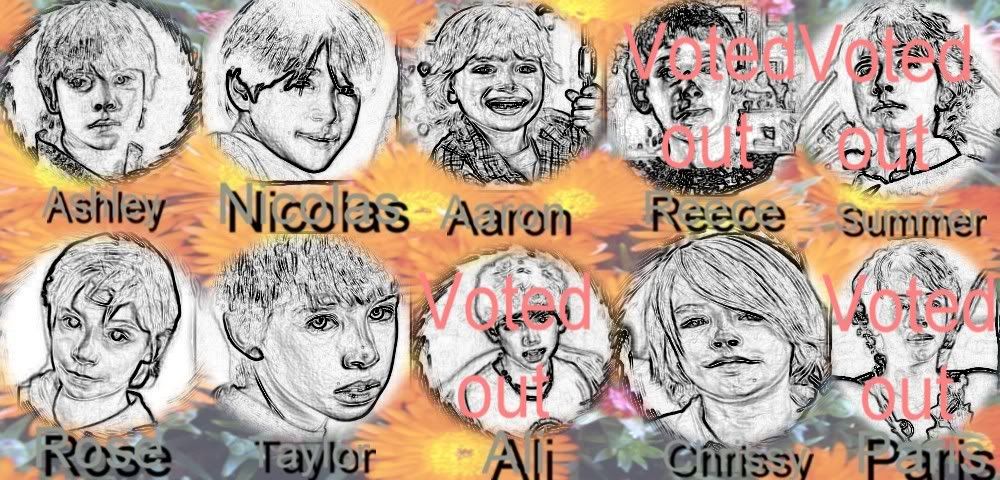 Thats it this time for S- Idol. Next week, we say good bye to 2 boys. We hope to see you next week. Next week the boys will be visiting a beach.
---
If you liked this post, you can leave a comment and/or a kudos!
Click the
Thumbs Up!
button below to leave the author a kudos:
And please, remember to comment, too! Thanks.
This story is 2395 words long.