Printer-friendly version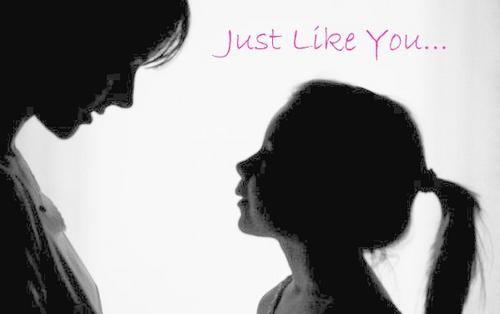 By Maeve Keenan
Kerrie sat with her legs curled up underneath her on the large wingback chair; the same pose she'd seen her sister Kate strike time after time. It never seemed quite comfortable, as if something was out of place. She swung her legs onto the floor and grabbed the ice bag off the coffee table; sinus headaches always seemed to move right into migraine territory but she hoped today would be that one day in five where she got some relief.
"Kerrie?"
The voice came from the dining room just behind her. She pivoted on the couch and found two figures standing in the archway. A very frisky Irish terrier and a very worried looking small waif-like girl stared at Kerrie. She stood up and walked to the two of them. Padre wagged his tail eagerly while the girl turned away a bit. It had been hard for Jemma since the move, and the eleven-year- old continued to look lost in the midst of a house full of love.
"What's up, Jem?"
Kerrie got down on one knee and faced the girl eye to eye. She shrugged her shoulders and frowned. Padre licked her hand and scurried off to the kitchen.
"Why did we have move Kerrie? I don't like it here!"
A long way from a temporary home and even further from the routine she had lived; even if it was unpredictable and even horrible at times, it was home, and this new place seemed to throw her off kilter. Everyone felt a little out of place after being 'away' for so long. The little ones felt it no more or less than anyone else, but they showed it while the 'big people' just held in their anxious fears.
"This is home for us now…maybe it's always been home. It's safe, Jemma." She touched the girl's cheek softly. Jemma flinched at the unexpected gesture; too many times she'd been touched in so many wrong ways. Kerrie felt almost helpless. But after so many times of giving comfort to someone else' kids, Kerrie treasured the closeness that had grown between her and her little sister in just a short time. She hoped that Jemma felt the same way, but the girl was tentative; investing too much hope and trust in the wrong people had made her wary. But she had sought Kerrie out, and that was a good sign.
"I miss back home as well." Kerrie didn't miss home as much as she missed the people who had helped her along the way. But the girl needed to know she wasn't alone.
"I guess we'll have to help each other." Jemma nodded slowly as Kerrie squeezed her shoulder softly.
"Kerrie?" The girl tugged on her sleeve even though they still were eye to eye; a need to be heard in a house full of friendly but unfamiliar voices. Kerrie didn't even speak, but leaned closer to the girl and put her left ear by her sister's face and nodded.
"What did you do when you were my age?" An easy enough question to answer for most older sisters. Kerrie swallowed hard as the girl continued, hoping that Jemma was going to ask her something that she could at least fake her way through, since she didn't really have any answer. And it was a good word to describe how she felt, since she considered herself a fake at least once a day; and that was when she felt good about herself. It was hard to remember that she didn't have to fake anything; at least with her own family and maybe with everyone else as well.
"Did you like boys when you were like me?" Kerrie almost wished it was true; she had wanted to be just like Jemma when she was younger, but that wish came about through the care and encouragement of family for her time of self-discovery. Truth be told, if she was honest with herself, she would have to admit the self-discovery may have started even earlier than that. Her real father noted little things here and there that would have sounded like cruel teasing but for the twinkle in his eye and the acceptance of his smile. He probably knew almost from the day she was born that she might turn out exactly like she was.
"I think I probably grew into it, Jem. I don't really think I liked anybody like that when I was your age. But it's okay if you do or you don't. You know that, right?"
"ALL the other girls all have boyfriends." It might have been an exaggeration, but it still felt like that to the girl. She shook her head.
"They think I'm a baby."
"Well, you're obviously not a baby, right? What do they know?"
"Bridget Reilly has boobies…it's not fair." She pouted. Time for some half-truths.
"I didn't have boobies when I was your age." She unconsciously looked down at her body; never a 'big' girl when she finally began to develop, even now at twenty she was almost waif-like. There were some things only time would improve, and even at that, it was more that she would grow more self-confident than any 'improvement' that her body might gain.
"Really? You? But…" Jemma stared at Kerrie's chest and spoke diplomatically,
"You're pretty now." The girl smiled politely and Kerrie blushed, shaking her head no; another unconscious reaction.
"Really….you and Katie are just the prettiest girls ever." Out of the mouth of an eleven-year-old, the complement was ever more meaningful and almost a little bittersweet. Kerrie had resigned herself to never hearing the words 'you' and 'pretty' in the same sentence. She was as pretty as anyone can be who isn't gorgeous or stunning or striking or beautiful, and maybe both of them might learn that 'pretty' is pretty much in the eye of the beholder anyway.
"Katie says I gotta be prepared." The girl looked down and stared at her waist. Another challenge to be met; the girl was showing supreme trust in her, but one slip of the tongue; one misspoken word might ruin whatever connection she had earned with her sister.
"I know you'll be ready when the time comes, Jem. You'll be just fine."
She almost missed that the words of encouragement she had just spoken to her sister were just what the girl needed. It was as if she had just helped Jemma understand that the 'whom' that she was would handle whatever 'what' came along; be it boys or even girls or her first time or school. Kerrie mirrored Jemma's expression from only moments before, looking disappointed and even a bit sad as she looked down at her own waist. She didn't need to worry at all, which was something she got used to since it was just how things are.
No one had ever shown Jemma any confidence, and it took a re-knitting of a very fractured family to get all the girls in the Finney household to understand just how precious each of them was.
"Does it hurt?" Jemma bit her lip. A broken wrist playing dodge ball gave her enough experience regarding pain, but who can prepare for the unknown? Kerrie nodded her head and bit her own lip.
"Yes honey…it does." She paused, wanting to be honest and hopeful at the same time, but having words for neither. She sighed.
"Some girls hurt more than others. It's different for everyone, honey."
She realized that the pain was relative even for girls who suffered no pain at all; that the dreams that grew when she allowed herself to believe that anything was possible became wisps of vapor in the wind. Some things can be fixed and adjusted and helped along, but she couldn't be everything to everyone; especially herself.
"Do you like boys?" Jemma changed the subjects in conversation the way some kids change clothes; no warning or reason. But it was almost a divine appointment in a way as she insisted once again.
"Kerrie? I like boys…do you like boys?" It was almost that she was prepared to gauge her own beliefs about herself against her sister's answer. While Kerrie knew how she felt inside about what was important and what contributed to who she was, she had never given it much thought in regard to answering that question. She was more than unprepared, but she answered in a way that put both of them at ease.
"Yes, Jemma. I do like boys. You know about Liam, right? But it's not important how I feel, honey. It's how you feel, and really, you don't even have to worry about that right now, right?
"I guess. Louise O'Sullivan has a girl friend." Double-clutch once again; the talk felt like it was careening around a corner at Indy, but Kerrie held on and answered calmly.
"So are you telling me you like girls?" Kerrie smiled softly. The girl looked confused but spoke anyway.
"NO…you're not hearing me, Kerrie." A step back; too many years of having no voice made the girl feel unheard even in a quiet room. She teared up unexpectedly.
"Oh, honey, no. I just don't know what you want me to say, alright?" Her look was inviting and Jemma calmed down.
"I just need to know what I'm supposed to do. What do I have to do?"
"Jemma, there's no have-to's when it comes to who we like. We like who we like."
"I wanna be just like you!" The girl seemed to plead for permission to imitate Kerrie; a gesture both sweet and scary. At eleven she'd accept half-answers and incomplete explanations. But the day would come when her mere age demanded the entire truth; anything less than that would seem like a betrayal to a child who had spend half her life being lied to.
"Jemma? Why be like me when you can be just like you? You can be so much better than I am."
Sadly, Kerrie believed that; the fear of the inauthentic for so long had frequently overshadowed the confidence she had gained in the past few years. Perhaps Jemma might grow up to be a microbiologist or a president, but really there would be no real difference in the character between any of the sisters, no matter how each started. Kate and Kerrie and Jemma and little Maureen? It would still remain hard for Kerrie to comprehend that for some time to come, but deep down, in her heart of hearts, she would know.
"Praise God, my sweet baby sis…you knew something wasn't right when you were only four. Praise God we live in a time where something could be done whilst you were so young. And praise God we live in a time where medical miracles happen every day of our lives."
Jemma cocked her head sideways, almost disappointed until Kerrie resumed,
"No sweetheart, you won't be like me. Someday you will be a mommy and have a little one of your own." A solitary tear fell from her eye as Kerrie leaned closer and kissed Jemma atop her head.
"You'll be just like you!"
---
If you liked this post, you can leave a comment and/or a kudo!
Click the
Good Story!
button above to leave the author a kudo:
And please, remember to comment, too! Thanks.
This story is 1909 words long.