Printer-friendly version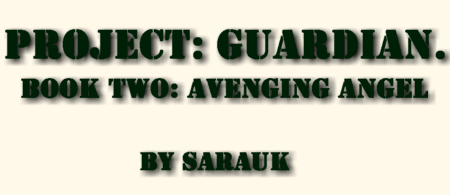 Chapter Fourteen of Fourteen
Previously...
Alice looked relieved to see Alexis return when she saw her and Sasha enter the lab again a couple of hours later.
"That was some word you needed to have with Sasha. I hope you have a good reason for being gone so long Brenda." Alice snapped.
"Sasha called and spoke to Brad earlier Miss Farrey. She told him that I'd be going with Sasha to fetch our things and deliver them to the apartment here on the Diablo grounds." Alexis explained with a fake stutter to make herself sound scared of Alice being mad at her.
Before Alice had time to say their well rehearsed speech she was cut off by her father jumping up and went for Brad with both hands balled into fists. "You promised that Alice would be left out of this if we did the designs for you!" Paul yelled as he took a swing at Brad, but missed.
Alice and Alex's father had never been much of a fighter, he'd been a computer geek in school, and that is what led him to the career he was now in. Brad on the other hand looked like he'd been a jock in school, and also knew how to fight, as he easily stepped out the way of Paul's punch and then slammed his own fist into Paul's stomach, dropping him to his knees gasping for breath.
Pamela went to slap Brad across the face for what he'd just done to her husband, but before she could, Sasha laid a punch to the side of her face that dropped her to the ground right next to where Paul was lying with his hands wrapped around his belly groaning.
Alice stepped forward, but soon stopped dead in her tracks when she found Brad pointing a gun in her face. "What's going on?" Alice asked looking scared at the barrel of the gun in her face.
"Sasha, you better call Nash and get him down here right now." Brad said as he flicked the gun to the side and looked over at some computer chairs. "Take a seat and all will be explained to you Alice." Brad added with a smug little smile on his face.
Alexis had been left over the other side of the lab on her own, but she wasn't about to make a move just yet. She wanted to see what Dillon Nash had to say first, and then she would work out the best way to disarm them all and get Alice and her parents to safety.
Nash must have been watching the show from another room because he was entering the room while Sasha was still trying to get hold of him on her cell.
"I did everything you asked of me Mr Nash." Paul growled at the man just entering the room. "Grabbing my daughter wasn't part of the deal." He added with a groan as he gripped his stomach again in some pain still.
"So you know my name then Paul. That's a shame." Nash said with a sigh. "As for our deal, well you dragging your feet and hopping for a miracle is what got your daughter dragged into all this. It will also get her killed if you don't get the designs for the chip finished." Nash added as he pulled a gun from inside his jacket and pointed it at the side of Alice's head.
"If you kill my daughter, you will never get your guidance chip." Paul said defiantly.
"Maybe I should kill your wife instead then?" Nash asked as he took the gun away from Alice's head and stepped over to where Pamela was sat looking scared for her daughter's life more than her own.
"You'll get the same result." Paul growled. "Let my daughter go and I'll finish the design for the chip." Paul bargained with the mad man.
"How about I start putting bullets in your daughter until you agree to finish the designs?" Nash asked as he put the gun barrel to Alice's knee and started to pull back the trigger.
"If you hurt one hair on either one of them, then you will never get your design." Paul said as he got to his feet and looked Nash in the eyes to let him see just how serious he was about the safety of his wife and daughter.
"If that's the way it's going to be then you've left me no other choice Paul." Nash said as he took the barrel away from Alice's knee and let out a sigh as he shook his head from side to side.
Alexis was getting a bad feeling about something. She didn't like the way Nash was speaking; she hated what he did next even more as he lifted the gun up and pointed it right at her.
"I'm sorry Brenda, but I have to make a point, and it looks like you're it." Nash said as he pulled the trigger and shot Alexis right in the chest, blowing her backwards across the lab and over a desk where she banged her head, knocking herself out cold.
Now the story continues...
Alice wanted to scream out Alexis's name, but only just managed to stop herself and screamed out the name "Brenda!" Instead as she saw her get blown over a desk and then there was no movement at all. Alice had no idea if Alexis was really dead or not, but she couldn't risk anyone finding out otherwise, so she jumped up and managed to land a good punch right across Nash's face, just before Sasha pointed a gun in her face.
"Sit down you little bitch, before I send you to meet up with your chubby little friend." Sasha growled.
Alice did as she was told as she looked over at the messed up desk she'd just seen her sister go flying over after being shot in the chest.
"Speaking of her friend, get a couple of the guards to come and take her out and get rid of the body." Nash said in a matter of fact way, like the fact he'd just shot a woman didn't mean anything to him.
Two guards were soon entering the room. One of them took the legs and the other one the arms, as they lifted Brenda's body expecting it to be much heavier than it was. Alice looked for any sign of life and saw Alexis give her a quick wink when no one else was looking at her.
Alexis had come to just as the two men entered the lab, so she had to take very shallow breaths, even though her chest was killing her from the gunshot. She let her head lull back when she was lifted up, and she saw Alice looking at her worriedly, so she gave her a quick wink with one eye to let her know she was alive.
The two men soon had Alexis out in the room where they left all their stuff before being let in the lab. "What do we do with her now man?" One of the guards asked the other.
"How would I know? It's not like I get rid of dead women all the time is it?" The second guard replied.
"We could drive her out to the desert and bury her out there." The first one said.
"Let's just get her wrapped up in some plastic and then work it out from there." The second guard said as he bent down to grab Alexis's arms again.
"I've got an even better idea." Alexis said as she looked up at the man, just before she grabbed his head and twisted it until it went crack and he just fell to the side of where Alexis was still lying on her back.
The second man went to grab his gun, but a kick from Alexis sent his head whipping back with a sickening crack, and he too fell to the ground dead. Alexis wasn't bothered about killing them, after all they were willing to take her out into the desert and bury her first.
Alexis was soon on her feet and then she hid the bodies of the dead guards in a cleaning closet before she set to work getting out of the fat suit and into the rest of her guardian armour and head gear, but first she made a call to command with a code red alert.
*****
Lana was just sat chatting with Bill and Ted when all the screens in the room started flashing with a red alert sigh on them. They were soon sat at computers typing like mad as screens started coming up with images of the hallways and offices at Diablo.
"Speak to us G?" Lana said as she put her head set on.
"Plan A's a bust, get Sarah over here right now and tell her to do what she was going to do tonight, but right now." Alexi's voice said in a commanding way.
"What happened? Is Alice alright?" Lana asked with some panic in her voice.
"She will be, but they just shot me, well Brenda. To prove a point to the other three. Nash has them in the lab, but they still think I'm dead though." Alexis pointed out the little bit of positive news in all this.
"They shot you!" Lana screamed. "Are you hurt?" Lana asked.
"No, the suit took the full force, but it still stung like a bitch." Alexis growled. "Bill, Ted? Take out the cameras and all their security just as Sarah's about to crash through the main gate. Let's see how they like running around blind shall we." Alexis said with an evil grin as she waited for all hell to break loose.
"We're ready on our end to cause total chaos dudette." Bill's voice said over the coms.
"Sarah's five minutes out and dressed for action." Lana said.
Sarah had been wearing the guardian helmet on and off for the past couple of months, so she could get use to the closed in feeling she first had when Alexis put it on her that very first time, and it scared her to death. Now Sarah could train for hours while wearing a helmet, and she'd even got use to using the zoom and other commands controlled from the wrist control panel. The thought controlled helmets still only worked for Alexis, due to the technology being expensive to fit into all the helmets so Sarah could use to.
Alexis did a quick systems check on all her armour while she waited for the alarms to start going off. The new helmet was working fine once she'd slipped it on over her head and then activated the charge running through it to make it a solid shell protecting her head, just like her old helmets. All the heads up display was working fine as well, so Alexis felt like she was good to go as soon as Sarah got there.
*****
Sarah almost jumped out her skin when she heard Lana suddenly speak to her through the ear wig she had in.
"Alice and Lexi are in trouble Sarah. Lexi needs you to go with the plan now and crash through the main gate and draw as many of the guards away from the lab and the main building as you can." Lana explained to Sarah as she took a couple of deep breaths and then slipped on the helmet and brought up the display.
"Is Lexi and Alice alright Lana?" Sarah asked once she had the helmet on and she now sounded like Alexi did when she wore it. She thought she sounded strange with a southern slur.
"They are both fine, now focus on your part of the plan, and remember to stay in the car no matter what you hear or see." Lana warned. "Lexi can handle everything inside the place, but she needs you to simply draw some of the heat away from her while she gets Alice and her parents out." Lana explained it again.
"I'm on my way now Lana." Sarah said as she started the mustang and then revved it a couple of time just to hear the power of the engine. Then she was leaving a trail of black on the road as she took off towards Diablo and the main gate.
It didn't seem to take long for Sarah to see the main gate come into view as she put her foot down and launched the car towards it, and the two guards now stood in front of it franticly waving for the person driving the car to stop. They were soon jumping out the way as the car shot between them and then smashed the gates apart as she pulled on the hand brake and slid the car around a bend and then started doing different laps around the large parking area waiting for the guards to start trying to catch her.
Alexis had taken Sarah to a training track where she showed Sarah how to drive a car in a defensive manner, just for times like this, and also in an aggressive manner so she would know how to push back when needed.
Bill and Ted gave Sarah a couple of minutes to get more guards attention, and then they shut down the cameras and the audio feed. Not knowing what was going on, apart from there being trouble in the parking area, most the security were making their way out there when coms went dead.
*****
Alexis was now listening to Sarah giggling as she led the guards on a merry chase about the parking area and then she made her way away from the main building to give Alexis the time she needed to get Alice and her parents out.
The door to the lab suddenly slid open and Alexis had to duck down behind a desk while a very pissed off Dillon Nash stormed out of the room to go and see what the hell was going off. He was screaming into a radio, but getting no reply from it.
This now left Sasha and Brad in the lab with Alice and her parents, much better odds for Alexis to deal with. Alexis stuck low to the ground and slipped back into the lab, hoping she hadn't been seen. There was no screaming and gun fire, so she took that as a good sign while she took a quick look over a desk to see where everyone was.
Sasha was poking Alice in the cheek with the barrel of her gun, while Brad was pointing his at her father trying to make him carry on with the programming, but Paul was sat with his arms folded refusing to do anything. Alexis wondered if it had anything to do with watching Brenda get shot and killed as far as he knew.
Alexis knew she had to get both Sasha and Brad to point their weapons away from Alice and Paul before she could risk using her throwing knifes. Sadly she could only think of one way to do that, so she stood up and called out to them.
"Didn't your parents ever tell you it was rude to point?" Alexis said in her southern slur.
Alice and her parents watched Brad and Sasha spin around to point their guns in the direction of the voice a second before they saw both their heads jolt back, and then they watched as both Sasha and Brad fell back and hit the floor with a silver knife sticking out their foreheads, both of them dead.
"Come on sugar, we need to go." Alexis said as she ripped open the lab door like it was made out of cardboard.
"Who are you?" Pamela asked as Alice helped her to her feet and then started leading her out the room while Alexis went to help her father who was still holding his stomach.
"I'm a friend of your daughters here to get you all to safety ma'am." Alexis said as she now led them down the hallway.
Alice was just happy to see her sister still alive and kicking ass all the way. Alice especially liked the way Alexis put a knife between the eyes of Sasha and Brad. Sasha for hitting their mother, and Brad for punching their dad. Alice's heart was suddenly in her throat when they all went around the corner and saw Dillon Nash and a couple of his men coming the other way.
Nash raised his gun and took a shot at Pamela, but Alexis pushed her out the way and took the bullet in the shoulder, but her body armour saved her from any serious damage again. Alexis looked up just in time to see Nash now pointed the gun in Alice's direction, but Alexis was too far away to save her. This didn't stop Alexis from using one of her throwing stars to try and stop Nash from shooting her sister, but he fired anyway. Alexis watched in slow motion as the bullet headed straight for Alice, but at the last minute another figure stepped in the way and took the hit instead.
"No!" Alexis screamed as she saw her father with a shocked look on his face as he held his hand over a hole in his chest where the bullet had just hit. Part of her wanted to run after Nash, as he was helped away by the two men that were with him, but a bigger part wanted to see if she could do anything to save her father. All logical thought left Alexis and Alice for the moment as they both went to see if they could save his life. "Dad, please don't die." Alexis said as she looked at her father and tried to stop the bleeding.
Paul looked confused for a second when he heard this woman dressed all in black call him dad, but then a light came on and he looked into the mask and said. "Alex?"
"Not any more dad. It's Alexis now." She said as she pushed a button on her wrist control just before she pulled her mask off to let her parents see that she was now the spitting image of Alice.
"So you finally became more like your sister then?" Paul asked with some pain in his voice as he felt the life slipping away from him. "Can you ever forgive me for being such a fool and not defending you when I should have?" He said with some pleading in his voice.
"I forgive you daddy, just hang in there and we'll get you to some place safe where they can fix you up as good as new again." Alexis said as she tried even harder to stop the bleeding, but it wasn't doing any good.
"It's too late for me Alexis, but I need you to promise me that you will keep helping to protect Alice, and I need you to do the same for your mother as well from now on." Paul coughed out as some blood started to pool at the corners of his mouth. "And I need you to know something else as well." He added with a wince.
"Please just rest daddy, and let us get you some help." Alexis pleaded.
"I need to say this before it's too late." Paul forced out. "I'm proud of you Alexis, I'm proud of how you both turned out." Paul said with another wince of pain.
"Please don't leave us daddy." Alice said as she felt her father's pulse getting weaker and weaker. "I'm sorry I left you and mummy, and I didn't mean all those nasty things I said to you both." Alice added as she also tried to stop the bleeding.
"Thank you pumpkin." Paul smiled. "I love you all so much." He got out just before his head fell to the side and his eyes lost all their life.
All three of them knew that he was dead, and they just sat there on the floor in the middle of the hallway sobbing as Alice and Alexis hugged the lifeless body of their father.
Alexis was soon on her feet and slipping the helmet back on as she ran down the hallway in the direction Nash had gone minutes earlier. She came out the building and saw him being helped onto a helicopter, but just as she was getting close to it, it took off and she looked up and saw him tip her a smug salute. Alexis just let out a scream as she vowed to track Nash down and kill him with her own bare hands.
"Lana? Tell Sarah to make a break for it, and we'll meet her at the rally point in twenty minutes." Alexis said in a cold voice as she made her way back to where she'd left Alice and their mother with the body of their father.
"What's wrong Lexi? Is Alice alright?" Lana asked with fear in her voice.
"Alice is fine Lana, but Nash killed our father." Alexis said with raw anger in her voice as she looked for something to punch. She soon got her wish, as a group of security guards came around the corner and started running towards her.
Alexis let fly with kicks and punches until she was stood in the middle of a sea of bodies, but she still wanted to hurt more of them to make her pain go away, but the more men she found to fight, the more it seemed to hurt. Alexis finally ran out of bad guys to beat on, and she found herself back with her sister and mother.
Pamela was sat with Paul's head cradled in her lap as she sobbed and stroked his hair. Pamela didn't want to believe that her husband was dead, but she couldn't help but feel proud for the way he died protecting one of his little girls. Pamela knew she had a million questions she wanted to ask Alice about her new identical twin sister, but at the minute, she just wanted to get them both to safety, along with the body of their dead father. Pamela got to her feet and then pulled Alice to her feet, just before she tried to drag Paul's body down the hallway with her.
"Let me do that for you mum." Alexis said as she picked her father's body up and then carried him down the hallway cradled in her arms like he weighed next to nothing at all. This earned her another strange look from her mother, and a look that promised they would be talking about it at some point in the near future.
Alice took the car keys out of Alexis's pocket in her cat suit and opened the back door so their mother could get in, and then Alexis went around the other side and placed their father on the other back seat and moved him to the middle before she helped Alice to get in. Alexis got in the front and then started the car before she spun the wheels as she shot down the driveway and out the now mangled main gates where Sarah had driven the Mustang through them. Alexis was just glad the car had a toughened body to withstand things like the gates doing damage to it.
Alexis was looking forward to spending some time with Sarah, but first Alexis would have to sit and have a long chat with her mother. She also knew that Alice would be there for that conversation. Alexis looked in the rear view mirror at Alice and their mother sat hugging the dead form of her husband and their father. Alexis felt anger over what happened, but at the same time she felt an inner peace over her father's final words to her, and how proud he was to have two such wonderful daughters. Alexi was going to make Nash pay for this.
*****
Sarah was parked up in the spot Alexis had told her to when she pulled off the road and around the back of the old warehouse. She jumped out the Mustang, still wearing the helmet that made her look identical to Alexis, apart from having more curves to her body, not that anyone would notice that unless they were looking closely, but there was no one around, that was the reason for picking this spot.
"Lexi! What happed?" Sarah asked as she ran over to the car Alexis was in, as she removed the helmet and let it drop to the ground.
Sarah didn't need Alexis to tell her what had happened, she could see for herself as she looked in through the now open driver's door. She could see their father sat in the back with Alice one side, and their mother the other side cradling him in her arms sobbing.
"I screwed up Sarah. I screwed up and got my father killed." Alexis said as she sat in the driver's seat just looking out the front windscreen in a trance.
Sarah hit a couple of buttons on the control band Alexis was wearing, then she removed the helmet so she could look at Alexis and try to make her understand it wasn't her fault, but before Sarah could speak, Pamela spoke up from the back seat.
"You did all you could Alexis, so don't feel that any of this is your fault. Alice and I are alive because of you." Pamela said as she reached between the seats and placed a hand on Alexis's shoulder and gave it a grateful squeeze. Brad and Dillon planned to kill me and your father all along, that was why he got Alice involved." Pamela explained.
"Your mums right Lexi. You did well to get her and Alice out in one piece." Sarah said as she slid into the car and sat on Alexis's knee so she could look her in the eyes and make her believe this wasn't her fault. It was a tight fit for Sarah to squeeze in between Alexis and the steering wheel, but she did it and then she kissed Alexis for all she was worth.
"Sarah? Sarah Briton?" Pamela asked as she watched this new woman stop kissing Alexis.
"Hi Mrs Farrey." Sarah said with a little smile and a nervous wave. "Long time no see." She added.
"What's going on around here?" Pamela asked looking confused as she looked over at Alice for an answer.
"We'll explain everything to you later mum, but first we need to get as far away from here as we can." Alice said as she slipped out the car.
"Shouldn't you be staying in the car then, so we can get going?" Pamela asked just before she felt the car start to shake as a rumbling sound got louder and louder. She looked around just in time to see a large truck pull up and then the tailgate started to lower from the back. Pamela had seen these types of trucks on programs about NASCAR. They would load a car onto the lowered bed and then lift the car into the air before sliding it in and then doing the same thing with another car.
They were soon all out of the car and watching as a couple of men dressed in black took Paul's body from the car and then placed him on a gurney before taking him to the front of the trucks trailer and going inside with him. Pamela followed close behind, worried about what they planned to do with him, but they just took him into a room that looked like a medical centre and placed him on the stretcher in there.
"What is this place, and who do you work for?" Pamela asked as she looked at Alice, Alexis and Sarah all stood just inside the large room.
"This is kind of a mobile command centre that we sometimes use at the end of a mission." Alice explained as she walked over and took a seat next to her mother. "We will explain everything to you later mum, but right now we all need to get cleaned up and just take some time to mourn." Alice said just before she broke down and started sobbing again. This soon set Pamela, Sarah and even Alexis finally broke down and fell to her knees in sobs of tears.
Alexis looked up from the floor when she felt someone hugging her, and she found her mother looking into her eyes with a sad smile. "I'm sorry mum. I'm sorry I couldn't save him for you." Alexis said through blurry eyes.
"I know you are sweetie, but your father chose to give his life to save your sisters, something I think you know only too well by now looking at you." Pamela said as she looked into what looked like Alice, but she knew it to be Alex, now Alexis. "I hope you realise you all have a lot of explaining to do later." Pamela said as she looked over at Alice and Sarah sat huddled up together as they sobbed.
"We figured that out already." Alexis said with a roll of her eyes, just like Alex use to do when he knew he was in trouble growing up.
"Some things never change." Pamela said with a little giggle when she saw the eye roll. "I'm sorry about your assistant Alice. She didn't deserve to die like that." Pamela said as she thought about Brenda getting shot back in the lab.
"She didn't die mother." Alice said with a grin. "You're hugging her right now." Alice added with a grin when she saw the look of confusion on her mother's face.
"You were playing Brenda?" Pamela asked as she looked at Alexis. "But... How could you look like that, and still be Alice's twin?" Pamela asked looking completely confused by it all.
"Let's just say we have access to lots of cool toys." Alexis smiled. "Let's talk about it all back at command over a drink, but right now I want to get dad cleaned up and put in a safe place for the trip home." Alexis added as she got to her feet and then helped her mother to stand up, so they could get Paul sorted out.
They soon had Paul's body cleaned up and dressed in some clean clothes. Alexis then placed him in a draw of a refrigeration unit, before she went to join the others in a rest section they had in the truck. They were all to numb to talk much, so they just sat looking at each other, but mainly Alexis and Alice were looking at their mother, while she kept looking over at Alexis and Sarah sat cuddling up to each other. Alice was cuddled up to her mother facing them.
Then men driving the truck soon had both cars load in the back of the trailer unit and then they were on their way back to command.
*****
The truck stopped a couple of times before it felt like it had pulled into a building of some sort, then they all heard a door open just before Lana burst into the room and threw herself at Alice. Pamela thought the woman was trying to attack her daughter until she saw them start kissing.
"I'm never letting you go on another mission ever again." Lana said between kisses.
It took Alice another couple of minutes to prise Lana off her long enough to point out that her mother was sat right next to them while they were making out.
"Lana, I'd like you to meet my mother. Mum, this is Lana my girlfriend." Alice grinned with pride.
"Hello Mrs Farrey. It's nice to finally meet you, but I just wish it had been under better circumstances." Lana said looked a little sheepish now she realised what she'd just been doing with Alice.
"It's nice to meet you to Lana, and please call me Pam." She smiled a genuine smile, happy to see Alice had found someone to love. Pamela also felt some pain at the loss of her husband, and the fact she would never get to feel loved in that way again by Paul.
Lana led them all out the truck and over to the elevator to take them all down to the base, but not before Pamela made sure her husband was going to be taken care off. Alice assured her that dad's body would be well looked after and would be stored down in the morgue they had. Thankfully it was a room that didn't get used very often and only for bad guys up until today. Alexis hoped it would never see another person she cared for in it either.
Once Pamela was happy with what they had done with her husband, she followed Alice, Alexis and the others out of the morgue where they found Bob stood waiting to talk with them all.
"I'm sorry for your loss Mrs Farrey. I know that Alexis would have done all she could to get you all out of there alive." Bob said as he held out his hand to shake Pamela's.
"Thank you Mr?" Pamela said with a question in her voice.
"Bob, they just call me Bob, or old man." He said when he realised he'd never said who he was to begin with.
"I know that Alexis did all she could to keep us all safe, but my husband chose to give his life to save that of his other daughter Alice, while Alexis was saving me, taking a bullet to the arm in doing so." Pamela said as she looked at Alexis still stood with her arm around Sarah's waist. "Not that you'd ever believe so looking at her now." Pamela added with a raised eyebrow. "I trust I have you to thank for the way Alex now looks?" Pamela asked as she looked Bob right in the eyes.
"Yes I helped Alex become all she could be." Bob said looking Pamela right back. Bob was a little shocked with what Pamela did next though.
"I'd like to thank you for looking after my child, or should I say children?" Pamela said as she held out her hand to shake Bob's again. "I knew from a pretty early age that Alex was going to end up taking this path with his life, but his father just wouldn't listen when I tried to tell him." Pamela added with a smile as she looked at her other daughter stood with her girlfriend.
"You knew about all the dressing up and stuff?" Alexis asked with her mouth hanging open.
"Yes I knew, but I also saw how happy it made your sister to have a friend and someone to go shopping with, so I let it go." Pamela said with a wave of her hand to let Alexis and Alice know they weren't as smart as they first thought they were. "I also knew that you wouldn't have ever meant those things you said that night the police showed up, but you must have had a good reason, so I played along with your father so we could keep Alice safe, just like you wanted." Pamela explained with tears in her eyes. "I tried so hard to get you moved, but then we found out you'd been killed in prison, and Alice left home." Pamela said as she finally broke down and held her arms open to give Alexis a proper hug.
"I never understood why you sided with dad so easily, but now I do." Alexis said as she enjoyed the hug she was getting.
"You and Alice have a bond that not even I can understand, but I had to save her from herself back then. She was all set to own up to the whole thing being her idea, and you were just covering for her." Pamela explained.
"It did all happen to Alice mum, and I did cover for her, but only because I thought Alice's life was worth more than mine back then." Alexis said with a sigh.
"Well I'm glad that someone thought it was worth something." Pamela smiled as she looked over at Bob again and mouthed the words 'thank you' to him.
Bob nodded back at her in a way that said she was welcome, but he was soon all business again. "I'm sorry to do this now, but I need you to follow me to my office, so we can take care of a little paperwork, then Alice and Alexis can sit and tell you all about their lives these past six years." Bob said as she waved towards the direction of his office.
"Do we have to do this now old man?" Alexis frowned. "She's not going anywhere to tell anyone anything." Alexis pointed out.
"I don't mind honey." Pamela smiled. "I'll sign anything that means I get to find out what my babies have been up to these past six or seven years." Pamela added as she started walking down the hallway with Bob at her side.
*****
Pamela soon had all the papers signed and smiled as Alexis sat grumbling about no one ever taking the time to read what they're signing. Alice and Sarah had to explain to her about how Sarah had done the same thing she'd just done when she found out Alexis was still alive and was now working for the government.
Alice, Lana, Alexis and Sarah all took Pamela for a tour of the complex and she got to meet Bill and Ted. This was another thing that made Alexis grumble when Pamela whispered to the others as they left coms where Bill and Ted were filing all the data from the mission.
"I think those two are far more than just friends." Pamela said as she looked back into the room just before the door closed and they carried on the tour.
Alexis couldn't work out how she'd missed all the signs others could see so easily, but she was soon thinking about other thing as Sarah turned her around to face her so they could kiss.
Pamela couldn't quite understand Alex now being a woman, but still being in love with one as well, but she was happy to see Alexis had a reason to come home after a mission.
"Your life doesn't look meaningless anymore sweetie." Pamela smiled as she looked at Sarah and Alexis hugging each other.
"It's not mum, but Alice and I still have a job to do, and we take pride in doing it." Alexis said as she looked at Sarah's beautiful face. "That was a nice job you did in the car today." Alexis added with pride for how well Sarah handled herself first time out on a mission.
"I had a good teacher." Sarah grinned just before she kissed Alexis again.
"Does anyone else live here with you all?" Pamela asked as they finished the tour and started making their way back to Alexis and Sarah's apartment to sort out something to eat.
"Yes a mother and her two daughters, but they're away at the minute." Alexis said. "Tammy, one of the daughters is like me, and she's having her surgery over the next couple of days." Alexis explained.
"Is that the surgery to make her a girl, or the one that makes her super strong?" Pamela asked with a grin when she saw the shocked look on her daughters face again. Pamela was beginning to enjoy that look.
"I saw the way you ripped that lab door open like it was made from tissue paper back at Diablo, then you picked up your father and carried him like you were carrying a bag of groceries." Pamela went on to explain when she saw that Alexis wasn't about to answer her question.
"Tammy is having surgery to make her a girl." Alexis finally said. "She will have the other treatment later, once she's fully healed." Alexis explained.
"Are there any more like you around?" Pamela asked.
"No, Tammy will be the only other one there is, due to a slight complication with the treatment." Alexis looked a little nervous to be talking to her mother about all this so soon after meeting her again, and in the shadow of her father's death.
"We can talk later honey." Pamela said as she pulled Alexis close as they carried on walking down the hallway towards her and Sarah's room. Pamela could see that Alexis was finding all this closeness a little overwhelming.
*****
And talk they did over the next four weeks Alice and Alexis told their mother all about the guardian project, and what Alice had done for three years while Alexis hid in plain sight wearing the helmet she'd seen Alexis and Sarah wearing on the mission.
Pamela moved into an empty apartment just down the hallway from the others, and she set about helping them on missions as she got to know her children again. Bob liked the fact Pamela was going to be hanging around, as it helped to balance out Alexis's temper a little bit.
They had a small service for Paul and had him cremated and his ashes were placed in an urn that Pamela kept on a shelf in her apartment. Both Paul and Pamela were pronounced as being dead at the Diablo Tech shooting, so it wasn't like they could have a grave for Pamela to go and visit without people finding out Pamela was still alive.
Bob wasn't happy to let Alice show her face either while Nash was still on the loose. Alice was the only one that still had the plans for the guidance chip and program as far as Nash knew, so Alice was almost a prisoner in the base while they tracked him down and dealt with him.
Tammy had her surgery and was spending some time recovering and just taking a break from life in the bunker. She spoke to Alexis and the others almost every day, and told them all about the fun her and Melissa was having seeing different parts of America.
Bob had organised the holiday for Maggie and the girls a chance to get away from the bunker, but it gave Alexis and Alice time to bond with their mother again now as well after so long apart and not speaking to each other. Pamela also had to get over the shock of losing her husband, and finding out her son was still alive, even if he was now a she and had special gifts.
The time soon passed and Pamela fell in love with both her daughters all over again, even if Alexis and Alice did play the odd trick on their mother and pretend to be each other.
Pamela also claimed Sarah and Lana as her children, and the two of them soon took to calling her mother and mum, just like Alexis and Alice did. Pamela even ended up with Bill and Ted calling her mum by the time Tammy, Melissa and Maggie were due home.
Alexis and the others were excited about Maggie and the girls return at the end of the week, it had been six weeks since they last saw each other in the flesh, and Alexis was eager to get back to training Tammy. The others would be glad for Alexis to do something other than trying to track down where Dillon Nash had vanished to. He'd dropped of the planet since flying away in that helicopter on the day he killed Alice and Alexis's father when he tried to shoot Alice.
Bob knew that Alexis wasn't going to let the matter drop with Nash, so he threw his weight behind it, and set to work helping where he could to track the man down and help Alexis slay her demon.

The story will continue in book three. Tammy and Melissa return to start their training again with Alexis and Sarah. Alexis tracks down Nash. Tammy also starts her treatment to give her the special abilities Alexis has, and Alexis and Alice get to know their mother a little better. All that is to come in book three. Fallen Angel.
Authors note: I'd like to thank you the reader for taking the time to read this story, and also beg you to click the Good Story button and leave me a kudos to let me know you liked it. Firstly I write for my own pleasure, which I then like to share with others, but it is nice to see that others like what I have bouncing around in my head trying to get out *giggle* Please check out some of my other work while you wait to read book three.
Hugs, Love and Happy Reading.
SaraUK
Story by SaraUK
Edited and Posted by SamanthaK
EDITORS NOTE: Please Comment and/or leave Kudos and let Sara know you like her work please, Any comments on spelling, grammar or the layout of the story please PM me "Samanthak" not Sara. Thank you
---
If you liked this post, you can leave a comment and/or a kudo!
Click the
Good Story!
button above to leave the author a kudo:
And please, remember to comment, too! Thanks.
This story is 8353 words long.