Chris & Julia's Big Day
By Sharp.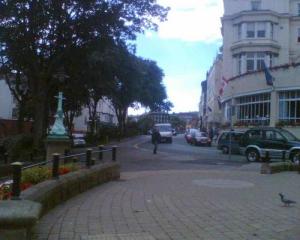 A Gabyverse Fanfiction.



Chapter 13. Day 11 Wednesday 10th July 2008.
Visit to Escape and Junction 32 at the former Glasshoughton site.
During the night the construction of the harbour was completed by the Russians and all the services connected up by the local utilities. The mayor of Scarborough had gone to inspect the new installation and make preparations for a party in the evening to celebrate its opening. The oldies who wanted to go shopping had boarded the coaches driven by John & Arthur. Den had taken his coach to Paxton's the coachbuilders to have certain modifications done. He was given a lift back into town and went for a wander round. Not before he telephoned John & Arthur to say Paxton's had asked him why they had not taken their coaches in for the same modifications.
Julia had decided to join Nena & the team on the helicopter going to Escape. They all had a light breakfast and then made their way down to the St Petersburg where they boarded the helicopter. Constance came on board and spoke. "I was not sure if I was included or not. This little one is still clinging to me like a leech."
Gaby. "I see your sister Connie has also turned up."
"Hello they all insisted I come with them. They insist on calling me cousin so that is what I will be. Connie the twin of Constance. Somehow I am going to have to get hold of the birth certificate of the twin of Constance that died."
Nena. "Actually there are another two we have to find documents for as nobody would believe who they actually are."
They all got in the Helicopter that was going to take them to Escape. Nena found she was doing the part of the air stewardess and ensuring all her friends were fastened into their seat. The giant helicopter took off. Soon they spotted the coaches that had set off before them making their way towards Filey. Before long the helicopter was landing outside the Escape centre on the car park directly in front of the centre. They found they had a little while to wait, as the Escape centre did not open for another 15 minutes. Then Nena noticed there was a bike shop that was open. They entered the shop. There in the shop was a tall blond haired lady with blue eyes.
Gaby. "Do you mind if we look around? We are going into Escape. It does not open for another 15 minutes or so."
"No at this time of day we are always quiet. It is the weekend when we do the best trade. Last weekend I only managed to sell 84 bikes. Do any of you ride?" This brought about a lot of giggling from the girls.
Julia. "Sorry about the girls giggling. Most of them do ride. In fact they ride for Apollonaris and are known as the Angels the junior team."
Gaby held her hand out. "Gaby Bond team captain & junior champion. While there are all sorts that interest me here we do need some helmets for these tiny ones and some small skins, preferably in pink."
"Would that be Bond as in Jenny the ladies world champion?"
Jools. "Sure that is our mum have you ever raced against her."
"A while ago I rode with her and friends in Germany in a charity ride for mermaids."
Gaby. "I remember that it was across Germany and was for the mermaid's charity and it went all the way to Berlin."
Em. "In that case as a member of mermaids thank you. I know several mermaids who go to the Halifax branch meeting. We have just done two charity rides for Martin's house children's hospice and Yorkshire Air Ambulance in Scarborough."
"Yes I saw it advertised and I wanted to come across. However I had to work as some of the staff went sick. Normally I am not at this shop I am only helping a friend out. My place is nearer to Sheffield perhaps some of you have seen my shop and logo. It is a picture of me with horns coming out of my head and it is called the Demon Bike Lady."
Gaby started to giggle. "You must be Maddy Anne Bell mums old friend and the lady who persuaded her to go back to professional riding. Mum keeps promising to take me to your shop. So far we have not got to visit your shop. Mother will be here later in the day as she is going shopping across the road at Junction 37 with some of the family."
Beryl. "I have heard my mum speak of the demon bike lady. I think you might have come across mum & granny if you ride. I have the same name as granny and it is Beryl."
"Beryl as in going for a Burton? Oh my what is Jenny trying to do ensure she has the best junior team ever?"
Jennifer held her hand out. "My family the Lampkins complete the set of champion riders from Yorkshire."
"I take it you all arrived by that helicopter parked out front. The Apollonaris team is certainly going to town with you. So they have gathered together the children of three champion Yorkshire families. I hope the next time I do a charity ride some of you can take part."
Jennifer. "Well it is not a charity ride and only those with a screw loose will attempt it. Some of us are entering the Tri peaks cycle race in North Yorkshire."
Tiny who had remained quiet spoke, "No all the angels flew here from Scarborough."
Maddy Anne came across and looked at Tiny. "Your baby must be so advanced to speak like that or is somebody here a ventriloquist and making me think the baby talked? Gaby your mama would say I had a screw loose as I will make certain I am there for that race. You do realise it is not just cycling on a main road. It is over three mountains."
Nena. "I believe one of the girls was playing a joke. Constance here needs to find the nearest mother and baby room. I will be joining
Gaby on that race and yes we do realise how hard the race will be."
"That is easy just go through the main doors they should be open now. The facilities are at the far end. If you care to call back I will have the items you requested." With that they left the bike shop.
Greta . "I nearly wet my knickers when she thought Tiny was a baby who spoke."
Constance was laughing, "I have a good mind to get one of those baby slings for Wee Wee. Most people already think she is my baby. Perhaps I should dress her as such."
Wee Wee giggled. "Mama."
Constance. "Em what is this mermaids the lady in the shop was on about. Obviously you know something about it."
Holly. "I will answer if you do not mind as my sister and I have been attending the meetings far longer that Em. Mermaids are a charity that helps young people find themselves. They have meetings at various places around the country. Not all the children have the same complaint. Some like us are born both boy & girl. Others have boy's bodies but think they are girls. Some are girls who want to be boys."
Princess Wilma stepped forward. "Constance you will not know but I was affected. I joined the army & was male. I did not realise I also carried female parts. I teased my cousins something rotten. Then I got sick and I started to change to the girl you see now. I know others of my cousins have been affected so perhaps all the changelings should get sponsorship and do this ride."
Em. "Mum chose the Halifax meeting as she thought it would be far enough away from home for people not to know me. It was nice going there and I was made welcome. I got chatting to Holly & Ivy & noticed the mark on their wrist. For me it was a real surprise to find other children in a similar circumstance to me. I thought I was alone. Initially I did not realise I was a lucky one and that my body would decide for its self I was going to become female. Some of the children at mermaids will need therapy, drugs and surgery to make them as complete as they can be."
Connie. "Gabriel apparently you have made Scarborough your home for now. As we left the harbour was being enlarged to take even the largest of ships. I suggest we send invites to all the mermaid groups inviting them all to Scarborough for a holiday. Perhaps we could have mermaid races on the front similar to the weekend rides we have just had."
Inside Escape Centre.
Nena approached the entry kiosk. The lady in it spoke, "Are you all one group? Will the children be wanting the toboggan or the ski run?
"Do I have to pay separately or can I get a ticket that will cover both."
"Well the children can go on the toboggan without their parents, but they must have qualified adults with them on the ski slope. We will be rather quiet until after lunch so there will be no limit on your tickets. Normally we have a timed session." Baby noticed her real parents coming in.
Nena. "I better pay for these two as well. They are both Olympic ski instructors. You two have just turned up in time to help teach the girls how to ski."
"We did not realise at first where you were going. We decided we might as well get a bit of practise in. Has Baby told you she can ski as good ass us?"
"Actually I took it that none could. Connie here though can and I can a little. By the time they got to the changing room all the tinys and the remainder of the team were changed.
Once changed and correctly attired they entered the slope. Tiny looked at the toboggan. "There is no way I could pull that up their on my own. It looks like I will just be stuck with the skis."
Jools picked Tiny up. "You are silly of course you cannot take this up on your own mummy has to be with you."
The man at the bottom spoke to Baby's parents. "You two must be very proud grand parents. Your grand daughter speaks very well for her age. The tiny ones always want their mummy when it comes to the toboggan. I take it you are both going on the ski run?"
The husband was trying not to laugh as they caught the ski lift to the very top. "So we are the doting grandparents. Well we know differently. Look at all three they are all enjoying themselves. It looks like Tiny is going to get her wish and go on a ski slope with our daughter."
It was only when they got to the top Gaby said, "I have just realised the oldies should not be here yet as they were coming by coach."
"Gaby there was a slight slip up both John & Arthur should have taken their coaches for a service. Den telephoned to ask where they had got to. Well we had only got as far as Caton Bay when we had to turn round so the drivers dropped us by the St Petersburg and we caught a flight here. In fact some who decided not to come have changed their mind and joined us."
Gaby then noticed her parents coming up on the Ski lift. "Mum we called in at the bike shop next door and there is a friend of yours running it. She calls herself the Demon bike lady."
Jenny laughed. "I will call in and see Maddy Bell later first though we have some practice to do before we set off."
"Mum it is easy we learned while in America. Have you seen Jools and her baby? You are grandparents & I must be Aunt Gaby."
Tiny who was in Connie's arms piped up "Granny Jenny need a tut." She then held her arms for Jenny to take hold of her.
Tiny noticed Princess Alice and some of the others sat in the bar watching them. "Look Nana Alice"
The man at the top of the slope was taken on with Tiny & Baby. Tiny decided to test him and held her hands up and said, "Dada."
The man picked her up and gave her a cuddle. "Sorry little one I am not your Dada. As much as I would love to take you home. My wife is in the kiosk & cannot have children. Also I can see you have a mummy who loves you very much." He handed Tiny back to Connie. "There little one you are back with your mummy now."
"Want Gaby Tut."
"Give me the sling Connie I will take her down the slope this time."
Tiny let off a screech "Tiny sliding down. Mummy help."
Connie came skiing down and said, "Mummy is here Tiny."
Lucinda. "Do you mind if I take her?"
Tiny went on to Lucinda's shoulders and then they went up on the ski run. "I see you are back with a different lady."
"Mummy."
"Yes I understand. All ladies are mummy or Nana & men Dada."
Tiny spotted Draconaris coming up on the ski lift and shouted "Grandpa, Tiny show you what to do."
"Lucinda I think I better take her as you are not fit enough to carry her."
The staff member looked concerned. "Have you had a serious illness"?
"No she was attacked, beaten and knifed and has not fully recovered yet."
The man closed his eyes and placed his hands on Lucinda. "I can feel your pain. I can take it away for a little time. Sir I know from first hand experience what it is like to have a child injured like that. Previously I said I had no child. That was not correct. We do have but she has been in a trance since being attacked and raped. I hope your attacker gets his desserts. The one who attacked my daughter fled to Estonia."
Lucinda's ears picked up. "I come from Estonia did he look like this?"
The man looked at the photo and then said, "You also are a victim of Vlad the vampire. He whipped my daughter and then he....."
Lucinda took his hand. "He carved a cross on her front like he did with me."
Draconaris. "He has been taken into custody and will not see the light of day again. I am a doctor and I may be able to help your daughter if that is your desire."
"Sir I am a Catholic and yet I wished the hounds of hell would arise and hunt him down and rip him to shreds for ever. I know I am taught to love my neighbour, but it is hard when something this happens to your child. I will have to go to confession and tell the father my bad thoughts."
Lucinda placed her hand on the man and said, "I will visit your daughter as we are now sisters, as for our attacker grandpa Draconaris said he has been dealt with already."
The woman who had been on the till. "Excuse me did you just say Grandpa Draconaris?"
"Yes Madam that is me."
"Oh I have a story to tell it was some years ago. I went to Germany on holiday with some friends. I saw an elderly lady fall into the Rhone while on a visit to the glacier. I managed to drag her out. She said, "Thank you dear. I have no money, but I can give you a gift. She brought out a stamping set and placed a stamp on the back of my hand. She said, I had no children but you gave me of your life so now you are my daughter. If you ever find Draconaris say you are Matilda's daughter. Well I came back home & the mark did not wash off. When I look at it and I still think of the old lady. I got married and had a daughter & then she started to see Vlad. At first we liked him until that Christmas & he danced with me. He noticed the mark on my wrist and called me devils spawn and lots of nasty names. My husband smacked him one and told him to keep away from us. Several days later he attacked our daughter and then fled the country."
Lucinda held her wrist out. "Want to compare. I do not know Matilda, but I can see anger rising in Grandpa again. By any chance did you kiss Matilda?"
"Sure I gave her full artificial resuscitation as I was taught as a child by the St John's. If I had not done so she would have died there and then. The strange thing is sometimes I think I see the old lady and then she is gone. I thought I saw her earlier this morning and I looked again and it was a younger female."
Draconaris. "Tiny will you awake the lady from her slumber as only you can."Lucinda placed Tiny in the woman's arms.
Tiny. "Mummy Lucy Wee Wee." The female shot out of the chair and took Tiny to the toilet. She then realised she was with a stranger. "You have been sick for some time I was used to bring you round. Actually I am your daughter in a way or at least your daughter is my half sister & she is with my mum & your parents. My real mummy was also a victim of Vlad. You will have to come and live with me so Grandpa Draconaris can dress your wounds. He had a face like thunder when he discovered how you had been treated. Also he has learned something he did not know. Your mother wears the mark of Matilda. Can you carry me back please"?
"My daughter Tiny has informed me I have to ask Lucinda if she minds sharing with me as I also need the skills of Grandpa Draconaris to heal me. She also says I have to get mother to show Grandpa both her wrists and not only the Matilda wrist."
"I never knew my real parents I was brought up in an orphanage. On my right hand I have a birthmark similar to that the old lady put on me. I did not realise at first it was similar and when I did the old lady was gone."
Baby & mother arrived. Lucinda spoke, "This is Lucy sister and she needs our help. We three must become as one." All three females started to glow as they cuddled each other. After ten minutes they broke contact.
"Mum dad I do not know what just happened but all my scars no longer hurt. Oh they have all gone. Well almost I still have a cross on my front."
"So do I and all my marks are gone."
"I think they might have been transferred to me in the shape of a cross as one has appeared on my chest."
"Oh I have now a mark on my wrist."
Lucy's father. "Am I correct in thinking all these currently here are all your family sir and that you are in some way related to my wife?"
Tiny. "All the others are going to Wetherspoons for lunch. We have to join them and the Empress commands we bring these four."
Tiny & Baby pulled at the mans trousers. "Can you manage to carry us two? Our mummies do not have the strength to do it now." They both kissed him on his cheek. You have to come now as we kissed you. You will be our Grand dad forever. We have lots of tinys to share you with. Did you feel that tingle? That was the sign all the Tinys accept you."
The woman. "We have not introduced ourselves I am called Lynn and my Husband is William & our only Granddaughter is called Louise. There seamed to be rather a lot of tiny children are they all sisters?"
Draconaris. "As you will have guessed by now my family has some unusual skills. The tiny ones have just scent marked you as theirs. That is so all the others know they can come to you for a cuddle. I was prepared to treat Lucy the same way I treated Lucinda it appears they can summons the power of three to heal their wounds. Certain cousins and I do not age. I am far older than you may think. Matilda is a cousin of mine who is also here. She like me has regenerated and so you will not recognise her as the old lady you saved. You will still know her and so will your husband. As for the other mark you bear we will see what Princess Alice has to say about it."
The man started to laugh. "So my wife can stop using all those creams to make her look older. If she washes them off she only looks a little older than our daughter."
Tiny. "We have another Constance or Connie. Do you produce lots of milk?" Lynn looked uncomfortable with the question.
Louise. "Granny gets embarrassed about it. She usually has to extract it and throw it away."
Tiny. "No you must not do that. Baby, Tiny & Wee Wee all have lunch bar now. Granny Lynn carry Tiny and feed her all the time. So long as you producing Tiny has no need to eat."
Louise giggled. "Granny Tiny is correct she would make the ideal baby for you. Will she not get bigger though"?
"Bigger I doubt it as I am 16 years old and look about 18 months. Baby & Wee Wee are the same as me perpetual babies. That is why our real mothers can no longer feed us. Now that no longer is a problem. If Vlad is your father then Louise we are half sisters & some sort of cousin."
"In that case will you both kiss me so your other little sisters all know they can come to me for a cuddle?"
"You are silly they already know that. It is only the men we have to mark as there is not many of them."
No sooner had she finished speaking than a gaggle of tiny girls appeared. "Grandpa come it is time for your lunch. Oh Tiny & Baby you are trying to confuse us you have marked another Grandpa. Well we had better take you as well as Grandpa Draco. At least there is one more to play with us. Grandma stop laughing if Tiny cannot cope then we will have to take over. Hello Louise you now have us to look after you. It is hard work for us tinys looking after all these grown ups that get themselves in a pickle."
"By any chance are there any normal size girls?"
"Well yes and no some we might sort of call mermaids."
"Oh in that case I will join that group. Where do they go for their meetings I joined the Halifax group some time ago but granny cannot always take me. Have you met the lady in the bike shop she raises funds for Mermaids?"
Tiny. "Maddy Anne yes we know about her."
Draconaris. "Gabriel wants all the mermaid families to be invited for a week's holiday. She wishes to see all the children. Gabriel reasons there could be others of the family among them and she wants them all collecting."
"I know of two girls both with marks on their wrist like granny. They live in Harrogate. I should have their mobile number on my phone. Hi Holly & Ivy this is Louise you well never guess what has just happened. I am at Escape with my mum and grandparents."
"So are we at the moment we are waiting for our Grandpa to come and get his meal."
"Grandpa as in Draconaris? If so he is with me."
"Tiny it appears some of my friends are already here. They both said great you are already in our club."
The small group made their way to the restaurant. After they had all eaten Draconaris said "Alice will you inspect these marks please?"
"Well I see Matilda claimed you as a daughter. This on your other hand was not done by Matilda or she would not have claimed you. A foolish child did this. You will cause me problems. Your child has united with my grand daughters. Aunt Matilda has claimed you as her daughter. Your real mother has left her mark on the wrong hand. To cap it all Draconaris wants to assume responsibility for you and all your family. Gabriel what do you think about this?"
Gaby looked and said, "I presume Matilda is the senior one. It is obvious to me this one has kissed Matilda at sometime."
"The old lady fell into the Rhone & I dragged her out & gave her AR as I was taught."
Nena. "William you must be protected by your wife. However you might soon be confused as there are another two who look exactly like your wife. When I say exactly that is what I mean. Your wife inadvertently shared her life with an elderly relative. From that day that person became her sister. She in turn was pleased to find another relative & they embraced. They soon realised that they had a problem."
Draconaris grinned as they approached. "Lynn we both have an apology to make. I did not realise you carried the genes you do. You actually shared your life with me and I became you. Alice you are quite correct if the branding had been done correctly in the first place. I would not have marked you Lynn."
Tiny. "I do not know what you are all going on about. The answer is obvious. My mummy, Baby's mummy & Louise's mummy are all sisters and so they all must bear the senior mark. That of Grandpa Draconaris."
Gaby. "Alice you heard the decision of the children. I agree it should be altered to that of Draconaris and Alice you can do it correctly this time. However Wee Wee is complaining she never got on any skis and she wants to go back."
Baby's mother. "I noticed some small snowsuits and skis in one of the shops. Will you three come with me & I will get you fixed up correctly."
Nena. "In that case I might get a snowboard. I have a set of Skis at home."
Julia. "If you do not mind I will sit down. Matilda held her hand.
"Ha I understand now. Draconaris this one needs to rest will you ensure she gets pushed around. I do not want this one exhorting herself. I am still the senior matriarch here and expect to be treated as such although I look like one of the girls."
Nena was quite concerned foe Julia "I will go for a chair."
"No she needs you here. Draconaris is quite capable of getting it."
Matilda took hold of Nena's hand. "Ah now I understand fully and there are six of us who can relive you of your duties if you need a break. As for this one she has a tomboy streak she needs to get out of her system."
Gaby. "Matilda just because some of us like sports does not mean we are Tomboys. In today's world boys and girls have to compete on almost a level field. It is slightly different from when you were a girl and expected to be prim and proper. Do sewing or art and possibly ride sidesaddle. For all the differences in the worlds we come from, girls are still girls, they like to shop and be pampered. Nena like me can never go back to what she once was. All I ever wanted to do was become a champion rider like mum. It looks like that might be one thing that has to change. I will continue riding for as long as is possible. At least I can say I have beaten the Men's champion twice now. Tomorrow I want as many of our people at Harrogate as possible. I have asked for special trains to run from Scarborough to Harrogate. Those who want to go will also be given tickets to get in the grounds."
"Holly & Ivy will you take the Mermaids and collect Maddy Anne from the bike shop. You are not to take no for an answer." A few minutes later they returned with Maddy Anne.
Jenny. "Ladies this is my friend. She persuaded me to go back as a professional and race. Maddy while she also likes to cycle has decided to concentrate on selling bikes. That is apart from when she decided to do charity rides and persuades me to do it with her. Well this time I have to persuade her to take a new job."
Martha. "First we would like to thank you for all the money you have raised for the Mermaids. I have a job offer to make to you. Jenny tells us you are a budding author. Well what we want to suggest to you will allow you more time to ride. What we would like you to do is listen to Gaby & her friends and then write their story. We will attend to the publication, Gabriel though would prefer for any money raised to go to the Mermaids charity."
Nena. "Jenny has told us all about you and so we decided to invite you to come and live & ride with us and write our stories. In fact all our Mermaid members think it is a good idea. Between them all it should keep you occupied for some time."
Em. "Between us there is scope for countless stories. All you need to do is listen to us and write our stories. Some may overlap like the visit to America. When you have finished with the children there is the adults. One could be Jenny's story."
Jenny. "Maddy Anne we have known each other for a very long time. My daughter insists you leave the managing of your stores to your managers. She also insists you accompany her on the Tri Peaks race."
"None of you are leaving me much room to move. If I say no I could be depriving my favourite charity of a lot of money. If I say yes I get to ride more often. I also will get to mix with far more people than come in my shops."
Sigfried. "Young lady if you have the time perhaps you can write about me Sigfried of Bavaria & nominal owner of Appolonaris."
That got the attention of Maddy Anne. "This is no joke is it?"
Renate spoke in a rather sharp tone. "Young lady Sigfried does not joke. When the Queen of Bavaria requests you as a writer you drop everything and do it."
Maddy Anne burst out laughing. "Jenny this is the best joke you have ever played on me. Even I know Germany has no Queen. I may not watch the news or read the papers. When I visited Bavaria the signs all say welcome to the Kingdom of Bavaria. One of my friends explained the Prime Minister would be their king if they still had a king."
Jenny shook her head, "My friend that last statement was partially correct this is Sigfried of Bavaria Prince Regent & Prime Minister of Bavaria. Bavaria actually has a Queen although technically she is an Empress. As she is only young and she is the Queen of many countries which eventually will also include the British Commonwealth."
Maddy Anne Bell for a while was stunned and then she noticed the guarded helicopters. "Oh I need to go to the toilet."
Maddy went to a cubical and sat down. She then fished out of her handbag her mobile. She pressed a button & it asked allow network access? She replied yes. The BBC news told her she had just boobed. Maddy washed her hands and brushed her hair and then checked her lipstick.
As she was about to leave Tiny came out of one of the cubicles. "I wished they made these basins lower so then I do not have to ask strangers to lift me up so I can wash my hands. Thank you for that they are waiting for us. If you want I can give you a quick lesson on how to do a curtsy."
"I made a big boo boo out there. I insulted a prince. I will have to apologise."
"I was sent in here as they thought you might find me the least scary. Her majesty knows all about all of your charity work & has decided to make you a lady. I think that is correct. If you were a man you would be a Lord."
Maddy scooped Tiny up in her arms & went back into the room. "I think somebody has lost their baby as I have just found her in the washroom. Sir I have to apologise I honestly thought Jenny was playing a joke on me. Madame I hope this curtsy is correct I am not used to doing them. If the job is still on offer I would like to accept it. Jenny I had sorted out the small sets of skins your daughter requested. Gabriel if it will help the mermaids then I will tell your story. I will try and make it interesting so people will buy it. I have a question as there are so many of you am I allowed to ask some friends of mine to collaborate with me on the stories?"
Renate. "We already have a list of your friends. Or at least a list of those Jenny knows about. I notice you have several friends from Germany, Switzerland and Netherlands. Perhaps some of these friends can tell the story from the perspective of those in the team who only speak a little English."
Nena. "Until recently I was a travel representative and I could give you lots of true stories that happened to me and my friends which were quite hilarious."
"You all seam quite eager to get me to be a writer for your stories."
Tiny. "Maddy Anne Bell we would not just take Jennies say so. We know all there is to find out about you. The pay is low but you get all your clothing provided. Your transport and food all comes with the job. As an added bonus you get to look after me."
Maddy Anne started to laugh. "So I am allowed to lift you up to wash your hands."
Tiny nodded her head. Baby & Wee Wee said, "And besides us there are three small tinys and several larger ones. You will also get to ride in our helicopter or coach."
Julia. "We all understand you here better than you might think. If we did not the job offer would not have been made. I am supposed to be getting married to the love of my life in about two weeks. At first I wanted lots of Bridesmaids but in reality only had one friend to help me. Then Nena & I got this job and the amount of bridesmaids and flower girls has increased substantially. As you got told previously we have people from Germany here and I believe you already know Saphira who came across with Princess Alice."
"Saphi you never let on when we did the charity ride together that you were coming across to England."
"At that time I did not realise I would be here. I was doing my normal job when my great aunt summoned me here. Well like others who were not already here I had to drop all I was doing and come here. What a shock I got when I realised Jenny Bond and her family were also here. I have heard you speak of the Bonds often enough and even been in the occasional race with her. I though had never met the family before."
Granny Peters. "Renate overstepped the mark ordering them all here as that instruction was nor hers to give. However she thought she was the senior female here. You are here because of your friendship with Jenny & Saphi. My grand daughter has decided to do something for you for a change. Tomorrow at Harrogate she along with Queen Elizabeth will hand the prizes out. In addition several people will receive decorations from them both. Saphi & Jenny will take you across the road and get you dressed more appropriately. My sister Renate hates to see Ladies in jeans and crop tops."
Maddy Anne noticed the room had emptied considerably. "Maddy I knew full well you would be here today as I chatted with your parents. I also telephone Karen & Samantha. They got the keys to your flat from your parents and are currently packing away all your belongings. They intend to stay there a couple of nights to ensure they have everything of yours."
Maddy. "Most of my stuff is still at my parents. I had not got round to unpacking most of it since returning from Australia. My flat came fully furnished and so they will not have a lot to pack away. You must have been sure on me to go to so much trouble just for me."
"You just met Tiny in the washroom. She may be small but she has a gift. She can be given a name and lock on to that person. She will know the deepest darkest secrets of that person. She did a preliminary check on you and then once you lifted her up in the washroom everything came flooding across to her. She says Lucinda will not mind if you want to play mummy with her."
"She read my thoughts. I was thinking I wish I could have a baby like you, but that cannot be."
Meanwhile the younger ones were back on the slope. Nena was having a go with the snowboard. Tiny, Baby, and Wee Wee soon got followed by the other Tinys as they followed in a long snake down the slope. Baby's father was the last in the line. Her mother carried baby back up to the top while her father carried both Tiny & Wee Wee. The other tinys managed to keep hold of the ski lift. Gaby & Maddy decided to try the toboggan run and they set off hell for leather down the run. The toboggan itself was like a giant tyre. After half an hour of that the two decided to go to the surfboarding class. Eventually they all tired out or needed something warm inside them.
They noticed the oldies had moved back to the bar. They went to join them. Maddy spoke, "Well Tiny what am I thinking now?"
"That is easy you have been watching me & wishing you could go on the toboggan with a tiny."
Wee Wee. "Me me me I will go again."
"Ok I will take you. Can you read minds like Tiny?"
"Wee Wee not as good as Tiny, But I can a little. Tiny & Baby are better than me. I can sense though you need a tiny to look after you. Queen Mummy Jenny right you need tinys to look after you. "
"Jenny is not a queen mummy. I should know as I have been her friend for a long time."
"You are wrong her son Andrew is now Gabriel and she is Queen of Northumbria & engaged to William Wales. It is Queen Gabriel who will give you the award tomorrow. How much do you know of German & Russian history"? By Drew's grandmother he was entitled to the crowns of Bavaria & Austria. But he also is a direct descendant of Tsar Nicholas & Robert Battenberg king of the three Germanys. In Germany Salic law normally would have happened. However Andrew was registered as a boy although he is slowly changing to being a female. All the countries will accept Gabriel as female and have had to change their rules on succession."
"I never realised Jenny's child was afflicted like that. If I had known I could have offered some advice."
"Drew has for some time been both Drew and Gaby just as Chris has also been Nena. They both come from the same family line and will be cousins. Chris at least will have the chance to become a father before her final change. For Drew that is no longer possible although she might one day be a mother. You may think you have problems, but just look at my family. "Boys who change to girls, Girls who are the size of babies or toddlers. Ladies who constantly produce milk although they never have had children. Ladies & some men who never age regardless of how old they are. People who are supposed to be dead but are very much alive."
"Oh I might fit in better than I thought. I was due to go to the doctors tomorrow about my problem. It is a little embarrassing to say the least."
"Yes I can see your problem. You need a tiny to fix it for you. It is lucky I had nothing to eat earlier so I can help you out. I think we had better go to the mother and baby room."
Constance came in with Wee Wee, "Oh your the story writer Maddy Anne. I did not realise you also had nursing duties. This is actually my cousin although people think she is my baby. My name is Constance. By the look on Tiny's face you must taste nice. Do not be surprised if some of the tinys creep into your bed and then help themselves to a meal. Wee Wee here always makes her way to my bed. Now she just sleeps with me. Has Tiny told you once the tinys start to empty you that you start to look younger and more beautiful? Your breasts actually become more firm."
"Now that is a joke. The next thing you will be telling me is that we are some sort of vampires."
"No but some of us do give life. After the tinys have drained you then you will start to look more like Constance here. Your DNA will change to match hers."
Constance spoke, "Actually she may be correct in part. If you were family I would say it would almost certainly happen. As you are not or at least to our knowledge then I am not sure what will happen. I can tell you that you will never be cold in bed. Now as these two have had their fill we had better go and see about those dresses you are going to need."
Maddy Anne looked at Tiny. "Oh my god your face is covered in milk. You actually have been draining me. I knew I produced a little. Come I better wash your face."
Wee Wee. "Tiny tried her best to drain you but you just produce to much for her to cope so she has sent a help message out. The other tinys can not come now but when we get home they have decided to miss tea and help Tiny out."
Constance. "Maddy you may want to have plenty of bottled water on hand as you will get very thirsty."
One of the very first shops Maddy Anne went into was the Laura Ashley store. The sales lady asked, "Would they would be interested in the mother and baby range they had in store."
Constance. "Well so long as we can have three large and three small ones."
Baby. "Five large and three babies."
Maddy Anne. "Did any of you get to Caton Bay."
Fiona who had been with the senior group spoke, "Yes we turned round there and we saw those houses that have to come down because the hillside has collapsed. It is a very sad time for all those people who are going to loose their homes. What I can not understand is why the builder was allowed to build those homes there in the first place."
"Jenny you did say that Karen & Samantha were at my flat? For a moment I thought I saw them going into that camping store over there."
As they were talking the two of them came out of the store holding a bag each. "Oh Maddy we intended to come across to the shop to see you. Aunty Angharad is at your flat so we decided to come across to see you. We also needed to get a couple of sleeping bags."
"Just how many of you decided to help me pack?"
"We thought you might need your bike so we put it on the back of the car and brought it across."
Jenny looked at the bike. "I am not sure that we can get it in with us. Could I ask you two to bring it across to Scarborough? I will book you a bed as I believe there is another party tonight."
Maddy Anne. "I think my assistant writers have just turned up. You did say I could have help to write these stories. These two plus Aunty will do."
Gaby was giggling away. "Anybody know their way round the Ferrands centre or the Deep in Kingston upon Hull. We need a local to show us around on Friday."
Both Maddy Anne & Karen pointed at Samantha. "Sorry my mind was elsewhere did you mention the Deep?"
Gaby. "Yes Samantha I need an expert to show us round Hull on Friday."
Samantha looked at Karen. "Oh I used to live there but do not these days. I live with a dear friend down South these days."
Maddy Anne. "I thought I was supposed to be the ditzy blonde. You two along with Aunty have been appointed as assistant writers to this group."
Gaby. "Some of this is reminding me of a dream I had. It was just after the visit to America. In that my friend Rhod had a grand mother who was known as the Grand Welsh Mistress. I also had a similar dream on the Isle of man when I met Oberon & his family."
Samantha. "Wow you do get some weird dreams, Witches and fairies you must be attracted to them."
Em. "Samantha do not make fun of things you do not understand. If Gabriel is having dreams about them then they are trying to contact her."
Samantha. "You said that with a blank face as if it was serious."
Silv who had been listening. "Em she is not joking the Grand Welsh Mistress is said to control a flight of Red dragons. She no doubt already has her spies here and they will report on what we say and do. When she is ready she will bring her flight to greet their Queen."
Gaby. "The red Wyverns were also in my dreams as was a Mr Vater and Mr Wyvern. Mr Vater sent his children to protect me. Come to think of it that may have already come to fruition. Em you and your cousins belong to the mermaids? So that could equate to the children of Mr Vater. Tiny, Baby, Wee Wee and tiny sisters could equate to the children of Mr Oberon. The Vikings were also known as the dragon peoples. So then all those who come from Germanic regions could be dragons. If so then I would already be surrounded by Fay of many types. I have just had another thought The Isle of Man was one of those areas designated as mine. I presume I am Queen of Man so does that mean I am a fairy Queen?"
This statement of Gaby's started a silly session with the Tinys. "Hello we are Tinys, Hobbits or Leprechauns of Gabyland. Nice to meet you Mermaid & Dragon cousins. Come dance with us for our Queen is restored to us."
At Junction 32 & The Duke of Savoy Cafe.
As they were dancing a man at least six foot with blond hair and blue eyes approached the group. "Excuse me did I here the children correctly? They did say the Queen was restored?"
Nena. "They are being silly pretending they are Hobbits & Leprachauns."
He gave Nena a wink. "In that case with so many of them here there must be great magic here."
Tiny looks at the stranger hard. "There is the greatest of magic here it is called love. That beats all other types." Tiny waves her wrist and the tinys all launch themselves at the man. He falls down under a hail of tinys.
Tiny. "Look what all the tinys caught. Nana Martha come see."
"Hello what are you doing down there, and what is your name?"
"I see I got the correct place. My daughter is going to love all these children. Her name means warrior maiden. My names mean Bright flame and brave defender. Has Lord Draco arrived yet?"
Gaby. "We have nobody of that name although we do have a Draconaris Diablo."
"So he is here after all. He has just changed his name slightly to Dragon Devil from Little Red Dragon or Wyvern."
Saphira stepped forward, "Sir I can assure you there are not one dragon here."
Bright flame looked at Saphira. "Yes of course she dragons are always correct even when they are wrong. The statement not one is correct. There are far more than one here. You are a Blue-Green so you must be a water one."
Saphira stamped her feet and walked away.
Granny Peters approached Bright flame and spoke, "You should know better than tease the children. Saphira still has to learn not to get in a strop when teased. Now why have you only just turned up when Renate called you all days ago."
"Sorry about that we had a little vacation in Bavano Italy for three Weeks. It was only when we got as far as Landeck that we got informed. So we flew from Munich to Leeds- Bradford & then we hired a car & got here. I see the Bavaria Mountain men are on duty today."
"Hello I am Charlotte. Papa is correct the reception in the mountains was very bad. I was on Monte Rosa learning how to ski three weeks & could not text my friends once. I did throw a few snowballs at Papa & he retaliated when I got fed up of do this do that. After the ski lessons were finished mama wanted to visit the island to see the saint. So we had to cross Lake Maggorie and go to the church and see the saint. It was an old family friend who passed the message on in Landeck. We went into one of the Internet cafes there and got a flight from Munich. Mama wanted to drive the car & we ended up here are we far from your home? Mama has gone to make a dent in papa's bank account. She says it is her compensation for three weeks on Monte Rosa. Papa wants some decent food. I had a snack at McDonalds."
Gaby pressed quick dial on her mobile "Hi can you send John & Arthur in a helicopter and they will need their licences. I have a little job for them. Greetings Lord Bright flame. You did not tell me your correct name. I have just arranged your transport. Maddy your bike and all Karen & Samantha's stuff can also go in the Helicopter when it arrives. John will take your car back to the airport. Arthur will take your car to Maddy Anne's parents and park it there. The Pilot will pick up your parents and Aunty and then it will be going to the Airport to collect John.
A woman came loaded down with carrier bags. "Well Rupert did you find somewhere to eat we have quite a drive to do yet. I was taking the wrong road but now we can get there as I got a map. I noticed Saphira or somebody who looks like her in a paddy. Good job Renate is not here or she would be getting the hairbrush on her bottom."
Princess Sidonie came running and launched herself at the woman. "Aunt, uncle has been teasing my twin Saphira. She has just calmed down."
Countess Von Hapsburg, "Oh did he and I thought he was going to order us some food."
"Well he has just asked where he could get a decent meal. You are coming with us back to Scarborough via helicopter."
Greta. "Aunt I noticed a cafe down here that you could go to and we could have a coke cola. Granny is shopping with the remainder of her daughters."
Rupert. "We had to practise in Italy as Lulu here wants the take part in the head bangers race."
Papa you know that is your name for it. I have to Ski on the Rhone glacier, Cycle across the mountain and then swim down the Rhone. I had to find a very thick wetsuit. The first time I jumped in the Rhone I was in my normal swim wear. Never again will I do that I jumped out again."
Nena. "You sound just like what we need for our team. We have our own head banger race. It is over three mountains and is called the tri peaks race. You have to cycle up rough tracks and in places will have to carry your bike and run with it."
Rupert replied, "It sounds like a race Lulu would like to enter but she cannot as her bike is back at home."
"Papa is correct my bike is back at home. By any chance is there a bike shop close by and I will get a new one."
Greta. "No need for that. We should have a spare bike with your name on. If Sigfried is aware you were going to enter then he will have made sure there is a bike for you. Gabriel this is my cousin Charlotte Von Hapsburg. I insist she is enrolled in the Angels head bangers section. She hates normal racing but likes a little extra. Like the triathlon you were telling us about. Swimming up the River Aire. Then cycling to the base of Mount Sharphaw and then running to the top. That is just something Lulu would consider."
"That sounds interesting. I might consider that type of race. Ok Greta I will join your group but you have to come with me. After all family have to stick together."
"Well said Princess Charlotte."
"Granny Greta has just asked me to join the Angels Mountain bike section. And explained to her friend Gabriel I like more interesting races. I accepted the offer Greta made. Will that be ok with grandpa? We were just going for some food and my cousins were going to come as well."
As it was a nice day most of the girls sat at tables outside the cafe while the adults went indoors. Rupert ordered his meal and the drinks for the girls then he spotted the cafe was selling cumbo jumbos. He asked a few question from the girl at the bar and then went outside. "Who for an ice-cream?" All the girls put their hands up. "Cumbo Jumbos ok?"
"Papa two of us better share one of those. They still are great fun though."
Renate. "Rupert for teasing the girls earlier you can also buy us one to share." Rupert paid for them and his meal had arrived. The waitresses were kept quite busy taking Cumbo Jumbos out to the children. Then they started taking them to the adults.
The manager came to see if everything was ok. "This is the first day we have had them on the menu. This place used to belong to one of the big international chains. I work in Hotel at Bavano for 20 years and these were always popular there."
Rupert. "I have just had three weeks holiday there at the Hotel Maggorie. As for if you got them right you had better ask the ice-cream experts."
The Italian hugged Rupert. "You stop at Papas hotel and now my cafe. Your name so I can tell Papa."
Rupert looked at the name of the cafe The Duke of Savoy. "The name of your cafe is rather appropriate as all those girls out at the front are all Princesses from across Europe. As to who I am well I am Count Rupert Von Hapsburg."
"Mama Mia you do not have the Duke of Savoy with you do you?"
Gabriel came in. "The three smallest did not get one and ask if they can share one please. There is no Duke of Savoy here although there is a grand duchess of Savoy."
"Oh I might be in trouble then if she spots the cafe name."
Gabriel took him by the hand. "Come we will ask the children. Cousins this is the manager & he has just realised he has called this place the Duke of Savoy with out permission. What do you suggest?"
Lulu. "Well I have just stayed at the hotel Maggorie in Bavano and they held Royal warrants from Sigfried & Renate. Perhaps a Royal warrant or two would do. We would do it but it should be the oldies who sign one."
Gabriel took the manager back to the adults. "Martha this gentleman's father back in Bavano holds royal warrants given by Sigfried & Renate. Every member of the angels would give him a royal warrant. Whose should he receive?"
Martha looked at the name. "Well as he is from Bavano I suppose it should be the Duke of Savoy's warrant or at least the Queen of Italy. Then he is now in Northumbria & it should have the Queen of Northumbria's warrant."
A female came to the table where Renate was. She did a curtsy and the girls also did so. "Apologies Mistress Renate. The girls have just told me whom we have been making Cumbo Jumbos for. These girls are all my daughters."
"So Maria this must be the Pepe you deserted me for."
"Mistress Renate you know once I got married I could no longer be your maid."
Nena. "So these are all your princesses or are they trainee maids?"
"Please Mama has trained us all to be maids or companions. Papa trains us all to be waitresses."
"Child what is your name?"
"Mama named us girls after her mistress and her sisters. I am called Renate as I was the second sister."
"Gabriel this is my former maid Maria di Savoy. Maria needed a job and I gave her it. Then Pepe stole her from me."
"So Pepe was thinking about you when he named this place. Are you related to the duke of Savoy? Renate should this one have been summoned?"
Rupert smiled. "If Maria is or was a di Savoy she certainly should be with us. Pepe Renate commanded all with Royal connection had to go to Scarborough. I was up Monte Rosa when the order went out. Like a good soldier once I received the order I had to obey."
A Japanese man was sitting nearby and heard this. He picked up his phone and spoke into it. Then he started to read his paper again.
Little Renate. "Mama we all now have heard the order. Even Papa must obey because he married you and took your name. You have drilled into us our entire heritage. Papa is going to have to find a manager for this place before we can go."
A young man & his wife & children were passing the cafe. He noticed the cumbo Jumbo Tiny, Wee-Wee and Baby was trying to finish. "Excuse me where did you get the Cumbo Jumbo? The only place I have seen them is in Bavano."
Tiny with a face full of ice cream pointed to the Duke of Savoy.
Maria. "Pepe go and make Royal Cumbo Jumbo for them all."
"Hi I am Maria may I help you?"
The mother of the girls spoke. "It is two of my daughters birthdays today. Instead of a party they wanted to come to Escape."
One of the girls interrupted. "Mum is trying to say she has only enough money for one Cumbo Jumbo and so could we have spoons so we could share it. We were due to be going abroad for our holiday but the printing place daddy worked at has gone to the bank. Mummy says until either she or daddy can get a job we have to be careful with what we have."
The man. "Oh my these are not Cumbo Jumbos as I thought but Royal ones. I also did not order them."
Prince Rupert. "Somebody trained you well to know the difference. As you can see we are also having a party. Now will you tell me how you know the difference?"
"A while ago before I was married I went to Bavano with Lakes & Mountains tours. I stayed at the Hotel Maggorie in Bavano. I became friends with two Italian girls one was due to get married to the owners son the other was her sister. I went on all the included trips but in my spare time and the evenings I helped the girls make Cumbo — Jumbos they were very popular. I enjoyed the holiday and even wrote to the girls when I got home. One day I got a letter from Maria telling me she had got married and her sister had gone into hospital & was not expected to live. That was the last I heard from either of them. As it was I was ill my self & ended up getting married to my nurse."
"I take it you never went back there."
"No sir I intended taking the girls this year. But that was not to be."
"I have just come over here after spending three weeks at that hotel. They still have your picture at the bar along with the owner's son & two girls."
"Pepe was like a brother to me we had a great time. I sent him a present although I could not go to the wedding. Then I got that letter from Maria. That though is nearly 20 years since it happened."
The smallest girl scrambled on to Renate's Knee. "Now who do we have here?"
"I am Julia. Are you a grandma? You look like you are and that you can give cuddles. My daddy named me after his lost love. Mummy knows about her. It was so romantic. Him in Yorkshire & her in Bavano. Daddy in one hospital & Julia in another. They got married by long distance telephone and there was a priest at both bedsides. Daddy recovered. But Julia went to live with Jesus. My Nan has gone to visit Julia. I hope she comes back soon as I miss my cuddles with her. It is the twin's birthday today. I saved these candles from my cake & I have a little bit of money. Nana was going to get the buns for me so I could put my candles on and give them to the twins."
Renate looked at the few coins the child held out. "Is there enough? I saved all I could."
Maria. "There is enough there to get a very big cake so all the children get a piece especially when the one buying is called Julia. Would you like to come with me to choose one and then we will all sing happy birthday to your sisters."
Pepe meanwhile was giving David a hug. "You just turn up when I Pepe need help. I need a manager and staff to rum my cafe. My wife and children have to go away for a while and I do not know how long that will be. Do you know anybody who might know how to make the full range of Cumbo Jumbos?"
Brenda was grinning away. Then that who has just gone off with Julia is Maria & sister in law of my David."
Pepe brought out a photo. "This is the vault where we placed her. She had a smile on her face when she died and her last words were telling David I will be with him always."
Sorry Pepe I was not in a fit state to travel for the funeral. All the same I felt like Julia was with me all the time although I knew she was dead. She even told me to marry Brenda with her blessing. Even now she is here and says to me I have to make a very special Cumbo-Jumbo that only she knew how to make for she says there is one here who she must present it to. Yes Pepe I will take the job with you. I could start on Friday at the earliest as I promised my wife and girls we would go to the Great Yorkshire show tomorrow. It is the 150th show. Queen Elizabeth is supposed to be going and awarding the prizes. I bought the tickets before I lost my job."
"Well there is one Julia knew how to make and I was never shown how."
Martha spoke, "Your wedding to Julia would be legal, and so as her husband you would be entitled to claim her estate and titles. Pepe you and David can return here on Monday. David's children & his wife Brenda will have to stay with us for a while."
David. "I had to obtain an Archbishops licence to allow the wedding to take place. The priest who was at my bedside is now the bishop of Durham. Brenda here stood in as proxy wife."
Pepe "I stood in for my brother on the Italian side. Father Waibel was the priest in Italy he soon after got transferred to Germany."
Nena & Gaby both burst out laughing. "So those two have worked together before. No wonder the Holy father sent him over here."
Pepe. "Father Waibel is over here?"
"No Pepe Cardinal Waibel is here. Hello Pepe it is a long time since I last saw you. I should have realised when I was served a Cumbo Jumbo as the only place I ever got them was in Bavano."
David. "We have never met but you did officiate at my wedding to Julia di Savoy. I had to get an Archbishops licence to allow the wedding to take place. I was in a hospital bed in Yorkshire and Julia in Italy."
"Yes I remember that. Poor Julia died shortly after and you were too ill to travel to the funeral."
Brenda. "My husband was in a very bad way for a long time. Eventually he recovered and he knew Julia was dead. He said she told him he had to marry me with her blessing. Well we did and we named one of the girls Julia after her."
The Cardinal felt a child tugging at his cassock and looked down. "You have to keep the promise you made to Julia before she died. She told me to remind you what you had to do."
The Cardinal placed his hands on Brenda. "Oh now I understand she is talking to me. Brenda you have the soul of Julia inside you."
Brenda spoke. "I for as long as I could remember I had an imaginary friend called Julia who came to me times of trouble. When David became ill Julia came to me to help me look after him, as he was my first patient. Julia though could not return, as she had nowhere to return to so she stayed with me. When this little one is born she will be provided with the receptacle needed. Then I will have only one soul inside me again."
Gaby. "This all seams to be a lot of hocus pocus to me. How can the soul of a dead relative be in Brenda when they have never met? The only connection is David & a telephone line."
"Gabriel as a priest I have seen many strange things. I have seen people possessed by spirits against their will. Brenda is an odd one in that she has willing shared her body with Julia. It though is nearly time for the two of you separated."
"Oh no my waters have broken." A few seconds later Brenda safely delivered a baby girl.
Julia piped up, "That is my new baby sister Brenda and I have to look after her now as I promised her I would."
Dr Helga said, "I think we had better get you to a hospital to get you and the baby checked out."
Maddy Anne. "The nearest hospital will be Pontefract Royal it is not far away.
Meanwhile Gaby had called 999 and asked for an ambulance. An ambulance came and collected Brenda. David went in the ambulance with her. The remainder of the family were left with Pepe & family.
Pepe looked at his daughters and then the other girls. "I will have to look after you all until your parents come back."
Renate."No Pepe you can leave that to us. You have to go with Maria and pack your cases and you had better pack extra for these. In the meantime I will take them round the stores here and get them some essentials. They will be coming with us."
Maria did a curtsy. "Yes mistress."
Gaby. "Maria after all these years I see it is still ingrained in you to call Renate mistress."
"Yes mistress."
"Please just call me Gaby or Gabriel."
"Yes mistress."
Renate. "I tried years ago and got the same response yes mistress."
Pepe landed back with the suitcases. "I called round at the hospital & these have been given the ok."As he was speaking a helicopter landed near to the others. Two men jumped out.
Gaby. "John I want you to return this car to Leeds-Bradford International Airport and you will be collected from there. Arthur as you know Worksop & Sheffield I want you to go with the pilot and collect a few more guests. That leaves three cars and the security team.
Karen drove a Sarb while both David & Pepe had Zaphiras. Karen handed her keys over to the officer while two of the others took the keys off David & Pepe. "Remember no racing I want you all back tonight for the celebrations."
"Pepe spoke actually the car will need filling up before it can go far."
The officer. "All taken care of we have a card with us so we will fill all the cars up." With that the transport set off.
Maddy. "It might be better if I go with the pilot as I know where my home is and that of my parents. Also I am dying to see Aunties face when the helicopter lands in the front street."
Maddy got in the helicopter but Arthur also stayed in the helicopter. The girls waved them off and then they boarded their respective helicopters. It was a relatively short flight back to Scarborough for them. Meanwhile the helicopter Maddy was in had landed on top of a hill close to where Maddy lived. She opened the door and had a quick check round and then went a few doors down and handed her keys over. "I have to go away for a while and do not know when I will be returning so it might be better if you relet the apartment again." She then paid the outstanding rent. After that Maddy got back in the helicopter. To say it caused considerable excitement would be an understatement. Maddy waved to everybody as the helicopter lifted off the ground. It was not many minutes before it was again landing this time close to her parent's house.
Angharad. "Maddy Anne this is quick promotion from bike to helicopters are you selling these as well as bikes?" Maddy Anne hugged both her parents. Meanwhile Arthur was helping the pilot load the baggage.
The pilot welcomed them onboard and they set off for the trip to Leeds- Bradford Airport. It did not take long before John was collected and the helicopter was refilled before returning to the Royal Hotel.
In Scarborough the preparation for the evening's celebration were well under way.
Half way round the world the Emperor of Japan was watching the news broadcasts. He summands his daughters and then he spoke. "Well daughters of mine have you anything to say?"
One held her hand up. "Honrable papa may we see that clip again. For a moment I thought it was my friend from England. You know the one I told you about who sometimes dressed as a boy and sometimes as a girl."
"Yes I remember now. I told you off for consorting with the lower ranks & it appears I made a big mistake. It is your friend from England my spies informed me about earlier today. All the daughters of every European Royal house have to be handed over as companions to your friend."
One of the other girls spoke, "Father perhaps it was because you told us not to associate with them that we did not get an invite. What can we do about it?"
"I have been in consultation with all our holy men. They all give me the same advice after reading their holy scriptures. They say once in 1000 years a great king or Queen arises. This time though your friend is both king and queen. It is imperative Japan is represented and so I have decided to send you all my daughters as a present to the boy-girl ruler of Northumbria. I have decided and as dutiful daughters you will obey." Their father left the room.
Su Lin. "We have to do what papa wants. Perhaps she will not keep us all and allow some of us to return home."
"Su Lin you know as well as we do that there will be no return for us. Once father has made his mind up he will arrange our marriage and then that is final. All we can do is pack our cases and say our goodbyes to our friends."
With that Su Lin and sisters retired to their rooms and with the help of their maids packed away everything they might need. This was transported to a cargo plane at Tokyo international.
Su Lin rather timidly knocked on the door of her father's apartment. "Emperor Papa are we allowed to take our maids with us as companions?"
"Su Lin I had not thought of that. Yes they shall all go with you."
Su Lin went to tell her sisters and found one kissing a boy. "Su Lin do not tell papa he would go mad if he knew."
"Papa says we can take our maids. If you can get him dressed like a maid he could come with us. You know what would happen if papa found him in our apartments. You go take a bath and remove any body hair. Throw all your clothing out here and I will burn it in the fire."
The poor boy got a shock as two maids came in and started to wash him in oils. "Mistress Su Lin ordered it so our lives are not in danger. Come on get out we have not time to waste." As soon as he was out the two maids dried him. "Come please step into this we must hide that away for a while. You also need enhancement to look like other maids." He soon realised what they meant as they glued two silicone objects on his chest. They then started on his fingers. You will be Su Yum's new maid hers has had to leave.
Su Lin entered. That is better and you will stay that way until we reach England and find out what is what. Till then you will be my sister's maid. I doubt though that will be a problem for you.
"Now I have typed a letter out to your parents. It says you have a job offer in England that you cannot refuse. All you need to do is sign it and then it can be posted to them."
Clothing suitable for you has also been packed and sent to the airport. We all now have to go and get our passport pictures taken.
A courier came and collected the letter it was sent by special messenger to the boy's house. The father looked at the envelope that had the Royal insignia on it. He read the letter and showed his wife. She sniffed it and said it is scented with Jasmine that means he must be guarding the Emperors daughters. We had better keep quiet in case we are not supposed to know they being sent to England. They framed the letter and placed it on the wall where all could see it.
In the palace all the girls including the maids were dressed in white. The priest was marrying the lot of them to Drew-Gaby in his absence. Then a fleet of cars took them to the airport. The boy's parents watched but did not notice him. "Well we were correct the Emperor has sent his daughters on a mission."
Back in Scarborough Gaby knew nothing of this. Little Julia approached Gaby. "Are we allowed to play on the sands tonight? I have spent most of the day at that Ice place and all I want to do is play on the sands."
One of the tinys took her hand. "We also want to play so after tea we will go and have a sandcastle building race to see who can build the biggest and best on the beach. If we take a change of clothing we can have a shower in the super loos. It is free for children."
Alice spoke to the tinys. I think I better come with you to keep an eye on you all. Guther you had better come as well so I have somebody to talk to." Two men from the Bavarian 16th were detailed to take them down to the beach.
Gunther looked at the two of them. "Sorry for staring but I seem to know your faces. I was trying to put a name to you both."
"Sir you may have known of our Grandfather. We are not supposed to speak of him. We both wanted to go in the Bavarian Mountain instead we got put in the 16th."
"I know now where I have seen that face Field Marshall."
"Yes sir, please do not say his name aloud."
"You know he was one of the good guys. Do not be ashamed of your heritage. I understand full well why you both wanted the mountain division. Well you can write home and say with pride that you have been transferred to Queen Gabriel's, Princess Alice Royal Protection Division."
"Permission to ring home sir?"
"Permission granted."
After each of the boys had spoken with their parents Alice motioned she wished to speak with them. "Hello Princess Alice Lavinia speaking, I have had both your boys looking after me. As they said they are on Royal protection duties. I thought you would like to know they have both joined the ranks of the officers. I know they are both a little scared of admitting who they are. Their grandfather had he lived would have loved to see this day. I know his hopes and aspirations as he had a talk with me before he died."
On the beach each of the tiny girls had created their own space and started to build. Julia looked at the young soldiers, "Well are you two going to help me build the biggest castle?"
They looked at Alice, "Just think of it as an order by a superior officer."
"Yes sir in that case we will get a spade each." It took the tinys a while before they realised Julia was getting help.
"Hey that is cheating there is only one of us."
Julia said, "You did not say we had to do it on our own. If we link each of the castles by a moat we will all have built it."
Gunther spoke "It appears we have a young general in training. Regardless of that I am a trainee Grandpa and so I believe it is my duty to get you all ice creams once you are washed and changed. Ulrig spotted the two young officers with the girls. He came across.
The two officers saluted him and then said, "We have been obeying Princess Alice and Admiral Gunther sir."
Julia. "I am General Julia and this is our castle. We have just built it. Would you like to inspect our troops?
The tinys by now had washed and changed. They stood to attention as Ulrig walked up and down them. "Yes you will all do fine although I suggest you two brush some of the sand off your knees."
He left laughing and soon found Renate. "I see there is a trainee General amongst the girls. She is called Julia & I have been trying to place her."
"You are sure the child was called Julia."
"Come watch."
"Well I never & the two soldiers who are they?"
"Let us just say the person who led the Africa Corps was their grandpa."
"Ha yes he was a real gentleman. So those two will do under General Julia. Have they been transferred to the Princess Alice?"
They watched as Julia marched the girls up to Tiny and said, "General Julia reporting for duty sir and saluted her.
"Well Ulrig apparently the smallest of the small is the top dog in that group."
Maddy & Gaby were both dressed like identical twins and sat on adjoining chairs. The tents that had been put up on the front had all been altered so there was one massive tent with several exits. Both Maddy & Gaby had grins on their faces as Tiny; Baby & Wee Wee led the group of small troops. They even had the two soldiers carry flags for them. They all took their job seriously and saluted as they passed. The tinys were the first of the many groups that marched past.
The Russian Premier turned to Draconaris. "She has a regiment of children?"
"Do not let any of them hear you call them children, for they are Tinys and some of Empresses Gabriel's dearest friends and companions? They can be far more deadly than normal guards." As Draconaris spoke the guards came and sat down in front of Gaby. Tiny clamboured on to Gaby's knee. Draconaris found Wee Wee was clambouring on to his knee. She looked at the Russian Premier. He was shocked as Julia climbed on to his knee."
"I am a normal all the rest are Tinys. The small tinys are the mascots of the team Appolonaris. You have built a new harbour and your men have worked hard doing it. I see all the ships are now inside. You are still wondering if you have done the correct thing. Look around at the people celebrating. This is not because somebody marched in with troops and told them they would do this or that. They are here because they want to be. Gabriel did not want to be crowned queen, but she has had to accept it. Yes I am reading your mind. As Draconaris told you the tinys are the most deadly of foes. If you posed any danger to Gabriel you would not be here. Look here come the representatives of all the different states carrying their national flags. How many can you name?"
The Russian Premier. "Well I presume the White rose on a blue background with three crowns on is for Northumbria. I see my national flag now also has the three crowns. Germany, Oh has Italy recognised you. These I do know, as they are the flags of my Baltic neighbours. It appears there are not many European nations that have not recognised Gabriel as their Queen."
As the parade came to a close and the last of the dancers had done their piece the sky darkened. As it got darker a rocket was launched from the St Petersburg that illuminated the night sky. This was the signal for the last post to be played. As it was played all the national flags of the ships in the harbour were lowered. A few seconds later the massed bands started to play, On Ilkley Moor. As they finished new flags were hoisted on the ships in the harbour. Then a myriad of stars exploded on too the night sky illuminating the area for miles around. At midnight the celebrations came to a halt and everybody left for their respective accommodation.
---
If you liked this post, you can leave a comment and/or a kudos!
Click the
Thumbs Up!
button below to leave the author a kudos:
And please, remember to comment, too! Thanks.
This story is 14317 words long.