Odyssey locale info
by Jennifer Sue
Almost all locations are actual sites although I've borrowed them for the story.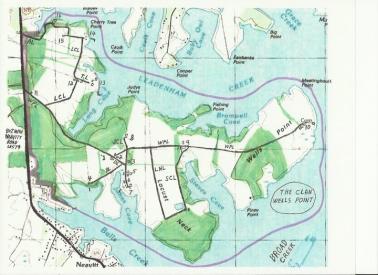 Apparently I'm too technically challanged to insert an image. It can be found at:
http://www.facebook.com/home.php#!/photo.php?id=100001202338...
Titled: A summer's Odyssey & Oddessy II
If someone with tech savy can insert the image, I'd be mighty thankful.
Wells Point roads:
WPL: Wells Point Lane, from SR579 150' to #11, 750' to LCL, 1600' to #1, 400' to #2, 500' to JCL, 800' to LNL, 1000' to #9 & 1st "Y" of SCL, 200" to 2nd "Y", 1050" to N/S tree line, 150' thru forest, 600' thru fields, 1200' thru forest, 650' thru fields to #10, 450' to Broad Creek end of Wells Point Lane = 9350' total
DL: Dougherty Lane, angles SE from WPL to JCL (550'l)
JCL: Johns Cove lane, N/S ends in inverted "Y" in S, xing WPL 500' E DL& WPL, 1530'l: start "Y" in S, goes N 630' to DL, 550' to WPL, 350' to N end
BL: Bills Lane, runs 900' SW from DL, 50' W DL x JCL
LNL: Locust Neck Lane, 800' E of JCL off WPL, WPL S end Locust Neck, 2000'
SCL: Steves Cove Lane, dual start WPL in "Y" around O'Brien Barn, 1000' past LCL, behind barn SW through trees to field, S along field, to Locust Neck, 2000' then turns W 900' meet end of LNL
LCL: Longs Cove Lane, starts N side WPL 900' E of SR579, NE at 45da 900', lane turns 45da NE 700' to barn, road splits at barn, left 45da NW 200', 45da NE 1400', 90da turn W 700 end 2nd barn
TL: Tree Lane, splits off LCL 45da turn past barn, 100' N, 90da turn E 500' end
AL: Apple Lane, Apple Lane 750' E from SR579 then turns NE at 75da, 350' to 30' from shoreline, follows shoreline at 30' for 300',then turns E inland 100' ends in backwards sideways "J"
1. 1st house: 3 BR, 1 1/2B, detached 2 car garage, on S side WPL , 1600' E of LCL (Robert and Sheila)
2. 2nd Farmstead: WPL & DL, 400' E #1
2A. 2nd house, WPL: 3 BR/1 1/2 B, N WPL @ DL (tenant)
2B. Livestock barn: 35'w x 40'l, NW/SE orient, half in/out fenced triangular field S of WPL @ DL, E borders JCL SW borders DL: steers graze field all year, hay and feed in barn.
2C. Livestock barn: 40'w x 80'l, NW/SE orient, 2 attached "L" shape buildings on back corners, one NW side, 1 SE side, barn NW 15' SW 35' SE 40 NE 20' to barn, 4 fenced pastures radiating behind barn, 3/fenced in pastures behind them.
2D. Shed: 15'x15'NW/SE orient, 50' SE of barn, 40' SW DL
2M. Dairy farm, not used 10 years, clean-up & sanitize milk house.
3. Storage barn: 50'w x 70'l, E JCL @ 100'N DLx in forest. utilized any purpose.
4. House & dock, 1 BR 1 1/2 B, end BL, BL runs SW DL, 50' W DL x JCL (Bill)
5. Main farmstead: 300' S JCL x DL (Larry, Kylie, Tony, Rachel, Evelyn)
5A. Large farmhouse, 40'x70', W side JCL,
5B. Main farm, E JCL, N2S: farmyard 50'w x 110'l form by 3 buildings/ 4 fenced pastures surrounding
5B1. chicken house, 20'w x 60'l attached to livestock shed 25'w x 35'l.
5B2. barn, 40'l x 70'w
5B3. barn, 50'w x 80'l
6. House: 3BR 1 1/2B, E JCL, 250' S main farm (tenant)
7. Landing: 80' S #6, S end JCL
7A. Big house, 5BR, 2 1/2B, NW of JCL end in E/W inverted "Y" (Spades)
7B. Boathouse, 40x40', 2 story: SW 8A; 1st floor service pits, boat lifts & hoists up to 35', 2nd floor small boat, kayak and canoe storage.
7C. Storage shed 15'x15', 70' SW 8B.
7D. Boat ramp, 15'w into JC, 25' SW 8C, end of W leg of "Y".
7E. Pier 5'w x 60'l, 25' S 8D in SW from shore:
7F. Pavilion 20'l x 60'w off S end of pier atop pilings 40' from shore.
7G. Barn complex: S of E "Y" seven large fenced in pastures.
7G1. Shed 10'w x 20' attached to
7G2. Shed 20'x20' attached to
7G3. Barn, 35'w x 40'l, livestock
7G4. Cattle shed open, 40'w x 20'l, 10' S barn
7H. Shed 20'w x 35'l, N of E "Y"
7I. Shed 35'w x 20'l, 15' N 8H
8. Mansion, N end JCL, 350'N WPL
9. O'Brien farmstead, 1000' past LNL, last 200' through forest
9A. House: wrap around porch 8'/tin roof, 1st flr, K, DR, LR Stdy, Laundry/PR 2nd flr, 5 BR & B
9B. Barn: 40'w x 100'l/ 20'x20' milk-house on E,
9C. Barn Yard: concrete, 7000 Sq' behind on S,
9D. Cattle Shed open: 20' S barn, 15'x70' on SW side of barnyard
9E. Shed: 50' S barn, 20'x70', on SE side of barnyard
9F. Silos: 2 - 20'round x 50' h, 5' S milk-house, 5' apart, beside 20' center of 9D
10. Wells Point
10A. House (Nelsons): S of WPL,
10B. Storage barn, S WPL, SW/NE orient, 25'w x 100'l with "T" 20'w x 70'l start 25' fron SW/SE corner
11. House, 150' off SR579 house on N side WPL 25'x50'/10'x20' enclosed porch
12. Farm, 2500' N of WPL on LCL
12A. House, 30'x50'/10'x25' porch on SE, 60' NE of barn on TL, SE of 90da turn
12B. Barn, 25'x70', 2500' N of LCL start at WPL, 10' W of LCL
12C. Shed 10'x15' 50' NE barn/ 10' N 25'x30' shed
12D. Shed, 25'x30', 10' N of 12C, 30' off LCL
12E. Garage, 40'x40', 50' E of house on TL
13. Estate, end of TL
13A. Mansion 25'w x 60'l/20'x20' "L' & 25'x35'greatroom & 15'x20'sunroom & 20'x40' porch & 30'x40' attached garage,
13B. Pool, kidney shape,25'x50', 200'NE of mansion
13C. Pool-House, 20'x40/20'x20' "T", 15' N pool
13D. Boat house, 20'x20', 250'SE of house
13E. Pier, 10'x200' S into Long Cove, 70' out W side 20'x30' deck & 20'x30' boathouse/ 110'out on E side is 20'x'20' deck / at end is 20'x30' deck
14 Homestead, driveway starts E of last 90da of LCL
14A. Home, 30'x50', S side of driveway end
14B, Garage, 40'x35', 50' N of house, N side of driveway end
14C. Shed, 15'x30', 15' NE garage
14D. Shed 15'x20', 15' E of 14C
14E. Pier, 8'w x 175' makes 90da S 20', 70' E 14B
15. Barn 30'x60', end LCL
16. Homestead, end AL,
16A. Garage, 35'x50', 20' east of end AL
16B. House, 30'x60'/ 15'x60' porches front & back, 60' N garage
16C. Shed, 10'x10' is 40' SE of house & 40' NE of garage
16D. Pier 8'x50'/15'x30' deck at end is 60' NW of house
*****
For an overview of the locale, click on the following site, scroll down to the map. The map scale can be changed by clicking on the arrows in the upper left corner. Wells Point is northeast of Neavitt across Balls Creek. The Bay Hundred area is the entire peninsula from St. Michaels.
http://maryland.hometownlocator.com/md/talbot/neavitt.cfm