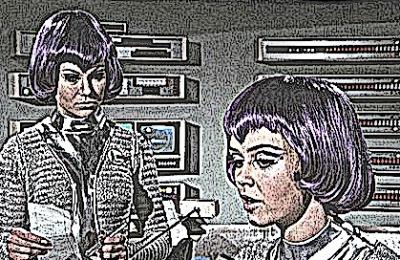 Science Fiction Fun...
 
A short time ago in some studios not all that far away…
Famous Cinematic Sci Fi Moments…
---
In no particular order...

Back to the Future 1985

Marti:
"Doc…Doc…that last time through time….you turned me into a girl…what's that all about?"
Doc Brown:
"I figured…What the hell?"

---
Galaxy Quest 1999

Jason Nesmith:
"Don't you get tired of being the only cast member that has to dress up in girl's clothing?"
Gwen:
"Look, I have one job on this lousy ship. It's stupid, but I'm gonna do it, OKAY"
---
The Matrix 1999

Tank:
So what do you need? Besides a miracle.
Neo:
A corset. And petticoats. Lotsa petticoats. And a nice long ball gown.
Trinity:
Neo, no one has ever done anything like this.

Neo:
...That's why it's going to work.
---
The Fifth Element 1997

Father Vito Cornelius:
That's not Milo Jovovich…that's Alexis Arquette? He's a she.
Korben Dallas:
You noticed!
---
The Quatermass Experiment 1955
John Paterson:
What went on here?! What did it do to them?!
Quatermass:
Are you serious…they've all been changed into those girls from UFO…you know..the ones with the green hair and the lame jumpsuits? Not bad, I'd say!
---
The Trollenberg Terror (The Crawling Eye) 1956
Anne Pilgrim:
Why Phil! Since you've started the new dose, your breasts have grown quite nicely.
Phil:
Cute little things…aren't they?
---
Star Wars 1977
Luke:
She's not really a girl you know…I peeked…
Han:
Wonderful girl. Either I'm going to kill her or I'm beginning to like her.

Chewie:
Waughaaahhuuuggghhhhaaaaa!
---
Invasion of the Body Snatchers 1956
Dr. Danny Kauffman:
Whatya mean, my wife is going to turn me into…wait…you're not a cocktail waitress…you're Miles…what the fuck?
Dr. Miles Bennel:
They're already here…you're next! You're next! You're next!
---
Metropolis 1927

Rotwang:
( ! )
---
The Day the Earth Stood Still 1951
Helen:
Hey…you're cute...And here I thought you were a guy!
Klaatu:
I was!
---
A Clockwork Orange 1971
Minister:
Oh, yes. I understand you're fond of music. I have arranged a little surprise for you.
Alex:
Surprise?
Minister:
One that I hope that you will like. As a um... how shall we put it? As a symbol of our new understanding. An understanding between two friends.
(strains of Dude Looks Like a Lady play in the background)
Alex:
No. No! NO! Stop it! Stop it, please! I beg you! This is sin! This is sin! This is sin! It's a sin, it's a sin, it's a sin!
---
Blade Runner 1982
Deckard:
Say "Kiss me".

Rachael: I can't... rely on... my memories...

Deckard: Say "Kiss me".

Rachael:
Kiss me.
Deckard:
I want you.

Rachael:
I want you.
Deckard:
Again.

Rachael:
I want you.
[pauses]
Rachael:
Put your hands on me.

Deckard:
Hey…whatthefuck?
Rachael:
I still want you.
Deckard:
Whathefuck…me too!
---
A Hitchhiker's Guide to the Galaxy 2005
Arthur Dent:
It would seem that in the last pass through the…. I've lost my penis and gained a vagina and breasts….Ahhhhhh.
Trillian:
Don't Panic!
---
Brazil 1985
Sam Lowry:
Where's my penis?
Dr. Jaffe:
Just me and my little knife! Snip snip - slice slice... can you believe it?
Faces are a doddle compared to tits and ass.
---
Aliens 1986
Gorman: Morning, Marines. I'm sorry we didn't have time to brief you people before we left Gateway, but...
Hudson: Sir?
Gorman:
Well…there's a good chance you'll all be women by the time we get back to base!
Hudson:
Oh dear Lord Jesus, this ain't happening, man... This can't be happening, man! This isn't happening!
---
Forbidden Planet 1956
Altaira Morbius:
Where have you been? I've beamed and beamed.
Robby:
Sorry, miss. I was giving myself an oil-job.
Altaira Morbius:
Robby, I must have a new dress, right away.
Robby:
Again?

Altaira Morbius:
Oh, but this one must be different! Absolutely nothing must show - below, above or through.
Robby:
Radiation-proof?
Altaira Morbius:
No, just eye-proof will do.
Robby:
Thick and heavy?
Altaira Morbius:
Oh, no, Robby. It must be the loveliest, softest thing you've ever made for me, and fit in all the right places, with lots and lots of star sapphires.
Robby:
Star sapphires take a week to crystallize properly. Would diamonds or emeralds do? Will you require new forms and a new gaffe?
---
Close Encounters of the Third Kind 1977
Ronnie Neary:
Roy? I don't really understand all this about SRS…what did you just say?
Roy Neary:
Ronnie, if I don't do this, *that's* when I'm going to need a doctor.

---
Star Trek 2009
Spock:
Mr. Chekov? Is it your contention that Olsen has been turned into a member of the opposite sex? That he is no longer a man?
Chekov:
Olsen is gone!
---
and finally...

The Empire Strikes Back 1980

Leia:
Han…sweetie…I've got something to tell you…now just listen, okay? I'm a post-op…
Han:
I know…

Chewie:
Waughaaahhuuuggghhhhaaaaa!
---
If you liked this post, you can leave a comment and/or a kudos!
Click the
Thumbs Up!
button below to leave the author a kudos:
And please, remember to comment, too! Thanks.
This story is 826 words long.