---
---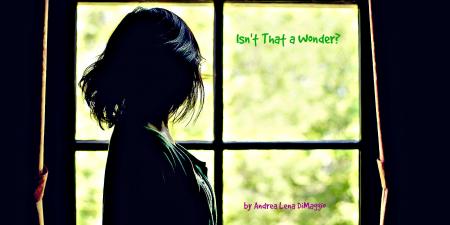 ---
---
Isn't that a wonder?
When you're alone
You're not alone
Not really alone
---
---
Jackie's apartment, Midlothian, Virginia....
She looked out the window at the brightening sky that seemed to push its way into her presence. Sighing, she wiped bittersweet tears from her cheek; wondering….
"You still haven't told her?" Jimmy stood behind Jackie and rubbed her shoulders; a safe if cautious gesture to accompany the not-so-safe question. She reached back over her left shoulder and he grabbed her hand; squeezing gently.
"Uh…." She was tired of making excuses, but she had every painful right,
"Mommy….." She bit her lower lip as her eyes began to mist up.
"She had…. We were supposed all get together next week…" Jimmy shook his head slowly as he leaned into an apologetic hug,
"I'm so sorry, babe." He rubbed the beginnings of tears from his face. Getting to know his future mother-in-law filled that void in his own heart; a sad reminder of his own parents' deaths when he was a boy had left him feeling lost once again.
"She had a way, you know," Jackie said haltingly. Of course he knew, She leaned back and pulled him into an I-need-you kiss. An I-need-to-know-I'm-okay kiss.
"Daddy and now Mommy….. three days…. Jimmy? I'm not ready. I'm so sorry I never told Daddy… I'm so sorry I never told Maggie. She's coming with Alan and the girls but now for Mommy's fu..fune... " She began to weep; stammering between sobs.
"I miss Mommy so much already…. Now how am I supposed to…? Maggie will be here Thursday and Mommy won't be here….. "
"You have nothing…. nothing to be ashamed of. Your Mom understood. And if your father was here he would be so proud of you. A happy thought?" Jackie smiled and blinked back tears.
"Your sister loves you, and she'll be here for you just as much as you've always hoped to be there for her."
---
Thursday at the airport...
Being away for so long did nothing to change Maggie other than adding an adorable husband and twin precious pre-teen daughters. Jackie literally stepped behind Jimmy and hid as her sister walked down the ramp with family in tow.
"Hi, Maggie." Jimmy waved slightly.
"Jimmy Bee. Long time. You meeting someone?" Maggie peered at her sib's best friend. He looked around but said noyjing.
"Oh gosh, where are my manners? Jimmy? This is my husband Alan. And these are my daughters – Jessie and Liz. Al? Girls? This is my brother's best friend Jimmy Barrie." Alan offered his hand and the two exchanged pleasantries as Maggie put her hand to her forehead as she scanned the terminal.
"Are you here with Jack? Where did he make off to?" she asked playfully as she continued to look around. A second later a nearly familiar voice accompanying a not-at-all familiar face spoke.
"Maggie?" Jackie asked. Apart from her slightly higher stature, she could be Maggies's twin. In a way, she was. She stepped only a bit closer; her arms enfolded around in a self-hug as she looked away. Maggie crossed the remaining distance and pulled Jackie to her and not too gently.
"Jack?" Her tone seemed to include rudeness, wonder, and shock, but she leaned closer and smiled as she tilted her head in confused acceptance.
"Jackie?" she asked; this time almost in a whisper as tears welled in her eyes; mirroring her sister's face. Her…SISTER'S….face.
Jackie nodded and in a moment was swept up into the first of wondrous hugs and sisterly kisses as the two realized their own truths. Maggie realized that she had so much to hold onto in the midst of loss, since she had regained the love of her best friend; no longer her brother but just maybe her there all along sister.
And Jackie realized that in being herself her Mom and Dad would be proud and in family she would never be alone.
Epilogue:
Richmond Times-Dispatch, June 4, 2017
Jacqueline Anne Banning and James Roger Barrie of Midlothian, Virginia were united in marriage on Saturday, May 20, 2017, on the grounds of Lewis Ginter Botanical Gardens in Henrico, Virginia. The bride is the daughter of the late Peter and Moira Banning. The groom is the son of the late David and Margaret Barrie. The wedding was attended by family and friends alike; all of whom greeted the dawn as the couple celebrated the happy day. Attending the bride was her Matron-of-Honor and sister, Margaret Milne. The groom was attended by his Best Man, Alan A. Milne; husband of the Matron-of-Honor. Officiating the wedding was the Rev. T. Kerri Belle of London, UK.
When you're all alone
Far away from home
There's a gift the angel sent
When you're alone
Everyday must end
But the night's our friend
Angels always send a star
When you're alone
At night when I'm alone
I lie awake and wonder
Which of them belongs to me
Which one I wonder?
And any star I choose
Watches over me
So I know I'm not alone
When I'm here on my own
Isn't that a wonder?
When you're alone
You're not alone
Not really alone
---
---
When You're Alone
From the motion picture
Hook
Words and music by
Leslie Bricusse and
John Williams
https://www.youtube.com/watch?v=25md6SMw4ro
performed by Amber Scott
---
If you liked this post, you can leave a comment and/or a kudos!
Click the
Thumbs Up!
button below to leave the author a kudos:
And please, remember to comment, too! Thanks.
This story is 901 words long.