---
---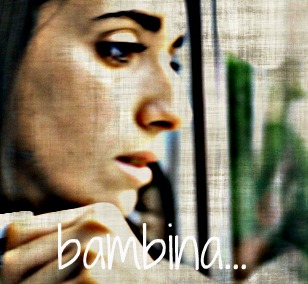 by Andrea Lena DiMaggio
---
---
Rien qu'un petit espace
Une toute, toute petite trace
Un petit mal qui reste en moi
Tout c'que tu detestes
Je prends ma petite place
D'un trait de larmes j'efface
Les souvenirs terrestres
Qui trainent dans ma veste
Nothing but a little space
A really , really little trail
A little evil that remains inside me
Everything you hate
I take my little place
With a tear trail I brush off
The memories of the Earth
That lie under my jacket

Bethlehem, Pennsylvania, 2007

Marie sat on the couch with her legs tucked up under her, looking back out the window. She had come a long way, she would tell herself without much conviction. Her life was like one stage of a triathalon, but with many more than three legs to the race. And it felt like she competed with no one to give witness to her success.
"You're hurting your father," her mother had said the last time they talked. She could have 'mailed' her conversation in to Marie, since her words had become a mantra. Over and over, her mother's love had slowly been replaced by some sort of parasitic doppelganger whose only concern was how she might be perceived by her neighbors and the women 'down at the club.'
"Oh, Julia, you're so strong to bear up under this. It must hurt you so much." They would say to her mother as if having a transgendered child was the greatest burden in the world. Never mind that the man she had married never really cared for Julia or either of their children for that matter. That he provided a very comfortable life and kept his indescretions quiet made it all the easier for her to pander to him at the expense of the daughter who preferred other girls and the son who 'preferred' to be a daughter.
It had started to rain, and the drops started pelting the window softly with a sound that always seemed to comfort Marie. Her mother would always tell Jake that it was God crying for his children. Now the words stung as she thought about how many tears had been shed by everyone in her family. The irony of God's tears wasn't lost on her. It was almost a duplicate of Julia's mantra,
"You're hurting God," she had nearly screamed at Nina after her first daughter came out. Turning her back on her faith had been Nina's way of protest; at least out in the open. She and her partner attended a church in Phillipsburg whose pastor almost winked at the love they shared even though it was a risky if Christ-like approval should his bishop find out.
And of course Julia's younger daughter struggled with her continued use of her 'name' as an invective.
"Jake…won't you please stop this nonsense! You don't even look like a girl." Marie's Aunt Betty didn't look much like a girl either. Still, between long-haul gigs and short intrastate runs, she had managed to bear four adorable daughters; all of whom favored Uncle Danny. Marie would never win any beauty pageants, it was true, but she was as lovely a daughter as any mother could ask for; Julia just didn't see….then.
Bambina tu me manques
Les photos qui me hantent
Sont des parfums de rue
Ou je ne vais plus
Bambina I miss you
The pictures haunting me
Are perfumes from the streets
That I no longer go to
---
Ten years later, Lehigh Valley Hospital, Muhlenberg, Pennsylvania...
"I'm sorry, Marie, but…." The doctor paused.
"She didn't…. I…." He hesitated and looked over at his sleeping patient as if seeking permission to continue.
"Stage four..." He paused once again.
"It's…." Marie stared at the doctor as he struggled to speak the final word.
"Metastasized?"
He nodded and her hand went to her mouth. Why she felt the need to stifle her gasp she couldn't say. One more huge chunk of soul-crushing irony. Being a doctor herself, it was painful to know her mother had never shared any information with her; not that it would have changed the outcome, but perhaps….
"Oh…Jake, honey…Make sure your father gets his dinner, okay?" Julia was more than confused; her husband had left her for his receptionist years ago and was living her and their five year old twin girls in Pittsburgh.
Marie swallowed hard and spoke.
"Okay, Mom." She sat at the side of the bed and held her mother's hand for six days; her own schedule at the clinic shoe-horned into hours where her mother slept in that twilight-cum-torture that her meds barely enabled.
De ta petite voix
Je parle de nous tout bas
Et quand ca les fait rire
Ca me dechire
Car d'apparence tu vois
Je ne te ressemble pas
J'ai plutot l'air de celle
Qui grandit en toi
With your little voice
I talk about us in a whisper
& When it makes them laugh
It tears me up
Because outwardly , you see
I don't look like you
I rather look like the one
Who grows up inside you
* * *
"Where's my daughter?" She coughed and managed to raise herself up slightly using her elbow for support.
"Oh, Mrs. Carnivale, don't you remember? Your daughter and her partner were here this morning." Julia nodded reluctantly before falling softly back in bed and into a very fitful near-sleep. That she had screamed insults at her erstwhile daughter-in-law and sent her from the room weeping was also lost in the halluinogenic haze that settled once again over her bed like a cloud.
* * *
"She doesn't have much time. I'm so sorry, Dr. Carnivale," the nurse touched Marie's arm. It was the first physical connection she had felt in months. She walked slowly to Julia's side.
"I'm here, Mom. It's Jake," she said softly. Julia opened her eyes into a squinty peer and stared at Marie for a moment.
"You're not Jake." The voice sounded scratchy and Marie winced automatically, fearing another rejection. But Julia tilted her head just a bit, and the squint widened into a surprising gaze as she spoke,
"I'm so sorry." Even the effort to shake her head seemed so painful, but Julia went further and half-smiled; fitting that the measure was divided in two, almost, because even now, it still took both of them, no matter how fair or karmic it might not seem.
"Mom?" Not 'mom' like are you my mother, but are you MY mother….are you the mother of two girls instead of one? Are you the person who loved me when I was just a little child?" Julia nodded and blinked back the only few tears she could manage in her state.
"I…love you…Marie…." The loud beep was lost on Marie as she buried her face in her mother's breast and wept.
Bambina...
Reviens, j'ai mal au ventre
Bambina, dans ce corps
J'ai ton coeur qui bat
Rien qu'un petit espace
Une toute, toute petite trace...
Bambina ..
Come back , I have stomach ache
Bambina , in this body
Your heart is beating
Nothing but a little space
A really , really little trail...

---
St. George's Episcopal Church Fellowship Hall, Phillipsburg, New Jersey...
"Her last words…." Marie blinked back her tears and put her hand on Nina's arm. She moved her gaze back and forth slowly and carefully between her sister and Linh as she struggled to speak. Nina winced and began to cry softly; the memory of their parting still a painful thorn that had yet to be extracted from her heart.
"She said…'Tell Linh I am so sorry. I was wrong.'" Marie turned away, remembering Julia's last moments and how precious they had been. She would always have that treasure nestled safely in her heart. Julia had never been a likable person, even to her children, but Marie would tell anyone who asked that she loved her mother, no matter what.
"She said,'Nina could never do any better. Tell Nina I love her…I love them both.'" She added an enthusiastic nod for effect; feeling no guilt over the desired response as her sister began to weep in her partner's arms. She leaned closer and kissed her sister and her sister-in-law both on the lips before walking away slowly.
Bambina tu me manques
Les photos qui me hantent
Sont des parfums de rue
Ou je ne vais plus
Bambina I miss you
The pictures haunting me
Are perfumes from the streets
That I no longer go to
For Helen 1923-1993

Happy Mother's Day…
Bambina
Words and music by
Janey Clewer and the performer
Lara Fabian
http://www.youtube.com/watch?v=EZ_efXO58Mc&feature=fvst
---
If you liked this post, you can leave a comment and/or a kudos!
Click the
Thumbs Up!
button below to leave the author a kudos:
And please, remember to comment, too! Thanks.
This story is 1478 words long.