---
---
Please Remember Me...

---
---
by Andrea Lena DiMaggio

---
---
I did not believe because I could not see
Though you came to me in the night
When the dawn seemed forever lost
You showed me your love in the light of the stars
Lake Mohawk, New Jersey, 2018…
Pam sat on the bottom step of the deck overlooking the lower yard. The twin Corgis were occupied chasing fireflies in the dwindling light of the mid-August evening. Their playful yips and barks seemed to fade in and out as their paths moved further down the slight hill. She smiled as the evening breeze picked up a bit, bringing with it the soft sounds of summer and the sad whisper of days past….
---
Cast your eyes on the ocean
Cast your soul to the sea
When the dark night seems endless
Please remember me
Please remember me
Denville, New Jersey, 1962…
Two girls sat at a child-sized card table in the newly-finished basement.
"More tea, my dear," Pammie asked as she held up the small red china tea pot.
"Please?" Alexandra smiled and held her saucer and cup under as Pammie poured the imaginary tea for her very real best friend.
"I do really, really like your dress," Pammie remarked. Since it was all playful and pretend, Pammie felt the need to compliment her friend, even if the girl actually wore dungarees and a borrowed blouse from Pammie's closet.
"Easier to explain if Mommy comes in,' Pammie had said, pointing to the basement door leading to the back yard. Alexandra would have loved to try on Pammie's communion dress, but in 1962, it just would not do.
"My Mommy says that she wants a nice pink suit just like Jackie Kennedy.'
"Oh she's so pretty," Alexandra replied with as deep a sigh that any nine year old might manage.
"You're pretty," Pammie said, wanting to make things better for her friend. But it sort of made things worse, since her mother walked in from the back yard. The idea that became a plan that in turn became a scheme to wear a blouse instead of a skirt or a dress failed miserably as Mrs. Genovese walked over and glared.
"Alex? Why are you wearing Pammie's blouse?" She folded her arms, receiving the only answers she would get. Alexandra took off the blouse, revealing a yellow Cub Scout tee shirt underneath. Alexandra….Alexander Demetriou burst into tears, but the glower from Mrs. Genovese offered no sympathy at all, and he ran up the basement stairs.
"But Mommy?" Pammie tried to plead. Connie Genovese shook her head at her daughter. She felt bad for the boy, but any encouragement would only bring heartache, wouldn't it? After all, it was 1962…
---
Though we share this humble path, alone
How fragile is the heart
Oh give these clay feet wings to fly
To touch the face of the stars
Lakeland Bus Depot, Dover, New Jersey, August 1971…
Two figures sat on the metal bench in the small waiting area. The girl wore a long earth-toned gauze dress and a wide floppy hat. The boy looked away, hoping to keep it together. His uniform was dark blue and definitely ill-suited for the very humid afternoon.
"It's not fair," Pammie said, rubbing her boyfriend's shoulder. The word 'boyfriend' was as inaccurate a description as you might find, but it was 1971 after all.
"You could go to Canada?" She practically pleaded.
"Mommy needs the money since Daddy left and Jimmy got accepted at the new county college. No way to pay and I can't just leave them stuck."
"You're leaving me," Pammie sighed as she put her head down.
"I know, but it's not like being in the Army or Marines. I'll just be working on the helos. No problem. And the news said they're almost got the peace agreement worked out. I'll be okay and I'll be home before you know it." Alex smiled weakly. Even if he wasn't a man inside, a man still has to do what a man has to do.
"I want you to write every day," Pammie touched his arm, evoking a wince. There was nothing to be done as long as he remained Airman Second Class Alexander Demetriou instead of Allie Demetria. It was 1971 after all…
---
I did not believe because I could not see
Though you came to me in the night
When the dawn seemed forever lost
You showed me your love in the light of the stars
Danang Air Force Base, South Vietnam, April 1972…
It had been over two months since the last rocket attack and in the midst of the dark night there seemed to be a pleasant calm hovering around the base. Alex had just finished off the letter Pammie had sent.
Plans about marriage mixed in with all the fashion stuff girls like to talk about. The threat of censorship or just plain monitoring of mail left communication about Pammie's 'girlfriend' by the wayside, leaving Alex deprived in a way. It was 1972 after all. Gowns and bouquets were idle dreams of a faraway future.
The stillness was interrupted rudely by the sounds of explosions which drew closer by the moment. Alex saw the flash of an blast about fifty yards from the tent. The new boy had just walked in from outside and paused at the entrance to watch.
"GET DOWN!" Alex shouted but the boy was paralyzed by panic. Alex jumped off his cot and pushed the boy sideways just as the rocket hit ten yards from the tent. The medics got to Alex quickly, but injuries which might be treated successfully some years later claimed his life. Alexander Demetriou and Allie Demetria died that balmy day in April. It was 1972 after all…
---
The present...
"Mom?"
Alice Genovese called from the kitchen door. She had just dropped off Lisa and Tess after softball practice and decided to stop by to visit. Alice and her sister Louise were twins that Pam had been blessed with unexpectedly.
The life she led was never lonely even if her one true love would never know the joy they both might have shared as mothers. It was, however, 2018, and Alice and Louise and her granddaughters were told very early on about Nana Allie.
"Mommy?" Alice repeated as she walked out onto the deck. She noticed the dogs running back and forth in the yard just down from the deck and quickly walked to the steps. She lifted her left hand to her mouth, needlessly stifling a sob as she leaned over the lifeless form of her mother. But as sometimes occurs in the midst of sadness, a smile crossed her face even as tears spilled freely. Pam Genovese had the most peaceful look Alice would ever behold…
---
The Eighth Sphere of Heaven...
Breathe life into this feeble heart
Lift this mortal veil of fear
Take these crumbled hopes, etched with tears
We'll rise above these earthly cares
As far as weddings go, it was a modest affair. Loved ones spanning two lifetimes came from everywhere and every time, eager to witness a very-long delayed union between moonlight lovers in a way. Both wore white. While it would certainly would have been fitting for one bride to wear the jacket and skirt of active military, owing both to her sacrifice and service, nevertheless both brides were arrayed in wedding gowns.
"Who gives these brides in holy matrimony?" The tall strong woman asked; her wings fluttering gently. An older if still elegant woman stepped close, putting a hand on each of the brides.
"We do," she said gladly as she was joined by another woman.
"I'm sorry it took so long," Connie Genovese half-frowned while Helen Demetriou rubbed her best friend's arm. Both brides stepped down and hugged them before returning to the ceremony.
"I now recognize what you knew already, that you are united in wedlock." The celebrant smiled even as her large wings enfolded the brides in blessing before the wings returned to a content flutter.
"I stiil feel bad that it took so long," Connie said through happy tears. Allie stepped close and kissed her there-all-along mother-in-law before smiling, Pammie waved to get Connie'a and Helen's attention, following it with a soft laugh as she said at last,
"That's okay. It is eternity after all...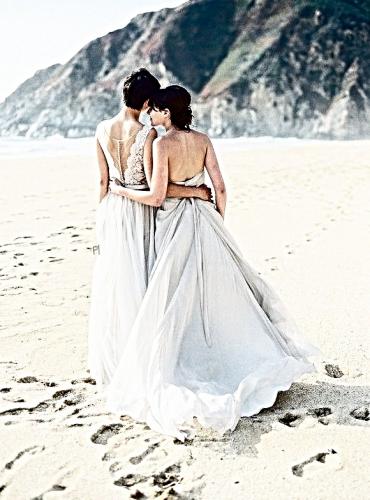 Though we share this humble path, alone
How fragile is the heart
Oh give these clay feet wings to fly
To touch the face of the stars
Cast your eyes on the ocean
Cast your soul to the sea
When the dark night seems endless
Please remember me
---
---
In anticipation, I express my gratitude for the supreme sacrifice made by those who served
on our behalf and the continued gratitude for those here who served and survived.
Celebrating Memorial Day, 2018.
---
---
Dante's Prayer
performed by the composer,
Loreena McKennitt
https://www.youtube.com/watch?v=PUeymJ6JJno
---
If you liked this post, you can leave a comment and/or a kudos!
Click the
Thumbs Up!
button below to leave the author a kudos:
And please, remember to comment, too! Thanks.
This story is 1498 words long.