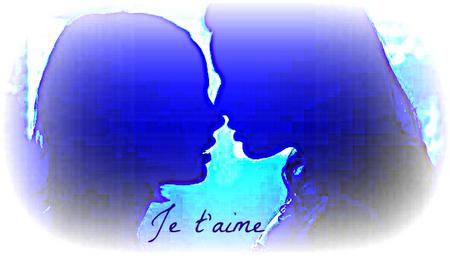 D'accord, il existait
D'autres façons de se quitter
Quelques éclats de verre
Auraient peut-áªtre pu nous aider
Dans ce silence amer
J'ai décidé de pardonner
Les erreurs qu'on peut faire
A trop s'aimer
Luisa sat on the couch and stared at her wrists. At one time she had struggled with doubt and anger and guilt enough that she struck out at the only convenient person…herself. Barely visible now, at one time the scars shone a bright pink against her very pale skin. She turned her attention to the violin beside her; the case was open and the patina of old instrument seemed to both absorb and reflect the light in the room; much in the same way her life had become both a product of and a contributor to her music.
Months after the wounds healed she had discovered another kind of anger; a near righteous rage against her own self-hate. Channeled in a fairly decent way, she had recalled, it built upon the resentment and anger of the hurt she had endured over her rejection, driving her to succeed. And succeed she had, rediscovering music while playing with near unbridled passion. No one could touch her, her friends had said. And her self-esteem grew in a way, but like a balloon that expands; it got bigger but weaker and thinner and was destined to burst.
"Get out! I hate you!" Her girlfriend…her lover had screamed with a conviction that only caused Luisa to try harder to inflict her presence on the only one she had loved but had devastated and hurt. The woman's eyes plead with her even as she tried to push Luisa away. What had once been a tender expression became a thing of discord and shame. The woman wiped her face with her sleeve, tasting blood on her lip from the rude kiss. If her pleas had fallen on deaf ears, thank the goddess that her sad stare had been met with seeing eyes. No words exchanged but glances shared and then a nod.
Luisa shook her head in so many emotions that altogether spoke of shame and remorse. She breathed out a deep sigh before running to the bedroom.
And the mistakes that she made she realized weren't mistakes at all, unless you might call acting selfish and inconsiderate and self-absorbed when you know you're wrong can be seen as a mistake. She bowed her head for goddess knows how many times in prayer.
"Please forgive me." A plea that was meant for no one and everyone she could remember and one who would judge and hopefully send grace and mercy. And perhaps to one who might one day remember the little good amongst the myriad of selfish acts and extend forgiveness.
In fact, there were other ways to break up
Maybe; some shards of glass could have helped
Being in this bitter silence, I decided to forgive
the mistakes that one can do when he loves too much


D'accord, la petite fille
En moi souvent te réclamait
Presque comme une má¨re
Tu me bordais, me protégeais
Je t'ai volé ce sang
Qu'on aurait pas dá» partager
A bout de mots, de ráªves
Je vais crier
Juliette sat on the window seat and stared past the rain that streamed quickly on the glass, taking note once again of the end of the driveway that curled past bowing willows to the house. She waited every day silently as the road at the end of the driveway yielded no traffic. The phone rang but once; her mother called to see how she was. But no other would call. She had realized just how reliant she had become; seeing Luisa almost as a parent by looking to her for decisions and guidance. And day after day as the silence became a cruel friend, she realized how much she needed not to need Luisa. To love and be loved, Juliette realized she alone could only be expected to change.
She had almost gained her energy from Luisa; sapping her strength while at the same time enlivening the bad choices both of them were making. Enablement meant remaining the same which meant death. Only in parting as friends, she thought, while holding each other far past arm's length, would either of them become…. Just becoming had to be enough.

In fact, the little girl in me often called on you
And almost like a mother
You surrounded me and protected me
From you, I stole the blood that I should have never shared
In the end of the words, of the dreams, I will cry out:
Je t'aime, je t'aime
Comme un fou, comme un soldat
Comme une star de cinéma
Je t'aime, je t'aime
Comme un loup, comme un roi
Comme un homme que je ne suis pas
Tu vois, je t'aime comme ça
Could either of them truly love each other when the only thing they gave was expectations and demands? Could either of them truly be loved if all might be allowed was each other's dreams while abandoning their own? They had to love, no matter what; it was what brought them together but would only last unless it truly was love?
I love you, I love you
Like a fool, like a soldier
Like a movie star
I love you, I love you
Like a wolf, like a king
Like a man that I am not
Just see, I love you like this

D'accord je t'ai confié
Tous mes sourires, tous mes secrets
Máªme ceux dont seul un frá¨re
Est le gardien inavoué
Dans cette maison de pierre
Satan nous regardait danser
J'ai tant voulu la guerre
De corps qui se faisaient la paix
Luisa had reached the end…she could advance no further since she was being held back; not by shame and guilt, but by conviction and enlightenment. Yes, she had overcome, but she knew who had paid the expense of her journey, and it hadn't been her. So rather than remain in the deserved shame of her own choices, she chose to live in forgiveness; giving and accepting. But forgiveness isn't always kind or pleasant. Sometimes forgiveness extends mercy by painful fits and starts that give by taking; being only able to bless by removing self, which removes as well expectations, demands and selfish dreams. Loving by leaving.
In fact, I trusted you with all the smiles of mine,
All my secrets
Even those ones that only a brother
is the unconfessable guardian
In this house of stone,
Satan saw us dancing
How I wish the war of our bodies,
that together made the peace
The car drove slowly up the driveway to the house. Soon it had come to a stop by the stone wall by the flower garden. The door slowly opened and Luisa got out and walked up the steps of the cold stone porch of the colder stone house to the front door. Juliette tracked her progress all the way up to the blind spot between the front window and the recess of the entranceway, but saw enough to make her heart skip a beat. The bell rang and she hopped off the window seat. She smoothed her skirt and walked slowly…perhaps even slower still since she didn't want to appear as anxious as she felt she was.
"Hi." The first word spoken face to face; it sounded like a brief duet as the two spoke simultaneously. The high, almost oddly squeaky and heavily accented voice of Juliette mixing with the rich deep affected alto of Luisa; the blend was beautiful from so many different perspectives save for the most important, as it was tentative and resoundingly helpless.
"I'm sorry." Again at the same time; this time with real conviction and real surprise. Luisa stepped back onto the porch and looked off to the side of the house where the car was parked. Several geese had wandered up from the pond and were heading toward the house. She waved before turning back to Juliette.
"I was wrong. It was all my fault." She paused before continuing.
"No…It wasn't, but it was mostly my fault. And I'm sorry for making it so easy for both of us to hurt each other. You deserve better than this. Better than me." She turned and as she pivoted on her heel it broke off the shoe sending her sprawling on the porch. Juliette went to help her as she sat up. Pulling her to her feet, Juliette was tempted to go all the way and pull her into an embrace, beginning the process all over again of bypassing communication in favor of the easy physical contact that had been the hallmark of their love. She stepped back and watched as Luisa pulled off her broken shoe, followed by the other as she steeped past Juliette into the house.
"I never moved a thing." Juliette plead. Luisa shook her head.
"Including yourself, my dear. I'm not worth waiting for. You have to move on and find yourself someone who will actually love you instead of take advantage of your love. Like I said, I'm sorry, but unless you actually acknowledge what we had was not good for you, apologizing to each other not only makes no sense, but makes it easy for us to keep this going." She walked down the long hallway to the master bedroom. A few moments later she was back out front wearing a pair of calf-length low heel boots.
"You're right…You were wrong." Juliette said softly, surprising Luisa.
"But you aren't now. I know you won't believe this, but I have changed. I remember all the times we manipulated each other and hurt each other. I'd accuse and you'd react and it gave me all the more reason to be angry. But that's over. I hate myself for what I allowed you to do. And I hate you for what you did. But I hate me more because I know we both deserve better out of ourselves."
"What are you saying."
"A new arrangement?" She stepped closer and Luisa retreated once again, but her progress was stopped by a large winged chair that sent her stumbling backward into the cushions. She blushed a deep red as Juliette knelt down in front of her and leaned closer and whispered, but not at all softly.
"I'm in charge." She pulled open Luisa's blouse, revealing a soft pink camisole, which she proceeded to pull open as she inserted her hand underneath. Electricity flowed between hand and breast as she leaned forward into a kiss.
"Whaaaa…" Luisa managed to say as Juliette's lips caressed hers. She wielded the baton as masterfully as ever as she led her lover; not playing, but coaxing and inviting Luisa herself to play like a finely tuned Strad.
"It's my turn, Loo…I'm in charge….." The Maestro spoke through the kiss and Luisa nodded yes.
(refrain)
Je t'aime, je t'aime
Comme un fou, comme un soldat
Comme une star de cinéma
Je t'aime, je t'aime, je t'aime, je t'aime
Comme un loup, comme un roi
Comme un homme que je ne suis pas
Tu vois, je t'aime comme ça
Tu vois, je t'aime comme ça

I love you, I love you
Like a fool, like a soldier
Like a movie star
I love you, I love you
Like a wolf, like a king
Like a man that I am not
Just see, I love you like this
I love you, I love you
Like a fool, like a soldier
Like a movie star
I love you, I love you
Like a wolf, like a king
Like a man that I am not
Just see, I love you like this...

---
Je t'aime
words and music by
Lara Fabian and
Rick Allison
as performed by
Lara Fabian
http://www.youtube.com/watch?v=Gm5S43YC2uo
---
If you liked this post, you can leave a comment and/or a kudos!
Click the
Thumbs Up!
button below to leave the author a kudos:
And please, remember to comment, too! Thanks.
This story is 2017 words long.