---
---
You've Got a Friend In Me!
---
---
---
---
"OH NO!!!!!" Rexie whined at the loud crunch that echoed through the bedroom window from the driveway below.
"What's wrong? Discover another neurosis?" Mr. Potato Head nearly lost his left ear as he laughed.
"Watch it honey… "Mrs. Potato Head grabbed the ear and pushed it back into her husband's head.
"No….it's Buzz. Andy's mom backed the minivan over him….Andy must have dropped him!" Rexie was apoplectic at that point.
"OH dear goddess!" Jessie shouted as she leaned out the window. Slinky grabbed her and pulled her back in.
"I've got to go to him….oh no!" She bounded down the stairs and out the front door.
"Buzz…Buzz!" She screamed as she held his limp body in her arms. He looked up and smiled weakly.
"I should…I'm sorry I never told you…" he gasped before passing out....
"I don't know if this is such a good idea." Rexie protested. Jessie looked at him and shook her head.
"It's the only way!" Rexie nodded reluctantly and shoved the box toward Buzz. Jessie reached in; shaking her head. She told herself the same thing she had just said to Rexie; it was the only way. Things would never be the same again, but at least Buzz would be okay…sort of.....




* * * * *
"My head hurts." Buzz tried to sit up but fell back on Andy's bed; weak and disoriented.
"And I don't feel so good. I feel funny." Jessie laughed nervously and smiled a half smile before turning away.
"Funny ….funny you should say that."
"What…" Buzz said weakly. He succeeded in sitting up, his legs hanging off the bed. He looked down and noticed things didn't look quite right.
"What's wrong with me?"
"Errrrr…..ummmmm" Rexie hopped up on the bed and nudged Jessie with his nose. "Tell him…tell…err….what do we call him?"
"What do we call who?" Buzz said. He cocked his head slightly and he started to frown at the sound of his voice; a voice that didn't sound familiar at all.
"What's…what's going on…what's wrong with me?" He shook his head.
"Oh Buzz….we…we did what we could. But the damage…it was too much." Jessie practically cried. She jumped down and hopped up on Andy's dresser; stepping up by the open drawers. Buzz followed and stood next to her as she pointed in the mirror.
"There weren't any other parts that worked….we found a box filled with some stuff that Andy took from that Sid kid next door. I'm sorry, but the only parts we found were….from Mattel!" She gasped a quick, frightened sob as Buzz stepped around her and looked in the dresser mirror.
"It was either this or an old Chatty Cathy doll with no head. There were a lot of parts from…."
"Let's just say Sid has a big problem, you know? I really think he wants….maybe he needs to see a doctor or something." Rexie waved his non-vestigal forelimbs frantically.
"But this? This? I'm not this!" Buzz protested as he pointed to the mirror. Mattel made a lot of great toys in their day, but everybody knows that a certain girl from Malibu, California built that toy empire. Buzz shook his head and in a completely brand new and uncharacteristic demonstration of emotion, he burst into tears.
"It'll be okay. All of us need new parts after a while!" Mrs. Potato Head said softly, completely missing the irony of her words. Jessie nodded and put her arm around Buzz.
"I ….it don't make any difference to me, Buzz. Really." To prove it, she kissed the action figure cum fashion model on the cheek.
"Oh…damn it. Who the hell in Star Command will want me now?"
"Oh…come on…it's the Future! You'll fit right in."
"But what about…us? What do I do now? Do you want me?" Buzz cried. Jessie smiled and nodded.
"Why of course I do." She stepped closer and pulled Buzz to her and kissed the doll on the lips. With head tilted and left leg lifted ever so slightly, Buzz gave into the moment. A second later, Buzz pulled away and looked down. A hand to Jessie's pants confirmed Buzz' suspicions.
"My god…you're…." Jessie nodded and smiled broadly.
"Yee haw I sure am, Buzz, or should I call you Bess?" She laughed loudly and kissed Buzz once more. And again, the hand went to what was a growing bulge in Jessie's pants.
"Then that must mean….this…" Buzz pointed downward.
"Yessirreee. Yee haw…. I might be a girl at heart, but yep…that's a woodie."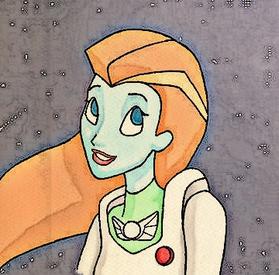 "Ooooh….Jessie!!!"
---
You've Got a Friend In Me!
From the movie
Toy Story
words and music by
Randy Newman
---
If you liked this post, you can leave a comment and/or a kudos!
Click the
Thumbs Up!
button below to leave the author a kudos:
And please, remember to comment, too! Thanks.
This story is 832 words long.